Abstract
Bambara groundnut (Vigna subterranea (L.) Verdc.) is a neglected and less exploited species in Benin. However, the rational use of the different landraces available involves an appropriate knowledge of their characteristics. This study examined the characteristics of 52 local landraces of Bambara groundnut traditionally cultivated in Benin based on 12 qualitative and 11 quantitative variables, in order to expose those of good qualities. After a classification based on the morphological variables of the seeds, the experimental field was installed in a completely randomized device of blocks repeated three times. The collected data was analyzed with Statistica 7.1 and NTSYS PC 2.2. softwares using qualitative characteristics (Growth's type, Stem's hairiness, Flower's colour, Leave's shape etc.). As result, the number of morphotypes increased from 18 (out of classification) to 47. Therefore, it appears that the Benin collection of Bambara groundnut is broad in morphological variability. The analysis of the principal component of the quantitative variables revealed three specific classes within the collection. The most efficient variety which belonged to the second class, had a high field yield per hectare (> 1 t/ha). The Souhouloumankpa variety yielded the earliest (103 days after sowing) in addition to the high field yield. The study also showed a positive relationship between 100 seed's weight, their length, the number of seeds per plant and the seed's field yield in kg/ha. For a sustainable preservation and an improvement of the available resources, a molecular characterization of the Bambara groundnut landraces in Benin Republic needs to be done.
This is a preview of subscription content, log in to check access.
Access options
Buy single article
Instant access to the full article PDF.
US$ 39.95
Price includes VAT for USA
Subscribe to journal
Immediate online access to all issues from 2019. Subscription will auto renew annually.
US$ 199
This is the net price. Taxes to be calculated in checkout.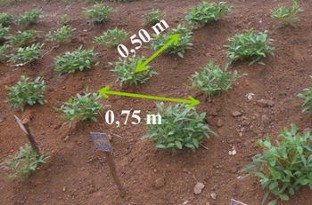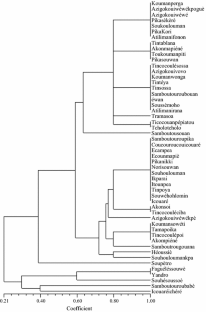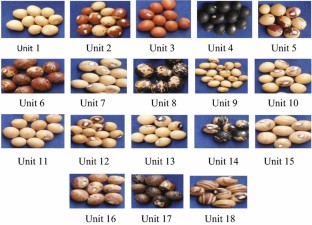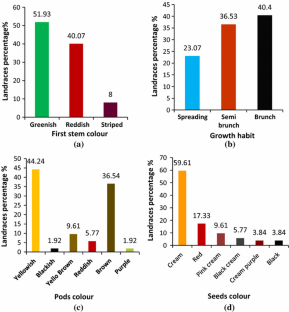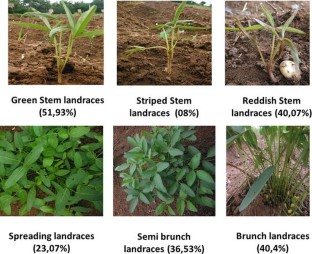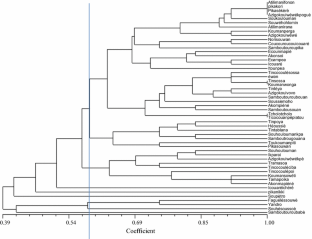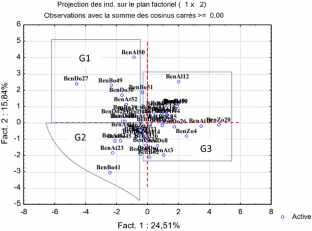 References
Adjatin A, Dansi A, Yêvidé AIS, Agre AP, Dansi M, Akoègninou A, Akpagana K, Sanni A (2013) Agromorphological characterization of Gbolo (Crassocephalum crepidioides (Benth.) S. Moore and C. rubens (Juss. Jacq.) S. Moore), an aromatic herb consumed as leafy vegetable in Benin. Int Res J Agric Sci Soil Sci 3(7):208–218

Adu-Dapaah HK, Sangwan RS (2004) Improving Bambara groundnut productivity using gamma irradiation and in vitro techniques. Afr J Biotech 3(5):260–265

Akoègninou A, van der Burg WJ, van der Maesen LJG (eds) (2006) Flore analytique de Bénin. Backhuys Publishers, Leiden, p 1034

Amarteifio JO (2003) A review of nutrient composition of Bambara groundnut (Vigna subterrenea (L.) Verdc.) grown in Botswana. In: Proceedings of the international Bambara groundnut symposium, Botswana College of Agriculture, Botswana, Sept. 8–12

Amarteifio JO, Tibe O, Njogu RM (2006) The mineral composition of Bambara groundnut (Vigna subterranea (L.) Verdc.) grown in Southern Africa. Afr J Biotech 5:2408–2411

Anchirinah VM, Yiridoe EK, Bennett-Lartey SO (2001) Enhancing sustainable production and genetic resource conservation of Bambara groundnut: a survey of indigenous agricultural knowledge systems. Outlook Agric 30(4):281–288

Azam-Ali SN, Sesay A, Karikari SK, Massawe FJ, Aguilar-manjarrez J, Bannayan M, Hampson KJ (2001) Assessing the potential of an underutilized crop—a case study using Bambara groundnut. Exp Agric 37:433–472

Bonny BS, Djè Y (2011) Variabilité morphologique et agronomique des variétés traditionnelles de voandzou [Vigna subterranea (L.) Verdc. (Fabaceae)] de Cote d'Ivoire. J Appl Biosci 41:2820–2835

Brough SH, Azam-Ali SN, Taylor AJ (1993) The potential of Bambara groundnut (Vigna subterranea) in vegetable milk production and basic protein functionality systems. Food Chem 47:277–283

Dansi A, Vodouhè R, Azokpota P, Yedomonhan H, Assogba P, Adjatin A, Loko YL, Dossou-Aminon I, Akpagana K (2012) Diversity of the neglected and underutilized crop species of importance in Benin. Sci World J 2012, Article ID 932947

Dimakatso RM (2006) Evaluation of Bambara groundnut (Vigna subterranea) for yield stability and yield related characteristics. Thesis M.Sc. Agric. degree in the Faculty of Natural and Agricultural Sciences

Doku EV, Karikari SK (1971) The role of ants in pollination and pod production of Bambara groundnut. Econ Bot 25:357–362

Doumbia IZ, Akromah R, Asibuo JY (2013) Comparative study of cowpea germplasms diversity from Ghana and Mali using morphological characteristics. J Plant Breed Genet 01(03):139–147

FAOSTAT (2017) http://www.fao.org/faostat/en/#data/QC

Gbaguidi AA, Assogba P, Dansi M, Yedomonhan H, Dansi A (2015) Caractérisation agromorphologique des variétés de niébé cultivées au Bénin. Int J Biol Chem Sci 9(2):1050–1066

Goli AE, Begemann F, Ng NQ (1997) Characterization and evaluation of IITA's Bambara groundnut collection. In: Heller J, Begemann E, Mushonga J (eds) Promotion of the conservation and use of underutilized and neglected crops 9. Proceedings of the workshop on conservation and improvement of Bambara groundnut (Vigna subterranea (L.) Verdc.), 14–16 November 1995, IPGRI, Harare, Zimbabwe, pp 101–118

Hall AE, Cisse N, Thiaw S, Elawad HOA, Ehlers JD, Ismail AM, Fery R, Roberts PA, Kitch LW, Murdock LL, Boukar O, Phillips RD, McWatters KH (2003) Development of cowpea cultivars and germplasm by the Bean/Cowpea CRSP. Field Crops Res 82:103–134

Hammer K, Heller J, Engels J (2001) Monographs on underutilized and neglected crops. Genet Resour Crop Evol 48:3–5

Hedge SV, Mishra KS (2009) Landraces of cowpea, Vigna unguiculata (L.) Walp. As potential sources of genes for unique characters in breeding. Genet Resour Crop Evol 56:615–627

IPGRI/IITA/BAMNET (2000) Descriptors for Bambara groundnut: 48, Rome, Italy

Ishiyaku MF, Singh BB, Craufurd PQ (2005) Inheritance of time to flowering in cowpea (Vigna unguiculata (L.) Walp.). Euphytica 142:291–300

Jonah PM, Aliyu B, Kadams AM, Wamannda DT (2012) Variation in pod yield characters and heritability estimates in some cultivars of Bambara groundnut (Vigna subterranea (L.) Verdc. Acad J Plant Sci 5(2):50–55

Koné ME, Patat-Ochatt M, Conreux C, Sangwan RS, Ochatt SJ (2007) In vitro morphogenesis from cotyledon and epicotyls explants and flow cytometry distinction between landraces of Bambara groundnut [Vigna subterranea (L.) Verdc.], an under-utilised grain legume. Plant Cell Tiss Organ Cult 88:61–75

Kumaga FK, Adiku SGK, Ofori K (2003) Effect of post-flowering water stress on dry matter and yield of three tropical grain legumes. Int J Agric Biol 4:405–407

Lacroix B, Assoumou Y, Sangwan RS (2003) Efficient in vitro direct shoot organogenesis and regeneration of fertile plants from embryo explants of Bambara groundnut (Vigna subterranea (L.) Verdc.). Plant Cell Rep 21:1153–1158

Lotti C, Marcotrigiano AR, De Giovanni C, Resta P, Ricciardi A, Zonno V, Fanizza G, Ricciardi L (2008) Univariate and multivariate analysis performed on bio-agronomical traits of Cucumis melo L. germplasm. Genet Resour Crop Evol 55:511–522

Makanda I, Tongoona P, Madamba R, Icishahayo D, Derera J (2009) Evaluation of Bambara groundnut landraces for off-season production in Zimbabwe. Afr Crop Sci J 16(3):175–183

Massawe FJ, Mwale SS, Azam-Ali SN, Roberts JA (2005) Breeding in Bambara groundnut (Vigna subterranea (L.) Verdc.): strategic considerations. Afr J Biotech 4:463–471

MAEP, Ministère de l'Agriculture de l'Elevage et de la Pêche (2012) Données statistiques des spéculations au Bénin

Minka SR, Bruneteau M (2000) Partial chemical composition of bambara pea (Vigna subterranea (L.) Verdc. Food Chem 68:273–276

Mohammed MS, Shimelis HA, Laing MD (2016) Phenotypic characterization of diverse Bambara groundnut (Vigna subterranea [L.] Verdc.) germplasm collections through seed morphology. Genet Resour Crop Evol 63:889–899

Ndiang Z, Bell JM, Missoup AD, Fokam PE, Amougou A (2012) Etude de la variabilité morphologique de quelques variétés de voandzou [Vigna subterranea (L.) Verdc.] au Cameroun. J Appl Biosci 60:4410–4420

Ndiang Z, Bell JL, Fokam PE, Ouattara B, Simo C, Dibong DS (2014) Agro-morphological variability in twelve Bambara groundnut (Vigna subterranea (L.) Verdc.) accessions in Cameroon Sciences. Technol Dev 16:38–45

Ntundu WH, Shillah SA, Marandu WYF, Christiansen JL (2006) Morphological diversity of Bambara groundnut [Vigna subterranea (L.) Verdc.] landraces in Tanzania. Genet Resour Crop Evol 53:367–378

Olukolu BA, Mayes S, Stadler F, Ng NQ, Fawole I, Dominique D, Azam-Ali SN, Abbott AG, Kole C (2012) Genetic diversity in Bambara groundnut (Vigna subterranea (L.) Verdc.) as revealed by phenotypic descriptors and DArT marker analysis. Genet Resour Crop Evol 59:347–358

Onwubiko NIC, Odum OB, Utazi CO, Poly-Mbah PC (2011) Studies on the adaptation of Bambara groundnut [Vigna subterranea (L.) Verdc.] in Owerri Southeastern Nigeria. N Y Sci J 4(2):60–67

Ouedraogo M, Ouédraogo JT, Tignéré JB, Balma D, Dabiré CB, Konaté G (2008) Characterization and evaluations of accessions of Bambara groundnut (Vigna subterranea (L.) Verdcourt) from Burkina Faso. Sci Nat 5(2):191–197

Ouedraogo JT, Sawadogo M, Tignegre JB, Drabo I, Balma D (2010) Caractérisation agromorphologique et moléculaire de cultivars locaux de niébé (Vigna unguiculata) du Burkina Faso. Cameroon J Exp Biol 6(01):31–40

Panthee DR, KC RB, Regmi HN, Subedi PP, Bhattarai S, Dhakal J (2006) Diversity analysis of garlic (Allium sativum L.) germplasms available in Nepal based on morphological characters. Genet Resour Crop Evol 53(1):205–212

Poulter NH, Caygill JC (1980) Vegetable milk processing and rehydration characteristics of Bambara groundnut (Voandzeia subterranea (L.) Thou.). J Sci Food Agric 31(11):1158–1163

Rohlf FJ (2009) NTSYSpc: numerical taxonomy system. ver. 2.21c. Exeter Software: Setauket, New York

Sibuga KP, Lana AF, Tarimo AJ, Temu H (1994) Evaluating potential for Bambara groundnut as a food crop in semi-arid Africa. An approach for assessing the yield potential and ecological requirements of an underutilized crop. Report 2. Sokoine University of Agriculture, Morogoro, Tanzania

Siise A, Festo J, Massawe (2013) Microsatellites based marker molecular analysis of Ghanaian Bambara groundnut (Vigna subterranea (L.) Verdc.) landraces alongside morphological characterization. Genet Resour Crop Evol 60:777–787

Sneath PHA, Sokal RO (1973) Numerical taxonomy. Freeman, San Francisco

Somta P, Chankaew S, Rungnoi O, Srinives P (2011) Genetic diversity of the Bambara groundnut (Vigna subterranea (L.) Verdc.) as assessed by SSR markers. Genome 54:898–910

Stoilova T, Pereira G (2013) Assessment of the genetic diversity in a germplasm collection of cowpea (Vigna unguiculata (L.) Walp.) using morphological traits. Afr J Agric Res 8(2):208–215

Swofford DL, Olsen GJ (1990) Phylogeny reconstruction. In: Hillis DM, Moritz C (eds) Molecular systematic. Sinauer Associates, Sunderland

Touré Y, Koné M, Silué S, Kouadio YJ (2013) Prospection, collecte et caracterisation agromorphologique des morphotypes de voandzou [Vigna subterranea (L.) Verdc. (Fabaceae)] de la zone savanicole en Côte d'Ivoire. Eur Sci J 9(24):308–325
Acknowledgements
This research was sponsored by the International Foundation for Science (IFS) through the project, "Morphological characterization and agronomic evaluation of Benin Bambara groundnut (Vigna subterrenea (L.) Verdc.) varieties for their conservation and sustainable use in the actual context of climate change". We express our sincere thanks to all the scientists, agricultural technicians and farmers the researchers met or interviewed during the survey.
Ethics declarations
Conflict of interest
None.
About this article
Cite this article
Gbaguidi, A.A., Dansi, A., Dossou-Aminon, I. et al. Agromorphological diversity of local Bambara groundnut (Vigna subterranea (L.) Verdc.) collected in Benin. Genet Resour Crop Evol 65, 1159–1171 (2018). https://doi.org/10.1007/s10722-017-0603-4
Received:

Accepted:

Published:

Issue Date:
Keywords
Bambara groundnut

Benin

Diversity

Landraces

Vigna subterranea

Yield