Abstract
The variation in tuber mineral concentrations amongst accessions of wild tuber-bearing Solanum species in the Commonwealth Potato Collection (CPC) was evaluated under greenhouse conditions. Selected CPC accessions, representing the eco-geographical distribution of wild potatoes, were grown to maturity in peat-based compost under controlled conditions. Tubers from five plants of each accession were harvested, bulked and their mineral composition analysed. Among the germplasm investigated, there was a greater range in tuber concentrations of some elements of nutritional significance to both plants and animals, such as Ca, Fe and Zn (6.7-fold, 3.6-fold, and 4.5-fold, respectively) than others, such as K, P and S (all less than threefold). Significant positive correlations were found between mean altitude of the species' range and tuber P, K, Cu and Mg concentrations. The amount of diversity observed in the CPC collection indicates the existence of wide differences in tuber mineral accumulation among different potato accessions. This might be useful in breeding for nutritional improvement of potato tubers.
This is a preview of subscription content,
to check access.
Access this article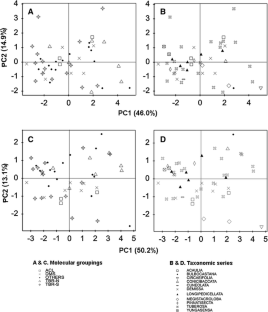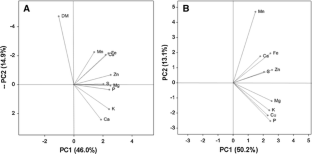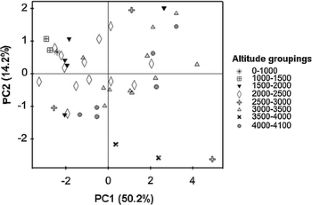 Similar content being viewed by others
References
Bamberg JB, Palta JP, Peterson LA, Martin M, Krueger AR (1993) Screening tuber bearing Solanum (potato) species germplasm for efficient accumulation of tuber calcium. Am J Potato Res 70:219–226

Bamberg JB, Palta JP, Peterson LA, Martin M, Krueger AR (1998) Fine screening potato (Solanum) species germplasm for tuber calcium. Am J Potato Res 75:181–186

Bamberg JB, Martin MW, Palta J (2008) Variation in Solanum species' tuber potassium accumulation and its implications for human nutrition. Am J Potato Res 85:2

Bradshaw JE (2000) Conventional breeding in potatoes: global achievements. In: Khurana SMP, Shekhawat GS, Singh BP, Pandey SK (eds) Potato, global research and development, vol 1. Indian Potato Association, Shimla, pp 41–51

Bradshaw JE, Ramsay G (2005) Utilisation of the Commonwealth Potato Collection in potato breeding. Euphytica 146:9–19

Bradshaw JE, Bryan GJ, Ramsay G (2006) Genetic resources (including wild and cultivated Solanum species) and progress in their utilisation in potato breeding. Potato Res 49:49–65

Brown CR, Haynes KG, Moore M, Pavek MJ, Hane DC, Love SL, Novy RG, Miller JC Jr (2010) Stability and broad-sense heritability of mineral content in potato: iron. Am J Potato Res 87:390–396

Brown CR, Haynes KG, Moore M, Pavek MJ, Hane DC, Love SL, Novy RG, Miller JC Jr (2011) Stability and broad-sense heritability of mineral content in potato: zinc. Am J Potato Res 88:238–244

Brown CR, Haynes KG, Moore M, Pavek MJ, Hane DC, Love SL, Novy RG, Miller JC Jr (2012) Stability and broad-sense heritability of mineral content in potato: calcium and magnesium. Am J Potato Res 89:255–261

Brown CR, Haynes KG, Moore M, Pavek MJ, Hane DC, Love SL, Novy RG (2013) Stability and broad-sense heritability of mineral content in potato: potassium and phosphorus. Am J Potato Res 90:516–523

Brown CR, Haynes KG, Moore M, Pavek MJ, Hane DC, Love SL, Novy RG, Miller JC Jr (2014) Stability and broad-sense heritability of mineral content in potato: copper and sulfur. Am J Potato Res 91:618–624

Burton WG (1989) The distribution and composition of the dry matter in the potato tuber. In: Harris PM (ed) The Potato, 3rd edn. Longman Scientific and Technical, Harlow, pp 286–335

Bushway RJ, Bureau JL, Mcgann DF (1984) Determinations of organic acids in potatoes by high performance liquid chromatography. J Food Sci 49:75–81

Chung YS, Palta P, Bamberg J, Jansky S (2016) Potential molecular markers associated with tuber calcium content in wild potato germplasm. Crop Sci 56:576–584

Fisher JB, Malhi Y, Torres IC, Metcalfe DB, van de Weg MJ, Meir P, Silva-Espejo JE, Huasco WH (2013) Nutrient limitation in rainforests and cloud forests along a 3,000-m elevation gradient in the Peruvian Andes. Oecologia 172:889–902

Forster H, Beringer H (1983) Starch content of potato tubers in relation to potassium nutrition and tuber development. J Plant Nutr Soil Sci 146:572–582

Frossard E, Bucher M, Machler F, Mozafar A, Hurrell R (2000) Potential for increasing the content and bioavailability of Fe, Zn and Ca in plants for human nutrition. J Sci Food Agric 80:861–879

Hawkes JG (1990) The potato: evolution, biodiversity and genetic resources. Smithsonian Institution Press, Washington, DC

Hawkes JG (1992) Biosystematics of the potato. In: Harris PM (ed) The potato crop: the scientific basis for improvement. Chapman & Hall, London, pp 15–64

Haynes KG, Yencho GC, Clough ME, Henninger MR, Sterrett SB (2012) Genetic variation for potato tuber micronutrient content and implications for biofortification of potatoes to reduce micronutrient malnutrition. Am J Potato Res 89:192–198

Jansen G, Flamme W, Schüler K, Vandrey M (2001) Tuber and starch quality of wild and cultivated potato species and cultivars. Potato Res 44:137–146

Kärenlampi SO, White PJ (2009) Potato proteins, lipids and minerals. In: Singh J, Kaur L (eds) Advances in potato chemistry and technology. Academic Press, London, pp 99–126

Kitayama K, Aiba SI (2002) Ecosystem structure and productivity of tropical rain forests along altitudinal gradients with contrasting soil phosphorus pools on Mount Kinabalu, Borneo. J Ecol 90:37–51

Kolbe H, Stephan-Beckmann S (1997) Development, growth and chemical composition of the potato crop (Solanum tuberosum L.) II. Tuber and whole plant. Potato Res 40:135–153

Lindhauer MG, De Fekete MAR (1990) Starch synthesis in potato (Solanum tuberosum) tubers: activity of selected enzymes in dependence of potassium content in storage tissue. Plant Soil 124:291–295

Marschner H, Krauss A (1980) Correlations between potassium content and quality of potatoes. Kartoffelbau 31:65–67

McCann LC, Bethke PC, Simon PW (2010) Extensive variation in fried chip color and tuber composition in cold-stored tubers of wild potato (Solanum) germplasm. J Agric Food Chem 58:2368–2376

Nitsos RE, Evans HJ (1969) Effects of univalent cations on the activity of particulate starch synthetase. Plant Physiol 44:1260–1266

Oparka KJ, Wright KM (1988) Osmotic regulation of starch synthesis in potato tubers. Planta 174:123–126

Paget M, Amoros W, Salas E, Eyzaguirre R, Alspach P, Apiolaza L, Noble A, Bonierbale M (2014) Genetic evaluation of micronutrient traits in diploid potato from a base population of Andean landrace cultivars. Crop Sci 54:1–11

Phillippy BQ, Lin M, Rasco B (2004) Analysis of phytate in raw and cooked potatoes. J Food Compos Anal 17:217–226

Subramanian NK, White PJ, Broadley MR, Ramsay G (2011) The three dimensional distribution of minerals in potato tubers. Ann Bot 107:681–691

Wegener C, Jansen G (2010) Antioxidant capacity in cultivated and wild Solanum species: the effect of wound stress. Food Funct 1:209–218

White PJ, Broadley MR (2009) Biofortification of crops with seven mineral elements often lacking in human diets: iron, zinc, copper, calcium, magnesium, selenium and iodine. New Phytol 182:49–84

White PJ, Brown PH (2010) Plant nutrition for sustainable development and global health. Ann Bot 105:1073–1080

White PJ, Karley AJ (2010) Potassium. In: Hell R, Mendel RR (eds) Plant cell monographs. Cell biology of metals and nutrients, vol 17. Springer, Berlin, pp 199–224

White PJ, Bradshaw JE, Dale MFB, Ramsay G, Hammond JP, Broadley MR (2009) Relationships between yield and mineral concentrations in potato tubers. HortScience 44:6–11

White PJ, Thompson JA, Wright G, Rasmussen SK (2016) Biofortifying Scottish potatoes with zinc. Plant Soil. doi:10.1007/s11104-016-2903-4

WHO/FAO (2004) Vitamin and mineral requirements in human nutrition, 2nd edn. World Health Organization, Geneva

Zorrilla C, Navarro F, Vega S, Bamberg J, Palta J (2014) Identification and selection for tuber calcium, internal quality and pitted scab in segregating 'Atlantic' × 'Superior' reciprocal tetraploid populations. Am J Potato Res 91:673–687
Acknowledgements
We thank Dr. Colin Alexander (BioSS) for his advice on multivariate data analysis, and Gaynor Mackenzie (JHI) for assistance with maintaining the CPC accessions in the greenhouse. We also thank Jacqueline Thompson (JHI) for assistance with ICP-MS analysis. NKS gratefully acknowledges the financial support from the International Office, University of Nottingham for a Research Scholarship and JHI for an SCRI—Universities Ph.D. Scholarship. This work was supported by the Rural and Environment Science and Analytical Services Division (RESAS) of the Scottish Government.
Ethics declarations
Conflict of interest
The authors declare no conflict of interest.
Electronic supplementary material
Below is the link to the electronic supplementary material.
About this article
Cite this article
Subramanian, N.K., White, P.J., Broadley, M.R. et al. Variation in tuber mineral concentrations among accessions of Solanum species held in the Commonwealth Potato Collection. Genet Resour Crop Evol 64, 1927–1935 (2017). https://doi.org/10.1007/s10722-016-0483-z
Received:

Accepted:

Published:

Issue Date:

DOI: https://doi.org/10.1007/s10722-016-0483-z
Keywords