Abstract
Seed quality is a critical aspect in agriculture as well as in the long-term conservation of plant genetic resources in genebanks. Since potential seed longevity depends on initial quality, genebank curators need to be aware of the best management practices that contribute to the production of high quality seed during routine germplasm regeneration/multiplication. Among the factors influencing initial seed quality, those related to crop management, including plant nutrient and water supply during crop growth, climatic conditions during seed development and maturation, as well as the harvest and drying practices are of considerable significance. Seeds of high quality can be obtained by planting in suitable areas/fields and at appropriate times, applying good crop management practices, adoption of proper harvesting and drying techniques, careful handling and processing to minimize mechanical injuries and unwanted seed mixing with other accessions, and ensuring minimum deterioration before reaching the designated storage. However, seed production and post-harvest handling highly depend on the biology and agronomy of the species. As germplasm collections contain a wide range of diversity for morphological and agronomic characters and that there might well be critical gaps in knowledge among genebank staff or about the species in question, genebanks may also need to embark on research to gain crop specific knowledge on optimal seed production procedures to improve seed quality.
Access options
Buy single article
Instant access to the full article PDF.
US$ 39.95
Tax calculation will be finalised during checkout.
Subscribe to journal
Immediate online access to all issues from 2019. Subscription will auto renew annually.
US$ 119
Tax calculation will be finalised during checkout.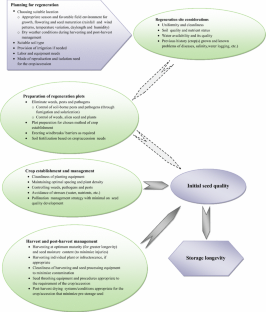 References
Adams JF, Hartzog DL (1991) Seed quality of runner peanuts as affected by gypsum and soil calcium. J Plant Nutr 14:841–851

Agarwal VK, Sinclair JB (1996) Principles of seed pathology, 2nd edn. CRC Press, Boca Raton, p 539

Alqudah AM, Samarah NH, Mullen RE (2011) Drought stress effect on crop pollination, seed set, yield and quality. In: Lichtfouse E (ed) Alternative farming systems, biotechnology, drought stress and ecological fertilisation, Sustainable Agriculture Reviews 6. Springer, Heidelberg

Andersen S, Andersen K (1972) Longevity of seeds of cereals and flax. Acta Agr Scand 22:3–10

AVRDC (Asian Vegetable Research and Development Centre) (1990) Soybean seed quality and storage. 1998 Progress Report, AVRDC, Taiwan

Ayvaz A, Sagdic O, Karaborklu S, Ozturk I (2010) Insecticidal activity of the essential oils from different plants against three stored-product insects. J Insect Sci 10:1–13

Baskin CC (1979) The effect of shell on the viability and moisture content of peanut seeds in storage under altering relative humidity. Seed Res 7:1–4

Böhm H, Fittje S (2002) Green crop lifting—an alternative producing healthy seed potatoes in the system of organic farming. University of Kiel, Germany. http://orgprints.org/00000676/

Brenner DM, Widrlechner MP (1998) Amaranthus seed regeneration in plastic tents in greenhouses. Plant Genet Resour Newsl 116:1–4

Bunch HD (1960) Relation between the moisture content of seed and mechanical damage in seed conveying. Seed World 86:16–17

Caldwell WP (1972) Relationship of preharvest environmental factors to seed deterioration in cotton. Ph. D. Thesis. Mississippi State University, USA

Chibarabada PT Modi, Mabhaudhi AT (2015) Bambara groundnut (Vigna subterranea) seed quality in response to water stress on maternal plants. Acta Agric Scand Sect B Soil Plant Sci 65:364–373

Christensen CM (1972) Microflora and seed deterioration. In: Roberts EH (ed) Viability of seeds. Chapman and Hall Ltd., London, pp 59–93

Chromarty A, Ellis RH, Roberts EH (1982) The design of seed storage facilities for genetic conservation. IBPGR, Rome

Copeland LO, McDonald MB (2001) Principles of seed science and technology, 4th edn. Kluwer Academic Publishers, Norwell

Cox FR, Sullivan GA, Martin CK (1976) Effect of calcium and irrigation treatments on peanut yield, grade and seed quality. Peanut Sci 3:81–85

Crittenden HW, Svec LV (1974) Effect of potassium on the incidence of Diaporthe sojae in soybeans. Agron J 66:696–697

Delouche JC (1980) Environmental effects on seed development and seed quality. HortScience 15:775–780

Demir I, Ellis RH (1992) Development of pepper (Capsicum annuum) seed quality. Ann App Biol 121:385–399

Demir I, Ellis RH (1993) Changes in potential seed longevity and seedling growth during seed development and maturation in marrow. Seed Sci Res 3:247–257

Demir I, Samit Y (2001) Seed quality in relation to fruit maturation and seed dry weight during development in tomato. Seed Sci and Technol 29:453–462

Demir I, Mavi K, Sermenli T, Ozcoban M (2002) Seed development and maturation in Aubergine (Solanum melongena L.). Gartenbauwissenschaft 67:148–154

Demir I, Mavi K, Oztokat C (2004) Changes in germination and potential longevity of watermelon (Citrullus lanatus) seeds during development. New Zealand J Crop Hort Sci 32:139–145

Dias DCFS, Ribeiro FP, Dias LAS, Silva DJH, Vidigal DS (2006) Tomato seed quality in relation to fruit maturation and post-harvest storage. Seed Sci Technol 34:691–699

Dornbos DL Jr (1995) Tomato seed quality in relation to fruit maturation and post-harvest storage production environment and seed quality. In: Basra AS (ed) Seed quality. Haworth Press Inc, Philadelphia

Dulloo E, Engels J (2003) Genebank standards and quality assurance. In: Engels JMM, Visser L (eds) A guide to effective management of germplasm collections: IPGRI Handbook for Genebanks No. 6. IPGRI, Rome

Dulloo ME, Thormann I, Jorge AM, Hanson J (2008) Crop specific regeneration guidelines. CGIAR System-wide Genetic Resource Programme (SGRP), Rome

Dulloo ME, Hunter D, Borelli T (2010) Ex situ and in situ conservation of agricultural biodiversity: major advances and research needs. Not Bot Hort Agrobot Cluj 38:123–135

El Balla MMA, Hamid AA, Abdelmageed AHA (2013) Effects of time of water stress on flowering, seed yield and seed quality of common onion (Allium cepa L.) under the arid tropical conditions of Sudan. Agric Water Manag 121:149–157

Elias SG, Copeland LO (2001) Physiological and harvest maturity of canola in relation to seed quality. Agron J 93:1054–1058

Ellis RH, Pieta Filho C (1992) The development of seed quality in spring and winter cultivars of barley and wheat. Seed Sci Res 2:9–15

Ellis RH, Hong TD, Roberts EH (1987) The development of desiccation-tolerance and maximum seed quality during seed maturation in six grain legumes. Ann Bot 59:23–29

Ellis RH, Hong TD, Jackson MT (1993) Seed production environment, time of harvest and the potential longevity of seeds of three cultivars of rice (Oryza sativa L.). Ann Bot 72:583–590

Engels JMM, Rao VR (eds) (1998) Regeneration of seed crops and their wild relatives. In: Proceedings of the conference: consultation meeting on the regeneration of seed crops and their wild relatives, held at ICRISAT, Hyderabad, India in 1995. IPGRI, Rome

Engels JMM, Visser L (eds) (2003) A guide to effective management of germplasm collections, IPGRI Handbook for Genebanks No. 6. IPGRI, Rome

FAO (2010) The second report on the state of the world's plant genetic resources for food and agriculture. FAO, Rome

FAO (2012) The second global plan of action for plant genetic resources for food and agriculture. FAO, Rome

FAO (2013) Genebank standards for plant genetic resources for food and agriculture. FAO, Rome

Fellows GM, Reoth FW (1992) Factors influencing shatter cane (Sorghum bicolor) seed survival. Weed Sci 40:434–440

Forcella F, Benech-Arnold RL, Sanchez R, Ghersa CM (2000) Modeling seed emergence. Field Crops Res 67:123–139

George RAT (2009) Vegetable seed production. CABI International, Wallingford

Harrington JF (1972) Seed storage and longevity. In: Kzolowski TT (ed) Seed biology, vol III. Academic Press, New York, pp 142–145

Kalashnik MF, Naumenko AI (1979) Sowing and yield characteristics of sorghum seed as a function of length of storage. Kukuruza 3:27

Kantor DT, Webster OT (1967) Effect of mechanical and freezing injury on viability of sorghum seeds. Crop Sci 7:196–199

Kashyap RK, Punia RC (1995) Seed quality as influenced by pod infesting insect pests of pigeonpea. Seed Sci Technol 23:873–876

Kelly AF, George RAT (eds) (1998) Encyclopaedia of seed production of world crops. Wiley, London, p 403

Kolasinska K, Szyrmer J, Dul S (2000) Relationship between laboratory seed quality tests and field emergence of common bean seed. Crop Sci 40:470–475

McDonald MB, Copeland LO (1997) Seed production principles and practices. Chapman & Hall, New York

Mendez-Natera JR, Pena-Gutierrez BC, Merazo-Pinto JF (1998) Effect of days after pollination on physiological maturity and other characteristics of seeds of rice (Oryza sativa L.) cv. Cimarron. Ann Bot Agr 5:25–34

Mercer-Quarshie H, Nsowah GF (1975) Soybean in Ghana. In: Whigham DK (ed) Soybean production, protection and utilization, INTSOY Series No. 6. University of Illinois, Urbana-Champaign, pp 200–208

Moore RP (1972) Effects of mechanical injuries on viability. In: Roberts EH (ed) Viability of seeds. Chapman and Hall Ltd, London, pp 94–113

Nangju D (1977) Effect of date of harvest on seed quality and viability of soybeans. J Agric Sci 89:107–112

Nautiyal PC, Zala PV (1991) Effect of drying methods on seed viability and seedling vigour in Spanish groundnut (Arachis hypogaea L.). Seed Sci Technol 19:451–459

Navarro S, Donahaye E, Kleinerman R, Haham H (1989) The influence of temperature and moisture content on the germination of peanut seed. Peanut Sci 16:6–9

Nkang A, Umoh EO (1997) Six month storability of five soybean cultivars as influenced by stage of harvest, storage temperature and relative humidity. Seed Sci Technol 25:93–99

Okada T (1986) Studies on green panic seed. x. Effect of seed drying method on germination. J Jap Soc Grassl Sci 31:365–370

Ozcoban M, Demir I (2006) Germination performance of sequentially harvested tomato (Lycopersicon esculentum Mill.) seed lots during seed development under salt and osmotic stress. J Cent Eur Agric 7:141–148

Pieta Filho C, Ellis RH (1991) The development of seed quality in spring barley in four environments. I. Germination and longevity. Seed Sci Res 1:163–177

Probert RJ, Hay FR (2000) Keeping seeds alive. In: Bewley JD, Black M (eds) Seed technology and its biological basis. Sheffield Academic Press and CRC Press, Boca Raton, pp 375–410

Probert R, Adams J, Coneybeer J, Crawford A, Hay F (2007) Seed quality for conservation is critically affected by pre-storage factors. Aust J Bot 55:326–335

Rajendran SV, Sriranjini V (2007) Plant products as fumigants for stored-product insect control. J Stored Prod Res 44:126–135

Ramamoorthy K, Basu RN (1996) Studies on the affect of moisture stress at different growth phases on vigour, viability and storability in peanut (Arachis hypogaea L.). J Agron Crop Sci 177:33–37

Ramamoorthy K, Sudarsan S (1992) Supply of zinc and boron on yield and seed quality in groundnut (Arachis hypogaea L.). Ann Plant Physiol 6:33–38

Rao NK, Jackson MT (1996a) Seed production environment and storage longevity of japonica rices. Seed Sci Res 6:17–21

Rao NK, Jackson MT (1996b) Seed longevity of rice cultivars and strategies for their conservation in genebanks. Ann Bot 77:251–260

Rao NK, Jackson MT (1997) Effect of sowing date and harvest time on longevity of rice seeds. Seed Sci Res 7:13–20

Rao NK, Mengesha MH, Pundir RPS (1990) Cleavage damage due to rapid drying in pea shaped chickpea seeds. Indian J Agric Sci 60:255–258

Rao NK, Appa Rao S, Mengesha MH, Ellis RH (1991) Longevity of pearl millet (Pennisetum glaucum R. Br.) seeds harvested at different stages of maturity. Ann Appl Biol 119:97–103

Rao NK, Bramel PJ, Reddy KN, Singh SD, Girish AG, Appa Rao S, Mahalakshmi V (2002a) Optimizing seed quality during germplasm regeneration in pearl millet. Genet Resour Crop Evol 49:153–157

Rao NK, Sastry DVSSR, Bramel PJ (2002b) Effect of shell and low moisture content on peanut seed longevity. Peanut Sci 29:122–125

Rao NK, Hanson J, Dulloo E, Ghosh K, Nowell D, Larinde M (2006) Manual of seed handling in genebanks Bioversity International. Italy, Rome, p 147

Roberts EH (1973) Predicting the storage life of seeds. Seed Sci Technol 1:499–514

Roberts EH (1992) Physiological aspects of ex situ seed conservation. In: Vijay PK, White J (eds) A training manual for biological diversity and genetic resources. Commonwealth Secretariat, London, pp 171–177

Saayman AE, van de Venter HA (1996) Influence of weed competition on subsequent germination and vigour of Zea mays. Seed Sci Technol 25:59–65

Sackville Hamilton NR, Chorlton KH (1997) Regeneration of accessions in seed collections: a decision guide. IPGRI Handbook for Genebanks No. 5. IPGRI, Rome

Samarah NH, Al-Kofahi S (2008) Relationship of seed quality tests to field emergence of artificial aged barley seeds in the semiarid Mediterranean region. Jordan J Agric Sci 4:311–317

Sanhewe AJ, Ellis RH (1996) Seed development and maturation in Phaseolus vulgaris. II. Post-harvest longevity in air-dry storage. J Exp Bot 47:959–965

Seck D (1991) Study of the initial infestation of Sitotroga cerealella (Lepidoptera, Gelechiidae) in relationship to the localization of Pennisetum typhoides (L.) Leeke field. Insect Sci Appl 12:507–509

SGRP-CGIAR Crop Genebank Knowledge Base. http://cropgenebank.sgrp.cgiar.org

Shahbazi F, Analooei M, Saffar A (2012) Mechanical damage to pinto bean seeds as affected by moisture content, impact velocity and seed orientation. Int J Food Eng 7:1556–3758. doi:10.2202/1556-3758.2503

Shock CC, Feibert EBG, Saunders LD, Klauzer J (2006) Alfalfa seed quality favored by water stress. OSU Agricultural Experiment Station—special report 1070, pp 9–26

ShuChun M, HaiYing Z, PangYuan L, WeiMing H (2009) Effects of ultra-drying treatment on large amounts of four kinds of crop seeds. Agric Sci Technol Hunan 10:82–85

Singh AR, Latchanna A (1985) Effect of date of harvesting, drying methods and storage on seed quality of sorghum parental lines. Seed Res 13:180–185

Singh N, Kapur ML, Mahajan RK (2003) Effect of fumigation on germination and vigour in chickpea and green gram during prolonged storage. Seed Sci Technol 31:161–168

Sinniah UR, Ellis RH, John P (1998) Irrigation and seed quality development in rapid-cycling Brasicca: seed germination and longevity. Ann Bot 82:309–314

Thomsen K, Schmidt L (1999) Control of fungi during seed procurement. Technical note 53. Danida Forest Seed Centre, Humlebæk, Denmark

Vanangamudi K, Kulandaivelu R, Selvaraj KV (1990) Effect of irrigation on seed yield and quality of sorghum. Seed Sci Technol 18:255–258

Vanjari SS, Kulkarni SV (1977) Studies on mechanical and thermal injuries to the seeds of few important cereal crops. J Agric Eng 14:77–78

Vertucci CW, Roos EE (1993) Theoretical basis of protocols for seed storage II. The influence of temperature on optimal moisture levels. Seed Sci Res 3:215–216

Vieira RD, Tekrony DM, Egli DB (1992) Effects of drought and defoliation stressed in the field on soybean seed germination and vigour. Crop Sci 32:471–475

Walters C (2003) Optimising seed banking procedures. In: Smith RD, Dickie JB, Linington SH, Pritchard HW, Probert RJ (eds) Seed conservation: turning science into practice. Royal Botanic Gardens, Kew, pp 723–743

Walters C, Wheeler LM, Grotenhuis JM (2005) Longevity of seeds stored in a gene bank: species characteristics. Seed Sci Res 15:1–20

Wang YR, Yu L, Nan ZB, Liu YL (2004) Vigor tests used to rank seed lot quality and predict field emergence in four forage species. Crop Sci 44:535–541

Witcombe JR (1984) Seed drying and the design and costs of cold storage facilities. In: Witcombe JR, Erskine W (eds) Genetic resources and their exploitation - chickpea, faba beans and lentils, Martinus Nijhoff/Dr. W. Junk Publishers, The Hague, pp 23–38

Woodruff JM, McCain FS, Hoveland CS (1967) Effect of relative humidity, temperature and light intensity during boll opening on cotton seed quality. Agron J 59:441–444

Zanakis GN, Ellis RH, Summerfield RJ (1994) Seed quality in relation to seed development and maturation in three genotypes of soyabean (Glycine max). Exp Agr 30:139–156

Zehtab-Salmasi S, Ghassemi-Golezani K, Moghbeli S (2006) Effect of sowing date and limited irrigation on the seed yield and quality of dill (Anethum graveolens L.). Turk J Agric 30:281–286
Ethics declarations
The authors declare that this manuscript has been prepared according to the ethical standards formulated by Genetic Resources and Crop Evolution. It does not contain any studies with human or animal subjects.
Conflict of interest
The authors declare that they have no conflict of interest.
About this article
Cite this article
Kameswara Rao, N., Dulloo, M.E. & Engels, J.M.M. A review of factors that influence the production of quality seed for long-term conservation in genebanks. Genet Resour Crop Evol 64, 1061–1074 (2017). https://doi.org/10.1007/s10722-016-0425-9
Received:

Accepted:

Published:

Issue Date:
Keywords
Genebanks

Germplasm regeneration

Seed quality