Abstract
This study was conducted to understand variation patterns and establish the population structure in the wild rice species, Oryza officinalis, using accessions collected across the 11 regions/areas of endemism in Asia and Oceania and conserved ex situ in the International Rice Genebank at the International Rice Research Institute. Morphological and microsatellite data detected a tendency for latitudinal divergence in O. officinalis and divided the accessions into (1) Malesian and (2) South and East Asian populations. Cluster and ordination analyses of morphological characters revealed that accessions from Malesia (Regions 1–6), Vietnam (Region 7), and Central Thailand (Region 8) showed short (16.19 ± 3.70 cm) and slender (1.53 ± 2.06 cm) flag leaves that are erect to almost horizontal, short panicles (25.19 ± 3.02 cm) and mainly purple internodes; and (3) accessions from Northern Thailand and Myanmar (Region 9), India (Region 10) and China (Region 11) characterized by long (29.57 ± 4.94 cm) and broad (2.18 ± 3.33 cm) flag leaves that are horizontal to drooping, long panicles (35.26 ± 2.63 cm) and green internodes. With 79.3 % of the SSR markers being polymorphic, molecular analyses detected an average of 5.31 alleles per marker with a total of 154 alleles. Differentiation was evident among the regions with FST = 0.2173, although there is an apparent loss of heterozygosity across regions indicated by an over-all positive FIS. Based on the results, issues related to the management of O. officinalis, specifically filling gaps in the collection and the formulation of seed multiplication practices are addressed.
This is a preview of subscription content, log in to check access.
Access options
Buy single article
Instant access to the full article PDF.
US$ 39.95
Price includes VAT for USA
Subscribe to journal
Immediate online access to all issues from 2019. Subscription will auto renew annually.
US$ 199
This is the net price. Taxes to be calculated in checkout.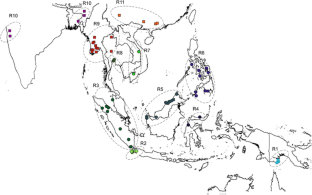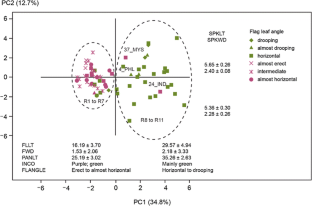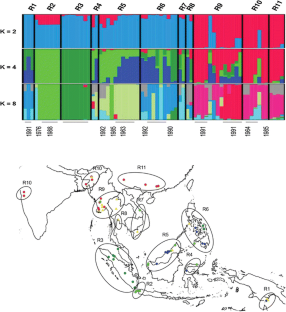 References
Bao Y, Xu S, Jing X, Meng L, Qin Z (2015) De Novo assembly and characterization of Oryza officinalis leaf transcriptome by using RNA-Seq. BioMed Res Int. doi:10.1155/2015/982065

Bon SG, Borromeo TH, Altoveros NC, Brar DS, Raymundo AD (2005) Morpho-agronomic diversity of thirty-nine Philippine populations of Oryza officinalis Wall ex Watt. Philipp Agric Sci 88(3):281–291

Bon SG, Borromeo TH, Altoveros NC, Raymundo AD (2006) Isozyme characterization and diversity among the Philippine populations of Oryza officinalis Wall. ex Watt conserved ex situ. Philipp Jour Sci 135(2):93–104

Bao Y, Zhou HF, Hong DY (2006) Genetic diversity and evolutionary relationships of Oryza species with the B- and C- genomes as revealed by SSR markers. J Plant Biol 49(5):339–347

Brondani RPV, Zucchi MI, Brondani C, Rangel PHN, De Oliveira Borba TC, Rangel PN, Magalhães MR, Vencovsky R (2005) Genetic structure of wild rice Oryza glumaepatula populations in three Brazilian biomes using microsatellite markers. Genetica 125:115–123

Devanna NB, Vijayan J, Sharma TR (2014) The blast resistance gene Pi54of Cloned from Oryza officinalis interacts with Avr-Pi54 through Its Novel NonLRR Domains. PLoS ONE 9(8):e104840. doi:10.1371/journal.pone.0104840

Evanno G, Regnaut S, Gaudet J (2005) Detecting the number of clusters of individuals using the software STRUCTURE. Mol Ecol 14:2611–2620

Falush D, Stephens M, Pritchard JK (2003) Inference of population structure using multilocus genotype data: linked loci and correlated allele frequencies. Genetics 164:1567–1587

Federici MT, Shcherban AB, Capdevielle F, Francis M, Vaughan D (2002) Analysis of genetic diversity in the Oryza officinalis complex. Electron J Biotechnol 5:173–181

Fulton TM, Chunwongse J, Tanksley SD (1995) Microprep protocol for extraction of DNA from tomato and other herbaceous plants. Plant Mol Biol Reporter 13:207–209

Gao LZ, Ge S, Hong DY (2001) High levels of genetic differentiation of Oryza officinalis Wall. ex Watt. from China. J Hered 92(6):511–516

Gao LZ, Zhang CH (2005) Comparisons of microsatellite variability and population genetic structure of two endangered wild rice species, Oryza rufipogon and O. o fficinalis, and their conservation implications. Biodivers Conserv 14:1663–1679

Gao LZ (2005) Microsatellite variation within and among populations of Oryza officinalis (Poaceae), an endangered wild rice from China. Mol Ecol 14(14):4287–4297

Hammer K (2003) A paradigm shift in the discipline of plant genetic resources. Genet Resour Crop Evol 50:3–10

Hirabayashi H, Kaji R, Okamoto M, Ogawa T, Brar DS, Angeles ER, and Khush GS (2003) Mapping QTLs for brown planthopper (BPH) resistance introgressed from Oryza officinalis in rice. In: Khush GS, Brar DS, Hardy B (eds) Advances in rice genetics. International Rice Research Institute

Hu C-H, Chang C-H (1967) Cytogenetic studies of Oryza officinalis complex. Bot Bull Acad Sinica 8:8–19

Huang Z, He G, Shu L, Li X, Zhang Q (2001) Identification and mapping of two brown planthopper resistance genes in rice. Theor Appl Genet 102:929–934

Hughes NM (2009) The photoreactive role of anthocyanin pigments in leaf tissues. Dissertation, Wake Forest University Graduate School of Arts and Sciences

Jacquemin J, Bhatia D, Singh K, Wing RA (2013) The International Oryza Map Alignment Project: development of a genus-wide comparative genomics platform to help solve the 9 billion-people question. Curr Opin Plant Biol 16(2):147–156

Jakobsson M, Rosenberg NA (2007) CLUMPP: a cluster matching and permutation program for dealing with label switching and multimodality in analysis of population structure. Bioinformatics 23:1801–1806

Jena KK, Khush GS (1990) Introgression of genes from Oryza officinalis Wall ex Watt to cultivated rice, O. s ativa L. Theor Appl Genet 80:737–745

Jena KK, Khush GS, Kochert G (1992) RFLP analysis of rice (Oryza sativa L.) introgression lines. Theor Appl Genet 84:608–616

Karasawa MMG, Vencovsky R, Silva CM, Zucchi MI, Oliveira GCX, Veasey EA (2007) Genetic structure of Brazilian wild rice (Oryza glumaepatula Steud., Poaceae) populations analyzed using microsatellite markers. Genet MolBiol 30(2):400–410

Karasawa MMG, Vencovsky R, Silva CM, Zucchi MI, Cardim DC, Bressan EdA, Oliveira GCX, Veasey EA (2012) Comparison of microsatellites and isozymes in genetic diversity studies of Oryza glumaepatula (Poaceae) populations. Rev Biol Trop (Int J Trop Biol) 60(4):1463–1478

Koo B, Pardey P, Wright B (2003) The price of conserving agricultural biodiversity. Nat Biotechnol 21:126–128

Koski MH, Ashman T-L (2015) Floral pigmentation patterns provide an example of Gloger's rule in plants. Nat Plants 1:14007

Lê S, Josse J, Husson F (2008) FactoMineR: an R package for multivariate analysis. J Stat Softw 25(1):1–18

Liu K, Muse SV (2005) PowerMarker: an integrated analysis environment for genetic marker analysis. Bioinformatics 21:2128–2129

Lu BR (1999) Taxonomy of the genus Oryza (Poaceae): historical perspective and current status. Int Rice Res Notes 24:4–8

Maechler M, Rousseeuw P, Struyf A, Hubert M, Hornik K (2015) cluster: cluster Analysis Basics and Extensions. R package version 2:3

Melaku G, Haileselassie T, Feyissa T, Kiboi S (2013) Genetic diversity of the African wild rice (Oryza longistaminata Chev. et Roehr) from Ethiopia as revealed by SSR markers. Genet Resour Crop Ev 60:1047–1056

Oka HI (1991) Genetic diversity of wild and cultivated rice. In: Khush GS, Toenienssen GH (eds) Rice Biotechnology. CAB International UK and International Rice Research Institute, Manila, pp 55–82

Perrier X, Flori A, Bonnot F (2003) Data analysis methods. In: Science Enfield (ed) Genetic diversity of cultivated tropical plants, Hamon P, Sequin M, Perrier X, Glaszmann JC. Publishers, Montpellier, pp 43–76

Pritchard JK, Stephens M, Rosenberg NA, Donnelly P (2000) Association mapping in structured populations. Am J Hum Genet 67:170–181

R Development Core Team (2013) R: A language and environment for statistical computing. R Foundation for Statistical Computing, Vienna, Austria. ISBN 3-900051-07-0. http://www.R-project.org

Renganayaki K, Fritz AK, Sadasivam S, Pammi S, Harrington SE, McCouch SR, Kumar SM, Reddy AS (2002) Mapping and progress toward map-based cloning of brown planthopper biotype-4 resistance gene introgressed from Oryza officinalis into cultivated rice. O. sativa. Crop Sci 42:2112–2117

Rosenberg NA (2004) DISTRUCT: a program for the graphical display of population structure. Mol Ecol Notes 4:137–138

Sharma SD, Shastry SVS (1965) Taxonomic studies in genus Oryza L. VI. A modified classification. Indian J Genet Pl Br 25(2):173–178

Song Z, Li B, Chen J, Lu BR (2005) Genetic diversity and conservation of common wild rice (Oryza rufipogon) in China. Plant Species Biol 20:83–92

Tateoka T (1962) Taxonomic studies of Oryza. I. O. latifolia complex. Bot Mag Tokyo 75:418–427

Tateoka T, Pancho JV (1963) A cytotaxonomic study of Oryza minuta and O. officinalis. Bot Mag Tokyo 76:366–373

Thomas G, Joseph L, Varghese G, Kalyanaraman K, Kuriachan P, Das MR (2001) Discrimination between Oryza malampuzhaensis Krish. et Chand. and Oryza officinalis Wall. ex Watt based on RAPD markers and morphological traits. Euphytica 122:181–189

Tsunoda S (1984) Adjustment of photosynthetic structures in three steps of rice evolution. In: Tsunoda S, Takahashi N (eds) Biology of Rice. Japan Sci. Soc. Press, Elsevier, Tokyo, pp 89–115

Turner H, Hovenkamp P, van Welsen PC (2001) Biogeography of Southeast Asia and the West Pacific. J Biogeogr 28:217–230

Vaughan DA (1989) The genus Oryza L. Current status of taxonomy. The International Rice Research Institute, Los Banos

Vaughan DA (1994) The wild relatives of rice. International Rice Research Institute, Los Banos

Vaughan DA, Ge S, Kaga A, Tomooka N (2008) Phylogeny and biogeography of the genus Oryza. In: Rice Biology in the Genomics Era. Biotechnology in Agriculture and Forestry 62. Springer, Berlin, pp. 219–233

Van Welsen PC, Slick JWF, Alahuhta J (2005) Plant distribution patterns and plate tectonics in Malesia. Biol. Skr. 55:199-217. ISSN 0366-3612. ISBN 87-7304-304-4

Walesiak M, Dudek A (2015) Department of Econometrics and Computer Science, University of Economics, Wroclaw, Poland http://keii.ue.wroc.pl/clusterSim

Wang B, Ding Z, Liu W, Pan J, Li C, Ge S, Zhang D (2009) Polyploid evolution in Oryza officinalis complex of the genus Oryza. BMC Evol Biol 9:250. doi:10.1186/1471-2148-9-250

Yang HY, You AQ, Yang ZF, Zhang F, He RF, Zhu LL, He G (2004) High-resolution genetic mapping at the Bph15 locus for brown planthopper resistance in rice (Oryza sativa L.). Theor Appl Genet 110:182–191

Yoshida S (1972) Physiological aspects of grain yield. Annu Rev Plant Physiol 23:437–464

Yoshida S, Forno DA, Cock JH, Gomez KA (1976) Routine procedures for growing rice plants in culture solution. International Rice Resaerch Institute, Los Baños

Zang LL, Zou XH, Zhang FM, Yang ZH, Ge S (2011) Phylogeny and species delimitation of the C-genome diploid species in Oryza. J Syst Evol 49(5):386–395

Zhang W, Dong Y, Yang L, Ma B, Ma R, Huang F, Wang C, Hu H, Li C, Chen J (2014) Small brown planthopper resistance loci in wild rice (Oryza officinalis). Mol Genet Genomics 289:373–382

Zhang LB, Ge S (2007) Multilocus analysis of nucleotide variation in Oryza officinalis and its close relatives. Mol Biol Evol 24(3):769–783
Ethics declarations
Conflict of interest
The authors declare that they have no conflict of interest.
Electronic supplementary material
Below is the link to the electronic supplementary material.
About this article
Cite this article
Naredo, M.E.B., Mercado, S.M.Q., Banaticla-Hilario, M.C.N. et al. Genetic diversity patterns in ex situ collections of Oryza officinalis Wall. ex G. Watt revealed by morphological and microsatellite markers. Genet Resour Crop Evol 64, 733–744 (2017). https://doi.org/10.1007/s10722-016-0396-x
Received:

Accepted:

Published:

Issue Date:
Keywords
Ex situ conservation

Geographic differentiation

Oryza officinalis

Population structure

Wild Oryza germplasm