Abstract
Assessment of genetic variability in the available germplasm is the prerequisite for development of improved genotypes through planned breeding programmes. In view of this, 39 "hatkora" (Citrus macroptera Mont.) genotypes collected from different locations of Mizoram, India were evaluated for physico-chemical characteristics during 2013–2015. The study reveals that there was significant variation among the collections in these particular traits. Individual fruit weight ranged from 277.78 to 617.69 g; fruit diameter 9.32–12.52 cm; fruit length 7.74–10.19 cm, fruit volume 238.33–583.33 cc; pulp weight 153.75–320.94 g; pulp:peel ratio 1.50–3.24 and seed number 9.33–23.6. Similarly, the chemical parameters also varied significantly among different germplasms. The juice content varied from 13.45 to 32.53 %, ascorbic acid 34.81–73.64 mg/100 mL, TSS 6.15–9.10 %, acidity 5.03–8.75 %, total sugars 5.16–7.97 % and sugar:acid ratio 0.75–1.52. From the analysis of genetic parameters, it could be concluded that characters like fruit weight, fruit length, fruit diameter, fruit volume, pulp weight, pulp–peel ratio, juice, Total soluble solids (TSS), acidity, ascorbic acid, total sugars, and sugar–acid ratio could be used as selection criteria for development of effective and productive plant types in "hatkora". Wide range of variation in physico-chemical parameters of "hatkora" fruits indicated the great scope of individual plant selection based on these characters for future genetic improvement programme.
Access options
Buy single article
Instant access to the full article PDF.
US$ 39.95
Tax calculation will be finalised during checkout.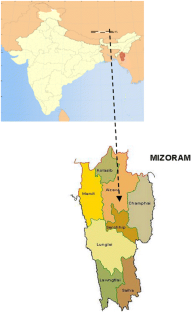 References
AOAC (1995) Official methods of analysis, 16th edn. Association of Official Analytical Chemists, Washington

Freed M (1966) Methods of vitamin assay. Interscience Publ Inc, New York

Hazarika TK (2012) Citrus genetic diversity of north-east India, their distribution, ecogeography and ecobiology. Genet Resour Crop Evol 59:1267–1280

Hazarika BN, Deka BC, Choudhury S, Sarma B (2009) Studies on variability in physico-chemical characters of different aonla accessions from Jorhat region of Assam. Indian J Hortic 66:190–192

Hazarika TK, Lalawmpuii B, Nautiyal BP (2013) Studies on variability in physico-chemical characters of hatkora (Citrus macroptera Mont.) collections of Mizoram. Indian J Hortic 70:480–484

Hynniewta M, Malik SK, Rao SR (2011) Karyological studies in ten species of Citrus (Linnaeus, 1753) (Rutaceae) of north-east India. Comp Cytogenet 5:277–287

Madhumathi C, Sekhar MR (2015) Genetic variation for morphological and fruit characteristics among sweet orange accessions. Indian J Hortic 72:121–125

Malik SK, Chaudhury R, Dhariwal OP, Kalia RK (2006) Collection and characterization of Citrus indica Tanaka and C. macroptera Montr.: wild endangered species of north-eastern India. Genet Resour Crop Evol 53:1485–1493

Malik SK, Kumar S, ChoudharyR Kole PR, Chaudhury R, Bhat KV (2013) Assessment of genetic diversity in khirni [Manilkara hexandra (Roxb.) Dubard]: an important underutilized fruit species of India using Random Amplified Polymorphic DNA markers. Indian J Hortic 70:18–25

Meghwal PR, Azam MM (2004) Performance of some aonla cultivars in arid region of Rajasthan. Indian J Hortic 61:87–88

Nair KN, Nayar MP (1997) Rutaceae. In: Hajra PK, Nair VJ, Daniel P (eds) Flora of India, vol iv. Botanical survey of India, Calcutta, pp 259–408

Nayak D, Singh AK, Srivastav M (2013) Estimation of genetic parameters of fruit quality traits in mango hybrid population. Indian J Hortic 70:13–17

Panse VG, Sukhatme PV (1985) Statistical methods for agricultural workers. ICAR, New Delhi

Prakash J, Maurya AN, Singh SP (2010) Studies on variability in fruit characters of Jamun. Indian J Hortic 67:63–66

Sharma BD, Hore DK, Gupta SK (2004) Genetic resources of Citrus of north-eastern India and their potential use. Genet Resour Crop Evol 51:411–418

Singh VP, Misra KK (2010) Variability and character association analysis in bael germplasm. Indian J Hortic 67:70–74

Singh IP, Singh S (2003) Exploration, collection and mapping of Citrus genetic diversity in India. Tech Bull No. 7. NRC for Citrus, Nagpur, pp 230

Singh IP, Singh S (2006) Exploration, collection and characterization of citrus genetic diversity in north-eastern hill region. In: Singh VB, Sema A, Pauline A (eds) Horticulture for sustainable income and environment protection, vol I. Concept Publishing Company, New Delhi, pp 180–210

Singh IP, Shyam S, Singh K, Srivastava R (2001) Exploration and collection of citrus germplasm from NEH region (Meghalaya) of India. Indian J Plant Genet Resour 14:70–73

Singh R, Solanki S, Gurjar PS, Patidar R (2010) Physico-chemical characteristics of different varieties of mango in kymore Plateau of Madhya Pradesh. Indian J Hortic 67:67–69

Singh D, Gill MIS, Boora RS, Arora NK (2015) Genetic diversity analysis in guava (Psidium guajava) on the basis of morphological and physico-chemical traits. Indian J Agric Sci 85:678–683

Srivastava KK, Verma MK, Ahmed N, Razvi SM, Ahmed S (2014) Genetic variability and divergence analysis in sweet cherry (Prunus avium L.). Indian J Hortic 71:156–161

Webber HJ (1967) History and development of the Citrus industry. In: Reuther W, Batchelor LD, Webber HJ (eds) The Citrus industry, 2nd edn. University of California Press, California, pp 1–39
Ethics declarations
Conflict of interest
The authors declare that they have no conflict of interest.
About this article
Cite this article
Hazarika, T.K., Lalchhanmawia, J., Chhangte, L. et al. Assessment of genetic variability in the endangered Citrus macroptera Mont. ("hatkora") from Mizoram, north-east India. Genet Resour Crop Evol 64, 321–330 (2017). https://doi.org/10.1007/s10722-015-0354-z
Received:

Accepted:

Published:

Issue Date:
Keywords
Citrus macroptera

Genetic diversity

Mizoram

North-east India

Physico-chemical characteristics