Abstract
Given the scarcity of information about banana (Musa spp.) diversity in Oman, and the recent discovery of an ancient but new-to-science Musa cultivar in the Omani mountain oasis of Umq Bi'r, the primary aims of this study were to (1) map and taxonomically identify Musa plants in the irrigated, terraced gardens in the millennia old agroecosystem of Wadi Tiwi, a coastal watershed in the north of the Sultanate and (2) to combine these data with a detailed household survey on banana cultivation and use. On the approximately 100 ha terraced, arable land encountered in Wadi Tiwi, a total of 2839 stands of banana plants with 8255 fruit bearing banana mats were geolocated. Cultivars identified were: Musa AAA 'Dwarf Cavendish' (52 %), ABB 'Bluggoe' (40 %), AAA 'Green Red' (4 %), AAA 'Red' (2 %), ABB 'Silver Bluggoe' (1 %), AAB 'Mysore' (1 %) and AAB 'Horn Plantain' (0.2 %). With increasing altitude and distance from the coast, the proportion and number of 'Dwarf Cavendish' increased, while those of 'Bluggoe' decreased, though both cultivars were planted throughout the area. Most bananas (82 %) were grown below 100 m asl on irrigated terraces near villages. Teratological changes were observed in the bunch morphology of two 'Mysore' plants. This first survey of the distribution and diversity of Musa in Wadi Tiwi and two mountain villages provides evidence for the lasting effects of ancient and recent trade on present day cultivation of bananas in this arid region. Possible in situ adaptations to this otherwise banana unfavourable environment merit further research.
Access options
Buy single article
Instant access to the full article PDF.
USD 39.95
Price excludes VAT (USA)
Tax calculation will be finalised during checkout.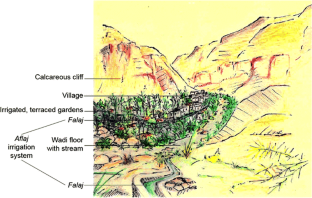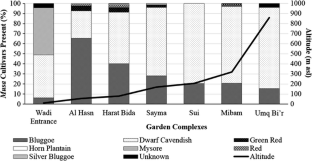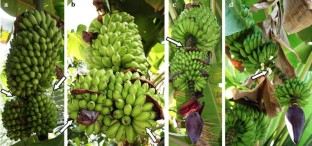 References
Agius DA (2005) Seafaring in the Arabian Gulf and Oman: the people of the Dow. Kegan Paul, London

Al Khanjari S, Hammer K, Buerkert A, Khan I, Al-Maskri A (2005) A survey of wheat landraces in Oman. Plant Genet Resour Newsl 141:7–10

Al-Maskri M, Nagieb M, Hammer K, Filatenko AA, Khan I, Buerkert A (2003) A note about Triticum in Oman. Genet Resour Crop Evol 50:83–87

Arias P, Dankers C, Liu P, Pilkauskas P (2003) The world banana economy 1985–2002. FAO Commodity Studies 1, Rome

Beyer HL (2004) Hawth's analysis tools for ArcGIS. http://www.spatialecology.com/htools. Accessed 10 June 2009

Blench R (2009) Bananas and plantains in Africa: re-interpreting the linguistic evidence. Ethnobot Res Appl 7:363–380

Boxhall P (1989) Arabian seafarers in the Indian Ocean. Asian Aff 20:287–295

Buerkert A, De Langhe E, Khanjari Al (2009) Ecology and morphological traits of an ancient Musa acuminata cultivar from a mountain oasis of Oman. Genet Resour Crop Evol 56:609–614

Costerus JC, Smith JJ (1910) Studies in tropical teratology. Ann Jard Bot Buitenzorg XXIII (2)VIII:1–18

Daniells J, Jenny C, Karamura D, Tomekpe K (2001) Musalogue: a catalogue of Musa germplasm. Diversity in the genus Musa. INIBAP, Montpellier

Dashora A, Lohani B, Malik JN (2007) A repository of earth resource information—CORONA satellite programme. Curr Sci India 92:926–932

De Langhe E (2002) Banana diversity in the Middle East (Jordan, Egypt and Oman). INIBAP, Montpellier

De Langhe E (2007) The establishment of traditional plantain cultivation in the African rain forest: a working hypothesis. In: Denham TP, Iriarte J, Vrydaghs L (eds) Rethinking agriculture: archaeological and ethnoarchaeological perspectives. Left Coast Press, Walnut Creek, pp 361–370

De Langhe E, de Maret P (1999) Tracking the banana: its significance in early agriculture. In: Gosden C, Hather J (eds) The prehistory of food: appetites for change, one world archeology. Routledge, London, pp 377–396

De Langhe E, Vrydaghs L, de Maret P, Perrier X, Denham T (2009) Why bananas matter: an introduction to the history of banana domestication. Ethnobot Res Appl 7:165–178

Gebauer J, Luedeling E, Hammer K, Nagieb M, Buerkert A (2007) Mountain oases in northern Oman: an environment for evolution and in situ conservation of plant genetic resources. Genet Resour Crop Evol 54:465–481

Gopalan NT, Sundararaj JS, Bakthavathsalu CM (1954) Abnormalities in bananas—a note on the teratology of twin bunching in the variety Poovan. Indian J Hortic 11(4):119–121

Gruen HJ (2007) Die Reisen des Ibn Battuta, vol 1. Allitera Verlag, Munich

Hammer K, Gebauer J, Al Khanjari S, Buerkert A (2009) Oman at the cross-roads of inter-regional exchange of cultivated plants. Genet Resour Crop Evol 56:547–560

Hourani GF, Carswell J (1995) Arab Seafaring. Princeton University Press, Princeton

IPGRI-INIBAP/CIRAD (1996) Descriptors for banana (Musa spp.). IPGRI, Rome; INIBAP, Montpellier; CIRAD, Montpellier

Korn L (2010) The architecture of Omani Oases: a mirror of social structures. In: Buerkert A, Schlecht E (eds) Oases of Oman, 2nd edn. University Press, Faisalabad, pp 52–59

Kwarteng AY, Dorvlo ASS, Vijaya Kumar GT (2009) Analysis of a 27 year rainfall data (1977–2003) in the Sultanate of Oman. Int J Climatol 29:605–617

Lawler A (2010) A forgotten corridor rediscovered. Science 328:1092–1097

Nagieb M, Haeser J, Siebert S, Luedeling E, Buerkert A (2004) Settlement history of a Mountain Oasis in Northern Oman—evidence from land-use and archaeological studies. Erde 135:81–106

Neumann K, Hildebrand E (2009) Early bananas in Africa: the state of the art. Ethnobot Res Appl 7:353–362

Norman WR, Shayya WH, Al-Ghafri AS, McCann IR (1998) Aflaj irrigation and on-farm water management in northern Oman. Irrig Drain Syst 12:35–48

Odeigah PGC (1997) Double bunching in a plantain germplasm in Nigeria: a new genotype. Genet Resour Crop Evol 44:1–3

Perrier X, De Langhe E, Donohue M, Lentfer C, Vrydaghs L, Bakry F, Carreel F, Hippolyte I, Horry J-P, Jenny C, Lebot V, Risterucci A-M, Tomekpe K, Doutrelepont H, Ball T, Manwaring J, de Maret P, Denham TP (2011) Multidisciplinary perspectives on banana (Musa spp.) domestication. Proc Natl Acad Sci USA 108:11311–11318

Schreiber J, Häser J (2004) Archaeological survey at Tiwi and its hinterland. Proc Sem Arab Stud 34:319–329

Siebert S, Häser J, Nagieb M, Korn L, Buerkert A (2005) Agricultural, architectural and archaeological evidence for the role and ecological adaptation of a scattered mountain oasis in Oman. J Arid Environ 62:177–197

Simmonds NW (1962) The evolution of bananas. Tropical agriculture series. Longman, London

Simmonds NW, Shepherd K (1955) The taxonomy and origins of the cultivated bananas. J Linn Soc Lond Bot 55:302–312

Swennen R (1990) Plantain cultivation under West African conditions: a reference manual. IITA, Ibadan

Swennen R, De Langhe E (1985) Growth parameters of yield of plantain (Musa cv. AAB). Ann Bot 56:197–204

Tang CY (1995) Variation of bunch types in mericlones of a multi-bunching banana. Infomusa 4:17–18

Taxonomy Advisory Group (2006) Guidelines for documenting the minimum set of descriptors for bananas. Bioversity International, Montpellier

Tenkouano A (2000) Persistence and horticultural value of inflorescence dichotomy in plantain. HortScience 35:933–936
Acknowledgments
The authors would like to thank Sultan Qaboos University, Muscat and Nizwa University in Oman for their cooperation, Dr. Nadiya Al-Saady for participating in the survey, Dr. Mohamed Al Rawahi for translating local names from Arabic into English, Abdulah Al-Araimi and his family for accommodation and recounting the seafarer history of Sur, Ameena Saeed Saleem Al-Salti and her family for their hospitality for providing information about the number of inhabitants in the villages along Wadi Tiwi, and the numerous Omanis who helped during the field work.
About this article
Cite this article
Behrendt, S., zum Felde, A., De Langhe, E. et al. Distribution and diversity of banana (Musa spp.) in Wadi Tiwi, northern Oman. Genet Resour Crop Evol 62, 1135–1145 (2015). https://doi.org/10.1007/s10722-015-0318-3
Received:

Accepted:

Published:

Issue Date:

DOI: https://doi.org/10.1007/s10722-015-0318-3
Keywords
Oasis agriculture

Plantain

Trade relationships

Traditional land use system