Abstract
The Northwest of Iran has a high diversity of endemic Pyrus species. In this study, considerable variability in morphological and chemical characteristics was observed in the fruit of 19 local Pyranshahr pear accessions. Fruit samples of three accessions (14, 7 and 10) had higher contents of total soluble solids (TSS > 23 %) and total sugar (SC ~11.5 %) than other accessions with a mean SC of 9 %. There was significant positive correlation between SC and TSS (r = 0.40) as well as between SC and pH (r = 0.46). Cluster analysis of the studied parameters, which were used to ascertain the level of diversity, differentiated accessions into seven clusters with significant variability among them. This research shows that pear genetic resources in the Northwest of Iran show rich genetic diversity and could be useful germplasm for commercial exploitation, for use in breeding programs to improve existing cultivars, or for developing new cultivars.
Access options
Buy single article
Instant access to the full article PDF.
USD 39.95
Price excludes VAT (USA)
Tax calculation will be finalised during checkout.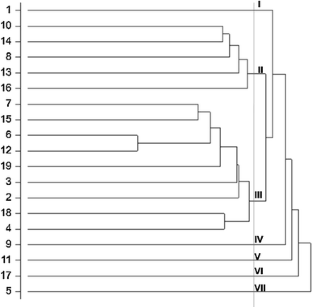 References
Association of Official Analytical Chemists (1995) Official methods of analysis, 15th edn. AOAC, Washington, DC, pp 440–510

Bao L, Chen K, Zhang D, Cao Y, Yamamoto T, Teng Y (2007) Genetic diversity and similarity of pear (Pyrus L.) cultivars native to East Asia revealed by SSR (simple sequence repeat) markers. Genet Resour Crop Evol 54:959–971

Bell RL, Itai A (2011) Pyrus. In: Kole C (ed) Wild crop relatives: genomic and breeding resources. Springer, Berlin, pp 147–177

Blattny C (2003) Pears. In: Caballero B, Trugo LC, Finglas PM (eds) Encyclopedia of food sciences and nutrition. Academic Press, London, pp 4428–4433

Boulton RB, Singleton VL, Bisson LF, Kunkee RE (1999) Juice and wine acidity. In: Principles and practices of winemaking. Springer, New York, pp 521–538

Challice JS, Westwood MN (1973) Numerical and taxonomical studies of genus Pyrus using both chemicals and botanical characters. Bot J Linn Soc 67:121–148

Chen J, Wang Z, Wu J, Wang Q, Hu X (2007) Chemical compositional characterization of eight pear cultivars grown in China. Food Chem 104:268–275

de Souza VAB, Byrne DH, Taylor JF (1998) Heritability, genotypic and phenotypic correlations and predicted selection response of quantitative traits in peach. II. An analysis of several fruit traits. J Amer Soc Hortic Sci 123:604–611

Dondini L, Sansavini S (2012) European pear. In: Badenes ML, Byrne DH (eds) Fruit breeding. Handbook of plant breeding, vol 8. Springer, New York, pp 369–413

Elgar HJ, Watkins CB, Murray SH, Gunson FA (1997) Quality of 'Buerre Bosc' and 'Doyenne du comice' pears in relation to harvest date and storage period. Postharvest Biol Technol 10:29–37

Food and Agricultural Organization of the United Nations (FAO) 2012. http://faostat.fao.org/site/342/default.aspx. Accessed 18 Feb 2015)

Hancock JF, Lobos GA (2008) Pears. In: Hancock JF (ed) Temperate fruit crop breeding. Springer, Berlin, pp 299–336

Hortwitz W (1960) Official and tentative methods of analysis. Association of Official Agricultural Chemists, Washington, pp 314–320

Hudina M, Stampar F (2000) Sugars and organic acids contents of European (Pyrus communis L.) and Asian (Pyrus serotina Rehd.) pear cultivars. Acta Aliment 29:217–230

Hudina M, Stampar F (2005) The correlation of the pear (Pyrus communis L.) cv. 'Williams' yield quality to the foliar nutrition and water regime. Acta Agric Slov 85:179–185

Itai A, Tanahashi T (2008) Inhibition of sucrose loss during cold storage in Japanese pear (Pyrus pyrifolia Nakai) by 1-MCP. Postharvest Biol Technol 48:355–363

Katayama H, Uematsu C (2006) Pear (Pyrus species) genetic resources in Iwate. Genet Resour Crop Evol 53:483–498

Kaur K, Dhillon WS (2014) Influence of maturity and storage period on physical and biochemical characteristics of pear during post cold storage at ambient conditions. J Food Sci Technol. doi:10.1007/s13197-014-1620-3

Li T, Li XY, Tan DM, Jiang ZY, Wei Y, Li JC, Du GD, Wang A (2014) Distinct expression profiles of ripening related genes in the 'Nanguo' pear (Pyrus ussuriensis) fruits. Sci Hortic 171:78–82

Paganová V (2009) The occurrence and morphological characteristics of the wild pear taxa in Slovakia. Hortic Sci 36:1–13

Qin YH, Li GY, Ye ZX, Teixeira da Silva JA, Feng QR, Hu GB (2015) A comparative study between a late-ripening mutant of citrus and its original line in fruit coloration, sugar and acid metabolism at all fruit maturation stage. Fruits 70(1):5–11

Sadeghi L, Abdollahi H, Fakhraee Lahiji M (2008) National guideline for the conduct of tests for distinctness, Uniformity and Stability in Pear. Seed and Plant Certification and Registration Institute, pp 37 (in Farsi)

Silva GJ, Souza TM, Barbieri RL, de Oliveira AC (2014) Origin, domestication, and dispersing of pear (Pyrus spp.). Adv Agric 20:1–8

SPSS (1998) SPSS Base 80 user's guide and SPSS applications guide. SPSS, Chicago, p 256

Sun YW, Qian MJ, Wu RY, Niu QF, Teng YW, Zhang D (2014) Postharvest pigmentation in red Chinese sand pears (Pyrus pyrifolia Nakai) in response to optimum light and temperature. Postharvest Biol Technol 91:64–71

Tahzibi Hagh F, Abdollahi H, Ghasemi A, Fathi D (2011) Vegetative and reproductive traits of some Iranian native pear (Pyrus communis L.) cultivars based on DUF descriptor. Seed Plant Improv J 27(1):37–55

Teng Y, Tanabe K (2004) Reconsideration on the origin of cultivated pears native to East Asia. Acta Hortic 634:175–182

Wang CY (1982) Pear fruit maturity, harvesting, storage and ripening. In: Zwet T, Childers NF (eds) The pear. Horticultural Publisher, Gainesville, pp 431–443
Electronic supplementary material
Below is the link to the electronic supplementary material.
About this article
Cite this article
Alizadeh, K., Fatholahi, S. & Teixeira da Silva, J.A. Variation in the fruit characteristics of local pear (Pyrus spp.) in the Northwest of Iran. Genet Resour Crop Evol 62, 635–641 (2015). https://doi.org/10.1007/s10722-015-0241-7
Received:

Accepted:

Published:

Issue Date:

DOI: https://doi.org/10.1007/s10722-015-0241-7
Keywords