Abstract
Many stress-related interactions such as pathogen infection, insect tolerance, salt tolerance, auxin degradation, cell wall lignification, tissue suberization, and plant senescence involve various isoforms of peroxidases. Peroxidase gene polymorphism (POGP) markers have been used to estimate diversity, relationships and population structure among 80 Citrus and their relatives in Aurantioideae by using unweighted pair group method arithmetic average (UPGMA) and bayesian substructuring analysis. Fourteen primers produced a total of 148 fragments and 147 of them were polymorphic. The UPGMA analysis demonstrated that the accessions had a similarity range from 0.27 to 0.98 and were distinguished. The results of this study were mostly consistent with previous reports of different marker systems, but few different findings were also detected. The subtribe Clauseninae (tribe Clauseneae) did not clearly separate from the subtribes of the tribe Citreae. Substructuring analysis indicated that there were six subpopulations among the accessions studied. This study revealed that the POGP markers can be utilized to estimate genetic diversity, relationships and population structure in Citrus and related species in the Aurantioideae subfamily.
Access options
Buy single article
Instant access to the full article PDF.
US$ 39.95
Tax calculation will be finalised during checkout.
Subscribe to journal
Immediate online access to all issues from 2019. Subscription will auto renew annually.
US$ 119
Tax calculation will be finalised during checkout.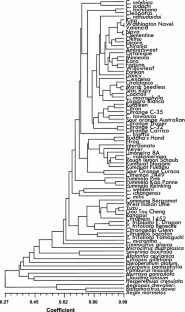 References
Amaya I, Botella MA, de la Calle M, Medina MI, Heredia A, Bressan RA, Hasegawa PM, Quesada MA, Valpaesta V (1999) Improved germination under osmotic stress of tobacco plants over expressing a cell wall peroxidase. FEBS Lett 457:80–84

Barkley NA, Roose ML, Krueger RR, Federici CT (2006) Assessing genetic diversity and population structure in a citrus germplasm collection utilizing simple sequence repeat markers (SSRs). Theor Appl Genet 112:1519–1531

Barrett HC, Rhodes AM (1976) A numerical taxonomic study of affinity relationships in cultivated Citrus and its close relatives. Syst Bot 1:105–136

Bayer RJ, Mabberley DJ, Morton C, Miller CH, Sharma IK, Pfeil BE, Rich S, Hitchcock R, Sykes S (2009) A molecular phylogeny of the orange subfamily (Rutaceae: Aurantioideae) using nine cpDNA sequences. Am J of Bot 96:668–685

Biswas KM, Chai L, Amar MH, Zhang X, Deng XX (2011) Comparative analysis of genetic diversity in Citrus germplasm collection using AFLP, SSAP, SAMPL and SSR markers. Sci Hort 129:798–803

Ceylan H (2010) Detection of peroxidase gene polymorphism in wheats from Turkey. Erciyes University Institute of Graduate Studies in Science and Engineering, Msc. Thesis, 75 p. (in Turkish)

Cristofani-Yaly M, Novelli VM, Bastinel M, Machado MA (2010) Transferability and level of heterozygosity of microsatellite markers in Citrus species. Plant Mol Biol Rep 29:418–423

Dice LR (1945) Measures of the amount of ecologic association between species. Ecology 26:297–302

Doyle JJ, Doyle JL (1990) Isolation of plant DNA from fresh tissue. Focus 12:13–15

Espelie KE, Franceschi VR, Kolattukudy PE (1986) Immunocytochemical localization and time course of appearance of an anionic peroxidase associated with suberization in wound-healing potato tuber tissue. Plant Phys 81:487–492

Fang DQ, Krueger RR, Roose ML (1998) Phylogenetic relationships among selected Citrus germplasm accessions revealed by inter-simple sequence repeat (ISSR) markers. J Am Soc Hort 123:612–617

FAO (2011) Food and Agricultural Organization of the United Nations. http://faostat.fao.org/site/567/DesktopDefault.aspx?PageID=567#ancor

Federici CT, Fang DQ, Scora RW, Roose ML (1998) Phylogenetic relationships within the genus Citrus (Rutaceae) and related genera as revealed by RFLP and RAPD analysis. Theor Appl Genet 96:812–822

Fukunaga K, Hill J, Vigouroux Y, Matsuoka Y, Sanchez GJ, Liu K, Buckler ES, Doebley J (2005) Genetic diversity and population structure of Teosinte. Genetics 169:2241–2254

Gulsen O, Roose ML (2000) The origin of Interdonato lemon inferred from cpRFLP, SSR, isozyme and ISSR markers. Proc Int Soc Citricult IX Congr, pp 158–159

Gulsen O, Roose ML (2001) Chloroplast and nuclear genome analysis of the parentage of lemons. J Am Soc Hort Sci 126:210–215

Gulsen O, Shearman RC, Heng-Moss TM, Mutlu N, Lee DJ, Sarath G (2007) Peroxidase gene polymorphism in buffalograss and other grasses. Crop Sci 47:767–772

Gulsen O, Sever-Mutlu S, Mutlu N, Tuna M, Karaguzel O, Shearman RC, Riordan TP, Heng-Moss TM (2009) Polyploidy creates higher diversity among Cynodon accessions as assessed by molecular markers. Theor Appl Genet 118:1309–1319

Gulsen O, Kaymak S, Ozongun S, Uzun A (2010a) Genetic analysis of Turkish apple germplasm using peroxidase gene-based markers. Sci Hort 125:368–373

Gulsen O, Uzun A, Canan I, Seday U, Canihos E (2010b) A new citrus linkage map based on SRAP, SSR, ISSR, POGP, RGA and RAPD markers. Euphytica 173:265–277

Herrero R, Asins MJ, Carbonell AE, Navarro L (1996) Genetic diversity in the orange subfamily Aurantioideae. I. Intraspecies and intragenus genetic variability. Theor Appl Genet 92:599–609

Hinman RL, Lang J (1965) Peroxidase catalyzed oxidation of indole-3-acetic acid. Biochemistry 4:144–158

Hiraga S, Yamamoto K, Ito H, Sasaki K, Matsui H, Honma M, Nagamura Y, Sasaki T, Ohashi Y (2001) Diverse expression profiles of 21 rice peroxidase genes. FEBS Lett 471:245–250

Hodgson RW (1967) Horticultural varieties of citrus. In: Reuther W, Webber HJ, Batchelor LD (eds) The citrus industry, vol 1. University of California Press, Berkeley, pp 431–591

Jackson LK, Futch SH (2003) Ambersweet Orange. Fact Sheet HS-176, Horticultural Sciences Department, Florida Cooperative Extension Service, Institute of Food and Agricultural Sciences, University of Florida

Kahn TL, Krueger RR, Gumpf DJ, Roose ML, Arpaia ML, Batkin TA, Bash JA, Bier OJ, Clegg MT, Cockerham ST, Coggins Jr CW, Durling D, Elliott G, Mauk PA, Mcguire PE, Orman C, Qualset CO, Roberts PA, Soost RK, Turco J, Van Gundy SG, Zuckerman B (2001) Citrus genetic resources in California: Analysis and recommendations for long-term conservation. Report No. 22. University of California Division of Agriculture and Natural Resources, Genetic Resources Conservation Program, Davis CA, USA

Lombardo G, Schicchi R, Marino P, Palla F (2012) Genetic analysis of Citrus aurantium L. (Rutaceae) cultivars by ISSR molecular markers. Plant Biosyst Int J Deal Asp Plant Biol 146(Sup 1):19–26

Lu Z, Zhou Z, Xie R (2011) Molecular phylogeny of the "True Citrus Fruit Trees" group (Aurantioideae, Rutaceae) as inferred from chloroplast DNA sequence. Agric Sci China 10:49–57

Luro F, Rist D, Ollitrault P (2000) Sequence tagged microsatellites polymorphism: an alternative tool for cultivar identification and evaluation of genetic relationships in Citrus. Proc Int Soc Citricult IX Congr 1:170–171

Mantel N (1967) The detection of disease clustering and a generalized regression approach. Cancer Res 27:209–220

Morton CM (2009) Phylogenetic relationships of the Aurantioideae (Rutaceae) based on the nuclear ribosomal DNA ITS region and three noncoding chloroplast DNA regions, atpB-rbcL spacer, rps16, and trnL-trnF. Org Divers Evol 9:52–68

Morton CM, Grant M, Blackmore S (2003) Phylogenic relationships of the Aurantioideae inferred from chloroplast DNA sequence data. Am J Bot 90:1463–1469

Nicolosi E, Deng ZN, Gentile A, La Malfa S, Continella G, Tribulato E (2000) Citrus phylogeny and genetic origin of important species as investigated by molecular markers. Theor Appl Genet 100:1155–1166

Ocal N (2012) Determination of genetic diversity in some watermelon cultivars using peroxidase gene markers. Erciyes University Institute of Graduate Studies in Science and Engineering, Msc. Thesis 113 p (in Turkish)

Pang XM, Hu CG, Deng XX (2007) Phylogenetic relationship within Citrus and related genera as inferred from AFLP markers. Genet Resour Crop Evol 54:429–436

Passardi F, Cosio C, Penel C, Dunand C (2005) Peroxidases have more functions than a Swiss army knife. Plant Cell Rep 24:255–265

Pessina D, Gentili R, Barcaccia G, Nicole S, Rossi G, Barbesti S, Sgorbati S (2011) DNA content, morphometric and molecular marker analyses of Citrus limonimedica, C. limon and C. medica for the determination of their variability and genetic relationships within the genus Citrus. Sci Hort 129:663–673

Pritchard JK, Przeworski M (2001) Linkage disequilibrium in humans: models and data. Am J Hum Genet 69:1–14

Rohlf FJ (2000) NTSYS-pc, Numerical Taxonomy and Multivariate Analysis System. Version 2.11. New York, Exeter, Setauket

Scora RW (1975) On the history and origin of Citrus. Bull Torrey Bot Club 102:369–375

Smith JSC, Chin ECL, Shu H, Smith OS, Wall SJ, Senior ML, Mitchel SE, Kresorich S, Tiegle J (1997) An evaluation of the utility of SSR loci as molecular markers in maize (Zea mays L.): comparisons with data from RFLPs and pedigree. Theor Appl Genet 95:163–173

Swingle WT, Reece PC (1967) The botany of Citrus and its wild relatives. In: Reuther W, Webber HJ, Batchelor LD (eds) The Citrus industry, vol 1., University of California Press, Berkeley, CA, pp 389–390

Tanaka T (1977) Fundamental discussion of Citrus classification. Stud Citrol 14:1–6

Uzun A, Gulsen O, Kafa G, Seday U (2009a) Field performance and molecular diversification of lemon selections. Sci Hort 120:473–478

Uzun A, Yesiloglu T, Aka-Kacar Y, Tuzcu O, Gulsen O (2009b) Genetic diversity and relationships within Citrus and related genera based on sequence related amplified polymorphism markers (SRAPs). Sci Hort 121:306–312

Uzun A, Gulsen O, Yesiloglu T, Aka-Kacar Y, Tuzcu O (2010) Distinguishing grapefruit and pummelo accessions using ISSR markers. Czech J Genet Plant Breed 46:170–177

Uzun A, Yesiloglu T, Polat I, Aka-Kacar Y, Gulsen O, Yildirim B, Tuzcu O, Tepe S, Canan I, Anil S (2011) Evaluation of genetic diversity in lemons and some of their relatives based on SRAP and SSR markers. Plant Mol Biol Rep 29:693–701

Webber HJ (1967) History and development of the Citrus industry. In: Reuther W, Webber HJ, Batchelor LD (eds) The citrus industry, vol 1. University of California Press, Berkeley, pp 1–39.

Xu Q, Chen LL, Ruan X, Chen D, Zhu A, Chen C, Bertrand B, Jiao WB, Hao BH, Lyon MP, Chen J, Gao S, Xing F, Lan H, Chang JW, Ge X, Lei Y, Hu Q, Mia Y, Wang L, Xiao S, Biswas MK, Zeng W, Guo F, Cao H, Yang X, Xu XW, Cheng YJ, Xu J, Liu JH, Luo OJ, Tang Z, Guo WW, Kuang H, Zhang HY, Roose ML, Nagarajan N, Deng XX, Ruan Y (2013) The draft genome of sweet orange (Citrus sinensis). Nat Genet 45:59–68

Yamamoto M, Abkenar AA, Matsumoto R, Kubo T, Tominaga S (2008) CMA staining analysis of chromosomes in several species of Aurantioideae. Genet Resour Crop Evol 55:1167–1173

Yoshida K, Kaothien P, Matsui T, Kawaoka A, Shinmyo A (2003) Molecular biology and application of plant peroxidase genes. Appl Microbiol Biotech 60:665–670

Zhen-hua L, Zhi-qin Z, Rang-jin X (2011) Molecular phylogeny of the "True Citrus Fruit Trees" group (Aurantioideae, Rutaceae) as inferred from chloroplast DNA sequence. Agr Sci in China 10:49–57
About this article
Cite this article
Uzun, A., Gulsen, O., Seday, U. et al. Peroxidase gene-based estimation of genetic relationships and population structure among Citrus spp. and their relatives. Genet Resour Crop Evol 61, 1307–1318 (2014). https://doi.org/10.1007/s10722-014-0112-7
Received:

Accepted:

Published:

Issue Date:
Keywords
Aurantioideae

Citrus

Diversity

Genetic resources

Population structure