Abstract
Accessions of wild and domesticated hemp (Cannabis sativa L.) originating from Colombia, Mexico, California, Bolivia, Thailand, Afghanistan, Serbia, Hungary, south Africa and different regions of China, were studied by means of DNA polymorphisms in order to discriminate between drug and fiber types. Analysis of molecular variance (AMOVA) was used to partition the total genetic variance within and among populations. The significance of the variance components was tested by calculating their probabilities based on 999 random permutations. AMOVA revealed 74 % variation among accessions and 26 % within accessions, all AMOVA variation was highly significant (P < 0.001). The cluster analysis of molecular data, grouped accessions into eight clusters and gave a matrix correlation value of r = 0.943, indicating a very good fit between the similarity values implied by the phenogram and those of the original similarity matrix. In this study, DNA polymorphisms could discriminate the fiber and drug types, and accessions were grouped in accordance to their classification and uses. In addition, seed size variation and micromorphological characters of seeds were studied by means of a scanning electron microscope (SEM). Seeds varied significantly in size, and were bigger in the fiber types. SEM analysis exhibited variation of micromorphological characters of seeds that could be important for discriminating the fiber or drug types.
Access options
Buy single article
Instant access to the full article PDF.
US$ 39.95
Tax calculation will be finalised during checkout.
Subscribe to journal
Immediate online access to all issues from 2019. Subscription will auto renew annually.
US$ 119
Tax calculation will be finalised during checkout.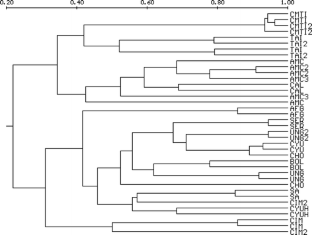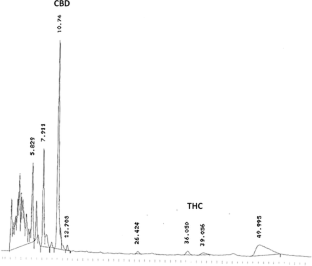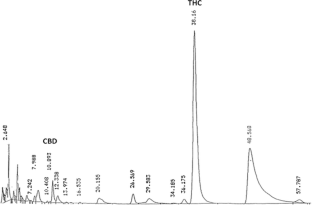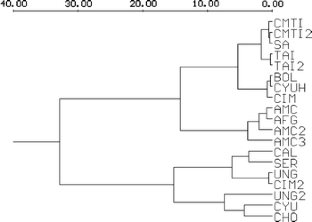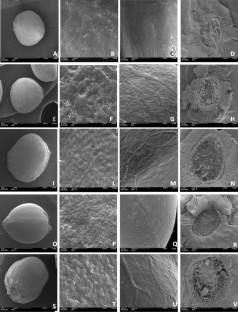 References
Afifi AA, Clark V (1984) Computer aided multivariate analysis. Lifetime Learning Publ, Belmont

Anderson LC (1974) A study of systematic wood anatomy in Cannabis. Harvard Univ Bot Mus Leafl 24:29–36

Anderson LC (1980) Leaf variation among Cannabis species from a controlled garden. Harvard Univ Bot Mus. Leafl 28:61–69

Brennelsen R (1984) Psychotrope Drogen. Pharm Acta Helv 59:247–259

Broseus J, Anglada F, Esseiva P (2010) The differentiation of fibre- and drug type Cannabis seedlings by gas chromatography/mass spectrometry and chemometric tools. Forensic Sci Int 200:87–92

Bruci Z, Papoutsis I, Athanaselis S, Nikolaou P, Pazari E, Spiliopoulou C, Vyshka G (2012) First systematic evaluation of the potency of Cannabis sativa plants grown in Albania. Forensic Sci Int 222:40–46

Buss CC, Lammers TG, Wise RR (2001) Seed coat morphology and its systematic implications in Cyanea and other genera of Lobelioideae (Campanulaceae). Am J Bot 88:1301–1308

Caffarel MM, Andradas C, Pèrez-Gόmez E, Guzmán M, Sánchez C (2012) Cannabinoids: a new hope for breast cancer therapy? Cancer Treat Rev 38:911–918

Datwyler SL, Weiblen GD (2006) Genetic variation in hemp and marijuana (Cannabis sativa L.) according to amplified fragment length polymorphisms. J Forensic Sci 51(2):371–375

De Backer B, Debrus B, Lebrun P, Theunis L, Dubois N, Decock L, Verstraete A, Hubert P, Charlier C (2009) Innovative development and validation of an HPLC/DAD method for the qualitative and quantitative determination of major cannabinoids in Cannabis plant material. J Chromatogr B 877:4115–4124

De Queiroz RT, Goulard de Azevedo Tozzi AM, Lewis GP (2013) Seed morphology: an addition to the taxonomy of Tephrosia (Leguminosae, Papilionoideae, Millettieae) from South America. Plant Syst Evol 299:459–470

Dulson J, Scott LM, Ripley VL (1998) Efficacy of bulked DNA samples for RAPD DNA fingerprinting of genetically complex Brassica napus cultivars. Euphytica 102:65–70

Dunn G, Everitt BS (1982) An introduction to mathematical taxonomy. Cambridge University Press, Cambridge

Emboden WA (1974) Cannabis—a polytypic genus. Econ Bot 28:304–310

Excoffier L, Smouse PE, Quattro JM (1992) Analysis of molecular variance inferred from metric distances among DNA haplotype: application to human mitochondrial DNA restriction data. Genetics 131:479–491

Faeti V, Mandolino G, Ranalli P (1996) Genetic diversity of Cannabis sativa germplasm based on RAPD markers. Plant breed 115:367–370

Forapani S, Carboni A, Paoletti C, Moliterni VMC, Ranalli P, Mandolino G (2001) Comparison of hemp varieties using random amplified polymorphic DNA markers. Crop Sci 41(6):1682–1689

Fuchs L (1542) The great herbal of Leonhart Fuchs: De historia stirpium commentarii insignes (notable commentaries on the history of plants), Stanford University Press: Staford, 1999

Gandhi D, Albert S, Pandya N (2011) Morphological and micromorphological characterization of some legume seeds from Gujarat, India. Env Exp Biol 9:105–113

Gillan R, Cole MD, Linacre A, Thorpe JW, Watson ND (1995) Comparison of Cannabis sativa by random amplification of polymorphic DNA (RAPD) and HPLC of cannabinoids: a preliminary study. Sci Justice 35:169–177

Gontcharova SB, Gontcharova AA, Yakubov VV, Kondo K (2009) Seed surface morphology in some representatives of the genus Rhodiola sect. Rhodiola (Crassulaceae) in Russian Far East. Flora 204:17–24

Hansen R (2009) Industrial hemp profile http://www.agmrc.org/commodities_products/fiber/ industrial _hemp_profile.cfm

Hillig KW (2005) Genetic evidence for speciation in Cannabis (Cannabaceae). Genet Resour Crop Evol 52:161–180

Howard C, Gilmore S, Robertson J, Peakall R (2008) Developmental validation of a Cannabis sativa STR multiplex system for forensic analysis. J Forensic Sci 53:1061–1067

Jagadish V, Robertson J, Gibbs A (1996) RAPD analysis distinguishes Cannabis sativa samples from different sources. Forensic Sci Int 79:113–121

Javadi F, Yamaguchi H (2004) A note on seed coat and plumule morphological variation in the genus Cicer (Fabaceae). Sci Rep Grad Sch Agric Biol Sci 56:7–16

Koul KK, Ranina N, Raina SN (2000) Seed coat microsculpturing in Brassica and allied genera (Subtribe Brassicinae, Raphanine, Moricandiinae). Ann Bot 86:385–397

Lamarck JB (1785) Encyclopédie méthodique botanique, Chez Panckoucke, Paris

Lehmann T, Brenneisen R (1995) High performance liquid chromatographic profiling of Cannabis products. J Liq Chromatogr 18:689–700

Li HL (1974) An archeological and historical account of Cannabis in China. Econ Bot 28:437–438

Mandolino G, Ranalli P (2002) The application of molecular markers in genetic and breeding of hemp. J Ind Hemp 7:7–23

Mechoulam R (1970) Marijuana chemistry. Science 168:1159–1166

Peakall R, Smouse PE (2006). GENALEX V6.1: genetic analysis in excel. Population genetic software for teaching and research. Australian National University Canberra Australia http://www.anu.edu.au/BoZo/GenAlex/

Pejic B, Vukcevic M, Kostic M, Skundric P (2009) Biosorption of heavy metal ions from aqueous solutions by short hemp fibers: effect of chemical composition. J Hazard Mater 164(1):146–153

Piluzza G, Pecetti L, Bullitta S, Piano E (2005) Discrimination among subterranean clover (Trifolium subterraneum L. complex) genotypes using RAPD markers. Genet Resour Crop Evol 52:193–199

Pinarkara E, Kyis SA, Hakki E, Sag A (2009) RAPD analysis of seized marijuana (Cannabis sativa) in Turkey. Electron J Biotechn 12:1–13

Pommet M, Juntaro J, Heng JY, Mantalaris A, Lee AF, Wilson K, Kalinka G, Shaffer MS, Bismarck A (2008) Surface modification of natural fibers using bacteria: depositing bacterial cellulose onto natural fibers to create hierarchical fiber reinforced nanocomposites. Biomacromolecules 9:1643–1651

Rivoira G (1981) Canapa. In: Baldoni R, Giardini L (eds) Coltivazioni erbacee. Patron, Bologna

Rohlf FJ (1992) NTSYS-pc. Numerical taxonomy and multivariate analysis system. Version 1.70. Exeter Software. Setauket, New York

Russo E (2007) History of Cannabis and its preparations in saga, science and sobriquet. Chem Biodivers 4:1614–1648

Schultes RE, Klein WM, Plowman T, Lockwood TE (1974) Cannabis: an example of taxonomic neglect. Harvard Univ Bot Mus Leafl 23:337–367

Shoyama Y, Tamada T, Kurihara K, Takeuchi A, Taura F, Arai S, Blaber M, Shoyama Y, Morimoto S, Kuroki R (2012) Structure and function of ∆1-tetrahydrocannabinolic acid (THCA) synthase, the enzyme controlling the psychoactivity of Cannabis sativa. J Mol Biol 423:96–105

Small E, Cronquist A (1976) A practical and natural taxonomy for Cannabis. Taxon 25(4):405–435

Sneath P, Sokal R (1973) Numerical taxonomy. W H Freeman and Company, San Francisco

Sokal RR (1961) Distance as a measure of taxonomic similarity. Syst Zool 10:70–79

Stambouli H, El Bouri A, Bellimam MA, Bouayoun T, El Karni N (2005) Cultivation of Cannabis sativa L. in Northern Marocco. Bull Narc, vol. LVII(1–2): 79–118

Vavilov NI (1926) The origin of the cultivation of "primary" crops, in particular cultivated hemp. In: studies on the origin of cultivated plants, Institute of Applied Botany and Plant Breeding (USSR), Leningrad, pp. 221–223

Vavilov NI, Bukinich DD (1929) Agricultural Afghanistan. Bull Appl Bot Leningrad, Suppl.33, 610 pp

Williams JK, Kubelik AR, Livak KJ, Rafalski JA, Tingey SV (1990) DNA polymorphism amplified by primers are useful genetic markers. Nucl Acid Res 18:6531–6535

World Drug Report (2005) United Nations publication, Sales No. E.05.XI.10

Yoshizaki M (2003) Millets in prehistoric remain: Paleobotany on barnyard millets and azuki beans in Japan. In: Yamaguchi H, Kawase M (eds) Natural history of millets. Hokaido University Press, Sapporo

Zhang ZY, Yang DZ, Lu AM, Knapp S (2005) Seed morphology of the tribe Hyoscyameae (Soloanaceae). Taxon 54:71–83
Acknowledgments
Thanks are due to dr. E.P.M. De Meijer from Hortapharm B.V., Amsterdam, and Dr. R. Clarke from International Hemp Association (IHA) Amsterdam for kindly providing the hemp accessions.
About this article
Cite this article
Piluzza, G., Delogu, G., Cabras, A. et al. Differentiation between fiber and drug types of hemp (Cannabis sativa L.) from a collection of wild and domesticated accessions. Genet Resour Crop Evol 60, 2331–2342 (2013). https://doi.org/10.1007/s10722-013-0001-5
Received:

Accepted:

Published:

Issue Date:
Keywords
Cannabis sativa

DNA polymorphisms

Drug type

Fiber type

Seeds

SEM