Abstract
Leucaena leucocephala (Lam.) de Wit. is native to Central America and Mexico, but now grows naturally in most tropical areas globally. It is a neglected and underutilized; medium to small sized tree of multiple values. It is commonly known as wild tamarind in English and subabul in Hindi. In recent years, Leucaena has gained a great attention for its utilization as raw material on large scale for pulp and paper industries and manufacturing of packaging material. Present paper deals with distribution, morphological description, current utilization, future prospective and propagation of this species. During the present study we have standardized macro-propagation technique for L. leucocephala. We used fly ash amended sand to develop rooting media for vegetative propagation of L. leucocephala and assess its potential as a rooting media. Root formation was significantly high (p < 0.05) in 10 % FA amended sand in comparison to other used media. Rooted plants showed nutrient deficiency symptoms after 40–50 days in sand while in 10 % FA amended sand they were healthy, greener and do not showed nutrient deficiency symptoms. On the basis of present study, it is concluded that 10 % fly ash amended sand is a suitable rooting media for vegetative propagation of L. leucocephala.
Access options
Buy single article
Instant access to the full article PDF.
USD 39.95
Price excludes VAT (USA)
Tax calculation will be finalised during checkout.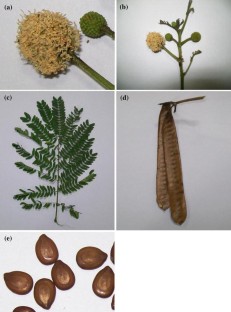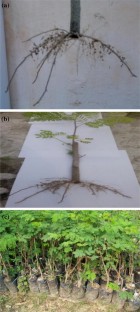 References
Cheung KC, Wong JPK, Zhang ZQ, Wong JWC, Wong MH (2000) Revegetation of lagoon ash using the legume species Acacia auriculiformis and Leucaena leucocephala. Environ Pollut 109:75–82

Diaz MJ, Garcia MM, Eugenio ME, Tapias R, Fernandez M, Lopez F (2007) Variations in fiber length and some pulp chemical properties of Leucaena varieties. Ind Crops Prod 26:142–150

Feria MJ, Lopez F, Garcia JC, Perez A, Zamudio MAM, Alfaro A (2011) Valorization of Leucaena leucocephala for energy and chemicals from autohydrolysis. Biomass Bioenergy 35:2224–2233

Goel VL, Behl HM (2002) Selection of Leucaena species for afforestration and amelioration of sodic soils. Land Degrad Dev 13:387–393

Hartmann HT, Kester DE (2010). In: Hartmann HT, Kester DE, Davies FT, Geneve R (eds) Plant propagation: principles and practices (8th edn), Prentice Hall, Englewood Cliffs, NJ

Hocking D (1993) Trees for drylands. Oxford & IBH Publishing Co, New Delhi

Hughes CE (1998) Monograph of Leucaena (Leguminosae: Mimosoideae). Syst Bot Monogr 55:1–244

Khan MR, Khan MW, Singh K (1997) Management of root-knot disease of tomato by the application of fly-ash to soil. Plant Pathol 46:33–43

Khan MR, Majid S, Mohidin FA, Khan N (2011) A new bioprocess to produce low cost powder formulations of biocontrol bacteria and fungi to control fusarial wilt and root-knot nematode of pulses. Biol Control 59:130–140

Lins CEL, Cavalcante UMT, Sampaio EVSB, Messias AS, Maia LC (2006) Growth of mycorrhized seedlings of Leucaena leucocephala (Lam.) de Wit. in a copper contaminated soil. Appl Soil Ecol 31:181–185

Lopez F, Garcia MM, Yanez R, Tapias R, Fernandez M, Diaz MJ (2008) Leucaena species valoration for biomass and paper production in 1 and 2 year harvest. Bioresour Technol 99:4846–4853

Malik RS, Dutt D, Tyagi CH, Jindal AK, Lakharia LK (2004) Morphological, anatomical and chemical characteristics of Leucaena leucocephala and its impact on pulp and paper making properties. J Sci Ind Res 63:125

Meelu OP, Morris RA (1986) Green manuring research in the Philippines e a review. Philipp J Crop Sci 111:53–59

Menzies NW, Aitken RL (1996) Evaluation of fly ash as a component of potting Substrates. Sci Hortic 67:87–99

Normaniza O, Faisal HA, Barakbah SS (2008) Engineering properties of Luciana leucocephala for prevention of slope failure. Ecol Eng 32:215–221

Pandey VC, Singh N (2010) Impact of fly ash incorporation in soil systems. Agric Ecosyst Environ 136:16–27

Pandey VC, Abhilash PC, Singh N (2009) The Indian perspective of utilizing fly ash in phytoremediation, phytomanagement and biomass production. J Environ Manag 90:2943–2958

Pandey VC, Singh JS, Kumar A, Tewari DD (2010) Accumulation of heavy metals by chickpea grown in fly ash treated soil: effect on antioxidants CLEAN—Soil. Air Water 38:1116–1123

Parkash R, Hocking D (1986) Some favourite trees for fuel and fodder. Society for promotion of wastelands development, New Delhi, India

Paul KT, Satpathy SK, Manna I, Chakraborty KK, Nando GB (2007) Preparation and characterization of nano structured materials from fly ash: a waste from thermal power stations, by high energy ball milling. Nanoscale Res Lett 2:397–404

Pottinger AJ, Hughes CE (1995) A review of wood quality in Leucaena. In: Shelton HM, Piggin CM, Brewbaker JL (eds) Leucaena opportunities and limitations: proceedings of a workshop held in Bangor. ACIAR Proceedings, Canberra, Indonesia, pp 98–102

Prasad JVNS, Korwar GR, Rao KV, Mandal UK, Rao GR, Srinivas I, Venkateswarlu B, Rao SN, Kulkarni HD (2011) Optimum stand density of Leucaena leucocephala for wood production in Andhra Pradesh, Southern India. Biomass Bioenergy 35:227–235

Rastogi S, Dwivedi UN (2008) Manipulation of lignin in plants with special reference to O-methyltransferase. Plant Sci 174:264–277

Savale SR, Sanglikar RV, Sthool VA, Kadam JR (2007) Effect of Leucaena leucocephala barriers and bund on erosion losses and yield of pearlmillet + mothbean. Asian J Soil Sci 2:142–145

Sharma AR, Behera UK (2010) Green leaf manuring with prunings of Leucaena leucocephala for nitrogen economy and improved productivity of maize (Zea mays)–wheat (Triticum aestivum) cropping system. Nutr Cycl Agroecosyst 86:39–52

Sharma NK, Singh PN, Tyagi PC, Mohan SC (1998) Effect of leucaena mulch on soil-water use and wheat yield Agricultural. Water Manag 35:191–200

Singh G, Gupta S, Mishra R, Singh GP (2005) Wedge grafting in guava- A novel vegetative propagation technique. Pub. CISH, Lucknow p12

Tewari SK, Katiyar RS, Ram B, Misra PN (2004) Effect of age and season of harvesting on the growth, coppicing characteristics and biomass productivity of Leucaena leucocephala and Vitex negundo. Biomass Bioenergy 26:229–234

USDA, ARS, National Genetic Resources Program. Germplasm Resources Information Network - (GRIN) [Online Database]. National Germplasm Resources Laboratory, Beltsville, Maryland. http://www.ars-grin.gov/cgi-bin/npgs/html/splist.pl?6761 (20 December 2011)
Acknowledgments
Financial assistance given to Dr. Vimal Chandra Pandey as UGC-Dr. D.S. Kothari Post-Doctoral Fellow (Award Letter No: F.4-2/2006(BSR)/13-209/2008(BSR)) by the University Grants Commission (UGC), Government of India, New Delhi is gratefully acknowledged. The author is also thankful to the Head, Department of Environmental Science, Babasaheb Bhimrao Ambedkar (Central) University, Lucknow for availing the infrastructure and other facilities during the experiment.
About this article
Cite this article
Pandey, V.C., Kumar, A. Leucaena leucocephala: an underutilized plant for pulp and paper production. Genet Resour Crop Evol 60, 1165–1171 (2013). https://doi.org/10.1007/s10722-012-9945-0
Received:

Accepted:

Published:

Issue Date:

DOI: https://doi.org/10.1007/s10722-012-9945-0
Keywords
Fly ash based rooting media

Leucaena leucocephala

Pulp and paper

Underutilized plant genetic resource