Abstract
Manilkara hexandra (Roxb.) Dubard (Khirni) is a socio-economically important fruit and nut species of tribal population of tropical deciduous forests of western and central India. Survey and collection missions were undertaken to study the extent of variability and socio-economic importance of Khirni germplasm in diversity rich areas of Rajasthan, Gujarat, Madhya Pradesh and Maharashtra. A total of 99 accessions of this important tree species were collected from surveyed regions, of which 47 diverse accessions were selected for morphological characterization showing wide range of variation in agro-morphological traits. During the survey, sizable variability in morphological characters and high socio-economic potential of Khirni was recorded. Bark, fresh fruits and extracted seeds have high nutritional and medicinal value. Tree provides substantial livelihood support to local inhabitants as collected fresh fruits from natural populations fetch good price in local markets. Besides livelihood support species, M. hexandra contributes in the nutritional security of the women and children of this area by fulfilling the need of micronutrients and vitamin A. Due to the high market demand of fresh fruits and seeds and without any organized cultivation, pressure on natural wild populations is severely building up since last several decades and therefore, the genetic variability of this species is now facing a great threat and need immediate complementary conservation efforts. Based on higher diversity index and natural population size of this species six in situ conservation sites have been suggested for dynamic conservation in western and central Indian states and 60 accessions have been successfully cryostored.
This is a preview of subscription content, log in to check access.
Access options
Buy single article
Instant access to the full article PDF.
US$ 39.95
Price includes VAT for USA
Subscribe to journal
Immediate online access to all issues from 2019. Subscription will auto renew annually.
US$ 199
This is the net price. Taxes to be calculated in checkout.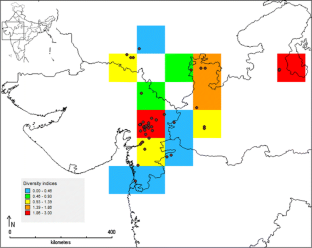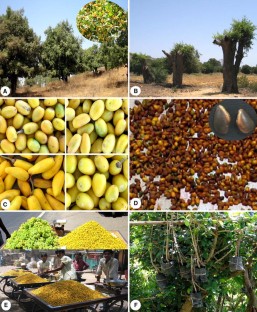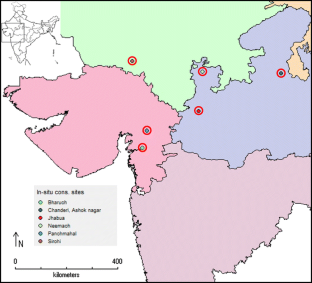 References
Anonymous (1962) The wealth of India: raw materials, vol 6. Publications and Information Directorate, CSIR, New Delhi, pp 298–300

Anonymous (2004) The Biological Diversity Act, 2002 and Biological Diversity Rules, 2004, National Biodiversity Authority (2004). Frontline Offset Printers, Triplicane, Chennai-India, p 57

Arora RK, Rao RV (1995) Proceeding of expert consulation on tropical fruit species of Asia, Kuala Lumpur, Malaysia, 17–19th May 1994, p 116

Chanda S, Parekh J (2010) Assessment of antimicrobial potential of Manilkara hexandra leaf. Phcog J 2(12):448–455

Dwivedi RM, Bajpai PN (1974) Studies on the blossoms and fruiting of Manilkara hexandra. Progr Hort 6(2/3):17–20

Hammer K (2001) Sapotaceae. In: Hanelt P, Institute of Plant and Genetics and Crop Plant Research (eds) Mansfeld's encyclopedia of agricultural and horticultural crops, vol 3. Springer, Berlin, pp 1647–1667

Heistinger A, Pistrick K (2007) 'Altreier Kaffee': Lupinus pilosus L. cultivated as coffee substitute in Northern Italy (Alto Adige/Sudtirol). Genet Resour Crop Evol 54:1623–1630

Hijmans RJ, Guarino L, Cruz M, Rojas R (2001) Computer tools for spatial analysis of plant genetic resource data; DIVA-GIS. Plant Genet Resour Newsl 127:15–19

Hoareau L (1999) Medicinal plants: a re-emerging health aid. Electron J Biotechnol 2(2):56–70

Khoshbakht K, Hammer K, Pistrick K (2007) Eryngium caucasicum Trautv. cultivated as a vegetable in the Elburz Mountains (Northern Iran). Genet Resour Crop Evol 54:445–448

Malik SK, Chaudhury R, Dhariwal OP, Bhandari DC (2010) Genetic resources of tropical underutilized fruits in India. NBPGR, New Delhi, p 178

Pareek OP, Sharma S, Arora RK (1998) Underutilized edible fruits and nuts: an inventory of genetic resources in their regions of diversity. IPGRI office for South Asia, New Delhi

Raju VS, Reddy KN (2005) Ethno-medicine for dysentery and diarrhea from Khammam district of Andhra Pradesh. Ind J Trad Knowl 4(4):443–447

Rao VR (1998) Complementary conservation strategy. In: Arora RK, Ramanatha Rao V (eds) Tropical fruits in Asia: diversity, maintenance, conservation and use, proceedings of the IPGRI-ICAR-UTFANET regional training course on the conservation and use of germplasm of tropical fruits in Asia held at Indian Institute of Horticultural Research, 18–31 May 1997, Bangalore, India, pp 142–151

Shugang Li, Pennington TD (1996) Sapotaceae. In: Flora of China, Published by Science Press (Beijing) and Missouri Botanical Garden Press, vol 15, p 205

Singh AK, Ravishankar H (2010) Prospects of production of quality planting material of underutilized fruits. In: Abstract, National conference on production of quality seeds and planting material—health management in horticultural crops. 11–14 March 2010, New Delhi, pp 149–150

Stewart JL, Brandis D (1992) The forest flora of North-West and Central India. Reprinted by Bisen Singh and Mahendra Pal Singh, New Connaught Place, Dehradun, p 602

The Forest Rights Act (2006) http://www.forestrightsact.com/the-act

Warrier PK, Nambiar VPK, Ramakutty C (1995) Indian medicinal plants: a compendium of 500 species, vol 3. Orient longman private limited, Hyderabad, p 393

Xian-zi TS (1996). Manilkara Adanson, Fam. Pl. 2: 166. 1763, nom. cons. Flora of China, vol 15, p 206
Acknowledgments
Authors are thankful to Head, Exploration and Collection Division, NBPGR and Director, NBPGR, New Delhi for continuous encouragement and support. We acknowledge the support extended by Dr. Sanjay Singh, Head, CHES, Central Institute of Arid Horticulture, Godhra, India.
About this article
Cite this article
Malik, S.K., Choudhary, R., Kumar, S. et al. Socio-economic and horticultural potential of Khirni [Manilkara hexandra (Roxb.) Dubard]: a promising underutilized fruit species of India. Genet Resour Crop Evol 59, 1255–1265 (2012). https://doi.org/10.1007/s10722-012-9863-1
Received:

Accepted:

Published:

Issue Date:
Keywords
Conservation

Khirni

Manilkara hexandra

Sapotaceae

Socio-economic importance