Abstract
The increasing consumers' request for new speciality wheat derivatives and the possible widening of marketing opportunities is giving to both landraces and old varieties, new chance of on farm survival providing a low cost way to safeguard these important genetic resources. A farmer's consortium acting in north-western Italy, is attempting the introduction of some old bread wheat landraces in marginal environments of Piedmont and Liguria regions. The reason of this attempt is the local market demand of old bread varieties suitable for the preparation of traditional cakes and biscuits. Three Italian bread wheat landraces, a mixture of durum and bread wheat landraces and three modern varieties were evaluated. The entries were cropped in Val Borbera and Val d'Aveto (Piedmont and Liguria region, respectively) in the same growing season (2009–2010). The high variation of gliadin profile detected within the landraces indicates that all have retained the genetic heterogeneity typical of the old wheat landraces. In consequence of the health-promoting effects of whole grain consumption, eleven nutritional and technological traits of whole flours were investigated. The analysis of collected data revealed appreciable differences among the flours obtained from the landraces and the modern varieties. These differences can be mainly attributed to the intensive breeding carried out on bread wheat in the last century. The results of this study suggest that the old bread wheat landraces could have good chance of survive on farm when their characteristics fulfil the requirements of local communities.
This is a preview of subscription content, log in to check access.
Access options
Buy single article
Instant access to the full article PDF.
US$ 39.95
Price includes VAT for USA
Subscribe to journal
Immediate online access to all issues from 2019. Subscription will auto renew annually.
US$ 199
This is the net price. Taxes to be calculated in checkout.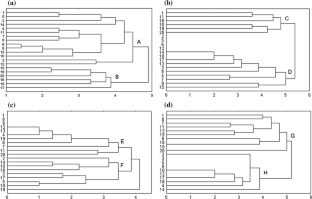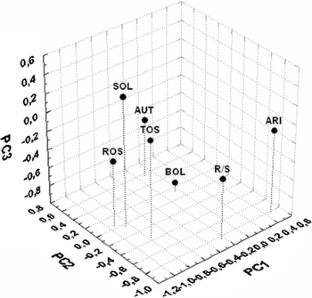 References
Abdel-Aal ESM, Young JC, Rabalski I, Hucl P, Fregeau-Reid J (2007) Identification and quantification of seed carotenoids in selected wheat species. J Agric Food Chem 55:787–794. doi:10.1021/jf062764p

American Association of Cereal Chemists (1995) Approved methods of the AACC 9th edn, reviewed October 1994. The Association, St. Paul, MN, USA

Association of Official Agricultural Chemists (1995) Official methods for analysis of the AOAC, vol. 1, 16th edn, The Association, Washington DC, USA

Bean SR, Lookhart GL (2000) Electrophoresis of cereal storage proteins. J Chromatogr A 881:23–36. doi:10.1016/S0021-9673(99)01270-4

Bohn L, Meyer AS, Rasmussen SK (2008) Phytate: impact on environment and human nutrition. A challenge for molecular breeding. J Zhejiang Univ Sci B 9:165–191

Ciferri R, Bonvicini M (1959/60) Revisione delle vecchie razze italiane in rapporto ai frumenti mediterranei. Ann Sper Agr 13 (1959), 14 (1960)

D'Antuono LF (1994) Obsolete wheats in Italy: an overview on cultivation, use and perspectives for their conservation. In: Padulosi S, Ager H, Frison E (compilers) Proceedings of the IPGRI Workshop, Bari, Italy, pp 41–48

D'Antuono LF, Minelli M, Jaradat AA (1997) Yield and yield components analysis of emmer wheat (Triticum dicoccum Schubler) landraces from Italy. In: Proceedings of the 3rd international Triticeae symposium, 4–8 May 1997, Aleppo, Syria, p 393

De Vita P, Mastrangelo AM, Matteu L, Mazzucotelli E, Virzì N, Palumbo M, Lo Storto M, Rizza F, Cattivelli L (2010) Genetic improvement effects on yield stability in durum wheat genotypes grown in Italy. Field Crops Res 119:68–77. doi:10.1016/j.fcr.2010.06.016

Dick JW, Quick JS (1983) A modified screening test for rapid estimation of gluten strength in early-generation durum wheat breeding lines. Cereal Chem 60:315

Dinelli G, Marotti I, Bosi S, Benedettelli S, Ghiselli L, Cortacero-Ramirez S, Carrasco-Pancorbo A, Segua-Carretero A, Fernandez-Gutierrez A (2007) Lignan profile in seeds of modern and old Italian soft wheat (Triticum aestivum L.) cultivars as revealed by CE-MS analyses. Electrophoresis 28:4212–4219. doi:10.1002/elps.200700301

Dinelli G, Segua-Carretero A, Di Silvestro R, Marotti I, Arraez-Roman D, Benedettelli S, Ghiselli L, Fernandez-Gutierrez A (2011) Profiles of phenolic compounds in modern and old common wheat varieties determined by liquid chromatography couplet with time-of-flight mass spectrometry. J Chrom A 1218:7670–7681. doi:10.1016/j.chroma.2011.05.065

Dolnik V (2006) Capillary electrophoresis of proteins 2003–2005. Electrophoresis 27:126–141. doi:10.1002/elps.200500567

Figliuolo G, Mazzeo M, Greco I (2007) Temporal variation of diversity in Italian durum wheat germplasm. Genet Resour Crop Evol 54:615–626. doi:10.1007/s10722-006-0019-z

Fiske CH, Subbarow Y (1925) The colorimetric determination of phosphorous. J Biol Chem 66:375–379

Guarda G, Padovan S, Delogu G (2004) Grain yield, nitrogen-use efficiency and baking quality of old and modern Italian bread-wheat cultivars grown at different nitrogen levels. Eur J Agron 21:181–192. doi:10.1016/j.eja.2003.08.001

Hammer K, Laghetti G (2005) Genetic erosion—examples from Italy. Genet Resour Crop Evol 52:629–634. doi:10.1007/s10722-005-7902-x

Handelman GJ (2001) The evolving role of carotenoids in human biochemistry. Nutrition 17:818–822. doi:10.1016/S0899-9007(01)00640-2

Hughes DA (2001) Dietary carotenoids and human immune function. Nutrition 17:823–827. doi:10.1016/S0899-9007(01)00638-4

Kantor LS, Variyam JN, Allshouse JE, Putnam JJ, Lin BH (2001) Choose a variety of grain daily, especially whole grains: a challenge for consumers. J Nutr 131:473s–486s

Laghetti G, Piergiovanni AR, Volpe N, Perrino P (1999) Agronomic performance of T. dicoccum Schrank and T. spelta L. accessions under Southern Italian conditions. Agr Med 129:199–211

Laghetti G, Piergiovanni AR, Sonnante G, Lioi L, Pignone D (2008) The Italian lentil genetic resources: a worthy basic tool for breeders. Eur J Plant Sci Biotechnol 2:48–59

Liu S, Stampfer MJ, Hu F, Giovannucci E, Rimm E, Manson JAE, Hennekens CH, Willett WC (1999) Whole-grain consumption and risk of coronary heart disease: results from the Nurses' Health Study. Am J Clin Nutr 70:412–419

Maliani C (1979) Nazareno Strampelli, a fore-runner in green revolution. Genet Agric 33:1–4

Mazzucato A, Papa R, Bitocchi E (2008) Genetic diversity, structure and marker-trait associations in a collection of Italian tomato (Solanum lycopersicum L.) landraces. Theor Appl Genet 116:657–669. doi:10.1007/s00122-007-0699-6

Menga V, Fares C, Troccoli A, Cattivelli L, Baiano A (2010) Effects of genotype, location and baking on the phenolic content and some antioxidant properties of cereal species. Int J Food Sci Technol 45:7–16. doi:10.1111/j.1365-2621.2009.02072.x

Negri V, Floridi S, Montanari L (2001) Organoleptic and chemical evaluation of Italian cowpea (Vigna unguiculata subsp. unguiculata cv. gr. unguiculata (L.) Walp.) landraces from a restricted area. Italian J Food Sci 13:383–390

Newton AC, Akar T, Baresel JP, Bebeli PJ, Bettencourt E, Bladenopoulos KV, Czembor JH, Fasoula DA, Katsiotis A, Koutis K, Koutsika-Sotiriou M, Kovacs G, Larsson H, De Carvalho MAAP, Rubiales D, Russell J, Dos Santos TMM, Vaz Patto MC (2010) Cereal landraces for sustainable agriculture. A review. Agron Sustain Dev 30:237–269. doi:10.1051/agro/2009032

Pagnotta MA, Mondini L, Codianni P (2009) Agronomical, quality, and molecular characterization of twenty Italian emmer wheat (Triticum dicoccon) accessions. Genet Resour Crop Evol 56:299–310. doi:10.1007/s10722-008-9364-4

Pasqualone A, Piergiovanni AR, Caponio F, Paradiso VM, Summo C, Simeone R (2011) Evaluation of the technological characteristics and bread-making quality of alternative wheat cereals in comparison with common and durum wheat. Food Sci Tech Int 17:135–138. doi:10.1177/1082013210381547

Piazza C, Giudici P, Corbellini M, Gianinetti A, Morcia C, Terzi V (2008) An integrated approach project for the revaluation of a traditional sourdough bread production chain. 16th IFOAM Organic World Congress, Modena, Italy, June 16–20, 2008, ID Code:12213

Piergiovanni AR (2007) Extraction and separation of water-soluble proteins from different wheat species by acidic capillary electrophoresis. J Agric Food Chem 55:3850–3856. doi:10.1021/jf063628n

Piergiovanni AR, Lioi L (2010) Italian common bean landraces: history, genetic diversity and seed quality. Diversity 2:837–862. doi:10.3390/d2060837

Piergiovanni AR, Volpe N (2003) Capillary electrophoresis of gliadins a tool in the discrimination and characterisation of hulled wheats (T. dicoccum Schrank and T. spelta L.) lines. Cereal Chem 80:269–273

Porfiri O, Silveri D (2003) La Solina altre varietà locali di cereali ancora coltivate in Abruzzo: i risultati di una campagna di collezione e caratterizzazione promossa dall'ARSSA. Atti VI Convegno Nazionale Biodiversità, Bari

Serrano Y, Goni I, Saura-Calixto F (2007) Food antioxidant capacity determinant by chemical methods may understimate the physiological antioxidant capacity. Food Res Int 40:15–21

Sestili S, Giardini A, Ficcadenti N (2011) Genetic diversity among Italian melon inodorus (Cucumis melo L.) germplasm revealed by ISSR analysis and agronomic traits. Plant Genet Res 9:214–217. doi:10.1017/S1479262111000335

Statistica (1996) version 6.0, Statsoft Inc., Tulsa, OK, USA

Steffen LM, Jacobs DR, Stevens J, Shahar E, Carithers T, Folsom AR (2003) Associations of whole-grain, refined-grain, and fruit and vegetable consumption with risks of all-cause mortality and incident coronary artery disease and ischemic stroke: the atherosclerosis risk in communities (ARIC) study. Am J Clin Nutr 78:383–390

Torcia M (1793) Saggio Itinerario Nazionale "Pel paese de Peligni". Napoli, Italy

Troccoli A, Borrelli GM, De Vita P, Fares C, Di Fonzo N (2000) Durum wheat quality: a multidisciplinary concept. J Cereal Sci 32:99–113. doi:10.1006/jcrs.2000.0322

Yu L, Haley S, Perret J, Harris M (2004) Comparison of wheat flours grown at different locations for their antioxidant properties. Food Chem 86:11–16. doi:10.1016/j.foodchem.2003.08.037
Acknowledgments
The author wishes to thank M. Angelini and farmers of "Consorzio della Quarantina" (Genova, Italy) for providing the bread wheat samples, G. Campanella and T. Del Sole for the support during chemical analyses and O. Porfiri for the critical revision of the manuscript.
About this article
Cite this article
Piergiovanni, A.R. Evaluation of genetic variation and grain quality of old bread wheat varieties introduced in north-western Italian environments. Genet Resour Crop Evol 60, 325–333 (2013). https://doi.org/10.1007/s10722-012-9838-2
Received:

Accepted:

Published:

Issue Date:
Keywords
Bread wheat

Genetic resources

Gliadins

Grain quality

Triticum aestivum