Abstract
The aim of present study was to explore and document medicinal plants used for the traditional dermatological healthcare management practices by the the Tharu tribal community of Uttar Pradesh. The study was conducted during 2000–2004. Information was gathered from 230 informants residing in 46 villages in Terai region of Indo-Nepal boarder using questionnaires; oral interviews and group discussions. Total 92 medicinal plant species were cited for the preparation of 113 crude drug formulations. Voucher specimens of cited plant species were collected and identified as belonging to 82 genera and 49 families. Thirty-nine medicinal plant species were reported for the first time for dermatological healthcare problems from India. The dermatological healthcare problems managed were cut and wounds, ringworm, leprosy, eczema, scabies, leucoderma, boils, carbuncles, pimples, skin blemishes, spots, eruption, and burns etc. The most commonly and popularly used medicinal plant species for management of dermatological healthcare problems in the study area were Curcuma longa L., Azadirachta indica A. Juss and Melia azedarach L. It is concluded that dermatological healthcare management practice in the study area depends largely on wildly growing medicinal plant species. There is an urgent need to properly conserve the medicinal plant species growing in this area for human welfare. There is also need for further phytopharmacological studies to provide scientific explanation for the usages of 57 medicinal plant species for which to the best of our knowledge phytopharmacological literatures are not available.
Access options
Buy single article
Instant access to the full article PDF.
US$ 39.95
Tax calculation will be finalised during checkout.
Subscribe to journal
Immediate online access to all issues from 2019. Subscription will auto renew annually.
US$ 119
Tax calculation will be finalised during checkout.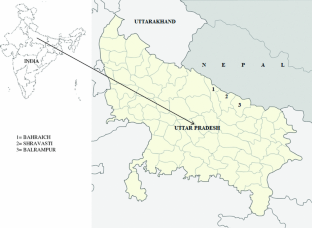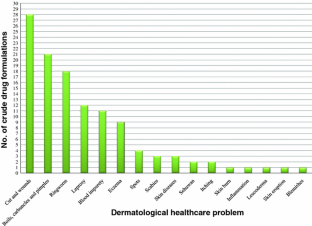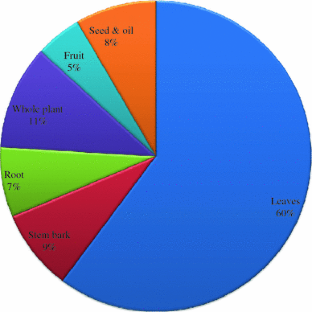 References
Abbasia AM, Khan MA, Ahmad M, Zafar M, Jahan S, Sultana S (2010) Ethnopharmacological application of medicinal plants to cure skin diseases and in folk cosmetics among the tribal communities of North-West Frontier Province, Pakistan. J Ethnopharmacol 128:322–335

Acharya TK, Chatterjee IB (1975) Isolation of chrysophanic acid -9-anthrone, the major antifungal principle of Cassia tora. Lloydia 38:218–220

Ali-Shtayeh MS, Abu Ghdeib SI (1999) Antifungal activity of plant extracts against dermatophytes. Mycoses 42:665–672

Behera SK, Mishra MK (2005) Indigenous phytotherapy for genito-urinary diseases used by the Kandha tribe of Orissa, India. J Ethnopharmacol 102:319–325

Bussmann RW, Sharon D (2006) Traditional medicinal plant use in Northern Peru: tracking 2000 years of healing culture. J Ethnobiol Ethnomed 2:47

Channa S, Dar A, Anjum S, Yaqoob M, Rehman A (2006) Anti-inflammatory activity of Bacopa monniera in rodents. J Ethnopharmacol 104:286–289

Chitravadivu C, Manian S, Kalaichelvi K (2009) Qualitative analysis of selected medicinal plants, Tamilnadu, India. Middle East J Sci Res 4:144–146

Chowdhury MSH, Koike M (2010) Therapeutic use of plants by local communities in and around Rema-alenga Wildlife Sanctuary: implications for protected area management in Bangladesh. Agrofor Syst 80:241–257

Dabura R, Singh H, Chhillara AK, Ali M, Sharma GL (2004) Antifungal potential of Indian medicinal plants. Fitoterapia 75:389–391

De Napoli L, Picciali G, Picciali V, Santacroce C, Carolla R (1992) Two oleanane triterpenes from Anagallis arvensis. Phytochemistry 31:3965–3968

Duthie JF (1960) Flora of upper Gangetic plain and of the adjacent Shiwalic and Sub-Himalayan Tract, 2 vol. Botanical Survey of India, Calcutta

Elvin-Lewis M (2001) Should we be concerned about herbal remedies. J Ethnopharmacol 75:141–164

Faizi S, Ali M, Shamimin A (1999) A new Flavonol C—glycoside from leaves of Bombax ceiba. Planta Med 65(1999):383–385

Fujiwara T, Sugishita EY, Takeda Y, Shimizu M, Nomura T, Tromita Y (1984) Further studies on the structures of polysachharides from the bark of Melia azadirachta. Chem Pharmacol Bull 32:1385–1391

Gómez-Estrada H, Díaz-Castillo F, Franco-Ospina L, Mercado-Camargo J, Guzmán-Ledezma J, Medina JD, Gaitán-Ibarra R (2011) Folk medicine in the northern coast of Colombia: an overview. J Ethnobiol Ethnomed 7:27

Hassan A (1969) A souvenir of tribal people of Uttar Pradesh. Directorate of harizon welfare, Lucknow

Heinrich M, Moerman ES, Leonti M (2009) Ethnopharmacological field studies: a critical assessment of their conceptual basis and methods. J Ethnopharmacol 124:1–17

Jagtap SD, Deokule SS, Bhosle SV (2006) Some unique ethnomedicinal uses of plants used by the Korku tribe of Amravati district of Maharashtra, India. J Ethnopharmacol 107:463–469

Jain SK (1968) Medicinal plants. National Book Trust, New Delhi

Jain SK, Rao RR (1967) Handbook of field and herbarium methods. Today and Tomorrow Printers and Publishers, New Delhi

Jain A, Katewa SS, Chaudhary BL, Galav P (2004) Folk herbal medicines used in birth control and sexual diseases by tribals of southern Rajasthan, India. J Ethnopharmacol 90:171–177

Jana S, Shekhawat GS (2011) Critical review on medicinally potent plant species: Gloriosa superba. Fitoterapia 82:293–301

Joshi B, Sah GP, Basnet BB, Bhatt MR, Sharma D, Subedi K, Pandey J, Malla R (2011) Phytochemical extraction and antimicrobial properties of different medicinal plants: Ocimum sanctum (Tulsi), Eugenia caryophyllata (Clove), Achyranthes bidentata (Datiwan) and Azadirachta indica (Neem). J Microbiol Antimicrob 3:1–7

Kanjilal PC (1933) Forest flora of Pilibhit, Oudha, Gorakhpur and Bundelkhand. Govt. Printing Press, Allahabad

Kingston C, Jeeva S, Jeeva GM, Kiruba S, Mishra BP, Kannan D (2009) Indigenous knowledge of using medicinal plants in treating skin diseases in Kanyakumari district, Southern India. Indian J Tradit Knowl 8:196–200

Kumar A, Tewari DD, Pande YN (2003) Ethnophytotherapeutics among Tharus of Beerpur Semara Forest range of Balrampur. J Econ Taxon Bot 27:839–844

Kumar A, Tewari DD, Tewari JP (2006a) Ethnomedicinal knowledge among Tharu tribe of Devipatan division. Indian J Tradit Knowl 5(3):310–313

Kumar VP, Chauhan NS, Padh H, Rajani M (2006b) Search for antibacterial and antifungal agents from selected Indian medicinal plants. J Ethnopharmacol 107:182–188

Kumar B, Vijayakumar M, Govindarajan R, Pushpangadan P (2007) Ethnopharmacological approaches to wound healing—exploring medicinal plants of India. J Ethnopharmacol 114:103–113

Kumar A, Mishra A, Pandey S, Tewari DD (2008a) Phytotherapy against hair disorder among Tharu tribes in North eastern Terai belt of Uttar Pradesh. Vegetos 21:85–89

Kumar A, Mishra A, Pandey S, Tewari DD (2008b) Ethnophytomagicotherapeutics among the Tharu tribes in North eastern Terai belt of Uttar Pradesh. Vegetos 21:91–97

Kumar A, Pandey VC, Tewari DD (2011) Documentation and determination of consensus about phytotherapeutic veterinary practices among the Tharu tribal community of Uttar Pradesh, India. Trop Anim Health Prod. doi:10.1007/s11250-011-9979-x

Longuefosse JL, Nossin E (1996) Medical ethnobotany survey in Martinique. J Ethnopharmacol 53:117–142

Maheshwari JK, Singh KK, Saha S (1981) The ethnobotany of the tharus of Kheri district, Uttar Pradesh. Economic Botany Information Service, National Botanical Research Institute, Lucknow

Malik AR, Siddique MAA, Sofi PA, Butola JS (2011) Ethnomedicinal practices and conservation status of medicinal plants of North Kashmir Himalayas. Res J Med Plants. doi:10.3923/rjmp.2011

Marini-Bettolo GB (1980) Present aspects of the uses of plants in traditional medicine. J Ethnopharmacol 2:5–7

Meena KL, Yadav BL (2010) Studies on ethnomedicinal plants conserved by Garasia tribe of Sirohi district, Rajasthan India. Indian J Nat Prod Res 1:500–506

Mishra A, Tewari DD (2007) Investigation on ethnomedicinal flora of Devipatan division. Vegetos 20:33–37

Mukharjee PK, Saha K, Das J, Pal M, Saha BP (1998) Antifungal screening of Cassia tora Linn. (Fam. Leguminoceae). Phytother Res 10(6):521–522

Njoroge GN, Bussmann RW (2007) Ethnotherapeutic management of skin diseases among the Kikuyus of Central Kenya. J Ethnopharmacol 111:303–307

Otieno JN, Magadula JJ, Kakudidi E, Kirimhuzya C, Orodho J, Okemo P (2011) Use of ethnobotanical criteria for conservation assessment of plants used for respiratory diseases in Lake Victoria region, Tanzania. Int J Biodivers Conserv 3:610–617

Panda BR, Mohanta SR, Sii S, Das GK (2009) Preliminary phytochemical analysis and wound healing activity from the leaves of Cocculus hirsutus Diels. Int J Pharm Sci Nanotechnol 2:675–678

Pande YN, Patel KK, Shivani (1998) Studies on weeds used as medicinal plants by Tharu tribals of Nepal Terai belt of Eastern Uttar Pradesh. J Liv World 5(2):1–4

Pandey HP, Chauhan SK (1999) Antiseptic property of Solanum surattense Burm. f. J Econ Taxon Bot 23:41–42

Parekh J, Chanda SV (2007) In vitro antimicrobial activity and phytochemical analysis of some Indian medicinal plants. Turkish J Biol 31:53–58

Parveen, Upadhyay B, Roy S, Kumar A (2007) Traditional uses of medicinal plants among the rural communities of Churu district in the Thar Desert, India. J Ethnopharmacol 113:387–399

Patel NK (2010) Ethno-medicinal plants used for gonorrhoea diseases in Danta Taluka (Gujarat). Ethnobot Leafl 14:642–647

Pattanaik C, Reddy CS, Murthy MSR (2008) An ethnobotanical survey of medicinal plants used by the Didayi tribe of Malkangiri district of Orissa, India. Fitoterapia 79:67–71

Pieroni A, Quave CL, Villanelli ML et al (2004) Ethnopharmacognostic survey on the natural ingredients used in folk cosmetics, cosmeceuticals and remedies for healing skin diseases in the inland Marches, Central-Eastern Italy. J Ethnopharmacol 91:331–344

Poonam K, Singh GS (2009) Ethnobotanical study of medicinal plants used by the Taungya community in Terai Arc Landscape, India. J Ethnopharmacol 123:167–176

Portillo A, Vila R, Freixa B, Adzet T, Canigueral S (2001) Antifungal activity of Paraguayan plants used in traditional medicine. J Ethnopharmacol 76:93–98

Prasad GS, Dhanapal R (2010) Antibacterial and antifungal activity of methanolic extract of Argemone mexicana leaves. Int J Phytopharmacol 1:64–67

Rai PK, Lalramnghinglova H (2011) Threatened and less known ethnomedicinal plants of an Indo-Burma hotspot region: conservation implications. Environ Monit Assess 178:53–62

Rajkumar N, Shivanna MB (2010) Traditional herbal medicinal knowledge in Sagar taluk of Shimoga district, Karnataka, India. Indian J Nat Prod Res 1:102–108

Saikia AP, Ryakala VK, Sharma P, Goswami P, Bora U (2006) Ethnobotany of medicinal plants used by Assamese people for various skin ailments and cosmetics. J Ethnopharmacol 106:149–157

Samy RP, Ignacimuthu S, Raja DP (1999) Preliminary screening of ethnomedicinal plants from India. J Ethnopharmacol 66:235–240

Sharma J, Painuli RM, Gaur RD (2010) Plants used by rural communities of Shajahanpur, Uttar Pradesh. Indian J Tradit Knowl 9:798–803

Shoji N, Umeyama A, Yoshikawa K, Arihara S (1994) Triterpenoid glycosides from Anagallis arvensis. Phytochem 37:1397–1402

Shukla SC (1991) A detailed study on some new aspects of flora of Faizabad. Ph.D. Thesis. Dr. RML Avadh University, Faizabad

Singh SV (1991) Flora of Gonda district. Ph.D. Thesis, Dr. RML Avadh University, Faizabad

Singh KK, Maheswari JK (1994) Traditional phytotherapy of some medicinal plants used by the tharus of the Nainital District, Uttar Pradesh, India. Int J Pharmacogn 32:51–58

Singh A, Singh PK (2009) An ethnobotanical study of medicinal plants in Chandauli district of Uttar Pradesh, India. J Ethnopharmacol 121:324–329

Singh AK, Raghubanshi AS, Singh JS (2002) Medical ethnobotany of the tribals of Sonaghati of Sonbhadra district, Uttar Pradesh, India. J Ethnopharmacol 81:31–41

Singh SDJ, Krishna V, Mankani KL, Manjunatha BK, Vidya SM, Manohara YN (2005) Wound healing activity of the leaf extracts and deoxyelephantopin isolated from Elephantopus scaber Linn. Indian J Pharmacol 37:238–242

Singh K, Gupta S, Mathur PK (2010a) Investigation on ethnomedicinal plants of district Firozabad. J Adv Lab Res Biol 1:83–87

Singh S, Singh TD, Singh VP, Pandey VB (2010b) Quaternary alkaloids of Argemone mexicana. Pharm Biol 48:158–160

Singh S, Singh A, Jaiswal J, Singh TD, Singh VP, Pandey VB, Tiwari A, Singh UP (2010c) Antifungal activity of the mixture of quaternary alkaloids isolated from Argemone mexicana against some phytopathogenic fungi. Arch Phytopathol Plant Prot 43:769–774

Srinivasan D, Nathan S, Suresh T, Perumalsamy PL (2001) Antimicrobial activity of certain Indian medicinal plants used in folkloric medicine. J Ethnopharmacol 74:217–220

Tomar A (2009) Folk medicinal uses of plant roots from Meerut district, Uttar Pradesh. Indian J Tradit Knowl 8:298–301

Tripathi SC, Srivastava M (2010) Ethnomedicinal flora of Euphorbiaceae used in dermatological problems. Indian J Tradit Knowl 9:318–320

Upadhyay B, Parveen Dhaker AK, Kumar A (2010) Ethnomedicinal and ethnopharmaco-statistical studies of Eastern Rajasthan, India. J Ethnopharmacol 129:64–86

Valsaraj R, Pushpangadan P, Smitt UW, Adsersen AN (1997) Antimicrobial screening of selected medicinal plants from India. J Ethnopharmacol 58:75–83

Wiedenfild H, Roader E (1991) Pyrrolizedine alkaloid from Ageratum conyzoides. Planta Med 57:578

Yadava RN, Verma V (2003) Antimicrobial activity of a novel flavonol glycoside isolated from the roots of Clitoria ternatea Linn. Asian J Chem 15:842–846

Yesodharan K, Sujana KA (2007) Ethnomedicinal knowledge among Malasar tribe of Parambiculam Wildlife Sanctuary, Kerala. Indian J Tradit Knowl 6:481–485
Acknowledgments
Authors are grateful to the Tharu tribal community of Uttar Pradesh for providing valuable ethnobotanical information. Authors are also thankful to Mr. Ravi Jyoti Mishra, Social Worker (Beti Foundation) for his help during the survey and Dr. J. P. Tewari, Professor, Department of Botany, M. L. K. P. G. College Balrampur for his help in identification of many plant species. First author is also grateful to Dr. R. P. Shukla, Ex-Medical officer and Mr. Y. P. Shukla, Pharmacist, Govt. of Uttar Pradesh for their help during the study. The authors are also thankful to the Editor in Chief Dr. K. Hammer and two anonymous reviewers for their valuable feedbacks.
About this article
Cite this article
Kumar, A., Pandey, V.C., Singh, A.G. et al. Traditional uses of medicinal plants for dermatological healthcare management practices by the Tharu tribal community of Uttar Pradesh, India. Genet Resour Crop Evol 60, 203–224 (2013). https://doi.org/10.1007/s10722-012-9826-6
Received:

Accepted:

Published:

Issue Date:
Keywords
Dermatological healthcare

Ethnobotany

Medicinal plants

Tharu tribal community

Underutilized plant genetic resources

Uttar Pradesh