Abstract
Jatropha gossypiifolia L. (Euphorbiaceae) is a small shrub native to Mexico and Subtropical America, now grows naturally in most tropical areas of the world. It is a neglected and underutilized plant of multiple values. It is cultivated as live fence for the protection of agricultural crops and various parts of the plant are globally used for healthcare management of human being and domesticated animals. Young stem and leaves of the plant are vital source of herbal dye for dying cotton yarn. Present paper deals with distribution, morphological description, propagation and utilization of this species. During present study young stem and leaves of J. gossypiifolia were collected from natural vegetation and colouring material was obtained by aqueous extraction method. The colouring material was used to dye cotton yarn and the dyed cotton yarn was evaluated for fastness properties by several after treatments like effect of sunlight, rubbing in water, detergent (powder and cake), lime water and citrus juice. The dyed cotton yarn shows excellent fastness properties. On the basis of present study it is concluded that J. gossypiifolia is a potential source of herbal dye for dying cotton yarn.
Access options
Buy single article
Instant access to the full article PDF.
USD 39.95
Price excludes VAT (USA)
Tax calculation will be finalised during checkout.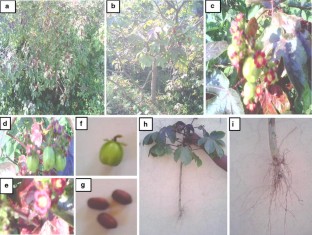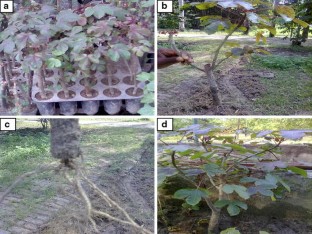 References
Anonymous (1959) The wealth of India—raw material, vol 4. Council of Scientific and Industrial Research, New Delhi

Auvin-Guette C, Baraguey C, Blond A, Pousset JL, Bodo B (1997) Cyclogossine B, a cyclic octapeptide from Jatropha gossypiifolia. J Nat Prod 60:1155–1157

Basualdo I, Zardini EM, Ortiz M (1995) Medicinal plants of Paraguay: underground organs. II. Econ Bot 49:387–394

Brussell DE (2004) A medicinal plant collection from Montserrat, West Indies. Econ Bot 58:S203–S220

Burkill HM (1994) The useful plants of West Tropical Africa, vol 2. Royal Botanic Gardens, Kew

Collins S, Martins X, Mitchell A, Teshome A, Arnason JT (2006) Quantitative ethnobotany of two east Timorese cultures. Econ Bot 60:347–361

De Oliveira SJ, Leite PM, de Souza BL, Mello VM, Silva EC, Rubim JC et al (2009) Characteristic and composition of Jatropha gossypiifolia and Jatropha curcas L. oils and application for biodiesel production. Biomass Bioenergy 32:449–453

Devappa RK, Makkar HPS, Becker K (2011) Jatropha diterpenes: a review. J Am Oil Chem Soc 88:301–322

Falodun A, Josephs GC, Okeri HA, Oribhabor A (2010) Partial chromatographic characterization and antimicrobial evaluation of Jatropha gossypiifolia extract and its fractions. Biosci Res Commun 22(3):167–174

Gandhi VM, Cherian KM, Mulky MJ (1995) Toxicological studies on ratanjot oil. Food Chem Toxicol 33:39–42

Gokhale SB, Tatiya AU, Bakliwal SR, Fursule RA (2004) Natural dye yielding plants in India. Natl Product Radiance 3:228–234

Heller J (1996) Physic nut, Jatropha curcas L. promoting the conservation and use of underutilized and neglected crops 1. Institute of Plant Genetics and Crop Plant Research, Gatersleben

Howard RA (1989) Flora of the Lesser Antilles, Leeward and Windward Islands, vol 5. Arnold Arboretum, Harvard University, Jamaica

Jain SK (2000) Human aspects of plant diversity. Econ Bot 54:459–470

Jain A, Katewa SS, Chaudhary BL, Galav P (2004) Folk herbal medicines used in birth control and sexual diseases by tribals of southern Rajasthan, India. J Ethnopharmacol 90:171–177

Kumar A (2004) Ethnobotanical aspects of pharmacological flora used by Tharu Tribes in Terai belt of North-eastern Uttar Pradesh. Ph.D. Thesis. Dr. Ram Manohar Lohia Avadh University, Faizabad

Kumar A, Pandey VC, Tewari DD (2011) Documentation and determination of consensus about phytotherapeutic veterinary practices among the Tharu tribal community of Uttar Pradesh, India. Trop Anim Health Prod. doi:10.1007/s11250-011-9979-x

Lans C, Harper T, Georges K, Bridgewater E (2001) Medicinal and ethnoveterinary remedies of hunters in Trinidad. BMC Complemen Alt Med 1:10. doi:10.1186/1472-6882-1-10

Mahanta D, Tiwari SC (2005) Natural dye yielding plants and indigenous knowledge in Arunachal Pradesh, Northeast India. Curr Sci India 88:1474–1780

Mishra S, Chaudhury SS (2011) Ethnobotanical flora used by four major tribes of Koraput, Odisha, India. Genet Resour Crop Evol. doi:10.1007/s10722-011-9719-0

Morton JF (1968) A survey of medicinal plants of Curacao. Econ Bot 22:87–102

Nath KK, Deka P, Borthakur SK (2011) Traditional remedies of joint pain in Assam. Indian J Tradit Know 10:568–571

Oduola T, Adeosun GO, Oduola TA, Avwioro GO (2005a) Mechanism of action of Jatropha gossypiifolia latex as a haemostatic agent. Eur J Gen Med 2:140–143

Oduola T, Avwioro GO, Ayanniyi TB (2005b) Suitability of leaf extract of Jatropha gossypiifolia as an anticoagulant for biochemical and haematological analysis. Afr J Biotech 4:679–681

Parrotta JA (2001) Healing plants of Peninsular India. CABI Publishing, Wallingford

Parveen, Upadhyay B, Roy S, Kumar A (2007) Traditional uses of medicinal plants among the rural communities of Churu district in the Thar Desert, India. J Ethnopharmacol 113:387–399

Ravindranath N, Venkataiah B, Ramesh C, Jayaprakash P, Das B (2003) Jatrophenone, a novel macrocyclic bioactive diterpene from Jatropha gossypiifolia. Chem Pharm Bull 51:870–871

Singh K, Gupta S, Mathur PK (2010) Investigation on ethnomedicinal plants of district Firozabad. J Adv Lab Res Biol 1:83–87

Siva R (2007) Status of natural dyes and dye yielding plants in India. Curr Sci India 92:916–925

Tiwari SC, Bharat A (2008) Natural dye yielding plants and indigenous knowledge of dye preparation in Achanakmar—Amarkantak Biosphere reserve, Central India. Nat Prod Radiance 7:82–87

Volpato G, Godínez D, Beyra A, Barreto A (2009) Uses of medicinal plants by Haitian immigrants and their descendants in the Province of Camagüey. Cuba J Ethnobio Ethnomed 5:16. doi:10.1186/1746-4269-5-16
Acknowledgments
Authors are thankful to the director, CSIR-National Botanical Research Institute, for providing necessary facilities. Thanks are also due to Dr K. Hammer, Editor in Chief and two anonymous reviewers for their critical comments and suggestions.
About this article
Cite this article
Kumar, A., Singh, N. Jatropha gossypiifolia L.: a potential genetic resource for herbal dye. Genet Resour Crop Evol 59, 949–954 (2012). https://doi.org/10.1007/s10722-012-9815-9
Received:

Accepted:

Published:

Issue Date:

DOI: https://doi.org/10.1007/s10722-012-9815-9
Keywords
Herbal dye

Jatropha

Neglected plant

Plant genetic resource

Underutilized plant