Abstract
The most important evolutionary event in the success of commercial tea cultivation outside China in ~30 countries came about by the origin of India hybrid tea in India, derived from the extensive spontaneous hybridization that took place between the Assam type tea growing in the forest regions of Assam, North-East India and China type tea introduced from China in ~1875 to many regions of North-East India. The release of an enormous pool of vigorous and highly variable plants of India hybrid tea in North-East India was a significant step forward for the origin and evolution of tea as a highly successful crop plant. The 1,644 accessions and clones of India hybrid tea, representatives of known 15 morphotypes, were screened by 412 AFLP markers amplified by 7 AFLP primer pair combinations. All the 412 genetic loci were polymorphic across the 1,644 accessions and clones. The analysis was done with distance (PCoA and NJ) methods, and the STRUCTURE (Bayesian) model. Both PCoA and NJ analysis clustered 1,644 tea accessions and clones into six major groups with one group in each, constituted mostly by China hybrid, Assam China hybrid and Assam hybrid morphotypes, of distinct genetic identity. No group was exclusive for any particular morphotype. The accessions and clones belonging to morphotypes, Assam type, Assam hybrid, China hybrid and China Cambod were distributed in all the groups. It is the Assam type/Assam hybrid morphotypes which exhibit much broader genetic variability than in China type/China hybrid/Cambod type/Cambod hybrid morphotypes. The STRUCTURE analysis inferred 16 populations (K = 16), for which the greatest values of probability were obtained. Nine of the 16 clusters were constituted by the tea accessions and clones of 'pure' ancestry. The remaining clusters were of 'mixed' ancestry. This analysis provides evidence that the accessions and clones of the same morphotype are not always of same genetic ancestry structure. The tea accessions and clones obtained from outside North-East India shared the same groups (distance method) and clusters (STRUCTURE model) which were constituted by North-East India accessions. The present study also demonstrates very narrow genetic diversity in the commercial tea clones vis-à-vis the profound genetic diversity existing in the tea accessions. These clones were distributed in hardly two of the six groups in NJ tree. The identified 105 core accessions and clones, capturing 98% diversity, have their origin from almost all groups/subgroups of NJ tree.
Access options
Buy single article
Instant access to the full article PDF.
USD 39.95
Price includes VAT (USA)
Tax calculation will be finalised during checkout.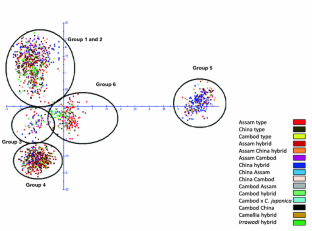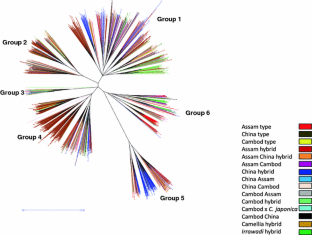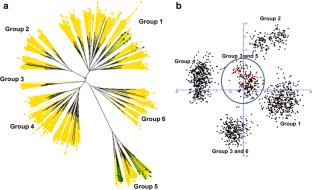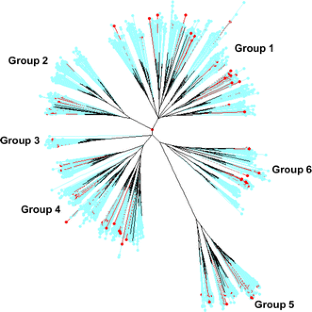 References
Anderson JA, Churchill GA, Autrique JE, Tanksley SD, Sorrells ME (1993) Optimizing parental selection for genetic linkage maps. Genome 36:181–186

Banerjee B (1992) Botanical classification of tea. In: Wilson K, Clifford N (eds) Tea: cultivation to consumption. Chapman and Hall, London

Barua PK (1965) Classification of tea plants: species hybrids. Two and a bud 12:13–27

Brown AHD (1989) Core collections: a practical approach to genetic resources management. Genome 31:818–824

Cavers S, Degen B, Caron H, Lemes MR, Margis R, Salgueiro F, Lowe AJ (2005) Optimal sampling strategy for estimation of spatial genetic structure in tree populations. Heredity 95:281–289

Chandra S, Huaman Z, Krishna SH, Ortiz R (2002) Optimal sampling strategy and core collection size of Andean tetraploid potato based on isozyme data—a simulation study. Theor Appl Genet 104:1325–1334

Charles HBJ (1981) Seed to civilization: the story of food. Freeman, San Francisco

Chen L, Yamaguchi S (2002) Genetic diversity and phylogeny of tea plant (Camellia sinensis) and its related species and varieties in the section Thea genus Camellia determined by randomly amplified polymorphic DNA analysis. J Hortic Sci Biotechnol 77:729–732

Chen L, Yang YJ, Yu FL, Gao QK, Chen DM (1998) A study on genetic diversity of 15 tea cultivars (Camellia sinensis (L.) O. Kuntze) using RAPD markers. J Tea Science 18:21–27

Chen L, Zhou Z, Yang Y (2007) Genetic improvement and breeding of tea plant (Camellia sinensis) in China: from individual selection to hybridization and molecular breeding. Euphytica 154:239–248

Devarumath RM, Nandy S, Rani V, Marimuthu S, Muraleedharan N, Raina SN (2002) RAPD, ISSR and RFLP fingerprints as useful markers to evaluate genetic integrity of micro-propagated plants of three diploid and triploid elite tea clones representing Camellia sinensis (China type) and C. assamica ssp. assamica (Assam-India type). Plant Cell Rep 21:166–173

Ellis RT (1995) Tea. In: Smart J, Simmonds NW (ed) Evolution of crop plants, 2nd edn. Longman Scientific & Technical, Harlow, Essex, UK, pp 22–27

Evanno G, Regnaut S, Goudet J (2005) Detecting the number of clusters of individuals using the software STRUCTURE: a simulation study. Mol Ecol 14:2611–2620

Falush D, Stephens M, Pritchard JK (2003) Inference of population structure using multilocus genotype data: linked loci and correlated allele frequencies. Genetics 164:1567–1587

Falush D, Stephens M, Pritchard JK (2007) Inference of population structure using multilocus genotype data: dominant markers and null alleles. Mol Ecol Notes 7:574–578

Franco J, Crossa J, Warburton ML, Taba S (2006) Sampling strategies for conserving maize diversity when forming core subset using genetic markers. Crop Sci 46:854–864

Garkava-Gustavsson L, Persson HA, Nybom H, Rumpunen K, Gustavsson BA, Bartish IV (2005) RAPD-based analysis of genetic diversity and selection of lingonberry (Vaccinium vitis-idaea L.) material for ex situ conservation. Genet Resour Crop Evol 52:723–735

Hollingsworth PM, Ennos RA (2004) Neighbour-joining trees, dominant markers and population genetic structure. Heredity 92:490–498

Kaundun SS, Matsumoto S (2003) Development of CAPS markers based on three key genes of the phenyl-propanoid pathway in Tea. Camellia sinensis (L.) O. Kuntze, and differentiation between assamica and sinensis varieties. Theor Appl Genet 106:375–383

Kaundun SS, Zhyvoloup A, Park Y (2000) Evaluation of genetic diversity among elite tea (Camellia sinensis var. sinensis) accessions using RAPD markers. Euphytica 115:7–16

Kim KW, Chung HK, Cho GT, Ma KH, Chandrabalan D, Gwag JG, Kim TS, Cho EG, Park YJ (2007) PowerCore: a program applying the advanced M strategy with a heuristic search for establishing core sets. Bioinformatics 23:2155–2162

Lopez-Gartner G, Cortina H, McCouch SR, Moncada MDP (2009) Analysis of genetic structure in a sample of coffee (Coffea arabica L.) using fuorescent SSR markers. Tree Genet Genomes 5:435–446

Ma YS, Wang WH, Wang LX, Ma FM, Wang PW, Chang RZ, Qiu LJ (2006) Genetic diversity of soybean and the establishment of a core collection focused on resistance to soybean cyst nematode. J Integr Plant Biol 48:722–731

Mantel N (1967) The detection of disease clustering and a generalized regression approach. Cancer Res 27:209–220

Matsumoto S, Kiriiwa Y, Takeda Y (2002) Differentiation of Japanese green tea cultivars as revealed by RFLP analysis of phenylalanine ammonia-lysase DNA. Theor Appl Genet 104:998–1002

Murray MG, Thompson WF (1980) Rapid isolation of high molecular weight plant DNA. Nucleic Acids Res 8:4321–4326

Ostrowski MF, David J, Santoni S, McKhann H, Reboud X, Corre VL, Camilleri C, Brunel D, Bouchez D, Faure B et al (2006) Evidence for a large-scale population structure among accessions of Arabidopsis thaliana: possible causes and consequences for the distribution of linkage disequilibrium. Mol Ecol 15:1507–1517

Paul S, Wachira FN, Powell W, Waugh R (1997) Diversity and genetic differentiation among populations of Indian and Kenyan tea (Camellia sinensis (L) O. Kuntze) revealed by AFLP markers. Theor Appl Genet 94:255–263

Pejic I, Ajmone-Marsan P, Morgante M, Kozumplick P, Castiglioni P, Taramino G, Motto M (1998) Comparative analysis of genetic similarity among maize inbred lines detected by RFLPs, RAPDs, SSRs, and AFLPs. Theor Appl Genet 97:1248–1255

Perrier X, Flori A, Bonnot F (2003) Data analysis methods. In: Hamon P, Seguin M, Perrier X, Glaszmann JC (eds) Genetic diversity of cultivated tropical plants. Science Publisher, Enfield, pp 43–76

Portis E, Barchi L, Acquadro A, Macua JI, Lanteri S (2005) Genetic diversity assessment in cultivated cardoon by AFLP (amplified fragment length polymorphism) and microsatellite markers. Plant Breed 124:299–304

Ramakrishna W, Lagu WD, Gupta VS, Ranjekar PK (1994) DNA fingerprinting in rice using oligonucleotide probes specific for simple repetitive DNA sequences. Theor Appl Genet 88:402–406

Roberts EAH, Wight W, Wood DJ (1958) Paper chromatography as an aid to the identification of Thea Camellias. New Phytol 57:211–225

Rohlf FJ (2002) NTSYS-PC numerical taxonomy and multivariate analysis system, version 2.11a. Exeter Publishing Ltd., Setauket

Sehgal D, Bhat V, Raina SN (2008) Advent of diverse DNA markers to decipher genome sequence polynorphism. In: Kirti PB (ed) Handbook of new technologies for genetic improvement of legumes. CRC Press, Boca Raton, pp 497–558

Sehgal D, Rani V, Raina S, Sasanuma T, Sasakuma T (2009) Assaying polymorphism at DNA level for new and novel genetic diversity diagnostics of the safflower (Carthamus tinctorius) world germplasm resources. Genetica 135:457–470

Shiran B, Raina SN (2001) Evidence of rapid evolution and incipient speciation in Vicia sativa species complex based on nuclear and organellar RFLPs and PCR analysis. Genet Resour Crop Evol 48:519–532

Slatkin M (1987) Gene flow and the geographic structure of natural populations. Science 236:787–792

Tam SM, Mhiri C, Vogelaar A, Kerkveld M, Pearce SR, Grandbastien A (2005) Comparative analyses of genetic diversities within tomato and pepper collections detected by retrotransposons-based SSAP, AFLP and SSR. Theor Appl Genet 110:819–831

Tanaka JI, Sawai Y, Yamaguchi S (1995) Genetic analysis of RAPD markers in tea. J Jpn Breed 45:198–199

Toyao T (1966) Study of Koro (Camellia sinensis var. sinensis f. macrophylla (Sich) Kitamura) tea plant (part I). Stud Tea 32:18–22

Wachira FN, Waugh R, Hackett CA, Powell W (1995) Detection of genetic diversity in tea (Camellia sinensis) using RAPD markers. Genome 38:201–210

Wachira FN, Powell W, Waugh R (1997) Assessment of genetic diversity among Camellia sinensis L. (cultivated tea) and its wild relatives based on randomly amplified polymorphic DNA and organelle specific STS. Heredity 78:603–611

Wachira FN, Tanaka J, Takeda Y (2001) Genetic variation and differentiation in tea (Camellia sinensis) germplasm revealed by RAPD and AFLP variation. J Hort Sci Biotechnol 76:557–563

Wight W (1956) Commercial selection and breeding of tea in India. World Crops 8:263–268

Wight W (1959) Nomenclature and classification of the tea plant. Nature 183:1726–1728

Wright S (1951) The genetical structure of populations. Ann Eugen 15:323–354

Young-Goo P, Kaundun SS, Zhyvoloup A (2002) Use of bulked genomic DNA based RAPD methodology to access the genetic diversity among the abandoned Korean tea plantations. Genet Resour Crop Evol 49:159–165
Acknowledgments
This work was funded by a grant from Department of Biotechnology, Ministry of Science and Technology, Government of India. The authors thank Dr. M. Tewari, of University of Delhi, Delhi and Dr. A. Mishra, Ms. P. Bharali and Ms. S. Gupta, of Tocklai Experimental Station, Jorhat for their support and suggestions.
Electronic supplementary material
Below is the link to the electronic supplementary material.
About this article
Cite this article
Raina, S.N., Ahuja, P.S., Sharma, R.K. et al. Genetic structure and diversity of India hybrid tea. Genet Resour Crop Evol 59, 1527–1541 (2012). https://doi.org/10.1007/s10722-011-9782-6
Received:

Accepted:

Published:

Issue Date:
Keywords
AFLP

Gene pool

Genetic diversity

India hybrid tea

Morphotypes

STRUCTURE