Abstract
Amorphophallus paeoniifolius (Dennst.) Nicolson is a tuberous herb occurring in the wild and cultivated state. Vegetative morphological characters were studied at full foliage stage in 17 accessions of A. paeoniifolius which include two cultivars, 15 wild accessions and a related species, A. dubius Blume. The first principal component (PC) accounted for 42.32% of phenotypic variance followed by second for another 18.38%. Major traits that accounted for more variability in both PC1 and PC2 include offset shape, cormel weight per corm, corm fresh weight, petiole surface pattern and canopy spread. The unweighted pair- group method with mathematical averaging (UPGMA) clustering method revealed three principal clusters which separated all the accessions between Euclidean distances of 0.3–1.6. Both cluster analysis and principal co-ordinate analysis revealed T10, a morphotype of A. paeoniifolius var. campanulatus (Decne.) Sivad. cultivated in Tamil Nadu and P19 accession of A. paeoniifolius var. paeoniifolius from Karnataka as morphologically distinct, which needs further validation on the basis of floral characters or molecular markers and G3 from Gujarat as an immediate ancestor of cultivated elephant foot yam. The genotypic (GCV) and phenotypic (PCV) coefficients of variation, broad sense heritability (h2B) and genetic advance (GA) as a percent of the mean assessed for 18 accessions revealed high heritability estimates. A highly significant (P < 0.01) correlation coefficient between circumference of petiole base and corm diameter, corm height, corm weight, east west spread and north south spread suggests that circumference of petiole and canopy spread are indicators to corm weight and size.
Access options
Buy single article
Instant access to the full article PDF.
US$ 39.95
Tax calculation will be finalised during checkout.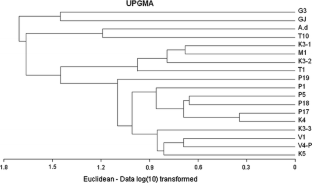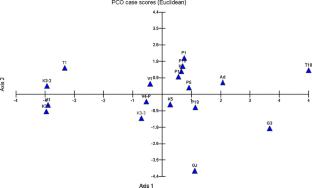 References
Abraham Z, Latha M, Asha KI, Varghese C, Lakhminarayan S, Pareek SK (2006) Minimal descriptors of agri-horticultural crops Part V: spices, tubers and plantation crops, NBPGR, Regional station, Thrissur, pp 102

Abraham Z, Latha M, Brinda R (2008) Character association studies in elephant foot yam. J Root Crops 34:70–72

Anonymous (1998) The wealth of India–raw materials, vol 1- A. Council of Scientific and Industrial Research, New Delhi, pp 233–234

Arakeri HR (1956) A note on the storage and germination requirements of seeds of Suran (A. campanulatus). Indian J Genet 1:27–29

Arbizu C, Blas R, Holle M, Vivanco F, Ghislain M (1997) Advances in the morphological characterization of oca, ulluco, mashua and arracacha. Program Report 1995–1996. International Potato Centre, Lima

Bala N, Wilson B, Manju VS, Sundaresan S (2007) Pharmacological properties of Amorphophallus paeoniifolius. In: Padmaja G, Premkumar T, Edison S, Bala N (eds) Root and tuber crops: proceedings of the national seminar on achievements and opportunities in post harvest management and value addition in root and tuber crops (NSTRC 2). Central Tuber Crops Research Institute, Thiruvananthapuram, pp 325–328

Dansi A, Mignouna HD, Zoundjihekpon J, Sangare A, Asiedu R, Quin FM (1999) Morphological diversity, cultivar groups and possible descent in the cultivated yams (Dioscorea cayenensis-Dioscorea rotundata complex) of Benin Republic. Genet Resour Crop Evol 46:371–388

Dey KL (1896) The indigenous drugs of India, 2nd edn. Thacker Spink and Co., Calcutta

Dey YN, De S, Ghosh AK, Gaidhani S, Suman K, Jamal M (2011) Synergistic depressant activity of A. paeoniifolius in Swiss albino mice. J Pharmacol Pharmacother 2:121–123

Drury CH (1873) The useful plants of India with notices of their chief medicinal value in commerce, medicine and the arts. Higginbotham and Co., Madras

Gamble JS (1967) Flora of the presidency of Madras, vol III. Botanical survey of India, Calcutta

Grob GBJ, Gravendeel B, Eurlings MCM, Hetterscheid WLA (2002) Phylogeny of tribe Thomsonieae (Araceae) based on chloroplast matK and trnL intron sequences. System Bot 27:453–467

Hanelt P, Institute of Plant Genetics and Crop Plant Research (2001) Mansfeld's encyclopedia of agricultural and horticultural crops, vol 6. Springer-Verlag, Berlin, Heidelberg, New York, pp 2317–2340

Hetterscheid WLA, Ittenbach S (1996) Everything you always wanted to know about Amorphophallus but were afraid to stick your nose into. Aroideana 19:7–151

Hooker JD (1894) Flora of British India, vol V. I L Reeve & Co., London

Jaleel Abdul V, Sivadasan M, Alfarhan AH, Thomas J, Alatar AA (2011) Revision of Amorphophallus Blume ex Decne. Sect. Rhaphiophallus (Schott) Engl. (Araceae) in India. Bangladesh J Plant Taxon 18:1–26

Jayaweera DMA (1981) Medicinal plants used in ceylon Part I. National Science Council of Sri Lanka, Colombo

Johnson HW, Robinson HF, Comstock RE (1955) Estimates of genetic and environmental variability in soybeans. Agron J 47:314–318

Kamruzzahan MM, Islam HR, Alam MF (2000) Variability and correlation studies in methods for tomato (Lycopersicon esculentum Mill.). Bangladesh J Genet Biotech 1:21–26

Kay DE (1987) Root crops—crop and product digest 2. Tropical Development and Research Institute, London, p 380

Kirthikar KR, Basu BD (1987) Indian medicinal plants, vol IV. International Book Distributors, Dehradun

Laderman C (1983) Wives and midwives childbirth and nutrition in rural Malaysia. University of California Press, California, p 247

Lebot V (2009) Tropical root and tuber crops: cassava, sweet potato, yams and aroids. Crop production science in horticulture (117). CAB Books, CABI, Wallingford

Mac Key J (1988) A plant breeder's aspect on the taxonomy of cultivated plants. Biologisches Zentralblatt 107:369–379

Mayo SJ, Bogner J, Boyce PC (1997) The genera of Araceae. Royal Botanical Gardens, Kew

Mondal AK (2005) Advanced plant taxonomy. Central Book Agency, Kolkotta

Nadkarni KM, Nadkarni AK (2000) Indian materia medica, vol I. Popular Prakashan, Mumbai

Nicolson DH (1982) Translation of Engler's classification of Araceae with updating. Aroideana 5:67–88

Nicolson DH (1987) Araceae. In: Dassanayake MD, Fosberg FR (eds) A revised handbook to the flora of Ceylon, vol. VI. Amerind Publishing Co. Pvt. Ltd, New Delhi, pp 17–101

Ochse JJ,Van der Brink RCB (1980) Vegetables of the Dutch East Indies. Amsterdam

Okelola FS, Adebisi MA, Kehinde OB, Olewole AM (2007) Genotypic and phenotypic variability for seed vigour traits and seed yield in West African rice (Oryza sativa L.) genotypes. J Am Sci 3:34–41

Pansey VG, Sukhatme PV (1985) Statistical methods for agricultural workers. Indian Council of Agricultural Research, New Delhi

Peeters JP, Martineelli JA (1989) Hierarchical cluster analysis as a tool to manage variation in germplasm collection. Theor Appl Genet 78:42–48

Pissard A, Arbizu C, Ghislain M, Faux AM, Paulet S, Bertin P (2008) Congruence between morphological and molecular markers inferred from the analysis of the intra-morphotype genetic diversity and spatial structure of Oxalis tuberosa. Genetica 132:71–85

Prajapathi ND, Purohit SS, Sharma AK, Kumar T (2004) A hand book of medicinal plants—a complete source book. Jodhpur, India

Purwal L, Shrivastava V, Jain UK (2011) Studies on antidiarrhoeal activity of leaves of Amorphophallus paeoniifolius in experimental animals. Int J Pharmaceutical Sci Res 2:468–471

Raghu RV, Deepa C, Sundaran K (1999) A study of Soorana (Amorphophallus paeoniifolius) the king of tubers. In: Balagopalan C, Nayar TVR, Sundaresan S, Lakshmi KR (eds) Tropical tuber crops in food security and nutrition. Oxford and IBH Publishing Co. Pvt. Ltd, Calcutta, pp 10–14

Sedayu A, Eurlings MCM, Gravendeel B, Hettescheid WLA (2010) Morphological character evolution of Amorphophallus (Araceae) based on a combined phylogenetic analysis of trnL, rbcL and LEAFY second intron sequences. Bot Stud 51:473–490

Sharma OP (2009) Plant taxonomy, 2nd edn. Tata Mc Graw Hill Education Pvt. Ltd., New Delhi

Shilpi JA, Ray RK, Sarder SJ, Vddin SJ (2005) Analgesic activity of Amorphophallus campanulatus tubers. Fitoterapia 76:367–370

Shirly RA, Palaniswami MS (2008) Performance of Gajendra in different states of India. In: Palaniswami MS, Shirly RA, Sajeev MS, Unnikrishnan M, Singh PP, Choudhury BC (eds) National Seminar on Amorphophallus: innovative technologies—abstract book, status papers and extended summary. Central Tuber Crops Research Institute, Thiruvanathapuram, p 103

Singh SN, Gadgil M (1995) Ecology of Amorphophallus species of Uttara Kannada district of the Karnataka state, India: implications for conservation. Aroideana 18:5–18

Singh SK, Rajasekar N, Vinod Raj AN, Paramaguru R (2011) Hepatoprotective and antioxidant effects of Amorphophallus campanulatus against acetaminophen–induced hepatotoxicity in rats. Int J Pharm Pharm Sci 3:202–205

Siraj VV, Balachandran I (1994) Ayurvedic drugs and their plant sources. Oxford and IBH Publishing Co. Pvt. Ltd., New Delhi

Sivadasan M, Jaleel AV (2000) Amorphophallus hirsutus Teysm. et Binn (Araceae): a new report from India. Rheedea 10:143–147

Sneath PHA, Sokal RR (1973) Numerical taxonomy. WH Freeman and Company, San Francisco

Sreekumari MT (2000) Flowering, intervarietal hybridization, selfing and seed production in elephant foot yam (Amorphophallus paeoniifolius (Dennst.) Nicolson). J Root Crops 26:18–22

Valentovaä K, Lebeda A, Dolezÿalovaä I, Jirovskyä D, Simonovska B, Vovk I, Kosina P, Gasmanovaä N, Dziechciarkovaä M, Ulrichovaä J (2006) The biological and chemical variability of yacon. J Agric Food Chem 54:1347–1352

Van der Ham R, Grob G, Hetterscheid WLA, Star W, Van Heuven B (2005) Notes on the genus Amorphophallus (Araceae)-13. Evolution of pollen ornamentation and ulrastructure in Amorphophallus and Pseudodracontium. Grana 44:252–265

Veasey EA, Silva JRQ, Rosa MS, Borges A, Bressan EA, Peroni N (2007) Phenology and morphological diversity of sweet potato (Ipomoea batatas) landraces of the Vale do Ribeira. Sci Agric 64:416–427

Watt G (1889) Dictionary of economic plants of India, vol 2. Supt. Govt. Printing, Calcutta, India
Acknowledgments
The authors are thankful to Dr. (Mrs.) Ashalatha S Nair, Professor and Head, Department of Botany, University of Kerala for providing facilities. Thanks are due to NBPGR, New Delhi for providing A. dubius germplasm. SRA is thankful to the Director, Central Tuber Crops Research Institute (Indian Council of Agricultural Research), Thiruvananthapuram, Kerala for granting study leave.
About this article
Cite this article
Anil, S.R., Siril, E.A. & Beevy, S.S. Morphological variability in 17 wild elephant foot yam (Amorphophallus paeoniifolius) collections from southwest India. Genet Resour Crop Evol 58, 1263–1274 (2011). https://doi.org/10.1007/s10722-011-9752-z
Received:

Accepted:

Published:

Issue Date:
Keywords
Amorphophallus paeoniifolius

Genetic advance

Genotypic coefficient of variation

Multivariate analysis

Neglected and underutilized crops

Phenotypic coefficient of variation

Plant genetic resources

Wild accessions