Abstract
The intake of traditionally consumed wild edible species is nowadays receiving renewed attention, due to the recognition of their potential benefits for human health. This paper represents a contribution to the knowledge of the chemical composition of different wild and under-utilized vegetables of the Mediterranean area, concerning their organic acid profile and the distribution of ascorbic and dehydroascorbic acids as vitamin C activity. Fifteen species, belonging to ten botanical families, were selected, analyzing two samples of each one from two different localities of Central Spain. Each species showed a specific organic acids fingerprint. Citric acid was 90% of total organic acids in Tamus communis; malic acid was the major one in Humulus lupulus, Taraxacum obovatum and Cichorium intybus, and oxalic acid was the main organic acid in Beta maritima, Papaver rhoeas, Silybum marianum, Foeniculum vulgare, Rumex pulcher, Silene vulgaris, Scolymus hispanicus, Rumex papillaris and Bryonia dioica. The distribution of ascorbic and dehydroascorbic acid was highly variable. Mean values for total vitamin C ranged between 1.5 and 79.4 mg/100 g. Tamus communis, R. pulcher, S. vulgaris and B. dioica, showed the highest content of AA, and together with F. vulgare and H. lupulus, the highest total vitamin C content. These results can be useful to complete food composition databases with the inclusion of wild vegetables from the Mediterranean area, contributing to enhance the diversity of the diet as well as its nutritional quality.
Access options
Buy single article
Instant access to the full article PDF.
US$ 39.95
Tax calculation will be finalised during checkout.
Subscribe to journal
Immediate online access to all issues from 2019. Subscription will auto renew annually.
US$ 119
Tax calculation will be finalised during checkout.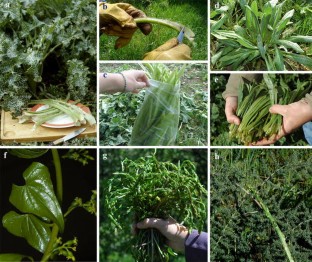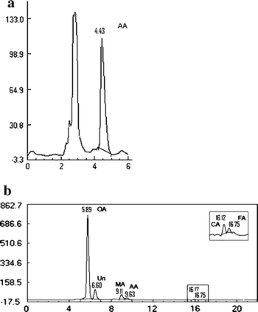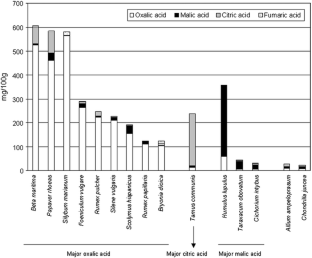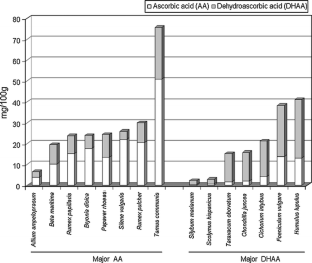 References
Ansari NM, Houlihan L, Hussain B, Pieroni A (2005) Antioxidant activity of five vegetables traditionally consumed by South-Asian Migrants in Bradford, Yorkshire, UK. Phytother Res 19:907–911

AOAC (1993) Peer verified methods program. AOAC, Manual on policies and procedures. AOAC International, Arlington

Barros L, Carvalho AM, Ferreira ICFR (2010a) Leaves, flowers, immature fruits and leafy flowered stems of Malva sylvestris: a comparative study of the nutraceutical potential and composition. Food Chem Toxicol 48(6):1466–1472

Barros L, Carvalho AM, Ferreira ICFR (2010b) The nutritional composition of fennel (Foeniculum vulgare): Shoots, leaves, stems and inflorescences. Food Sci Technol 43(5):814–818

Bender DA (2003) Vitamin C (ascorbic acid). In: Bender DA (ed) Nutritional biochemistry of the vitamins, 2nd edn. Cambridge University Press, Cambridge, pp 357–384

Bharucha Z, Pretty J (2010) The roles and values of wild foods in agricultural systems. Philos Trans R Soc B 365(1554):2913–2926

Biglino G, Nano GM (1965) Partial synthesis of bryogenine. XII. Constituents of Bryonia dioica root. Farmaco 20(8):566–569

Campra-Madrid P, Guil-Guerrero JL (2002) High-performance liquid chromatographic purification of gamma-linolenic acid (GLA) from the seed oil of two Boraginaceae species. Chromatographia 56:673–677

Couplan F (1990) Les belles veneneuses. Encyclopedie des plantes comestibles de l'Europe vol.3. Equilibres Aujourd'houi, Flers

Eitenmiller RR, Ye L, Landen WO Jr (2008) Ascorbic acid: vitamin C. In: Eitenmiller RR, Ye L, Landen WO Jr (eds) Vitamin analysis for the health and food sciences, 2nd edn. CRC Press, Boca Raton, pp 231–289

Escudero NL, de Arellano ML (2003) Taraxacum officinale as a food source. Plant Foods Hum Nutr 58:1–10

Fernández-Ruiz V, Galiana L, Sánchez-Mata MC, Chaya C, Roselló S, Cámara M, Torija ME, Nuez F (2004) Internal quality characterization of fresh tomato fruits. Hortscience 39:339–345

Ferreres F, Ribeiro V, Izquierdo AG, Rodrigues MA, Seabra RM, Andrade PB, Valentao P (2006) Rumex induratus leaves: interesting dietary source of potential bioactive compounds. J Agric Food Chem 54:5782–5789

Food and Nutrition Board, Institute of Medicine (2000) Vitamin C. Dietary reference intakes for vitamin C, vitamin E, selenium, and carotenoids. National Academy Press, Washington

Ghane SG, Lokhande VH, Ahire ML, Nikam TD (2010) Indigofera glandulosa Wendl. (Barbada) a potential source of nutritious food: underutilized and neglected legume in India. Genet Resour Crop Evol 57:147–153

Guil JL, Torija ME, Gimenez JJ, Rodriguez I, Gimenez A (1996) Oxalic acid and calcium determination in wild edible plants. J Agric Food Chem 44:1821–1823

Guil JL, Rodríguez I, Torija ME (1997) Nutritional and toxic factors in selected wild edible plants. Plant Foods Hum Nutr 51(2):99–107

HadadChi GHR, Moradi Z (2005) The amounts and distribution of diosgenin and saponin and their carbohydrate moiety of Tamus communis L. J Agric Sci Nat Resour 12(2):55–66

Hadjichambis AC, Paraskeva-Hadjichambi D, Della A, Giusti ME, De Pasquale C, Lenzarini C, Censorii E, González-Tejero MR, Sanchez-Rojas CP, Ramiro-Gutiérrez JM, Skoula M, Johnson C, Sarpaki A, Hmamouchi M, Jorhi S, El-Demerdash M, El-Zayat M, Pieroni A (2008) Wild and semi-domesticated food plant consumption in seven circum-Mediterranean areas. Int J Food Sci Nutr 59(5):383–414

Hammer K, Knüpffer H, Laghetti G, Perrino P (1999) Seeds from the past. A catalogue of crop germplasm in Central and North Italy, IG of CNR, Bari

Heinrich M, Nebel S, Leonti M, Rivera D, Obón C (2006) 'Local Food-Nutraceuticals': bridging the gap between local knowledge and global needs. Forum Nutr 59:1–17

Horwitz W, Latimer GW (2005) Official methods of analysis of AOAC international, 18th edn. AOAC, Gaithersburg

Hsu H-C, Chien C-S (1994) Validation of analytical methods: a simple model for HPLC assay methods. J Food Drug Anal 2(3):161–176

Hylands P, Kosugi J (1982) Bryonoside and bryoside—new triterpene glycosides from Bryonia dioica. Phytochem 21(6):1379–1384

Koudela M, Petříková K (2008) Nutritional compositions and yield of sweet fennel cultivars Foeniculum vulgare Mill. ssp. vulgare var. azoricum (Mill.) Thell. Hortscience Prague 35(1):1–6

Lin JT, Liu SC, Chen SL, Chen HY, Yang DJ (2006) Effects of domestic processing on steroidal saponins in taiwanese yam cultivar (Dioscorea pseudojaponica Yamamoto). J Agr Food Chem 54(26):9948–9954

López-Bucio J, Nieto-Jacobo MF, Ramírez-Rodríguez V, Herrera-Estrella L (2000) Organic acid metabolism in plants: from adaptive physiology to transgenic varieties for cultivation in extreme soils. Plant Sci 160:1–13

Martins D, Barros L, Carvalho AM, Ferreira ICFR (2011) Nutritional and in vitro antioxidant properties of edible wild greens in Iberian Peninsula traditional diet. Food Chem 125(2):488–494

Mataix J, Mañas M, Llopis J, Martinez de Victoria E (1998) Tabla de composición de alimentos españoles, 3rd edn. Editorial Universal de Granada, Granada

Molina M (2009) Valoración productiva de siete especies silvestres tradicionalmente recolectadas con fines alimentarios en la Península Ibérica. Master thesis. Universidad Autónoma de Madrid

Oliveira AP, Pereira JA, Andrade PB, Valentão P, Seabra RM, Silva BM (2008) Organic acids composition of Cydonia oblonga Miller leaf. Food Chem 111:393–399

Pardo-de-Santayana M, Tardío J, Blanco E, Carvalho AM, Lastra JJ, San Miguel E, Morales R (2007) Traditional knowledge on wild edible plants in the northwest of the Iberian Peninsula (Spain and Portugal): a comparative study. J Ethnobiol Ethnomed 3:27

Phillips KM, Tarragó-Trani MT, Gebhardt SE, Exler J, Patterson KY, Haytowitz DB, Pehrsson PR, Holden JM (2010) Stability of vitamin C in frozen raw fruit and vegetable homogenates. J Food Compost Anal 23:253–259

Pieroni A, Nebel S, Santoro RF, Heinrich M (2005) Food for two seasons: culinary uses of non-cultivated local vegetables and mushrooms in a south Italian village. Int J Food Sci Nutr 56(4):245–272

Price LL (2003) Farm womens rights and roles in wild plant food gathering and management in North-East Thailand. In: Howard PL (ed) Women and plants. Gender relations in biodiversity management and conservation. Zed Books and IDRC, London, pp 101–114

Prohens J, Sánchez MC, Rodríguez-Burruezo A, Cámara M, Torija E, Nuez F (2005) Morphological and Physico-Chemical Characteristics of Fruits of Pepino (Solanum muricatum), Wild Relatives (S. caripense and S. tabanoense) and Interspecific Hybrids. Implications in Pepino Breeding. Eur J Hortic Sci 7:224–230

Redzic S (2006) Wild edible plants and their traditional use in the human nutrition in Bosnia-Herzegovina. Ecol Food Nutr 45(3):189–232

Rivera D, Obón C, Inocencio C, Heinrich M, Verde A, Fajardo J, Palazón JA (2007) Gathered food plants in the mountains of Castilla-La Mancha (Spain): ethnobotany and multivariate analysis. Econ Bot 61:269–289

Ruiz-Rodríguez BM, Morales P, Fernández-Ruiz V, Sánchez-Mata MC, Cámara M, Díez-Marqués C, Pardo-de-Santayana M, Molina M, Tardío J (2011) Valorization of wild strawberry-tree fruits (Arbutus unedo L.) through nutritional assessment and natural production data. Food Res Int. doi:10.1016/j.foodres.2010.11.015 (in press)

Salvatore S, Pellegrini N, Brenna OV, Del Río D, Frasca G, Brighenti F, Tumino R (2005) Antioxidant characterization of some Sicilian edible wild greens. J Agric Food Chem 53(24):9465–9471

Schaffer S, Schmitt-Schillig S, Müller WE, Eckert GP (2005) Antioxidant properties of mediterranean food plants extracts: geographical differences. J Physiol Pharmacol 56(Suppl. 1):115–124

Seabra RM, Andrade PB, Valentão P, Fernandes E, Carvalho F, Bastos ML (2006) Anti-oxidant compounds extracted from several plant materials. In biomaterials from aquatic and terrestrial organisms. Science Publishers, Enfield

Siegall CB, Gawlak SL, Chace D, Wolff EA, Mixan B, Marquardt H (1994) Characterization of Ribosome-Inactivating Proteins isolated from Bryonia dioica and their utility as carcinoma-reactive immunoconjugates. Bioconjugate Chem 5(5):423–429

Souci SW, Fachmann W, Kraut H (2008) Food composition and nutrition tables. Medpharm, Sttutgart, Germany

Tardío J (2010) Spring is coming: the gathering and consumption of wild vegetables in Spain. In: Pardo-de-Santayana M, Pieroni A, Puri R (eds) Ethnobotany in the New Europe: people health and wild plant resources. Berghahn Books, Oxford-New York, pp 211–238

Tardío J, Pardo-de-Santayana M, Morales R (2006) Ethnobotanical review of wild edible plants in Spain. Bot J Linn Soc 152(1):27–72

Termote C, Van Damme P, Dhed'a Djailo B (2011) Eating from the wild: Turumbu, Mbole and Bali traditional knowledge on non-cultivated edible plants, District Tshopo, DRCongo. Genet Resour Crop Evol 58:585–618

Vardavas CI, Majchrzak D, Wagner KH, Elmadfa I, Katafos A (2006) The antioxidant and phylloquinone content of wildly grown greens in Crete. Food Chem 99(4):813–821

Vazquez-Garcia V (2008) Gender, ethnicity, and economic status in plant management: Uncultivated edible plants among the Nahuas and Popolucas of Veracruz, Mexico. Agric Human Values 25:65–77

Zeghichi S, Kallithraka S, Simopoulos AP, Kypriotakis Z (2003) Nutritional composition of selected wild plants in the diet of Crete. World Rev Nutr Diet 91:22–40
Acknowlegments
Research funding for this work was obtained from ERDF (European Regional Development Fund) and the Spanish Ministry of Education and Science (CGL2006-09546/BOS). We want to thank to Ramón Morales, Susana González and María Molina for collaborating in the gathering and preparation of the samples and for their comments about the manuscript. Antonio Galán helped in the correct determination of Taraxacum specimens.
About this article
Cite this article
Sánchez-Mata, M.C., Cabrera Loera, R.D., Morales, P. et al. Wild vegetables of the Mediterranean area as valuable sources of bioactive compounds. Genet Resour Crop Evol 59, 431–443 (2012). https://doi.org/10.1007/s10722-011-9693-6
Received:

Accepted:

Published:

Issue Date:
Keywords
Bioactive compounds

Neglected and underutilized wild species

Nutritional value

Organic acids

Vitamin C