Abstract
Amaranthus is a cosmopolitan genus comprising large number of species with many morphotypes cultivars/accessions having diversified morphological features. The species, morphotypes within Amaranthus are very closely related requiring microclassification even revision in present taxonomic status. Most of the works have been done employing grain Amaranthus and their putative ancestors applying morphological and molecular data. In present study along with morphological features, phenolic compounds (secondary metabolites), isozyme profile of acid phosphatase were applied to get comprehensive reflection of interrelationship and relative closeness among the species, morphotypes/accessions of few vegetable, grain and weed Amaranthus. Both the vegetable and grain Amaranthus are supposed to have originated from respective weed progenitor through occasional outcrossing and gradual domestication. The study strongly vouched the previous interpretations regarding interrelationship of grain Amaranthus and their derivation from their putative progenitor also showed clear separate clustering of vegetable and grain Amaranthus with their close relatives. A sharp congruence in cluster pattern was achieved between morphological dendrogram and cumulative dendrogram computed on morphological and biochemical parameters, which is a rare event in systematics.
Access options
Buy single article
Instant access to the full article PDF.
USD 39.95
Price excludes VAT (USA)
Tax calculation will be finalised during checkout.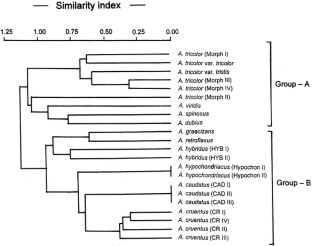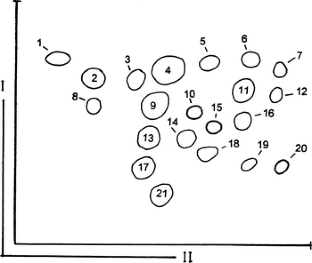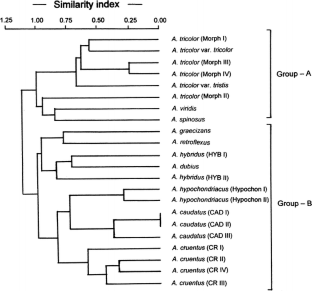 References
Baker W, Ollis WD (1961) Recent development in the chemistry of natural phenolic compounds. Pergamon Press, New York

Bechly G (2000) Glossary of phylogenetic systematics with a critic of mainstream cladism. http://members.tripod.de/gbechly/glossary.htm. pp 1–24

Chan KF, Sun M (1997) Genetic diversity and relationships detected by isozyme and RAPD analysis of crop and wild species of Amaranthus. Theor Appl Genet 95:865–873

Costea M, Brenner DM, Tardif FJ, Tan YF, Sun M (2006) Delimitation of Amaranthus cruentus L. and Amaranthus caudatus L. using micromorphology and AFLP analysis: an application in germplasm identification. Genet Resour Crop Evol 53(8):1625–1633

Das S, Mukherjee KK (1995) Biochemical studies on Ipomoea pollen to understand species homology. Grana 34:332–337

Gornal RJ, Bohm BA (1980) Flavonoids and taxonomy of Boykinia and related genera. Can J Bot 58:1768–1779

Greizerstain EJ, Poggio L (1994) Karyological studies in grain Amaranths. Cytologia (Tokyo) 59:25–30

Greizerstain EJ, Poggio L (1995) Meiotic studies of spontaneous hybrids of Amaranthus: genome analysis. Plant Breed 114:448–450

Gupta VK, Gudu S (1990) Inheritance of some morphological traits in grain amaranths. Euphytica 46:79–84

Kato M, Jodo S, Tokumasu S (1978) Application of the electrophoretic isozyme method to muskmelon breeding. J Japan Soc Hortic Sci 47(1):57–62

Mallory MA (2007) Development and characterization of microsatellite markers for the grain Amaranths (Amaranthus spp. L.). Ph. D. thesis, Brigham Young University, Utah

Marino CL, Gimenes MA, de Silva N, Lopes CR (2002) Acid phosphatase polymorphism within and among population of Cauliflower (Brassica oleracea var. botrytis). Genet Mol Biol 25(1):81–84

McClure JW, Alston RE (1966) A chemotaxonomic study of Lemnaceae. Am J Bot 59:849–860

Mosyakin SL, Robertson KR (1996) New infrageneric taxa and combination in Amaranthus (Amaranthaceae). Ann Bot Femici 33:275–281

Mukherjee KK (1986) A comparative study of two cytotypes of Chenopodium album in West Bengal, India. Can J Bot 64:754–759

Mukherjee KK, Chanda S (1990) Application of pollen phenolics in understanding plant affinity and phylogeny—a preliminary report. Grana 29:157–159

Pal M, Khoshoo TN (1974) Grain amaranths. In: Hutchinson JB (ed) Evolutionary studies in world crops: diversity and change in the Indian subcontinent. Cambridge University Press, UK, pp 129–137

Parana F, Pasqualini S, Antonielli M (1990) Multiple forms of barley root acid phosphatase purification and some electrophoretics of the major cytoplasmic isozymes. Biochem Biophys Acta 1073:73–80

Pasteur N, Pasteur G, Bouhomme F, Catalan J, Britton-Davidian J (1988) Practical isozyme genetics. Wiley, New York

Sauer JD (1967) The grain amaranths and their relatives: a revised taxonomic and geographic survey. Ann Mo Bot Gard 54:103–137

Sauer JD (1976) Grain amaranths. In: Simmonds NW (ed) Evolution of crop plants. Longman group, London, pp 4–7

Sauer JD (1993) Amaranthaceae: Amaranth family. In: Historical geography of crop plants. A select roster, CRC Press, Boca Raton pp 9–14

Sneath PHA, Sokal RR (1973) Numerical taxonomy. WH Freeman and Co, San Francisco, pp 1–573

Studier FW (1973) Analysis of bacteriophase T7 early RNAse and protein on slab gels. J Mol Biol 79:237–248

Transue DK, Fairbanks D, Robinson LR, Anderson WR (1994) Species identification by RAPD analysis of grain amaranth genetic resources. Crop Sci 34:1385–1389

Turner BL (1994) Chromosome numbers and their phyletic interpretation. In: Behnke HD, Mabry TJ (eds) Caryophyllales evolution and systematics. Springer, New York, pp 27–43

Wassom JJ, Tranel PJ (2005) Amplified fragment length polymorphism-based genetic relationship among weedy Amaranthus species. J Hered 96:410–416

Wetter L, Dyck J (1983) Isozyme analysis of cultivated cells and somatic hybrids. In: Evans DA, Sharp WR, Ammirato PV, Yamada Y (eds) Hand book of plant cell culture. Macmillan Publ Co, New York, pp 607–628

Wetzel DK, Horak MJ, Skinner DZ (1999) Use of PCR-based molecular marker to identify weedy Amaranthus species. Weed Sci 47:518–523

Xu F, Sun M (2001) Comparative analysis of phylogenetic relationships of grain amaranths and their wild relatives (Amaranthus; Amaranthaceae) using internal transcribed spacer, amplified fragment length polymorphism and double-primer fluorescent inter simple sequence repeat markers. Mol Phylogenet Evol 21(3):372–387
Acknowledgments
Author express his sincere gratitude to Head, NBPGR, New Delhi; Dr. J. C. Rana, Head, regional station Phagli, Shimla, HP., NBPGR for supply of seeds of grain Amaranths. Author is also thankful to University Grants Commission for funding the project.
About this article
Cite this article
Das, S. Systematics and taxonomic delimitation of vegetable, grain and weed amaranths: a morphological and biochemical approach. Genet Resour Crop Evol 59, 289–303 (2012). https://doi.org/10.1007/s10722-011-9684-7
Received:

Accepted:

Published:

Issue Date:

DOI: https://doi.org/10.1007/s10722-011-9684-7
Keywords
Amaranthus

Isozyme polymorphism

Morphology

Phenolic chromatogram

Species interrelationship