Abstract
Njavara (shashtika in Sanskrit), a rice (Oryza sativa L.) landrace described in ancient Sanskrit treatises of Ayurveda for its nutritive and medicinal properties, is traditionally used in Kerala for Ayurveda treatments. We characterized the genetic resources of Njavara using 24 morphological traits and 664 amplified fragment length polymorphic (AFLP) markers. Different multivariate methods revealed four morphologically distinct types (morphotypes) in the Njavara germplasm, which were highly differentiated (Qst > 0.65) for several quantitative variables. Eight quantitative variables together with glume or bran color stably discriminated the four morphotypes. In accordance with ancient literature, most Njavara accessions exhibit a short maturity (<90 days). AFLP analysis supported the morphological grouping; however, it resolved morphotype I into three distinct clusters, revealing six genotypes under the four morphotypes identified. The genotypes were highly differentiated (Fst = 0.7276; Gst = 0.7202) and highly homozygous. Qst—Fst comparison revealed a possible role for natural selection in structuring quantitative variables among Njavara populations. Data suggest that the Njavara germplasm represents a composite of highly homozygous genetically isolated units. The distinctness of Njavara accessions in the AFLP dendrogram in relation to other traditional rice strains further demonstrates that the genotypes are nevertheless genetically cohesive and perpetuated with minimum genetic admixing. Stabilizing selection traditionally performed by farmers for short maturity coupled with autogamous breeding may have retained the genetic purity and governed the genetic structure of Njavara. The morphotypes identified were named long yellow, short yellow, intermediate yellow and short black, after culm length and glume color, which differ strikingly among the Njavara accessions. The present comprehensive description, the first of this kind in Njavara, yields vital insight into the genetic resources of this crop, which is relevant for designing methods for its effective utilization in different fields of research.
Access options
Buy single article
Instant access to the full article PDF.
USD 39.95
Price excludes VAT (USA)
Tax calculation will be finalised during checkout.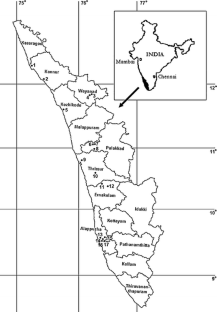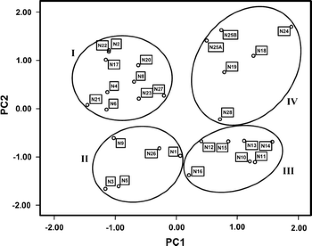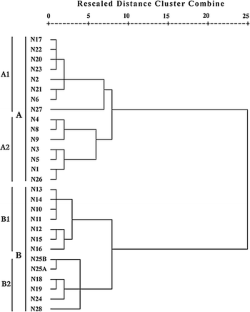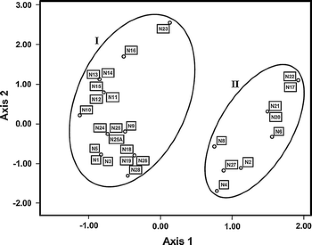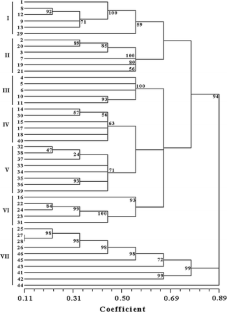 References
Adoukonou-Sagbadja H, Wagner C, Dansi A, Ahlemeyer J, Dainou O, Akpagana K, Ordon F, Friedt W (2007) Genetic diversity and population differentiation of traditional fonio millet (Digitaria spp.) landraces from different agro-ecological zones of West Africa. Theor Appl Genet 115:917–931

Álvarez I, Wendel JF (2006) Cryptic interspecific introgression and genetic differentiation within Gossypium aridum (Malvaceae) and its relatives. Evolution 60:505–517

Alvarez N, Garine E, Khasah C, Dounias E, Hossaert-McKey M, McKey D (2005) Farmers' practices, metapopulation dynamics, and conservation of agricultural biodiversity on-farm: a case study of sorghum among the Duupa in sub-sahelian Cameroon. Biol Conserv 121:533–543

Anonymous (2002) Package of practices recommendations: crops, 12th edn, Kerala Agricultural University, India. http://www.kau.edu/pop/agro-ecologicalzonesofkerala.htm. Accessed 16 Feb 2010

Barry MB, Pham JL, Courtois B, Billot C, Ahmadi N (2007) Rice genetic diversity at farm and village levels and genetic structure of local varieties reveal need for in situ conservation. Genet Resour Crop Evol 54:1675–1690

Berg T (2009) Landraces and folk varieties: a conceptual reappraisal of terminology. Euphytica 166:423–430

Bonnin I, Prosperi JM, Olivieri I (1996) Genetic marker and quantitative genetic variation in Medicago truncatula (Leguminosae): a comparative analysis of population structure. Genetics 143:1795–1805

Burrow T, Emeneau MB (1961) A Dravidian etymological dictionary. Oxford University Press, Oxford

Chattopadhyay S (2007) Religion, spirituality, health and medicine: why should Indian physicians care? J Postgraduate Med 53:262–266

Cheng Z, Lu BR, Sameshima K, Fu DX, Chen JK (2004) Identification and genetic relationship of kenaf (Hibiscus cannabinus L.) germplasm revealed by AFLP analysis. Genet Resour Crop Evol 51:393–401

Cleveland DA, Soleri D, Smith SE (2000) A biological framework for understanding farmers' plant breeding. Econ Bot 54:377–394

Deepa G, Singh V, Naidu KA (2008) Nutrient composition and physiochemical properties of Indian medicinal rice-Njavara. Food Chem 106:165–171

Elsy CR, Rosamma CA, Potty NN (1992) Njavara-a rice variety with special characters. Oryza 29:55–56

Fukuoka S, Tran SD, Ebana K, Luu TN, Nagamine T, Okuno K (2006) Genetic organization of aromatic rice as revealed by RAPD markers: a case study in conserving crop genetic resources on farm. Euphytica 149:61–71

Garris AJ, Tai TH, Coburn J, Kresovich S, McCouch S (2005) Genetic structure and diversity in Oryza sativa L. Genetics 169:1631–1638

Greene SL, Kisha TJ, Dzyubenko NI (2008) Conserving alfalfa wild relatives: is past introgression with Russian varieties evident today? Crop Sci 48:1853–1864

Gutierrez HG (1980) An illustrated manual of Philippine Materia Medica. 1:162–164

Hamrick JL, Godt MJW (1996) Effects of life history traits on genetic diversity in plant species. Phil Trans R Soc Lond B 351:1291–1298

Hartings H, Berardo N, Mazzinelli GF, Valoti P, Verderio A, Motto M (2008) Assessment of genetic diversity and relationship among maize (Zea mays L.) Italian landraces by morphological and AFLP profiling. Theor Appl Genet 117:831–842

Hempel K, Peakall R (2003) Cross-species amplification from crop soybean Glycine max provides informative microsatellite markers for the study of inbreeding wild relatives. Genome 46:382–393

IRRI/IBPGR (1980) Descriptors for rice (Oryza sativa L.), IRRI, Manila

Kuittinen H, Mattila A, Savolainen O (1997) Genetic variation at marker loci and in quantitative traits in natural populations of Arabidopsis thaliana. Heredity 79:144–152

Latta RG (1998) Differentiation of allelic frequencies at quantitative trait loci affecting locally adaptive traits. Am Nat 151:283–292

Leinonen T, O'Hara RB, Cano JM, Merilä J (2008) Comparative studies of quantitative trait and neutral marker divergence: a meta-analysis. J Evol Biol 21:1–17

Lewontin RC (1972) The apportionment of human diversity. Evol Biol 6:381–398

Lihová J, Kučera J, Pernỳ M, Marhold K (2007) Hybridization between two polyploidy Cardamine (Brassicaceae) species in north-western Spain: discordance between morphological and genetic variation pattern. Ann Bot 99:1083–1096

Louette D, Smale M (2000) Farmers' seed selection practices and traditional maize varieties in Cuzalapa, Mexico. Euphytica 113:25–41

Manakkodan KKV (1949) Pancha Karma adhava shodhana cikitsa. Vidyarambham Press, Alappuzha

McKay JK, Latta RG (2002) Adaptive population divergence: markers, QTL and traits. Trends Ecol Evol 17:285–291

Menon MV, Potty NN (1998) Variation in production pathway for quantitative and qualitative characteristics in medicinal rice, "Njavara". Oryza 35:208–210

Menon MV, Potty NN (1999) Nutritional specificity and quality properties of medicinal rice, "Njavara". Oryza 36:315–317

Murthy KRS (2001) Vagbatta's Ashtanga Hrdayam (Text, English translation, notes, appendix, indices), 5th edn. Krishna Das Academy, Varanasi

Nei M (1973) Analysis of gene diversity in subdivided populations. Proc Natl Acad Sci 70:3321–3323

Nuijten E, van Treuren R (2007) Spatial and temporal dynamics in genetic diversity in upland rice and late millet (Pennisetum glaucum (L.) R. Br.) in the Gambia. Genet Resour Crop Evol 54:989–1009

Perales HR, Brush SB, Qualset CO (2003) Dynamic management of maize landraces in central Mexico. Econ Bot 57:21–34

Pissard A, Arbizu C, Ghislain M, Faux AM, Paulet S, Bertin P (2008) Congruence between morphological and molecular markers inferred from the analysis of the intra-morphotype genetic diversity and the spatial structure of Oxalis tuberosa. Mol. Genetica 132:71–85

Pusadee T, Jamjod S, Chiang YC, Rerkasem B, Schaal BA (2009) Genetic structure and isolation by distance in a landrace of Thai rice. Proc Natl Acad Sci 106:13880–13885

Rieseberg LH, Willis JH (2007) Plant speciation. Science 317:910–914

Saccomani M, Stevanato P, Trebbi D, McGrath JM, Biancardi E (2009) Molecular and morpho-physiological characterization of sea, ruderal and cultivated beets. Euphytica 169:19–29

Sanni KA, Fawole I, Guei RG, Ojo DK, Somado EA, Tia DD, Ogunbayo SA, Sanchez I (2008) Geographical patterns of phenotypic diversity in Oryza sativa landraces of Côte d' Ivoire. Euphytica 160:389–400

Simi CK, Abraham TE (2008) Physiochemical rheological and thermal properties of Njavara rice (Oryza sativa) starch. J Agric Food Chem 56:12105–12113

Singh RA (1992) Panca karma therapy. Chowkhamba Sanskrit Series, Varanasi

Singh RK, Singh US (2003) A treatise on the scented rices of India. Kalyani Publishers, Ludhiana

Sreejayan N, Kumar VR, Thomas G (2003) Collecting and morphological evaluation of 'njavara', a traditional medicinal rice (Oryza sativa L.), in Kerala, India. Plant Genet Resour Newsl 135:12–17

Steinger T, Haldimann P, Leiss KA, Müller-Schärer H (2002) Does natural selection promote population divergence? A comparative analysis of population structure using amplified fragment length polymorphism markers and quantitative traits. Mol Ecol 11:2583–2590

Stenøien HK, Fenster CB, Tonteri A, Savolainen O (2005) Genetic variability in natural populations of Arabidopsis thaliana in northern Europe. Mol Ecol 14:137–148

Thomas G, Joseph L, Varghese G, Kalyanaraman K, Kuriachan P, Das MR (2001) Discrimination between Oryza malampuzhaensis Krish. et Chand. and Oryza officinalis Wall ex Watt based on RAPD markers and morphological traits. Euphytica 122:181–189

Tu M, Lu BR, Zhu Y, Wang Y (2007) Abundant within-varietal genetic diversity in rice germplasm from Yunnan province of China revealed by SSR fingerprints. Biochem Genet 45:789–801

Turner RL (1966) A comparative dictionary of the Indo-Aryan languages. Oxford University Press, London

Zeven AC (1999) The traditional inexplicable replacement of seed and seed ware of landraces and cultivars: a review. Euphytica 110:181–191

Zhang L, Li QJ, Li HT, Chen J, Li DZ (2006) Genetic diversity and geographic differentiation in Tacca chantrieri (Taccaceae): an autonomous selfing plant with showy floral display. Ann Bot 98:449–457

Zhang D, Zhang H, Wang M, Sun J, Qi Y, Wang F, Wei X, Han L, Wang X, Li Z (2009) Genetic structure and differentiation of Oryza sativa L. in China revealed by microsatellites. Theor Appl Genet 119:1105–1117
Acknowledgments
Funding in the form of a Senior Research Fellowship to Sreejayan from the Council for Scientific and Industrial Research (CSIR), Government of India is gratefully acknowledged. GT gratefully acknowledges the funding received from the International Foundation for Science (IFS), Sweden, to carry out the AFLP analysis. We thank Kreara Solutions, Thiruvananthapuram for the analysis using SAS software.
Electronic supplementary material
Below is the link to the electronic supplementary material.
About this article
Cite this article
Sreejayan, Kumar, U.S., Varghese, G. et al. Stratification and population structure of the genetic resources of ancient medicinal rice (Oryza sativa L.) landrace Njavara. Genet Resour Crop Evol 58, 697–711 (2011). https://doi.org/10.1007/s10722-010-9613-1
Received:

Accepted:

Published:

Issue Date:

DOI: https://doi.org/10.1007/s10722-010-9613-1
Keywords
AFLP

Medicinal rice

Morphological traits

Njavara

Oryza sativa

Population structure

Stratification