Abstract
Twenty maize landrace accessions regenerated and conserved in five maize genebanks were investigated for genetic integrity using 1,150 Single Nucleotide Polymorphisms (SNPs) and 235 SNP haplotypes. The genetic diversity of three accessions changed significantly in terms of the average number of alleles per locus. Ten out of twenty accessions had significantly different SNP allelic frequencies, either after regeneration or in the same accession held in different genebanks. The proportion of loci with significant changes in SNP allelic frequency was very low (37/1,150). Changes in the major allelic frequency (MAF) for the majority of SNP loci (60.2–75.2%) were less than 0.05. For SNP haplotypes, the genetic diversity of four accessions changed significantly in terms of average number of haplotype alleles and polymorphic information content (PIC) per locus. The proportion of SNP haplotype alleles lost in the later generations ranged between 0 and 22.6%, and at the same time 0–19.9% of the SNP haplotype alleles appeared in later generations, however, these were absent in the earlier generations. Dynamic changes in genetic integrity, in terms of presence and absence of genes (alleles), by both SNP and SNP haplotype analysis were detected during regeneration. A suboptimum number of ears harvested in one generation can be combined with those from another, repeated regeneration to capture the diversity of the previous generation. Use of molecular markers during regeneration of accessions can help in understanding the extent of genetic integrity of the maize accessions in ex situ genebanks and in recommending the best practice for maintaining the original genetic diversity of the genebank accessions.
Access options
Buy single article
Instant access to the full article PDF.
USD 39.95
Price includes VAT (USA)
Tax calculation will be finalised during checkout.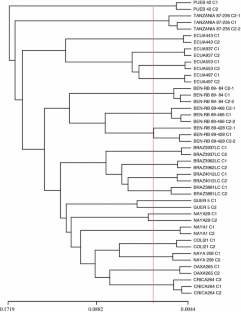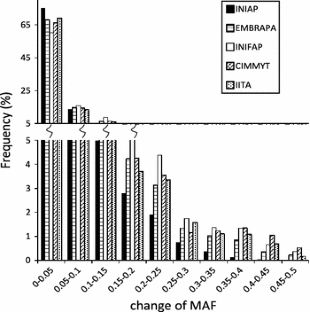 References
Börner A, Chebotar S, Korzun V (2000) Molecular characterization of the genetic integrity of wheat (Triticum aestivum L.) germplasm after long-term maintenance. Theor Appl Genet 100:494–497

Botstein DR, White RL, Skolnick M, Davis RW (1980) Construction of a genetic linkage map in man using restriction fragment length polymorphisms. Am J Hum Genet 32:314–331

Buckler ES, Holland JB, Bradbury PJ, Acharya CB, Brown PJ, Browne C, Ersoz E, Flint-Garcia S, Garcia A, Glaubitz JC, Goodman MM, Harjes C, Guill K, Kroon DE, Larsson S, Lepak NK, Li H, Mitchell SE, Pressoir G, Peiffer JA, Rosas MO, Rocheford TR, Cinta Romay M, Romero S, Salvo S, Villeda HS, da Silva HS, Sun Q, Tian F, Upadyayula N, Ware N, Yates H, Yu J, Zhang Z, Kresovich S, McMullen MD (2009) The genetic architecture of maize flowering time. Science 325:714–718

Chebotar S, Röder MS, Korzun V, Saal B, Weber WE, Börner A (2003) Molecular studies on genetic integrity of open-pollinating species rye (Secale cereale L.) after long-term genebank maintenance. Theor Appl Genet 107:1469–1476

CIMMYT Applied Molecular Genetics Laboratory (2003) Laboratory protocols. 3rd edn. Mexico, pp 7–11

Crossa J (1989) Methodologies for estimating the sample size required for genetic conservation of outbreeding crops. Theor Appl Genet 77:153–161

Crossa J, Taba S, Eberhart SA, Bretting P, Vencovsky R (1994) Practical considerations for maintaining germplasm in maize. Theor Appl Genet 89:89–95

Fan JB, Gunderson KL, Bibikova M, Yeakley JM, Chen J, Wickham Garcia E, Lebruska LL, Laurent M, Shen R, Barker D (2006) Illumina universal bead arrays. Methods Enzymol 410:57–73

Gore MA, Chia JM, Elshire RJ, Sun Q, Ersoz ES, Hurwitz BL, Peiffer JA, McMullen MD, Grills GS, Ross-Ibarra J, Ware DH, Buckler ES (2009) A first-generation haplotype map of maize. Science 326:1115–1117

Gupta PK, Rustgi S, Mir RR (2008) Array-based high-throughput DNA markers for crop improvement. Heredity 101:5–18

Hamblin MT, Warburton ML, Buckler ES (2007) Empirical comparison of simple sequence repeats and single nucleotide polymorphisms in assessment of maize diversity and relatedness. PLoS ONE 12:e1367

Hyten DL, Song Q, Choi IY, Yoon MS, Specht JE, Matukumalli LK, Nelson RL, Shoemaker RC, Young ND, Cregan PB (2008) High-throughput genotyping with the GoldenGate assay in the complex genome of soybean. Theor Appl Genet 116:945–952

Liu KJ, Muse SV (2005) PowerMarker: an integrated analysis environment for genetic marker analysis. Bioinformatics 21:2128–2129

Liu K, Goodman M, Muse S, Smith JS, Buckler E, Doebley J (2003) Genetic structure and diversity among maize inbred lines as inferred from DNA microsatellites. Genetics 165:2117–2128

Lu Y, Yan J, Guimara CT, Taba S, Hao Z, Gao S, Chen S, Li J, Zhang S, Vivek BS, Magorokosho C, Mugo S, Makumbi D, Parentoni SN, Shah T, Rong T, Crouch JH, Xu Y (2009) Molecular characterization of global maize breeding germplasm based on genome-wide single nucleotide polymorphisms. Theor Appl Genet. doi: 10.1007/s00122-009-1162-7

Mehta CR, Patel NR, Tsiatis AA (1984) Exact significance testing to establish treatment equivalence with ordered categorical data. Biometrics 40:819–825

Muchero W, Diop NN, Bhat PR, Fenton RD, Wanamaker S, Pottorff M, Hearne S, Cisse N, Fatokun C, Ehlers JD, Roberts PA, Close TJ (2009) A consensus genetic map of cowpea [Vigna unguiculata (L.) Walp.] and synteny based on EST-derived SNPs. Proc Natl Acad Sci USA. doi: 10.1073/pnas.0905886106

Nei M (1973) Analysis of gene diversity in subdivided populations. Proc Natl Acad Sci USA 70:3321–3323

Parzies HK, Spoor W, Ennos RA (2000) Genetic diversity of barley landrace accessions (Hordeum vulgare ssp. vulgare) conserved for different lengths of time in ex situ gene banks. Heredity 84:476–486

Reif JC, Xia XC, Melchinger AE, Warburton ML, Hoisington DA, Beck D, Bohn M, Frisch M (2004) Genetic diversity determined within and among CIMMYT maize populations of tropical, subtropical, and temperate germplasm by SSR markers. Crop Sci 44:326–334

Rostoks N, Ramsay L, MacKenzie K, Cardle L, Bhat PR, Roose ML, Svensson JT, Stein N, Varshney PK, Marshall DF, Graner A, Close TJ, Waugh R (2006) Recent history of artificial outcrossing facilitates whole-genome association mapping in elite inbred crop varieties. Proc Natl Acad Sci USA 103:18656–18661

Schnable PS, Ware D, Fulton RS, Stein JC, Wei F, Pasternak S, Liang C, Zhang J, Fulton L, Graves TA et al (2009) The B73 maize genome: complexity, diversity, and dynamics. Science 326:1112–1115

Shendure J, Ji H (2008) Next-generation DNA sequencing. Nat Biotechnol 26:1135–1145

Sneath PHA, Sokal RR (1973) Numerical taxonomy. Freeman, San Francisco

Soengas P, Cartea E, Lema M, Velasco P (2009) Effect of regeneration procedures on the genetic integrity of Brassica oleracea accessions. Mol Breeding 23:389–395

Taba S, Twumasi-Afriyie S (2008) Regeneration guidelines: maize. In: Dullo ME, Thormann I, Jorge MA, Hanson J (eds) Crop specific regeneration guidelines [CD-ROM]. CGIAR System-wide Genetic Resource Programme, Rome, p 10

Taba S, van Ginkel M, Hoisington D, Poland D (2004) Wellhausen-Anderson plant genetic resources center: operations manual, 2004. CIMMYT, Mexico

Taba S, Shands HL, Eberhart SA (2005) The growth of CIMMYT's maize collection with the introduction of Latin American maize landrace accessions through the cooperative regeneration project, p 1–8. In: S. Taba (ed) Latin American maize germplasm conservation: regeneration, in situ conservation, core subsets and prebreeding. Proceedings of a workshop held at CIMMYT 7–10 April 2003. CIMMYT, Mexico

van Hintum TJL, van Wiel CCM, Visser DS, van Treuren R, Vosman B (2007) The distribution of genetic diversity in a Brassica oleracea gene bank collection related to the effects on diversity of regeneration as measured with AFLPs. Theor Appl Genet 114:777–786

Wang J, Crossa J, Ginkel M, Taba S (2004) Statistical genetics and simulation models in genetic resource conservation and regeneration. Crop Sci 44:2246–2253

Weir BS (1996) Genetic data analysis II. Sinauer Associates, Sunderland

Wright S (1965) The interpretation of population structure by F-statistics with special regard to systems of mating. Evolution 19:395–420

Yan J, Shah T, Warburton M, Buckler ES, McMullen MD, Crouch JH (2009) Genetic characterization and linkage disequilibrium estimation of a global maize collection using SNP markers. PLoS ONE 4(12):e8451. doi:10.1371/journal.pone.0008451

Yan J, Yang X, Shah T, Héctor Sánchez H, Li J, Warburton M, Zhou Y, Crouch JH, Xu Y (2010) High-throughput SNP genotyping with the GoldenGate assay in maize. Mol Breeding 25:441–451

Yu JM, Zhang ZW, Zhu CS, Tabanao DA, Pressoir G, Tuinstra MR, Kresovich S, Todhunter RJ, Buckler ES (2009) Simulation appraisal of the adequacy of number of background markers for relationship estimation in association mapping. The Plant Genome 2:63–77

Zhu YL, Song QJ, Hyten DL, van Tassell CP, Matukumalli LK, Grimm DR, Hyatt SM, Fickus EW, Young ND, Cregan PB (2003) Single-nucleotide polymorphisms in soybean. Genetics 163:1123–1134
Acknowledgments
The authors would like to thank Ramu Punna, contract editor Debra Eaton Mullan, and CIMMYT editor Mike Listman for their help in improving the manuscript. We acknowledge the full financial support received from The International Rice Research Institute, Philippines (IRRI) in conjunction with The Consultative Group on International Agricultural Research (CGIAR) genebank rehabilitation projects of The World Bank, coordinated by System-wide Genetic Resources Programme (SGRP). We also would like to express our sincere thanks to the cooperators of Latin American maize regeneration projects and International Institute of Tropical Agriculture, Nigeria (IITA) for germplasm introductions at CIMMYT maize genebank.
Electronic supplementary material
Below is the link to the electronic supplementary material.
About this article
Cite this article
Wen, W., Taba, S., Shah, T. et al. Detection of genetic integrity of conserved maize (Zea mays L.) germplasm in genebanks using SNP markers. Genet Resour Crop Evol 58, 189–207 (2011). https://doi.org/10.1007/s10722-010-9562-8
Received:

Accepted:

Published:

Issue Date:
Keywords
Conservation

Genebank

Genetic integrity

Maize

Regeneration

SNP

Zea mays