Abstract
Guar, Cyamopsis tetragonoloba is used worldwide for food stabilization, fiber source, food, and industry. The United States Department of Agriculture, Agricultural Research Service, Plant Genetic Resources Conservation Unit (USDA, ARS, PGRCU) conserves 1,298 accessions originating from India, Pakistan, and breeding lines from the USA. My objectives were to determine: (1) if these guar accessions can successfully be regenerated in Georgia, USA, (2) which traits contribute the most variation, and (3) to provide estimates for genetic relatedness among these accessions. Guar accessions were directly seeded to the field in Griffin, GA between early May and mid June 2006–2008. At 50% maturity, 73 accessions were characterized for morphological, phenological, and reproductive traits during the regeneration cycles. High quality plants regenerated from most of the accessions and produced 80 to more than 9,300 seeds per accession. Guar can be successfully grown and regenerated in Griffin, GA. Coefficients of variation and principal component analysis revealed variability among accessions for these traits evaluated. Cluster analysis separated guar accessions into three groups (clusters) based on low, intermediate or high seed numbers. Guar accessions clustered in groups 2 and 3 appear to be more genetically related than those in group 1.
Access options
Buy single article
Instant access to the full article PDF.
USD 39.95
Price excludes VAT (USA)
Tax calculation will be finalised during checkout.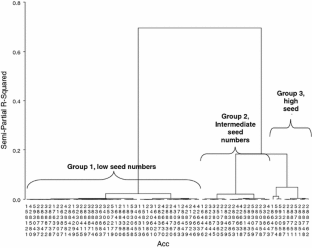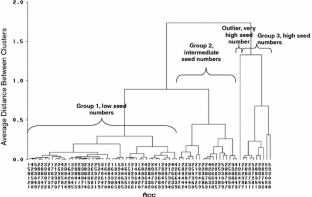 References
Chandrasekharan SN, Ramakrishnan TS (1928) Botany of some useful plants. Madras Agric J 16:5–11

Gillett JB (1958) Indigofera (Microcharis) in tropical Africa with the related genera Cyamopsis and Rhynchotropis. Kew Bullet Addition Ser 1:1–166

Jafri SMH (1966) The flora of Karachi. Karachi Book Corporation, Karachi

Kays SE, Morris JB, Kim Y (2006) Total and soluble dietary fiber variation in Cyamopsis tetragonoloba (L.) Taub. (guar) genotypes. J Food Qual 29:383–391

Menon U, Rathore NS, Bhargava PD (1968) Pollen studies in guar, Cyamopsis tetragonoloba (L.) Taub. J Palynol 4:51–53

Morris JB (2004) Legumes: nutraceutical and pharmaceutical uses. In: Goodman RM (ed) Encyclopedia of plant and crop science. Marcel Dekker, New York, pp 651–655

Morris JB (2007) Swordbean (Canavalia ensiformis (L.) DC.) genetic resources regenerated for potential medical, nutraceutical and agricultural traits. Genet Resour Crop Evol 54:585–592

Morris JB (2008a) Macrotyloma axillare and M. uniflorum: descriptor analysis, anthocyanin indexes, and potential uses. Genet Resour Crop Evol 55:5–8

Morris JB (2008b) Rhynchosia minima (L.) DC.–regeneration, characterization and potential uses for natural products and flavonoids. Plant Genet Resour Newsl 153:15–19

Morris JB (2009a) Characterization of medicinal Senna genetic resources. Plant Genet Resour Chara Util 7:257–259

Morris JB (2009b) Characterization of butterfly pea (Clitoria ternatea L.) accessions for morphology, phenology, reproduction and potential nutraceutical, pharmaceutical trait utilization. Genet Resour Crop Evol 56:421–427

Morris JB, Moore KM, Eitzen JB (2004) Nutraceuticals and potential sources of phytopharmaceuticals from guar and velvetbean genetic resources regenerated in Georgia, USA. Curr Topics Phytochem 6:125–130

Polignanol GB, Uggentil P, Albal V, Bisignanol V, Gatta DC (2005) Morpho-agronomic diversity in grasspea (Lathyrus sativus L.). Plant Genet Resour Chara Util 3:29–34

SAS Institute (2003) SAS/STAT software 9.1. SAS Inst, Cary, NC

Wang ML, Morris JB (2007) Flavonoid content in seeds of guar germplasm using HPLC. Plant Genet Resour Chara Util 5:96–99

Ward JH (1963) Hierarchical grouping to optimize an objective function. J Am Stat Assoc 58:236–244

Whistler RL, Hymowitz T (1979) Guar: agronomy, production, industrial use, and nutrition. Purdue University Press, West Lafayette, Indiana, pp 1–112
About this article
Cite this article
Morris, J.B. Morphological and reproductive characterization of guar (Cyamopsis tetragonoloba) genetic resources regenerated in Georgia, USA. Genet Resour Crop Evol 57, 985–993 (2010). https://doi.org/10.1007/s10722-010-9538-8
Received:

Accepted:

Published:

Issue Date:

DOI: https://doi.org/10.1007/s10722-010-9538-8
Keywords
Guar

Cluster analysis

Principal component analysis

Variability

Dendrogram

Morphology

Reproduction