Abstract
Crotalaria tetragona Roxb. ex Andr., locally known as "Tum-thang" was collected from Mizoram state of north-eastern hill region of India during 2008. Its flowers were being sold by the tribal communities in local markets. The buds and flowers are cooked as vegetables and used in garnishing of local food preparations especially in non-vegetarian recipes. This species is reported here as little known Edible type in Indian region and may be considered as a multi-purpose species with potential. Edible uses of some of the Crotalaria species in different regions of world have also been included in the present communication.
Access options
Buy single article
Instant access to the full article PDF.
US$ 39.95
Tax calculation will be finalised during checkout.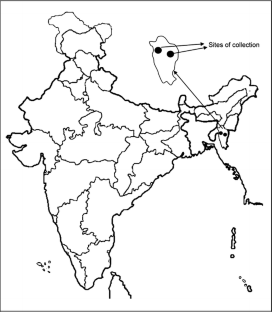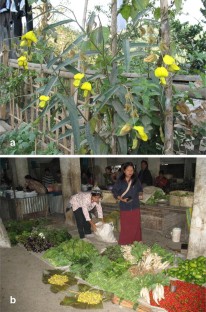 References
Ahmedullah M, Nayar MP (1987) Endemic plants of Indian region, vol I. Botanical Survey of India, Calcutta

Annual Report (1976-2007) National Bureau of Plant Genetic Resources (NBPGR), New Delhi

Ansari AA (2008) Crotalaria L. in India. Bishen Singh Mahendra Pal Singh, Dehra Dun

Arora RK (1985) Genetic resources of less known cultivated food plants. NBPGR science monograph No. 9. National Bureau of Plant Genetic Resources, New Delhi, p 32

Arora RK, Pandey A (1996) Wild edible plants of India: diversity conservation and use. National Bureau of Plant Genetic Resources, New Delhi

Babu CR (1977) Herbaceous flora of Dehra Dun. Council of Scientific and Industrial Research, New Delhi, pp 129–130

Chakravorty P (2003) Wild edible plants sold in daily market in and around of Imphal, Manipur, Indian. J Econ Tax Bot 27(2):481–485

Chaudhury AB (1993) Forest plants of eastern India. Ashish Publishing House, New Delhi

GRIN (2009) Germplasm resources information network (GRIN) [Online Database]. Taxonomy for plants, national germplasm resources laboratory, United States department of agriculture, agricultural research service, Beltsville. URL: http://www.ars-grin.gov/cgi-bin/npgs/html/taxon.pl?12390

Hanelt P (2001) Leguminosae. In: Hanelt P and Institute of plant genetics and crop plant research (ed) Mansfeld encyclopedia of agricultural and horticultural crops, vol 2. Springer-Verlag, Berlin, pp 900–911

Hara H, Chater AO, Stearn WT, Williams LHJ (1978-1982) Enumeration of the flowering plants of Nepal, vol 1–3. British Museum (Natural History), London

Hooker JD (1876-1979) Flora of British India (reprinted in 1982), vol II. Bishen Singh Mahendra Pal Singh, Dehra Dun, p 78

Joshi Nirmala, Kehlenbeck K, Maass BL (2007) Traditional, neglected vegetables of Nepal: their sustainable utilization for meeting human needs. Proc. conference on international agricultural research for development, October 9–11, 2007, University of Kassel-Witzenhausen and University of Gottingen, Germany, pp 1–10

Kanjilal UN, Kanjilal PC, Das A (1938) Flora of Assam (reprinted in 1984). Govt. of Assam, Periodical Expert Book Agency, vol II. Delhi, p 13

Kumar S, Sane PV (2003) Legumes of South Asia—a checklist. Royal Botanic Gardens, Kew, p 536

Lalramnghinglova H (2003) Ethno-medicinal plants of Mizoram. Bishen Singh Mahendra Pal Singh, Dehra Dun

Lalramnghinglova H, Jha LK (1999) New records of ethnomedicinal plants from Mizoram. Ethnobotany 11:57–64

Malik SS, Srivastava Umesh (2006) Exploration and collection of genetic diversity in crops. In: Singh Anurdh K, Srinivasan K, Saxena S, Dhillon BS (eds) Hundred years of plant genetic resources management in India. National Bureau of Plant Genetic Resources, New Delhi, pp 109–132

Manandhar NP (2002) Plants and people of Nepal. Timber Press Portland, Oregon, p 176

Naithani BD (1984) Flora of Chamoli, vol I. Botanical Survey of India, Howrah, p 153

Nayar MP (1997) Hot-spots of plant diversity in India-strategies. In: Pushpangadan P, Ravi K, Santosh V (eds) Conservation and economic evaluation of biodiversity, vol 1. Oxford and IPH Publishing House, New Delhi, pp 59–60

Niyomdham C (1978) A revision of the genus Crotalaria Linn (Papilionaceae) in Thailand. Thai For Bull Bot 11:157

Pandey A, Nayar ER (1994) Some observations on systematics of Crotalaria species. Indian J Plant Genet Resour 7(2):133–144 (spl)

Pandey A, Arora RK (2004) Potential for domestication of wild species in the Indian gene centre. In: Dhillon BS, Tyagi RK, Arjun L, Saxena S (eds) Plant genetic resource management. Narosa Publishing House, Delhi, pp 56–78

Plant Germplasm (2008) Indigenous collections. National Bureau of Plant Genetic Resources, New Delhi

Polhill RM (1968) Miscellaneous notes on African species of Crotalaria L. Kew Bull 22(2):169–348

Purseglove JW (1972) Leguminosae: tropical crops (dicots). Longman Group Ltd., p 250

Sawmliana M (2003) The book of Mizoram plants (including some wild animals and birds of Mizoram). Lois Bet, Chenmari, Aizwal

Singh NP, Chauhan AS, Mondal MS (2000) Flora of Manipur (Ranunculaceae-Asteraceae), vol 1. Botanical Survey of India, Howrah, pp 275–280

Singh NP, Singh KP, Singh DK (2002) Flora of Mizoram. Botanical Survey of India, Kolkata, p 447

Tanaka T (1976) Tanaka's cyclopaedia of edible plants of the World. Keigaku Publishing Co, Tokyo, pp 223–224

Watt G (1972) A dictionary of economic products of India (repr ed). Cosmo Publication, Delhi

Wealth of India (1950) The wealth of India-raw materials, vol 2. Publication and Information Directorate, Council of Scientific and Industrial Research, New Delhi, p 372

Wiersema JH, Leon B (1999) World economic plants–A standard reference. CRC Press, Washington, p 157

Zeven AC, de Wet JMJ (1982) Dictionary of cultivated plants and their regions of diversity. Centre for Agricultural Publishing and Documentation, Wageningen, the Netherlands, p 76
Acknowledgments
Authors are thankful to the Director, National Bureau of Plant Genetic Resources (NBPGR) for guidance as well as providing opportunity to survey Mizoram state for germplasm collection of wild economic species. Dr SK Malik and Shri Rakesh Singh are acknowledged for helping in various ways. Thanks are also extended to the personnel from State Medicinal Plants Board, Forest Departments of Mizoram, Mizoram University. Dr ER Nayar and Ms Rita Gupta are also acknowledged for providing facilities for herbarium studies.
About this article
Cite this article
Bhatt, K.C., Pandey, A., Dhariwal, O.P. et al. "Tum-thang" (Crotalaria tetragona Roxb. ex Andr.): a little known wild edible species in the north-eastern hill region of India. Genet Resour Crop Evol 56, 729–733 (2009). https://doi.org/10.1007/s10722-009-9428-0
Received:

Accepted:

Published:

Issue Date:
Keywords
Crotalaria tetragona

India

Little known species

North-eastern hill region

Underutilized and neglected crops