Abstract
Assessment and utilization of diversity in plant genetic resources is vital for the improvement of plant species. A sorghum diversity research set (SDRS) was developed by using SSR markers. A total of 320 sorghum accessions were selected based on geographic distribution from more than 3,500 germplasm accessions comprising Asia (East, Southeast, South and Southwest Asia) and Africa, conserved at NIAS Genebank, Japan. We selected 38 simple sequence repeats (SSR) markers which generated 146 alleles, covering ten chromosomes of sorghum from a three different published SSR linkage map of sorghum. The average percentage of polymorphic loci (P) and gene diversity (He) observed in this study were 82.8 and 0.217 respectively. Analysis showed a positive correlation with geographic pattern of differentiation. Based on SSR assessment, 107 sorghum accessions were selected as diversity research set. There was no significant difference in pattern of genetic spectrum between SDRS and base population. Similarly no greater change was observed for variability parameters (Dice, %P, He) and almost all of the SSR alleles were retained in selected sorghum accessions except for the loss of a single allele at locus Xtxp287. SDRS was sown during sorghum sowing season in two replications. Data were recorded on 26 important morphological traits according to the standard sorghum descriptors at Genebank. Analysis of variance showed a highly significant difference among all accessions for all of the traits. Morpho-agronomic traits could not effectively classify the accessions according to geographic origin by using cluster analysis.
Access options
Buy single article
Instant access to the full article PDF.
USD 39.95
Price excludes VAT (USA)
Tax calculation will be finalised during checkout.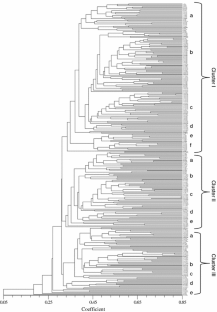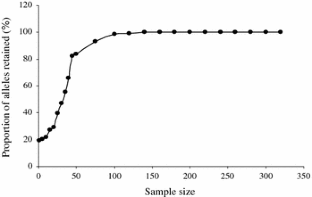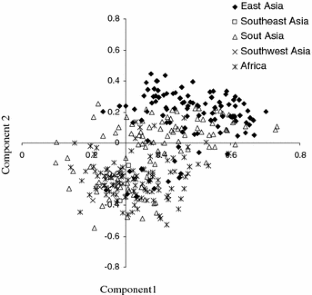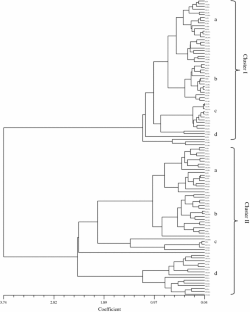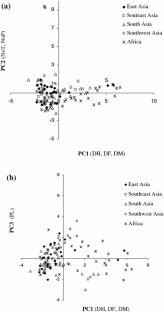 References
Agarma HA, Tuinstra MR (2003) Phylogenetic diversity and relationships among sorghum accessions using SSRs and RAPDs. Afr J Biotechnol 2:334–340

Ahnert D, Lee M, Austin D, Livini C, Woodman W, Openshaw S, Smith J, Porter K, Dalon G (1996) Genetic diversity among elite sorghum inbred lines assessed with DNA markers and pedigree information. Crop Sci 36:1385–1392

Alamnza-Pinzon MI, Khairullah M, Fox PN, Warburton ML (2003) Comparison of molecular markers and coefficients of parentage for the analysis of genetic diversity among spring bread wheat accessions. Euphytica 130:77–86. doi:10.1023/A:1022310014075

Ali ML, Rajewski JF, Baenziger PS, Gill KS, Eskridge KM, Dweikat L (2007) Assessment of genetic diversity and relationship among a collection of US sweet sorghum germplasm by SSR markers. Mol Breed. doi:10.1007/s11032-007-9149-z

Anas, Yoshida T (2004) Genetic diversity among Japanese cultivated sorghum assessed with simple sequence repeats markers. Plant Prod Sci 7:217–223. doi:10.1626/pps.7.217

Arumuganathan K, Earle ED (1991) Nuclear DNA content of some important plant species. Plant Mol Biol Rep 9:208–218. doi:10.1007/BF02672069

Ayana A, Bryngelsson T, Bekele E (2000) Geographic and altitudinal allozyme variation in sorghum (Sorghum bicolor (L.) Moench) landraces from Ethiopia and Eritrea. Hereditas 135:1–12. doi:10.1111/j.1601-5223.2001.t01-1-00001.x

Bhattramakki D, Dong J, Chhabra KA, Hart GE (2000) An integrated SSR and RFLP linkage map of Sorghum bicolor (L.) Moench. Genome 43:988–1002

Brown AHD (1989) Core collections: a practical approach to genetic resources management. Genome 31:818–824

Casa A, Mitchell S, Hamblin M, Sun H, Bowers J, Paterson A, Aquadro C, Kresovich S (2005) Diversity and selection in sorghum: simultaneous analyses using simple sequence repeats. Theor Appl Genet 111:23–30. doi:10.1007/s00122-005-1952-5

Dahlberg JA, Zhang X, Hart GE, Mullet JE (2002) Comparative assessment of variation among sorghum germplasm accessions using seed morphology and RAPD measurements. Crop Sci 42:291–296

Dahlberg JA, Burke JJ, Rosenow DT (2004) Development of a sorghum core collection: refinement and evaluation of a subset from Sudan. Econ Bot 58:556–567. doi:10.1663/0013-0001(2004)058[0556:DOASCC]2.0.CO;2

Deu M, Gonzalez-de-Leon D, Glaszmann J, Degremont I, Chantereau J, Lanaud C, Hamon P (1994) RFLP diversity in cultivated sorghum in relation to racial differentiation. Theor Appl Genet 88:838–844. doi:10.1007/BF01253994

Dice LR (1945) Measures of the amount of ecologic association between species. Ecology 26:297–302. doi:10.2307/1932409

Djè Y, Heuertz M, Lefèbvre C, Vekemans X (2000) Assessment of genetic diversity within and among germplasm accessions in cultivated sorghum using microsatellite markers. Theor Appl Genet 100:918–925. doi:10.1007/s001220051371

Doggett H (1998) Sorghum, 2nd edn. John Wiley and Sons, New York

FAO (2004) Food and Agriculture Organization of the United Nations, Statistics Division. http://www.fao.org/es/ess/index_en.asp

Folkertsma R, Frederick H, Rattunde W, Chandra S, Raju G, Hash C (2005) The pattern of genetic diversity of Guinea-race Sorghum bicolor (L.) Moench landraces as revealed with SSR markers. Theor Appl Genet 111:399–409. doi:10.1007/s00122-005-1949-0

Frankel OH (1984) Genetic perspectives of germplasm conservation. In: Arber W, Llimensee K, Peacock WJ, Starlinger P (eds) Genetic manipulation: impact on man and society. Cambridge University Press, Cambridge, pp 161–170

Fufa H, Baenziger PS, Beecher BS, Dweikat I, Graybosch RA, Eskridge KM (2005) Comparison of phenotypic and molecular marker-based classifications of hard red winter wheat cultivars. Euphytica 145:133–146. doi:10.1007/s10681-005-0626-3

Geleta N, Labuschangne MT, Chris D, Viljoen CD (2006) Genetic diversity analysis in sorghum germplasm as estimated by AFLP, SSR and morpho-agronomical markers. Biodivers Conserv 15:3251–3265. doi:10.1007/s10531-005-0313-7

Grenier C, Bramel-Cox PJ, Noirot M, Prasada Rao KE, Hamon P (2000) Assessment of genetic diversity in three subsets constituted from the ICRISAT sorghum collection using random vs non-random sampling procedures A. Using morpho-agronomical and passport data A. Using morpho-agronomical and passport data. Theor Appl Genet 101:190–196. doi:10.1007/s001220051468

Guarino L, Jarvis A, Hijmans RJ, Maxted N (2001) Geographic information systems (GIS) and the conservation and use of plant genetic resources. In: Engels JMM, Ramanatha Rao V, Brown AHD, Jackson MT (eds) Managing plant genetic diversity. CABI, Oxon, pp 171–178

Hamblin MT, Mitchell SE, White GM, Gallego J, Kukatla R, Wing RA, Paterson AH, Kresovich S (2004) Comparative population genetics of the panicoid grasses: sequence polymorphism, linkage disequilibrium and selection in a diverse sample of Sorghum bicolor. Genetics 167:471–483

Harlan JR, de Wet JMJ (1972) A simplified classification of cultivated sorghum. Crop Sci 12:172–176

Harlan JR, Stemler A (1976) The races of Sorghum in Africa. In: Harlan JR, de Wet JMJ, Stemler A (eds) Origin of African plant domestication. Mouton Press, The Hague, pp 465–478

Kong L, Dong J, Hart GE (2000) Characteristics, linkage-map positions, and allelic differentiation of Sorghum bicolor (L.) Moench DNA simple-sequence repeats (SSRs). Theor Appl Genet 101:438–448. doi:10.1007/s001220051501

Mann JA, Kimber CT, Miller FR (1983) The origin and early cultivation of sorghums in Africa. Bulletin 1454. Texas Agriculture Experiment Station, College Station

Menz MA, Klein RR, Mullet JE, Obert JA, Unruh NC, Klein PE (2002) A high-density genetic map of Sorghum bicolor (L.) Moench based on 2926AFLP, RFLP and SSR markers. Plant Mol Biol 48:483–499

Menz M, Klein R, Unruh N, Rooney W, Klein P, Mullet J (2004) Genetic diversity of public inbreds of sorghum determined by mapped AFLP and SSR markers. Crop Sci 44:1236–1244

Morden CW, Doebley K, Schertz KF (1990) Allozyme variation among the spontaneous species of Sorghum section Sorghum (Poaceae). Theor Appl Genet 80:296–304. doi:10.1007/BF00210063

Murray MG, Thompson WF (1980) Rapid isolation of high molecular weight plant DNA. Nucleic Acids Res 8:4321–4325. doi:10.1093/nar/8.19.4321

Nei M, Li WH (1979) Mathematical model for studying genetic variation in terms of restriction endonucleases. Proc Natl Acad Sci USA 76:5269–5273. doi:10.1073/pnas.76.10.5269

Noirot M, Hamon S, Anthony F (1996) The principal component scoring: a new method of constituting a core collection using quantitative data. Genet Resour Crop Evol 43:1–6. doi:10.1007/BF00126934

Peakall R, Smouse PE (2006) GENALEX 6: genetic analysis in excel, population genetic software for teaching and research. Mol Ecol Notes 6:288–295. doi:10.1111/j.1471-8286.2005.01155.x

Pejic I, Ajmone-Marsan P, Morgante M, Kozumplick V, Castiglioni P, Taramino G, Motto M (1998) Comparative analysis of genetic similarity among maize inbred lines detected by RFLPs, RAPDs, SSRs, and AFLPs. Theor Appl Genet 97:1248–1255. doi:10.1007/s001220051017

Qingshan L, Dahlberg JA (2001) Chinese sorghum genetic resources. Econ Bot 55:401–425

Ritter KB, Lynne McIntyre C, Godwin ID, Jordan DR, Chapman SC (2007) An assessment of the genetic relationship between sweet and grain sorghums, within Sorghum bicolor ssp. bicolor (L.) Moench, using AFLP markers. Euphytica 157:161–176. doi:10.1007/s10681-007-9408-4

Rohlf FJ (2000) NTSYS-pc: numerical taxonomy and multivariate analysis system. Exeter Publishing, Setauket

SAS Institute Inc (2002) JMP statistical and graphics guide, version 5. SAS Institute Inc, Cary

Schloss SJ, Mitchell SE, White GM, Kukatla R, Bowers JE, Paterson AH, Kresovich S (2002) Characterization of RFLP probe sequences for gene discovery and SSR development in Sorghum bicolor L. Moench. Theor Appl Genet 105:912–920. doi:10.1007/s00122-002-0991-4

Smith JSC, Kresovich S, Hopkins MS, Mitchell SE, Dean RE, Woodman WL, Lee M, Porter K (2000) Genetic diversity among elite sorghum inbred lines assessed with Simple sequence repeats. Crop Sci 40:226–232

Somers DJ, Banks T, Depauw R, Clarke J, Fox S, Pozniak C (2007) Genome-wide linkage disequilibrium in wheat. In: Plant and animal genome XV conference, 13–17 Jan 2007, San Diego, CA, Poster abstract P268

Tao Y, Manners J, Ludlow M, Henzell R (1993) DNA polymorphisms in grain sorghum (Sorghum bicolor (L.) Moench). Theor Appl Genet 86:679–688. doi:10.1007/BF00222656

Taramino G, Tarchini R, Ferrario S, Lee M, Pe ME (1997) Characterization and mapping of simple sequence repeats (SSRs) in Sorghum bicolor. Theor Appl Genet 95:66–72. doi:10.1007/s001220050533

Uptmoor R, Wenzel W, Friedt W, Donaldson G, Ayisi K, Ordon F (2003) Comparative analysis on the genetic relatedness of Sorghum bicolor accessions from Southern Africa by RAPDs, AFLPs and SSRs. Theor Appl Genet 106:1316–1325

Vigouroux Y, Mitchell SE, Matsuoka Y, Hamblin MT, Kresovich S, Smith JSC, Jaqueth J, Smith OS, Doebley J (2005) Analysis of genetic diversity across the maize genome using microsatellites. Genetics 169:1617–1630. doi:10.1534/genetics.104.032086

Wendorf F, Close AE, Schild R, Wasylikowa K, Housley RA, Harlan JR, Krolik H (1992) Saharan exploitation of plants 8000 years BP. Nature 359:721–724. doi:10.1038/359721a0
Acknowledgement
This research was partly supported by the project of Genebank, NIAS under the Ministry of Agriculture, Forestry and Fisheries (MAFF), Japan.
About this article
Cite this article
Shehzad, T., Okuizumi, H., Kawase, M. et al. Development of SSR-based sorghum (Sorghum bicolor (L.) Moench) diversity research set of germplasm and its evaluation by morphological traits. Genet Resour Crop Evol 56, 809–827 (2009). https://doi.org/10.1007/s10722-008-9403-1
Received:

Accepted:

Published:

Issue Date:

DOI: https://doi.org/10.1007/s10722-008-9403-1
Keywords