Abstract
Wild relatives of rice (Oryza spp.) are an important source of novel resistance (R-)genes for rice improvement. Rice sheath blight, caused by Rhizotonia solani, and leaf blast, caused by Magnaportha oryzae, are major fungal diseases of rice worldwide. To identify novel R-genes, a group of Oryza spp. accessions represented by O. alta, O. australiensis, O. barthii, O. glaberrima, O. glumaepatula, O. latifolia, O. meridionolis, O. nivara, O. officinalis, and O. rufipogon, were evaluated for their reaction to leaf blast and sheath blight disease, and genotyped with 176 microsatellite (SSR) markers. Selected rice (O. sativa) accessions were included as reference. Cluster analysis performed with PowerMarker software using Rogers genetic distance and UPGMA, revealed most Oryza spp. accessions clustered with the same species or a closely related Oryza spp. Only a few Oryza spp. accessions grouped with the O. sativa accessions included as a reference. Analysis of this genotypic data in the software Structure revealed that the Oryza spp. accessions were assigned into eight different subpopulations and fit well into eight different backgrounds. Marker-trait associations between the SSR markers and disease reactions to blast and sheath blight were ascertained using the software TASSEL. Associations with blast disease were identified in ten different chromosomal regions and five of the ten were not located near known blast R-genes. Three associations were discovered with sheath blight disease and one was not near previously reported sheath blight QTL. These newly identified regions may represent novel R-genes that will be the basis future fine mapping studies.
Access options
Buy single article
Instant access to the full article PDF.
US$ 39.95
Tax calculation will be finalised during checkout.
Subscribe to journal
Immediate online access to all issues from 2019. Subscription will auto renew annually.
US$ 119
Tax calculation will be finalised during checkout.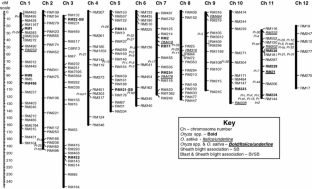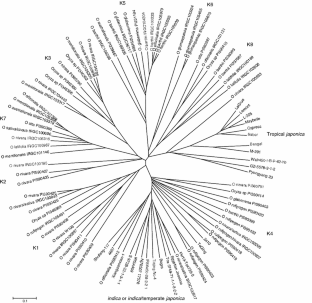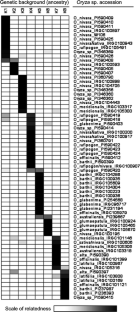 References
Agrama HA, Eizenga GC, Yan W (2007) Association mapping of yield and its components in rice cultivars. Mol Breed 19:341–356

Agrama HA, Eizenga GC (2008) Molecular diversity and genome-wide linkage disequilibrium patterns in a worldwide collection of Oryza sativa and its wild relatives. Euphytica 160:339–355

Breseghello F, Sorrells ME (2006) Association analysis as a strategy for improvement of quantitative traits in plants. Crop Sci 46:1323–1330

Caicedo AL, Williamson SH, Hernandez RD, Boyko A, Fledel-Alon A, York TL, Polato NR, Olsen KM, Nielsen R, McCouch SR, Bustamante CD, Purugganan MD (2007) Genome-wide patters of nucleotide polymorphism in domesticated rice. PLoS Genet 3:1745–1756

Conaway-Bormans CA, Marchetti MA, Johnson CW, McClung AM, Park WD (2003) Molecular markers linked to the blast resistance gene Pi-z in rice for use in marker-assisted selection. Theor Appl Genet 107:1014–1020

Correll JC, Harp TL, Guerber JC, Zeigler RS, Liu B, Cartwright RD, Lee FN (2000) Characterization of Pyricularia grisea in the United States using independent genetic and molecular markers. Phytopathology 90:1396–1404

Couch BC, Kohn LM (2002) A multilocus gene geneology concordant with host preference indicates segregation of a new species, Magnaporthe oryzae, from M. grisea. Mycologia 94:683–693

Counce PA, Keisling TC, Mitchell AJ (2000) A uniform, objective, and adaptive system for expressing rice development. Crop Sci 40:436–443

Eizenga GC, Lee FN, Rutger JN (2002a) Screening Oryza species plants for rice sheath blight resistance. Plant Dis 86:808–812

Eizenga GC, Lee FN, Jia Y (2002b) Use of DNA markers to identify blast resistance genes in the wild relatives of rice (Oryza sp.). In: Norman RJ, Meullenet J-F (eds) BR Wells Rice Research Studies 2001. University of Arkansas Agriculture Experiment Station Research Series, vol 495. pp 19–23

Eizenga GC, Lee FN, Jia Y (2004) Identification of blast resistance genes in rice wild relatives (Oryza spp.) and newly introduced rice (O. sativa) lines. In: Norman RJ, Meullenet J-F, Moldenhauer KAK (eds) BR Wells Rice Research Studies 2003, University of Arkansas Agriculture Experiment Station Research Series, vol. 517. pp 29–36

Eizenga GC, Agrama HA, Lee FN, Yan W, Jia Y (2006) Identifying novel resistance genes in newly introduced blast resistant rice germplasm. Crop Sci 46:1870–1878

Falush D, Stephens M, Prichard JK (2003) Inference of population structure using multi locus genotype data: linked loci and correlated allele frequencies. Genetics 164:1567–1587

Fjellstrom R, Conaway-Bormans CA, McClung AM, Marchetti MA, Shank AR, Park WD (2004) Development of DNA markers suitable for marker assisted selection of three Pi- genes conferring resistance to multiple Pyricularia grisea pathotypes. Crop Sci 44:1790–1798

Garris A, McCouch SR, Kresovich S (2003) Population structure and its effect on haplotype diversity and linkage disequilibrium surrounding the xa5 locus of rice (Oryza sativa L.). Genetics 165:759–769

Garris AJ, Tai TH, Colburn J, Kresovich S, McCouch SR (2005) Genetic structure and diversity in Oryza sativa L. Genetics 169:1631–1638

Giarrocco LE, Marassi MA, Salerno GL (2007) Assessment of genetic diversity in Argentine rice cultivars with SSR markers. Crop Sci 47:853–860

Hardy OJ, Vekemans X (2002) SPAGeDi: a versatile computer program to analyse spatial genetic structure at the individual or population levels. Mol Ecol Notes 2:618–620

International Rice Research Institute-IRRI (1992) Resistance of conserved germplasm to non-specialized pathogens. In: IRRI Program Report for 1992. pp 140–143

Jayamani P, Negrao S, Martins M, Macas B, Oliveira MM (2007) Genetic relatedness of Portuguese rice accessions from diverse origins as assessed by microsatellite markers. Crop Sci 47:879–886

Jena KK, Khush GS (2000) Exploitation of species in rice improvement-opportunities, achievements and future challenges. In: Nanda JS (ed) Rice breeding and genetics: research priorities and challenges. Science Publ Inc, Endfield, New Hampshire, pp 269–284

Jia Y, Wang Z, Singh P (2002) Development of dominant rice blast Pi-ta resistance gene markers. Crop Sci 42:2145–2149

Leach JE, Davidson R, Liu B, Manosalva P, Mauleon R, Carrillo G, Bruce M, Stephens J, Diaz MG, Nelson R, Vera Cruz C, Leung H (2007) Understanding broad-spectrum durable resistance in rice. In: Brar DS, Mackill D, Hardy B (eds) Rice Genetics V. World Scientific Publ Co, pp 191–209

Lee FN, Yan WG, Gibbons JW, Emerson MJ, Clark SD (2003) Rice blast and sheath blight evaluation results for newly introduced rice germplasm. In: Norman RJ, Meullenet J-F (eds) BR Wells Rice Research Studies 2002, University of Arkansas Agriculture Experiment Station Research Series, vol 504. pp 85–92

Liu K, Muse SV (2005) PowerMarker: integrated analysis environment for genetic marker data. Bioinformatics 21:2128–2129

Lu H, Redus MA, Coburn JR, Rutger JN, McCouch SR, Tai TH (2005) Population structure and breeding patterns of 145 U.S. rice cultivars based on SSR marker analysis. Crop Sci 45:66–76

McCouch SR, Teytelman ML, Xu Y, Lobos KB, Clare K, Walton M, Fu B, Maghirang R, Li Z, Xing Y, Zhang Q, Kono I, Yano M, Fjellstrom R, DeClerck G, Schneider D, Carinhour S, Ware D, Stein L (2002) Development and mapping of 2240 new SSR markers for rice (Oryza sativa L.). DNA Res 9:199–207

Monosi B, Wisser RJ, Pennill L, Hulbert SH (2004) Full-genome analysis of resistance gene homologues in rice. Theor Appl Genet 109:1434–1447

Ni J, Colowit PM, Mackill DJ (2002) Evaluation of genetic diversity in rice subspecies using microsatellite markers. Crop Sci 42:601–607

Prasad B, Eizenga GC (2008) Sheath blight disease screening methods to identify resistant Oryza spp. accessions. Plant Dis (submitted)

Pinson SRM, Capdevielle FM, Oard JH (2005) Confirming QTLs and finding additional loci conditioning sheath blight resistance in rice (Oryza sativa L.) using recombinant inbred lines. Crop Sci 45:503–510

Pritchard JK, Stephens M, Donnelly P (2000) Inference of population structure using multilocus genotype data. Genetics 155:945–959

Rakshit S, Rakshit A, Matsumura H, Takahashi Y, Hasegawa Y, Ito A, Ishii T, Miyashita T, Miyashita NT, Terauchi R (2007) Large-scale DNA polymorphism study of Oryza sativa and O. rufipogon reveals the origin and divergence of Asian rice. Theor Appl Genet 114:731–743

Rogers JS (1972) Measures of genetic similarity and genetic distance. In: Studies in genetics VII. University Texas Publication 7213, Austin, Texas, pp 145–153

Saghai-Maroof MA, Soliman KM, Jorgensen RA, Allard RW (1984) Ribosomal DNA spacer-length polymorphisms in barley: Mendelian inheritance, chromosomal location, and population dynamics. Proc Natl Acad Sci USA 81:8014–8018

Sharma A, McClung AM, Kepiro JL, Pinson SRM, Shank AR, Tabien RE, Fjellstrom RG (2008) Genetic mapping of two tropical japonica rice cultivars applied to the identification of QTLs for sheath blight resistance. Crop Sci (accepted)

Thomas MJ, Septiningsih EM, Suwardjo F, Santoso TJ, Silitonga TS, McCouch SR (2007) Genetic diversity analysis of traditional and improved Indonesian rice (Oryza sativa L.) germplasm using microsatellite markers. Theor Appl Genet 114:559–568

Voorrips RE (2002) MapChart: software for the graphical presentation of linkage maps and QTLs. J Hered 93:77–78

Xu Y, Beachell H, McCouch SR (2004) A marker-based approach to broadening the genetic base of rice in the USA. Crop Sci 44:1947–1959

Yu J, Buckler ES (2006) Genetic association mapping and genome organization of maize. Curr Opin Biotech 17:155–160

Yu J, Pressoir G, Briggs WH, Bi IV, Yamasaki M, Doebley J, McMullen MD, Gaut BS, Nielsen DM, Holland JB, Kresovich S, Buckler ES (2006) A unified mixed-model method for association mapping that accounts for multiple levels of relatedness. Nat Genet 38:203–208

Zhang YM, Mao Y, Xie C, Smith H, Luo L, Xu S (2005) Mapping quantitative trait loci using naturally occurring genetic variance among commercial inbred lines of maize (Zea mays L.). Genetics 169:2267–2275
Acknowledgements
The excellent technical assistance of H. R. Refeld and Q. P. Ho in this research is acknowledged. Contributions of M. H. Jia, G. Miller and late M. A. Redus of the DB NRRC Genomics Core Facility to obtain the SSR marker data, are acknowledged. This research was supported in part by a grant from the Arkansas Rice Research and Promotion Board that supported H. A. Agrama and H. R. Refeld.
Electronic supplementary material
About this article
Cite this article
Eizenga, G.C., Agrama, H.A., Lee, F.N. et al. Exploring genetic diversity and potential novel disease resistance genes in a collection of rice (Oryza spp.) wild relatives. Genet Resour Crop Evol 56, 65–76 (2009). https://doi.org/10.1007/s10722-008-9345-7
Received:

Accepted:

Published:

Issue Date:
Keywords
Association mapping

Genetic diversity

Microsatellite

Oryza sativa
Oryza species

Quantitative trait loci

Simple Sequence Repeat