Abstract
Neglected and underutilized species often play a vital role in securing food and livestock feed, income generation and energy needs of rural populations. In spite of their great potential little attention has been given to these species. This increases the possibility of genetic erosion which would further restrict the survival strategies of people in rural areas. Ziziphus spina-christi is a plant species that has edible fruits and a number of other beneficial applications that include the use of leaves as fodder, branches for fencing, wood as fuel, for construction and furniture making, and the utilization of different parts e.g. Fruits, leaves, roots and bark in folk medicine. Moreover, the plant is adapted to dry and hot climates which make it suitable for cultivation in an environment characterized by increasing degradation of land and water resources. Lack of research in Z. spina-christi hinders its successful improvement and promotion. Therefore, studies are needed to fully exploit this species. This article aims at summarizing information on different aspects of Z. spina-christi to stimulate interest in this crop which is of importance in Sudan and other countries of the semi-arid tropics.
Access options
Buy single article
Instant access to the full article PDF.
US$ 39.95
Tax calculation will be finalised during checkout.
Subscribe to journal
Immediate online access to all issues from 2019. Subscription will auto renew annually.
US$ 119
Tax calculation will be finalised during checkout.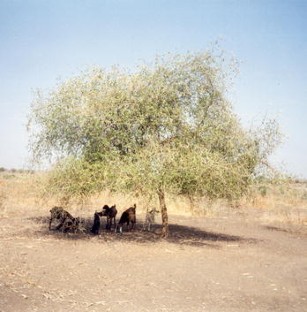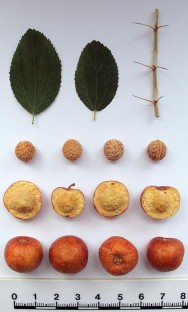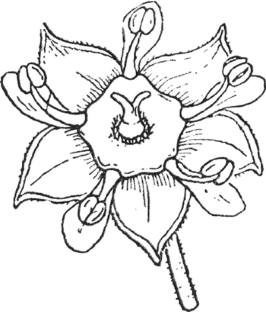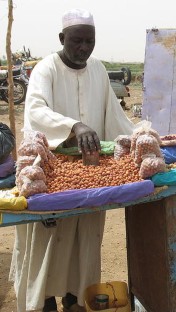 Notes
1.

Both Z. spina-christi (L.) Willd. (e.g. Browicz and Zieliński 1977 in Flora Iranica 125, Wood 1997 in Handb. Yemen Flora, Chaudhary 2001 in Flora Saudia Arabia 2 [1]) and Z. spina-christi (L.) Desf. (e.g. Vollesen 1989 in Flora Ethiopia 3, Boulos 2000 in Flora Egypt 2, Greuter et al. 1989 in Med-Checklist 4) occur in the recent literature. Therefore, a brief study was necessary to clarify the correct nomenclatural position of this taxon which led to the following conclusion: Z. spina-christi (L.) Willd., Sp. Pl. 1 (July 1798) 1105; (L.) Desf., Fl. Atlant. 1 (1798, publ. Febr. 1799) 210. Basionym: Rhamnus spina-christi L., Sp. Pl. (1753) 195.
References
Abdelmuti OMS (1991) Biochemical and nutritional evaluation of famine foods of the Sudan. Doctoral dissertation in Biochemistry and Nutrition, University of Khartoum, Sudan

Ali-Shtayeh MS, Yaghmour MR, Faidi YR, Salem K, Al-Nuri MA (1998) Antimicrobial activity of 20 plants used in folkloric medicine in the Palestinian area. J Ethnopharmacol 60:265–271

Altieri MA (1999) The ecological role of biodiversity in agroecosystems. Agric Ecosyst Environ 74:19–31

Anonymous (1992) Nutritional study on Ziziphus spina-christi. Eden Foundation, Sweden. Available from http://www.eden-foundation.org/index.html. Accessed April 2007

Anonymous (2000) First national report on the implementation of the convention on biological diversity. The Higher Council for Environment and National Resources (HCENR), Khartoum, Sudan

Arbonnier M (2004) Trees, shrubs and lianas of West African dry zones. CIRAD, Margraf Publishers GmbH, Paris

Assareh MH, Sardabi H (2005) Macropropagation and micropropagation of Ziziphus spina-christi. Pesqui Agropecu Bras 40:459–465

Berry-Koch A, Moench R, Hakewill P, Dualeh M (1990) Alleviation of nutritional deficiency diseases in refugees. Food Nutr Bull 12:106–112

Bircher AG, Bircher WH (2000) Encyclopedia of fruit trees and edible flowering plants in Egypt and the subtropics. The American University in Cairo Press, Cairo

Borlaug NE (2002) Feeding a world of 10 billion people: the miracle ahead. In Vitro Cell Dev Biol-Plant 38:221–228

Boulos L (2000) Flora of Egypt (Geraniaceae-Boraginaceae), vol 2. Al Hadara Publishing, Cairo

Browicz K, Zieliński J (1977) Rhamnaceae. In: Rechinger KH (ed) Flora Iranica: Flora des iranischen Hochlandes und der umrahmenden Gebirge; Persien, Afghanistan, Teile von West-Pakistan, Nord-Iraq, Azerbaidjan, Turkmenistan, vol 125. Akademische Druck- und Verlagsanstalt, Graz, pp 1–28

Bunderson TW, El Wakeel A, Saad ZA, Hashim I (1990) Agroforestry practices and potentials in Western Sudan. In: Budd WW, Duchhart I, Hardesty LH, Steiner F (eds) Planning for agroforestry. Elsevier Science Publishers B.V., Amsterdam, pp 227–246

Chaudhary SA (2001) Rhamnaceae. In: Chaudhary SA (ed) Flora of the Kingdom of Saudi Arabia, vol. 2, no 1. Ministry of Agriculture and Water, National Herbarium, National Agriculture and Water Research Center, Riyadh, pp 396–410

Cherfas J (1989) Nuts to the desert. New Sci 19:44–47

Dafni A, Levy S, Lev E (2005) The ethnobotany of Christ's Thorn Jujube (Ziziphus spina-christi) in Israel. J Ethnobiol Ethnomed 1:8

Depommier D (1988) Ziziphus mauritiana Lam. Bois Forets Trop 218:57–62

Duke JA (1985) Handbook of medicinal herbs. CRC Press, Boca Raton

El Amin HM (1990) Trees and shrubs of the Sudan. Ithaca Press Exeter, Ithaca

El Ghazali GEB, El Tohami MS, El Egami AAB (1994) Medicinal plants of the Sudan: medicinal plants of the White Nile provinces. Khartoum University Press, Khartoum

El Ghazali GEB, El Tohami MS, El Egami AAB, Abdalla WS, Mohammed MG (1997) Medicinal plants of the Sudan: medicinal plants of northern Kordofan. Omdurman Islamic University Printing and Publishing House, Omdurman

El-Kamali HH, El-Khalifa KF (1999) Folk medicinal plants of riverside forests of the Southern Blue Nile district, Sudan. Fitoterapia 70:493–497

El-Siddig K, Ebert G, Lüdders P (1999) Tamarind (Tamarindus indica L.): a review on a multipurpose tree with promising future in the Sudan. J Appl Bot 73:202–205

Eromosele IC, Eromosele CO, Kuzhkuzha DM (1991) Evaluation of mineral elements and ascorbic acid contents in fruits of some wild plants. Plant Foods Hum Nutr 41:151–154

FAO (1997) Non-wood goods and services in Sudan. In: Forestry statistics and data collection. FAO, Rome, Italy. Available from http://www.fao.org. Accessed April 2007

FAO (1999) Use and potential of wild plants in farm households. FAO Information Division, Rome, Italy. Available from http://www.fao.org. Accessed November 2007

Gebauer J, El-Siddig K, Ebert G (2002) Baobab (Adansonia digitata L.): a review on a multipurpose tree with promising future in the Sudan. Eur J Hortic Sci 4:155–160

Gebauer J (2005) Plant species diversity of home gardens in El Obeid, central Sudan. JARTS 106:97–103

Gebauer J, El-Siddig K, El-Tahir BA, Salih AA, Ebert G, Hammer K (2007a) Exploiting the potential of indigenous fruit trees: Grewia tenax in Sudan. Genet Resour Crop Evol 54:1701–1708

Gebauer J, Patzelt A, Hammer K, Buerkert A (2007b) First record of Grewia tenax (Forssk.) Fiori in northern Oman, a valuable fruit producing shrub. Genet Resour Crop Evol 54:1153–1158

Greuter W, Burdet HM, Long G (1989) Dicotyledones (Lauraceae-Rhamnaceae). In: Greuter W, Burdet HM, Long G (eds) Med-checklist: a critical inventory of vascular plants of the circum-Mediteranean countries, vol 4. Ed des Conservatoire et Jardin botaniques de la Ville de Genève, Genève, p 458

Grice AC (1996) Seed production, dispersal and germination in Cryptostegia grandifolia and Ziziphus mauritiana, two invasive shrubs in tropical woodlands of northern Australia. Austral Ecol 21:324–331

Grivetti LE, Ogle BM (2000) Value of traditional food in meeting macro- and micronutrients needs: the wild plant connection. Nutr Res Rev 13:31–46

Hammer K (2001) Rhamnaceae. In: Hanelt P, IPK (eds) Mansfeld's encyclopedia of agricultural and horticultural crops, vol 3. Springer, Berlin, pp 1141–1150

Hammer K, Khoshbakht K (2005) Towards a 'red list' for crop plant species. Genet Resour Crop Evol 52:249–265

Hammer K, Heller J, Engels J (2001) Monographs on underutilized and neglected crops. Genet Resour Crop Evol 48:3–5

Harami MA, Abayeh OJ, Ibok NNE, Kafu SE (2006) Antifungal activity of extracts of some Cassia, Detarium and Ziziphus species against dermatopytes. Nat Prod Rad 5:361–365

Hussein NMA, El Nour M, Osman KA (1996) A study on production of nursery stock of sidir (Ziziphus spina-christi L.). Univ Khartoum J Agric Sci 4:110–122

Jawanda JS, Bal JS (1978) The ber, highly paying and rich in food value. Indian Hortic Oct–Dec:19–21

Johnston MC (1963) The species of Ziziphus indigenous to United States and Mexico. Am J Bot 50:1020–1027

Jongbloed M (2003) The comprehensive guide to the wild flowers of the United Arab Emirates. Environmental research and wildlife development agency (ERWDA), Abu Dhabi

Kirkbride JH Jr, Wiersema JH, Turland NJ (2006) Proposal to conserve the name Ziziphus jujuba against Z. zizyphus (Rhamnaceae). Taxon 55:1049–1050

Leakey RRB, Tchoundjeu Z (2001) Diversification of tree crops: domestication of companion crops for poverty reduction and environmental services. Exp Agric 37:279–296

National Academy of Sciences (1980) Firewood crops: shrub and tree species for energy production. National Academy Press, Washington

Maxwell S (1991) To cure all hunger: food policy and food security in Sudan. Short Run Press, London

von Maydell HJ (1986) Trees and shrubs of the Sahel: their characteristics and uses. Deutsche Gesellschaft für Technische Zusammenarbeit (GTZ) GmbH, Eschborn

von Maydell HJ (1989) Criteria for the selection of food producing trees and shrubs in semi-arid regions. In: Wickens GE, Haq N, Day P (eds) New crops for food and industry. Chapman and Hall, London, pp 66–75

Miehe S (1986) Acacia albida and other multipurpose trees on the fur farmlands in the Jebbel Marra highlands, western Darfur, Sudan. Agrofor Syst 4:89–119

Miller AG, Morris M (1988) Plants of Dhofar, the southern region of Oman traditional, economic and medicinal uses. Adviser for Conservation of the Environment, Diwan of Royal Court Sultanate of Oman, Muscat

Moustafa AEA, EL-Wahab RHA, Helmy MA, Batanouny KH (1998) Phenology, germination and propagation of some wild trees and shrubs in South Sinai, Egypt. Egypt J Bot 36:91–107

Nazif NM (2002) Phytoconstituents of Ziziphus spina-christi L. fruits and their antimicrobial activity. Food Chem 76:77–81

Nour A, Ali AO, Ahmed AHR (1987) A chemical study of Ziziphus spina-christi (Nabag) fruits grown in Sudan. Trop Sci 27:271–273

Obeid M, Mahmoud A (1971) Ecological studies in the vegetation of the Sudan: II. The ecological relationships of the vegetation of Khartoum province. Vegetatio 23:77–198

Paroda RS, Mal B (1989) New plant sources for food and industry in India. In: Wickens GE, Haq N, Day P (eds) New crops for food and industry. Chapman and Hall, London, pp 135–149

Raman S (2006) Agricultural sustainability: principles, processes, and prospects. Food Products Press, New York

Robinson J (2005) Desertification and disarray: the threats to plant genetic resources of southern Darfur, western Sudan. Plant Genet Resour 3:3–11

Robinson J (2006) Useful wild tree resources of southern Sudan: a review. Plant Genet Resour 4:188–197

Sahni KC (1968) Important trees of the northern Sudan. United Nations Development Programme, FAO and Forestry Research and Education Center. Khartoum University Press, Khartoum

Said A, Huefner A, Tabl ESAA, Fawzy G (2006) Two new cyclic amino acids from the seeds and antiviral activity of methanolic extract of the roots of Zizyphus spina-christi. Paper presented at the 54th Annual Congress on Medicinal Plant Research. Planta Med 72

Saied A, Gebauer J, Buerkert A (2007) Effects of different scarification methods on germination of Ziziphus spina-christi seeds. Seed Sci Technol (in press)

Schreckenberg K, Awono A, Degrande A, Mbosso C, Ndoye O, Tchoundjeu Z (2006) Domesticating indigenous fruit trees as a contribution to poverty reduction. Forests Trees Livelihoods 16:35–51

Singh AK, Sharma RK, Singh NK, Bansal KC, Koundal KR, Mohapatra T (2006) Genetic diversity in ber (Ziziphus spp.) revealed by AFLP markers. J Hortic Sci Biotechnol 81:205–210

Sudhersan C, Hussain J (2003) In vitro propagation of a multipurpose tree, Ziziphus spina-christi (L.) Desf. Turk J Bot 27:167–171

Verinumbe I (1993) Soil and Leucaena leucocephala L. growth variability under Faidherbia albida Del. and Ziziphus spina-christi (L.) Desf. Agrofor Syst 21:287–292

Vogt K (1995) A field worker's guide to the identification, propagation and uses of common trees and shrubs of dryland Sudan. SOS Sahel International, London

Vollesen K (1989) Rhamnaceae. In: Hedberg I, Edwards S (eds) Flora of Ethiopia, Pittosporaceae to Araliaceae, vol. 3. The National Herbarium, Addis Ababa, Ethiopia and The Department of Systematic Botany, Uppsala, pp 385–398

Wealth of India (2004) The wealth of India: a dictionary of Indian raw materials and industrial products. Council of Scientific and Industrial Research, New Delhi

Wood JRI (1997) A Handbook of the Yemen Flora. Whitstable Litho Printers Ltd, Whitstable
Acknowledgements
We are grateful to the Alexander von Humboldt Foundation for granting a Georg Forster Research Fellowship to the first author.
About this article
Cite this article
Saied, A.S., Gebauer, J., Hammer, K. et al. Ziziphus spina-christi (L.) Willd.: a multipurpose fruit tree. Genet Resour Crop Evol 55, 929–937 (2008). https://doi.org/10.1007/s10722-007-9299-1
Received:

Accepted:

Published:

Issue Date:
Keywords
Agroforestry

Christ's thorn

Indigenous fruit trees

Siddir

Sudan

Wild fruit species

Ziziphus spina-christi