Abstract
The diffusion of herbal remedies for therapies on domestic animals in Sardinia (Italy) was investigated by means of expeditions in the regional territory. The monitoring of knowledge related to plant species utilised in the past for traditional veterinary practices, favoured the recovery of ancient local traditions related to veterinary ethnobotany. Forty two species with several properties have been recorded and compared to uses on domestic animals in other Italian regions. Therapeutic uses of the same plant species for humans and animals in Sardinia have also been compared. The identification of plant species traditionally used for veterinary practices from the local flora could be also potentially useful for the isolation of natural extracts of phytotherapic interest to increase animal welfare and quality of animal productions in organic farming.
Access options
Buy single article
Instant access to the full article PDF.
US$ 39.95
Tax calculation will be finalised during checkout.
Subscribe to journal
Immediate online access to all issues from 2019. Subscription will auto renew annually.
US$ 119
Tax calculation will be finalised during checkout.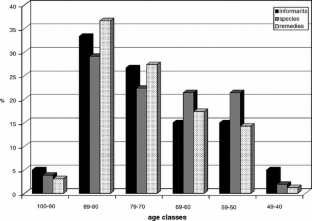 References
Amici L (1992) Medicina popolare della Teverina. Regione Lazio (Assessorato alla Cultura) e Associazione Intercomunale della Teverina per la cultura

Atzei AD, Orioni S, Sotgiu R (1991) Contributo alla conoscenza degli usi etnobotanici nella Gallura (Sardegna). Bollettino della Società Sarda di Scienze Naturali 28:137–177

Atzei AD, OFM (2003) Le piante nella tradizione popolare della Sardegna. Delfino Editore, Sassari

Ballero M, Poli F, Sacchetti G, Loi MC (2001) Ethnobotanical research in the territory of Fluminimaggiore (south-western Sardinia). Fitoterapia 72:788–801

Bandini A (1961) Le piante della medicina tradizionale nell'alta Val di Vara (Liguria orientale). Webbia 16:143–163

Barbagallo C, Furnari F (1967) Flora officinale del territorio di Caltagirone (Catania). Ed. Succ. Fusi, Pavia

Barbagallo C, Grillo M, Meli R (1979a) Nota sulle piante officinali spontanee e coltivate del territorio di Cesarò (Messina). Fitoterapia L, 57–66

Barbagallo C, Longhitano N, Meli R (1979b) Contributo alla flora del versante ovest dell'Etna con osservazioni sulle piante officinali. Cooperativa Universitaria Libraria Catanese, Catania, Italy

Bellomaria B (1982) Le piante di uso popolare nel territorio di Camerino (Marche). Arch Bot e Biogeogr Ital 58:1–27

Borio E (1981) Curarsi con erbe, radici, foglie e fiori, vol I–IV. Editrice Velar, Bergamo

Cappelletti EM, Trevisan R, Foletto A, Cattolica PM (1981) Le piante utilizzate in medicina popolare in due vallate trentine: Val di Ledro e Val dei Mocheni. Studi Trentini di Scienze Naturali 58:119–140

Catanzaro F (1968) Piante officinali dell'Isola di Pantelleria. Webbia 23:135–148

Chimenti Signorini R, Fumagalli M (1983) Indagine etnofarmacobotanica nella Valtournanche (Val d'Aosta). Webbia 37:69–94

Chiovenda-Bensi C (1960) Florula Medicinale delle Cinque Terre. Webbia 15:631–641

Ciccodicola F (1995) Pratiche di guarigione e memoria collettiva-Considerazioni relative ad una ricerca sul campo. In: Giusti S (ed) Le piante magiche-Una ricerca storico-antropologica. Domograf, Roma, pp 241–301

Conti F, Abbate G, Alessandrini A, Blasi C (2005) An annotated checklist of the Italian vascular flora. Palombi Editori, Roma

Corrain C (1977) Ricordi di Folklore Polesano. Minelliana, Rovigo, pp 47–53

Corsi G, Gaspari G, Pagni AM (1981) L'uso delle piante nell'economia domestica della Versilia collinare e montana. Atti Soc Tosc Sci Nat, Mem Ser B 87:309–386

De Bellis A (1988) Erbe di Val d'Orcia. Editori del Grifo, Montepulciano, Siena

De Capite L, Menghini A (1973) Le piante medicinali in Umbria nell'uso della veterinaria popolare. Annali Facoltà di Agraria Università di Perugia XXVIII:589–599

De Feo V, Aquino R, Menghini A, Ramundo E, Senatore F (1992) Traditional phytoterapy in the Peninsula Sorrentina, Campania, Southern Italy. J Ethnopharmacol 36:113–125

De Feo V, Senatore F (1993) Medicinal plants and phytoterapy in the Amalfitan Coast, Salerno province, Campania, Southern Italy. J Ethnopharmacol 39:39–51

Ferri S (1961) Le piante della provincia di Siena attualmente usate nella medicina popolare. In: Atti 21° Congresso Internaz. Scienze Farmaceutiche, Pisa, September 4–8, 1961, pp 485–521

Fossati F, Bianchi A, Favalli MA (1999) Farmacopea popolare del parmense: passato e presente. Informatore Botanico Italiano 31:171–176

Gastaldo P, Barberis G, Fossati F (1978) Le piante della medicina tradizionale nei dintorni di Praglia (Appennino ligure-piemontese). Atti Accademia Ligure di Scienze e Lettere 35:125–128

Gastaldo P (1987) Compendio della Flora officinale italiana. Piccin Ed

Guarrera PM (1981) Ricerche etnobotaniche nelle Province di Macerata e di Ancona. EPPOS 2:99–108. Rivista Italiana EPPOS 4:220–228

Guarrera PM (1987) Usi tradizionali delle piante nel territorio della Majella. In: Fasc. Monograf, "Erbe e piante medicinali nella storia e nelle tradizioni popolari abruzzesi". Reg. Abruzzo, Chieti, Tip. Anxanum, Lanciano, 17–45

Guarrera PM (1990) Usi tradizionali delle piante in alcune aree marchigiane. Informatore Botanico Italiano 22:155–167

Guarrera PM (1994) Il patrimonio etnobotanico del Lazio. Regione Lazio e Dipartimento di Biologia Vegetale, Roma, 301

Guarrera PM (1995) Fitoterapia e uso tradizionale delle piante nel territorio della Valle di Comino (Frosinone). In: Giusti S (a cura di), Le piante magiche. Una ricerca storico-antropologica, Domograf Roma, pp 121–144

Guarrera PM (2002) Primo contributo allo studio del patrimonio etnobotanico del Molise. In: Università degli Studi del Molise, Di.ST.e.BA, 97° Congresso della Società Botanica Italiana, Lecce, settembre 24–27, 2002, p 209

Guarrera PM (2005) Traditional phytoterapy in Central Italy (Marche, Abruzzo, and Latium). Fitoterapia 76:1–25

Lentini F, Catanzaro F, Aleo M (1988) Indagini etnobotaniche in Sicilia, III. L'uso tradizionale delle piante nel territorio di Mazara del Vallo (Trapani). Atti Accademia di Scienze, Lettere e Arti di Palermo, pp 1–29

Lentini F, Aleo M (1991) Indagini etnobotaniche in Sicilia. V. L'uso tradizionale delle piante nel territorio di Erice (Trapani). Atti Accademia di Scienze, Lettere e Arti di Palermo, pp 1–30

Loi MC, Poli F, Sacchetti G, Selenu MB, Ballero M (2004) Ethnopharmacology of Ogliastra (Villagrande Strisaili, Sardinia, Italy). Fitoterapia 75:277–295

Maccioni S, Marchini G (1999) La Val di Vara. Collana "Liguria in parole povere". Sagep Ed., Genova

Manzi A (1989) Piante utilizzate nella veterinaria popolare a Gessopalena (CH). Rivista Abruzzese 3:253–260

Mearelli F, Tardelli C (1995) Maremma Mediterranea. Erboristeria Domani 7/8:45–57

Nardelli GM (1987) Cultura e tradizione. Demomedicina nell'alta Umbria. Provincia di Perugia

Palmese MT, Uncini Manganelli RE, Tomei PE (2001) An ethno-pharmacobotanical survey in the Sarrabus district (South-East Sardinia). Fitoterapia 72:619–637

Pieroni A (2000) Medicinal plants and food medicines in the folk traditions of the upper Lucca Province, Italy. J Ethnopharmacol 70:235–273

Pignatti S (1982) Flora d'Italia, Voll 1–3. Edagricole, Bologna

Renzetti E, Taiani R (1988) Sulla pelle del villano. Museo Usi e Costumi della Gente Trentina, S. Michele all'Adige, pp 147–164

Sudman S (1966) Probability sampling with quotas. J Am Stat Assoc LXI:749–771

Tammaro F, Pietrocola L (1975) Piante nella medicina popolare d'Abruzzo. Annali di Botanica XXXIV:269–290

Tammaro F (1976) Piante officinali e pratica della fitoterapia nel territorio del Gran Sasso d'Italia. Rivista Italiana EPPOS 58:593–605

Tammaro F (1984) Flora Officinale d'Abruzzo. Giunta Reg. d'Abruzzo, Chieti

Uncini Manganelli RE, Tomei PE (1995) Indagini farmaco-botaniche in Garfagnana (Lucca): il versante appenninico. Atti della Società Toscana di Scienze Naturali, Memorie, Serie B 102:3–18

Viegi L, Bioli A, Vangelisti R, Cela Renzoni G (1999) Prima indagine sulle piante utilizzate in medicina veterinaria popolare in alcune località dell'alta Val di Cecina. Atti della Società Toscana di Scienze Naturali, Memorie, Serie B 106:1–10

Viegi L, Pieroni A, Guarrera PM, Vangelisti R (2003) A review of plants used in folk veterinary medicine in Italy as basis for a databank. J Ethnopharmacol 89:221–244
Acknowledgements
Grateful thanks are due to the Fondazione Banco di Sardegna-Sassari, for financial support. The collaboration of the interviewed animal breeders is acknowledged, particularly among them: Mr. Addis, Baule, Bitti, Brizzi, Bullitta, Cadau, Campus, Capula, Carta, Cau, Chessa-Luzzu, Daga, Delogu, Deserra, Devaddis, Fenu-Tolu, Fresu, Liperi, Lorenzoni, Mameli, Manca, Martinelli, Mula, Mulas, Mundula, Muntoni, Murgia, Ninniri, Nonna-Chessa, Palmas, Piluzza, Posadino, Re, Sanna, Satta, Sechi, Sechi-Saba, Sini, Sotgia-Pintus, Spano, Spezzigu, Suelzu, Usai, Vasa-Manni.
Thanks are also due to Prof. G. Palmieri from the Faculty of Veterinary Science of Sassari for supporting our work, to the colleagues (G. Re, D. Dettori, S. Nieddu, P. Saba, A.P. Stangoni) from ISPAAM-CNR sez. Sassari, (G. Piras, G. Lei and G. Sini) from DISAGVA Department-Sassari and Dr. R. Vangelisti from Dept. of Biology-Pisa, for their technical support.
Annexe I
Annexe I
Therapeutical properties of plant species referred by animal breeders during the interviews and obtained from recent literature about phytotherapic practices on humans in Sardinian territories
Plant species
Therapeutical properties
For domestic animals referred during the present Sardinian investigation
For humans from recent ethnobotanic literature about Sardinian territories
Allium cepa L.
Carminative
Antidermatosic, haemostatic, antiseptic, bechic, antiasthmatic, laxative, emetic, vasodilator, antidiabetic, anthelmintic, emollient, diuretic, anti-inflammatory, analgesic (Atzei 2003)
Antidermatosic (Ballero et al. 2001)
Analgesic, anti-inflammatory, antiotalgic, hepatic, antiseptic, antiasthmatic, anti-herpetic (Palmese et al. 2001)
Anthelmintic, digestive, expectorant, antiodontalgic (Loi et al. 2004)
Allium sativum L.
Anthelmintic, antiseptic
Antiseptic, analgesic, anti-inflammatory, antidermatosic, disinfectant, carminative, bechic, anthelmintic, digestive, carminative, hemostatic, hypotensive, hypoglycemic, astringent, anti-haemorroids, febrifuge, diuretic (Atzei 2003)
Bechic, anthelmintic, stomatic, antidermatosic, anti-haemorroids, antirheumatic (Ballero et al. 2001)
Antiodontalgic, Anti-inflammatory, lenitive, antirheumatic, antiseptic, antineuralgic, vermifuge, antipyretic, antihypertensive, depurative (Palmese et al. 2001)
Antiphlogistic, spasmolytic (Loi et al. 2004)
Anagyris foetida l.
Anti-inflammatory
Emetic, laxative, emmenagogue, abortive, antiasthmatic, analgesic, antidermatosic, parasiticide (Atzei 2003)
Apium nodiflorum (L.) Lag. subsp. nodiflorum
Stomatic, appetizing
Depurative, antiphlogistic, diuretic, laxative, tonic, hypertensive (Atzei 2003)
Diuretic, laxative, appetizing, antiphlogistic (Loi et al. 2004)
Arundo donax L.
Anthelmintic
Disinfectant, emostatic, vulnerary, anti-inflammatory, astringent, diuretic, appetizing, emmenagogue, diaphoretic, galattogogue, haemostatic, plaster (Atzei 2003)
Vulnerary, antiotalgic (Ballero et al. 2001)
Haemostatic, vulnerary, antiseptic, emmenagogue, diuretic, diaphoretic, galactagogue (Palmese et al. 2001)
Calamintha nepeta (L.) Savi s. l.
Vermifuge
Nervine, antispasmodic, balsamic, antitussive, anticatarrhal, antielminthic, decongestant, tonic, stomachic, anti-diarrhoeic, digestive, vulnerary, poultice for burns, analgesic, antiodontalgic (Atzei 2003)
Cicer arietinum L.
Anti-inflammatory
Diuretic, emmenagogue, galactagogue, antiaphonic, refreshing, vulnerary, antidermatosic (Atzei 2003)
Cistus creticus L. subsp. eriocephalus (Viv.) Greuter et Burdet
Antiseptic
Revulsive, antidermatosic, tonic
Crataegus monogyna Jacq.
Anti-inflammatory
Cardiotonic, vasodilator, nervine, antispasmodic, febrifuge, diuretic, antirheumatic, anticoagulant, anticholesterolemic, tonic, anti-diarrhoeic, antineuralgic, antiodontalgic, antidermatosic, abortive (Atzei 2003)
Sedative, analgesic (Loi et al. 2004)
Cynoglossum officinale L.
Antiseptic
 
Daphne gnidium L.
Anti-dysenteric
Purgative, analgesic, antidermatosic, rubefacient, antirheumatic, antiodontalgic (Atzei 2003)
Antiodontalgic antichilblains (Ballero et al. 2001)
Daucus carota L. s. l.
Astringent
Digestive, carminative, anti-diarrhoeic, vermifuge, antiaphonic, expectorant, depurative, hypoglycaemic, anti-anaemic, diuretic, emmenagogue, galactagogue (Atzei 2003)
Resolvent, carminative, vulnerary, emmenagogue, diuretic, galactagogue, hypoglycaemic, anti-diarrhoeic (Palmese et al. 2001)
Stimulant, diuretic, astringent (Loi et al. 2004)
Dipsacus fullonum L.
Antiseptic
Digestive, antidermatosic, ophthalmic (Atzei 2003)
Euphorbia characias L.
Revulsive
Rubefacient, vesicatory, antichilblains, antiwarts, antidermatosic, purgative, emetic, antiasthmatic (Atzei 2003)
Ficus carica L.
Antiseptic, balsamic
Antiwarts, antidermatosic, analgesic (Atzei 2003)
Hedera helix L. s. l.
Analeptic
Emetic, purgative, odontalgic, resolvent, antidermatosic, disinfectant, antitussive, analgesic, cardiotonic, antiodontalgic, ophthalmic, vasoconstrictor, antiecchymotic, nervine, antirheumatic, diuretic, anti-inflammatory (Atzei 2003)
Antidermatosic (Ballero et al. 2001),
Decongestant (Loi et al. 2004)
Hordeum vulgare L.
Anti-diarrhoeic, refreshing, stomatic
Antidermatosic, ophtalmic, anthelmintic, antiemetic, anti-diarrhoeic, aperient, bechic, balsamic (Atzei 2003)
Stomatic, ophtalmic (Ballero et al. 2001)
Anti-inflammatory, mucolytic, decongestant, emollient, bechic, laxative, depurative (Palmese et al. 2001)
Laxative (Loi et al. 2004)
Lavatera olbia L.
Anti-diarrhoeic
Decongestant, antirheumatic, hepatic, digestive, antitussive, laxative, antidermatosic, emollient, antiflogistic (Atzei 2003)
Antidermatosic, laxative, antitussive, hepatic, anti-inflammatory (Ballero et. al., 2001)
Linum strictum L. s. l.
Anti-spasmodic, depurative
 
Malva sylvestris L.
Anti-diarrhoeic, anti-inflammatory, antiseptic, anti-spasmodic, carminative, depurative, emollient, sedative
Emollient, anti-inflammatory, bechic, expectorant, decongestant, antiasthmatic, stomatic, digestive, stomachic, analeptic, carminative, hepatic, refreshing, laxative, analgesic, anti-diarrhoeic, antispasmodic, cholagogue, antidote, antidermatosic, depurative, hypotensive, antipyretic, nervine, emmenagogue, disinfectant, vulnerary, lenitive, resolvent, ophtalmic, odontalgic, antipruritic, foot care, antiecchymotic, antirheumatic (Atzei 2003
Anti-inflammatory, bechic, laxative, antidermatosic, stomatic, anti-chilblain, vulnerary, antihaemorrhoidal (Ballero et al. 2001)
Laxative, depurative, diuretic, anti-inflammatory, analgesic, anti-oedematous, resolvent, lenitive, antiseptic (Palmese et al. 2001)
Anti-inflammatory, odontalgic, stomatic, aperient, diuretic, laxative, odontalgic, antidermatosic, hypotensive, analeptic, emollient (Loi et al. 2004)
Matricaria chamomilla L.
Anti-spasmodic, carminative, bronchial spasmolytic
Analgesic, antispasmodic, digestive, nervine, tonic, stomachic, analeptic, anti-diarrhoeic, hepatic, depurative, hypotensive, expectorant, decongestant, antipyretic, emmenagogue, anthelmintic, ophthalmic, odontalgic, stomatic, antidermatosic (Atzei 2003)
Sedative, astringent, antiemetic, ophthalmic (Ballero et al. 2001)
Sedative, antispasmodic, ophthalmic, anti-inflammatory, anti-diarrhoeic, antipyretic, emmenagogue, anti-oedematous (Palmese et al. 2001)
Sedative, anti-inflammatory, ophthalmic, laxative, decongestant, hypnotic (Loi et al. 2004)
Nasturtium officinale R. Br subsp. officinale
Stomatic
Digestive, appetizing, laxative, hepatic, anthelmintic, diuretic, lithontripic, depurative, hypertensive, antianaemic, anti-inflammatory, anticoagulant, emmenagogue, analgesic, odontalgic, antidermatosic, analeptic, refreshing, febrifuge, expectorant, bechic (Atzei 2003)
Digestive, anticatarrhal, cleansing agent (Loi et al. 2004)
Nicotiana tabacum L.
Antiseptic, vermifuge
 
Olea europaea L. (= Olea europaea L. var. europaea)
Antiseptic, anti-spasmodic, anti-inflammatory, carminative, laxative
Febrifuge, antimalarial, hypotensive, hypoglycaemic, stomatic, odontalgic, antihaemorrhoidal, diuretic, laxative, analgesic, hepatic, anthelmintic, emollient, antidermatosic, anti-inflammatory, colagogue, emetic, vulnerary, antirheumatic, parasiticide, spasmolytic, lenitive (Atzei 2003)
Antidermatosic, vulnerary, laxative, hypotensive, antihaemorrhoidal (Ballero et al. 2001)
Anti-oedematous, anti-inflammatory, analgesic, spasmolytic, lenitive, vulnerary, antidermatosic, anti-hypertensive, laxative, hepatic, emollient, hypoglycaemic, antihaemorrhoidal (Palmese et al. 2001)
Hypotensive, febrifuge (Loi et al. 2004)
Olea europaea L. (= Olea europaea L. var. sylvestris)
Reconstituent
Antypiretic, antimalarial, hypotensive, anti-diarrhoeic, hepatic, astringent, lenitive, antiseptic, colagogue, laxative, stomatic, antidermatosic, anti-chilblains (Atzei 2003)
Opuntia ficus-indica (L.) Mill.
Anti-diarrhoeic
Antacid, astringent, antidermatosic, anti-inflammatory, emollient, antiseptic, odontalgic, antichilblains, antirheumatic, lenitive, nervine, antihaemorrhoidal, vulnerary, antiphlogistic, analgesic, antirheumatic, antichiblains, emetic, expectorant, vulnerary (Atzei 2003)
Antidermatosic, antiviral, anti-inflammatory, expectorant (Ballero et al. 2001)
Lenitive, anti-oedematous, sedative, antiseptic, odontalgic, vulnerary, antidermatosic (Palmese et al. 2001)
Antidermatosic, lenitive (Loi et al. 2004)
Parietaria officinalis L.
Anti-diarrhoeic, anti-inflammatory, antiseptic, expectorant
Digestive, emollient, antiphlogistic, refreshing, hepatic, laxative, anti-diarrhoeic, carminative, analgesic, antiseptic, diuretic, antispasmolitic, decongestant, demulcent, expectorant, hypotensive, depurative, anticholeterolemic, hypoglycaemic, antihaemorrhoidal, emollient, anti-inflammatory, sedative, nervine, emmenagogue, diaphoretic, antipyretic, refreshing, antimalarial, vulnerary, resolvent, antidermatosic, stomatic, ophtalmic (Atzei 2003)
Febrifuge, antitussive, antihaemorrhoidal (Ballero et al. 2001)
Spasmolytic, anti-inflammatory, lenitive, antidermatosic, emollient, antihaemorrhoidal, lithontripic, analgesic, diuretic, sedative, hypoglycemic (Palmese et al. 2001)
Anti-inflammatory, odontalgic, stomachic, digestive, hepatic, antispastic, diuretic (Loi et al. 2004)
Petroselinum crispum (Mill.) Nym.
Carminative
Diuretic, lithontripic, stomachic, digestive, carminative, laxative, hepatic, analgesic, antiacid, emmenagogue, galactofuge, abortive, depurative, tonic, sedative, antianaemic, febrifuge, hypotensive, expectorant, anthelmintic, spasmolytic, resolvent, antidote, ophtalmic, odontalgic (Atzei 2003)
Hypotensive, antacid (Loi et al. 2004)
Pistacia lentiscus L.
Antiseptic, carminative, laxative
Stomatic, antidermatosic, astringent, analgesic, odontalgic, vulnerary, antirheumatic, antichilblains, antitumor, antipruritic, haemostatic, expectorant, diaphoretic, anti-inflammatory, anthelmintic, astrringent, tonic, antiseptic, styptic, antiphlogistic (Atzei 2003)
Antidermatosic, antichilblains, hepatic, antirheumatic, antitussive, stomatic (Ballero et al. 2001)
Antiseptic, vulnerary, lenitive, antirheumatic, antiarthritic, vesicatory, expectorant, analgesic, vulnerary, stomachic, spasmolytic, antiseptic, odontalgic, antiviral, astringent (Palmese et al. 2001)
Antacid (Loi et al. 2004)
Plantago major L. s. l.
Anti-inflammatory, vulnerary
Astringent, antidiarrhoeic, febrifuge, emollient, bechic, expectorant, anti-inflammatory, diuretic, antianaemic, emmenagogue, abortifacient, depurative, analgesic, emostatic, vulnerary, stomatic, antidermatosic, antipruritic, odontalgic, antineuralgic, ophtalmic (Atzei 2003)
Prunus spinosa L. subsp. spinosa
Antiseptic, vermifuge
Astringent, antidiarrhoeic, antiphlogistic, antidermatosic, antipyretic, antimalaric, expectorant, antitussive, antiasthmatic (Atzei 2003)
Pteridium aquilinum (L.) Kuhn
Anti-spasmodic, carminative, vermifuge
Antirheumatic, analgesic, hypotensive, anthelmintic, purgative, depurative, anti-inflammatory, antiarthrosis (Atzei 2003)
Pyrus spinosa Forssk.
Anti-inflammatory
Antidermatosic, antidiarrhoeic (Atzei 2003)
Quercus suber L.
Anti-inflammatory, antiseptic, vulnerary
Astringent, anti-diarrhoeic, antidermatosic, expectorant, hypnotic, anticoagulant, emostatic, vulnerary, anti-oedematous, analgesic, antirheumatic (Atzei 2003)
Sambucus nigra L.
Antiseptic
Decongestant, antiasthmatic, analgesic, stomatic, antidermatosic, laxative, antirheumatic, diuretic, hydrogogue, emetic, depurative, resolvent, antipyretic, diaphoretic, anti-inflammatory, astringent, lenitive, purgative, antihaemorrhoidal, ophthalmic, emollient, antiphlogistic, anti-oedematous, sedative, nervine, odontalgic, resolvent, anti-rheumatic, antiseptic, galactofuge, antiviral, bechic, expectorant, antitussive, digestive, carminative, stomatic, hepatic, antineuralgic, antispasmodic (Atzei. 2003)
Odontalgic, ophthalmic, analgesic (Ballero et al. 2001)
Anti-rheumatic, analgesic, spasmolytic, ophthalmic, antidermatosic, bechic, anti-inflammatory, diuretic, carminative, laxative, antiviral, resolvent, anti-neuralgic, decongestant, antiseptic, astringent, demulcent (Palmese et al. 2001)
Anti-inflammatory, ophthalmic, cardiac (Loi et al. 2004)
Smilax aspera L.
Antiseptic
Antimalaric, diaphoretic, depurative, antiasthmatic, lenitive, antirheumatic, antidermatosic, hypotensive, diuretic, anti-diarrhoeic, anti-inflammatory, antipyretic, antitussive, antiseptic, rubefaciens, revulsive, antihaemorroidal, odontalgic, bechic, hepatic, anthelmintic, colagogue, antacid, antispasmodic, astringent, lithontripic, analgesic, antirheumatic, antichilblains, emmenagogue, antiarthritis, rubefacient (Atzei 2003)
Antirheumatic, antidermatosic (Ballero et al. 2001)
Antirheumatic, anti-arthritic, anti-inflammatory, diuretic, lithontripic, anti-asthmatic, depurative, spasmollytic, odontalgic, antidermatosic, hypotensive (Palmese et al. 2001)
Laxative, depurative, cholagogue, diuretic, diaphoretic, anti-inflammatory, stomatic, bechic, antispasmolitic, febrifuge, anti-rheumatic (Loi et al. 2004)
Smyrnium olusatrum L.
Eupeptic, tonic
Carminative, appetizer, antichilblains (Atzei 2003)
Umbilicus rupestris (Salisb.) Dandy
Anti-diarrhoeic, antiseptic, depurative, febrifuge
Diuretic, hepatic, emollient, anti-inflammatory, vulnerary, antidermatosic, anti-oedematous, resolvent, analgesic, antihaemorroidal, ophthalmic, emostatic, lenitive, resolvent (Atzei 2003)
Odontalgic, antidermatosic (Ballero et al. 2001)
Antiseptic, antidermatosic, antihaemorroidal (Palmese et al. 2001)
Urtica dioica L. subsp. dioica
Anti-inflammatory
Purgative, astringent, anti-diarrhoeic, carminative, decongestant, anti-inflammatory, analgesic, stomachic, hepatic, colagogue, digestive, diuretic, depurative, antidermatosic, hypoglycaemic, antidiabetic, hypotensive, antianaemic, antihaemorrhoidal, antirheumatic, galactogogue, analeptic, antiphlogistic, stomatic, emostatic, antioedematous, vulnerary, antichilblains, astringent, revulsive, anti-inflammatory, rubefaciens stimulant (Atzei 2003)
Digestive, diuretic, antitussive, anti-inflammatory, febrifuge, antidermatosic, antichilblains, anti-haemorroidal (Ballero et al. 2001)
Anti-haemorroidal, antirheumatic, hepatic, laxative, neuralgic, depurative (Loi et al. 2004)
Vicia faba L.
Anti-diarrhoeic
Resolvent, lenitive, antidermatosic, antacid, analgesic, anti-diarrhoeic, antipyretic, vulnerary, anti-oedematous (Atzei 2003)
Analgesic, antidermatosic, vulnerary (Ballero et al. 2001)
Analgesic (Palmese et al. 2001)
Vitis vinifera L. s. l.
Anti-inflammatory, carminative, purgative, stomatic, stimulanting, anthelmintic
Vulnerary, antidermatosic, antihaemorrhoidal, emostatic, antiphlogistic, anti-diarrhoeic, galactofuge, ophthalmic, febrifuge, analgesic, antiasthmatic, odontalgic, anti-inflammatory, febrifuge, antihypotensive, disinfectant, emopoietic, antiodontalgic, antipyretic, antichilblains, kidney, antiherpetic (Atzei 2003)
Antidermatosic, bechic, antiphlogistic, diuretic, insecticide, odontalgic, emmenagogue (Ballero et al. 2001).
Anti-parasitic, febrifuge, anti-inflammatory, antioedematous, analgesic (Palmese et al. 2001)
About this article
Cite this article
Bullitta, S., Piluzza, G. & Viegi, L. Plant resources used for traditional ethnoveterinary phytotherapy in Sardinia (Italy). Genet Resour Crop Evol 54, 1447–1464 (2007). https://doi.org/10.1007/s10722-006-9130-4
Received:

Accepted:

Published:

Issue Date:
Keywords
Ethnobotany

Ethnoveterinary

Phytotherapy

Sardinia