Abstract
Glycosylation is considered one of the most complex and structurally diverse post-translational modifications of proteins. Glycans play important roles in many biological processes such as protein folding, regulation of protein stability, solubility and serum half-life. One of the ways to study glycosylation is systematic structural characterizations of protein glycosylation utilizing glycomics methodology based around mass spectrometry (MS). The most prevalent bottleneck stages for glycomic analyses is laborious sample preparation steps. Therefore, in this study, we aim to improve sample preparations by automation. We recently demonstrated the successful application of an automated high-throughput (HT), glycan permethylation protocol based on 96-well microplates, in the analysis of purified glycoproteins. Therefore, we wanted to test if these developed HT methodologies could be applied to more complex biological starting materials. Our automated 96-well-plate based permethylation method showed very comparable results with established glycomic methodology. Very similar glycomic profiles were obtained for complex glycoprotein/protein mixtures derived from heterogeneous mouse tissues. Automated N-glycan release, enrichment and automated permethylation of samples proved to be convenient, robust and reliable. Therefore we conclude that these automated procedures are a step forward towards the development of a fully automated, fast and reliable glycomic profiling system for analysis of complex biological materials.
This is a preview of subscription content, log in to check access.
Access options
Buy single article
Instant access to the full article PDF.
US$ 39.95
Price includes VAT for USA
Subscribe to journal
Immediate online access to all issues from 2019. Subscription will auto renew annually.
US$ 199
This is the net price. Taxes to be calculated in checkout.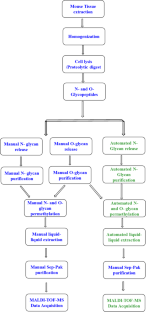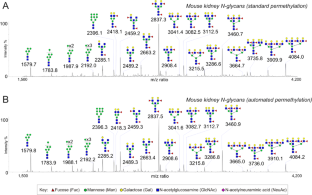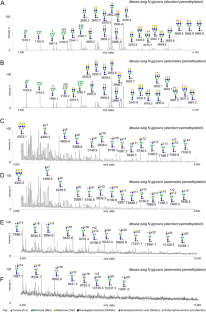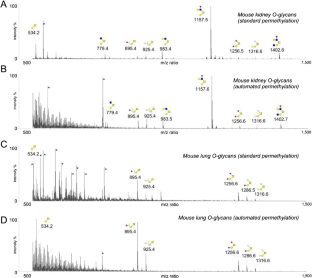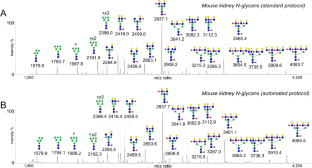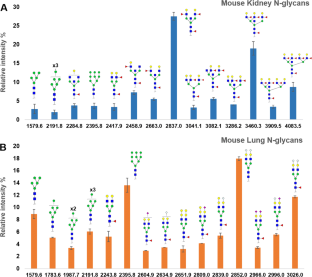 References
1.

Dalziel, M., Crispin, M., Scanlan, C.N., Zitzmann, N., Dwek, R.A.: Emerging principles for the therapeutic exploitation of glycosylation. Science. 343, 1235681 (2014). https://doi.org/10.1126/science.1235681

2.

Dube, D.H., Bertozzi, C.R.: Glycans in cancer and inflammation--potential for therapeutics and diagnostics. Nat. Rev. Drug Discov. 4, 477–488 (2005). https://doi.org/10.1038/nrd1751

3.

Adamczyk, B., Tharmalingam, T., Rudd, P.M.: Glycans as cancer biomarkers. Biochimica et Biophysica Acta - General Subjects 1820:1347–1353 (2012). https://doi.org/10.1016/j.bbagen.2011.12.001

4.

Varki, A.: Biological roles of glycans. Glycobiology. 27, 3–49 (2017)

5.

North, S.J., Hitchen, P.G., Haslam, S.M., Dell, A.: Mass spectrometry in the analysis of N-linked and O-linked glycans. Curr. Opin. Struct. Biol. 19, 498–506 (2009)

6.

Morelle, W., Michalski, J.-C.: Analysis of protein glycosylation by mass spectrometry. Nat. Protoc. 2, 1585–1602 (2007)

7.

Dotz, V., Haselberg, R., Shubhakar, A., Kozak, R.P., Falck, D., Rombouts, Y., Reusch, D., Somsen, G.W., Fernandes, D.L., Wuhrer, M.: Mass spectrometry for glycosylation analysis of biopharmaceuticals. TrAC, Trends Anal. Chem. 73, 1–9 (2015)

8.

Ciucanu, I.: Per-O-methylation reaction for structural analysis of carbohydrates by mass spectrometry. Anal. Chim. Acta. 576, 147–155 (2006)

9.

Dell, A.: Preparation and desorption mass spectrometry of permethyl and peracetyl derivatives of oligosaccharides. Methods Enzymol. 193, 647–660 (1990)

10.

Wada, Y., Azadi, P., Costello, C.E., Dell, A., Dwek, R.A., Geyer, H., Geyer, R., Kakehi, K., Karlsson, N.G., Kato, K., Kawasaki, N., Khoo, K.-H., Kim, S., Kondo, A., Lattova, E., Mechref, Y., Miyoshi, E., Nakamura, K., Narimatsu, H., Novotny, M.V., Packer, N.H., Perreault, H., Peter-Katalinic, J., Pohlentz, G., Reinhold, V.N., Rudd, P.M., Suzuki, A., Taniguchi, N.: Supplemental data: comparison of the methods for profiling glycoprotein glycans--HUPO human disease Glycomics/proteome initiative multi-institutional study. Glycobiology. 17, 411–422 (2007)

11.

Wada, Y., Dell, A., Haslam, S.M., Rangè Re Tissot, B., Canis, K.V., Azadi, P., Bä Ckströ, M., Costello, C.E., Hansson, G.C., Hiki, Y., Ishihara, M., Ito, H., Kakehi, K., Karlsson, N., Hayes, C.E., Kato, K., Kawasaki, N., Khoo, K.-H., Kobayashi, K., Kolarich, D., Kondo, A., Lebrilla, C., Nakano, M., Narimatsu, H., Novak, J., Novotny, M.V., Ohno, E., Packer, N.H., Palaima, E., Renfrow, M.B., Tajiri, M., Thomsson, K.A., Yagi, H., Yu, S.-Y., Taniguchi, N.: Comparison of methods for profiling O-glycosylation. Mol. Cell. Proteomics. 9, 719–727 (2010)

12.

Lei, M., Mechref, Y., Novotny, M.V.: Structural analysis of sulfated glycans by sequential double-Permethylation using methyl iodide and Deuteromethyl iodide. J. Am. Soc. Mass Spectrom. 20, 1660–1671 (2009)

13.

Stalnaker, S.H., Aoki, K., Lim, J.M., Porterfield, M., Liu, M., Satz, J.S., Buskirk, S., Xiong, Y., Zhang, P., Campbell, K.P., Hu, H., Live, D., Tiemeyer, M., Wells, L.: Glycomic analyses of mouse models of congenital muscular dystrophy. J. Biol. Chem. 286, 21180–21190 (2011)

14.

Macauley, M.S., Crocker, P.R., Paulson, J.C.: Siglec regulation of immune cell function in disease. Nat. Rev. Immunol. 14, 653–666 (2014). https://doi.org/10.1038/nri3737

15.

North, S.J., Jang-Lee, J., Harrison, R., Canis, K., Ismail, M.N., Trollope, A., Antonopoulos, A., Pang, P.-C., Grassi, P., Al-Chalabi, S., Etienne, A.T., Dell, A., Haslam, S.M.: Mass spectrometric analysis of mutant mice. Methods Enzymol. 478, 27–77 (2010). https://doi.org/10.1016/S0076-6879(10)78002-2

16.

Shubhakar, A., Kozak, R.P., Reiding, K.R., Royle, L., Spencer, D.I.R., Fernandes, D.L., Wuhrer, M.: Automated high-throughput permethylation for glycosylation analysis of biologics using MALDI-TOF-MS. Anal. Chem. 88, 8562–8569 (2016)

17.

Bern, M., Brito, A.E., Pang, P.-C., Rekhi, A., Dell, A., Haslam, S.M.: Polylactosaminoglycan glycomics: enhancing the detection of high-molecular-weight N-glycans in matrix-assisted laser desorption ionization time-of-flight profiles by matched filtering. Mol. Cell. Proteomics. 12, 996–1004 (2013)

18.

Kolarich, D., Rapp, E., Struwe, W.B., Haslam, S.M., Zaia, J., McBride, R., Agravat, S., Campbell, M.P., Kato, M., Ranzingera, R., Kettnerb, C., York, W.S.: The minimum information required for a glycomics experiment (MIRAGE) project: improving the standards for reporting glycan microarray-based data. Mol. Cell. Proteomics. 12, 991–995 (2013)

19.

Ceroni, A., Maass, K., Geyer, H., Geyer, R., Dell, A., Haslam, S.M.: GlycoWorkbench: a tool for the computer-assisted annotation of mass spectra of glycans. J. Proteome Res. 1650–1659 (2008). https://doi.org/10.1021/pr7008252

20.

Kang, P., Mechref, Y., Novotny, M.V.: High-throughput solid-phase permethylation of glycans prior to mass spectrometry. Rapid Commun. Mass Spectrom. 22, 721–734 (2008). https://doi.org/10.1002/rcm.3395

21.

Cheng, P.F., Snovida, S., Ho, M.Y., Cheng, C.W., Wu, A.M., Khoo, K.H.: Increasing the depth of mass spectrometry-based glycomic coverage by additional dimensions of sulfoglycomics and target analysis of permethylated glycans. Anal. Bioanal. Chem. 405, 6683–6695 (2013)
Acknowledgements
This work was supported by a Business Innovation Voucher funded by IBCarb and Biotechnology and Biological Sciences Research Council (BBSRC) and by the European Union Seventh Framework Programmes HighGlycan (Grant Number 278535). Support was also provided by grants BB/K016164/1 and BB/F008309/1 from the Biotechnology and Biological Sciences Research Council. The authors are also grateful to Manfred Wuhrer for critical reading of this manuscript.
Ethics declarations
Conflicts of interest
The authors declare the following competing financial interest(s): Ludger Ltd. is a commercial bioscience company specializing in development and validation of glycoprofiling technology. The following authors, A.S., D.I.R.S. and D.L.F. are employed by Ludger Ltd. Products from Ludger were used in this research.
Ethical approval
All applicable international, national, and institutional guidelines for the care and use of animals were followed.
Electronic supplementary material
About this article
Cite this article
Shubhakar, A., Pang, P., Fernandes, D.L. et al. Towards automation of glycomic profiling of complex biological materials. Glycoconj J 35, 311–321 (2018). https://doi.org/10.1007/s10719-018-9825-8
Received:

Revised:

Accepted:

Published:

Issue Date:
Keywords
N- and O-glycosylation

Mouse tissues

Permethylation

MALDI-TOF-MS

Automation

Glycan characterisation