Abstract
α-Mannosidase (EC. 3.2.1.114) belonging to class II glycosyl hydrolase family 38 was purified from Moringa oleifera seeds to apparent homogeneity by conventional protein purification methods followed by affinity chromatography on Con A Sepharose and size exclusion chromatography. The purified enzyme is a glycoprotein with 9.3 % carbohydrate and exhibited a native molecular mass of 240 kDa, comprising two heterogeneous subunits with molecular masses of 66 kDa (α-larger subunit) and 55 kDa (β-smaller subunit). Among both the subunits only larger subunit stained for carbohydrate with periodic acid Schiff's staining. The optimum temperature and pH for purified enzyme was 50 °C and pH 5.0, respectively. The enzyme was stable within the pH range of 3.0–7.0. The enzyme was inhibited by EDTA, Hg2+, Ag2+, and Cu2+. The activity lost by EDTA was completely regained by addition of Zn2+. The purified enzyme was characterized in terms of the kinetic parameters K m (1.6 mM) and V max (2.2 U/mg) using para-nitrophenyl-α-D-mannopyranoside as substrate. The enzyme was very strongly inhibited by swainsonine (SW) at 1 μM concentration a class II α-Mannosidase inhibitor, but not by deoxymannojirimycin (DMNJ). Chemical modification studies revealed involvement of tryptophan at active site. The inhibition by SW and requirement of the Zn2+ as a metal ion suggested that the enzyme belongs to class II α-Mannosidase.
This is a preview of subscription content, log in to check access.
Access options
Buy single article
Instant access to the full article PDF.
US$ 39.95
Price includes VAT for USA
Subscribe to journal
Immediate online access to all issues from 2019. Subscription will auto renew annually.
US$ 199
This is the net price. Taxes to be calculated in checkout.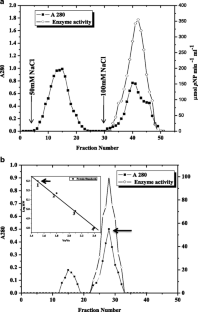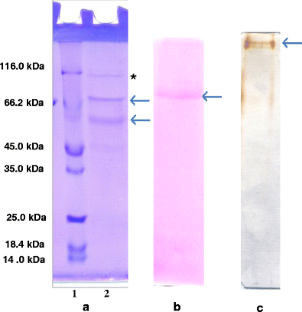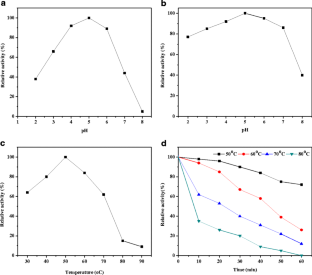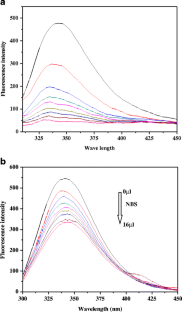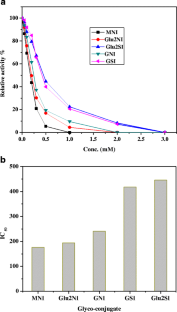 Abbreviations
PKM1 :

Periyakulam1

DE-52:

DiEthyl cellulose-52

Con A Sepharose:

Concanavalin A Sepharose

SW:

Swainsonine

DMNJ:

Deoxymannojirimycin

Glu2SI:

Glucosyl Salicilyl Imine

GSI:

Galactosyl Salicilyl Imine

GNI:

Galactosyl Naphthyl Imine

Glu2NI:

Glucosyl Naphthyl Imine

MNI:

Mannosyl Naphthyl Imine
References
1.

Snaith, S.M.: Characterization of jack-bean alpha-D-mannosidase as a zinc metalloenzyme. Biochem. J. 147(1), 83–90 (1975)

2.

Hossain, M.A., Nakamura, K., Kimura, Y.: alpha-mannosidase involved in turnover of plant complex type N-glycans in tomato (Lycopersicum esculentum) fruits. Biosci. Biotechnol. Biochem. 73(1), 140–146 (2009)

3.

Gnanesh Kumar, B.S., Pohlentz, G., Mormann, M., Siva Kumar, N.: Characterization of alpha-mannosidase from Dolichos lablab seeds: partial amino acid sequencing and N-glycan analysis. Protein Expr. Purif. 89(1), 7–15.

4.

Li, Y.T.: Studies on the glycosidases in jack bean meal. I. Isolation and properties of alpha-mannosidase. J. Biol. Chem. 242(23), 5474–5480 (1967)

5.

Paus, E.: alpha-Mannosidase from Phaseolus vulgaris. Composition and structural properties. Eur. J. Biochem. 73(1), 155–161 (1977)

6.

Curdel, A., Petek, F.: Purification and properties of alpha-D-mannosidase from the germinated seeds of Medicago sativa (alfalfa). Biochem. J. 185(2), 455–462 (1980)

7.

Tulasi, R.B., Nadimpalli, S.K.: Purification of alpha-mannosidase activity from Indian lablab beans. Biochem. Mol. Biol. Int. 41(5), 925–931 (1997)

8.

Ohtani, K., Misaki, A.: Purification and characterization of α-D-galactosidase and α-D-mannosidase from papaya (Carica papaya) seeds. Agric. Biol. Chem. 47, 2441–2451 (1983)

9.

Kishimoto, T., Hori, H., Takano, D., Nakano, Y., Watanabe, M., Mitsui, T.: Rice alpha-mannosidase digesting the high mannose glycopeptide of glutelin. Physiol. Plant. 112(1), 15–24 (2001)

10.

Subha Mahadevi, A., Vegiraju Suryanarayana, R., Siva Kumar, N.: Alpha-mannosidase from the seeds of Triticale. J. Biochem. Mol. Biol. Biophys. 6(6), 397–400 (2002)

11.

Kestwal, R.M., Bhide, S.V.: Purification and partial characterization of alpha-D-mannosidase from Erythrina indica seeds. Indian J. Biochem. Biophys. 42(3), 156–160 (2005)

12.

Ahi, A.P., Gonnety, J.T., Faulet, B.M., Kouamé, L.P., Niamké, S.: Biochemical characterization of two α -mannosidases from breadfruit (Artocarpus communis) seeds. Afr. J. Biochem. Res. 1(6), 106–116 (2007)

13.

Einhoff, W., Rudiger, H.: Isolation of the Canavalia ensiformis seed alpha-mannosidase by chromatography on concanavalin A, the lectin from the same plant, without involving its sugar binding site. Biol. Chem. Hoppe Seyler 367(4), 313–320 (1986)

14.

Kimura, Y., Hess, D., Sturm, A.: The N-glycans of jack bean alpha-mannosidase. Structure, topology and function. Eur. J. Biochem. 264(1), 168–175 (1999)

15.

Blom, H., Reyes, F., Carlsson, J.: Purification and characterization of an alpha-mannosidase from the tropical fruit babaco (Vasconcellea x heilbornii Cv. babaco). J. Agric. Food Chem. 56(22), 10872–10878 (2008)

16.

Burrows, H.M., Rastall, R.A.: Essential carboxyl and tryptophan residues in jack bean α-d-Mannosidase. Phytochemistry 48(2), 257–260 (1998)

17.

Kestwal, R.M., Konozy, E.H., Hsiao, C.D., Roque-Barreira, M.C., Bhide, S.V.: Characterization of alpha-mannosidase from Erythrina indica seeds and influence of endogenous lectin on its activity. Biochim. Biophys. Acta 1770(1), 24–28 (2007)

18.

Misaki, R., Fujiyama, K., Yokoyama, H., Ido, Y., Miyauchi, K., Yoshida, T., Seki, T.: Characterization of almond alpha-mannosidase and its application for structure analysis of sugar chain. J. Biosci. Bioeng. 96(2), 187–192 (2003)

19.

Kumar, A., Singhal, N.K., Ramanujam, B., Mitra, A., Rameshwaram, N.R., Nadimpalli, S.K., Rao, C.P.: C(1)-/C(2)-aromatic-imino-glyco-conjugates: experimental and computational studies of binding, inhibition and docking aspects towards glycosidases isolated from soybean and jack bean. Glycoconj. J. 26(4), 495–510 (2009)

20.

Gnanesh Kumar, B.S., Pohlentz, G., Schulte, M., Mormann, M., Siva Kumar, N.: Jack bean alpha-mannosidase: Amino acid sequencing and N-glycosylation analysis of a valuable glycomics tool. Glycobiology 24(3), 252–261. doi:cwt106

21.

Tejavath, K.K., Nadimpalli, S.K.: Purification and biochemical Characterization of an acidic α-galactosidase from the Moringa oleifera seeds. Trends Carbohydr. Res. 5(2), 27–34 (2013)

22.

Bradford, M.M.: A rapid and sensitive method for the quantitation of microgram quantities of protein utilizing the principle of protein-dye binding. Anal. Biochem. 72, 248–254 (1976)

23.

Dubois, M., Gilles, K., Hamilton, J.K., Rebers, P.A., Smith, F.: A colorimetric method for the determination of sugars. Nature 168(4265), 167 (1951)

24.

Andrews, P.: Estimation of the molecular weights of proteins by Sephadex gel-filtration. Biochem. J. 91(2), 222–233 (1964)

25.

Laemmli, U.K.: Cleavage of structural proteins during the assembly of the head of bacteriophage T4. Nature 227(5259), 680–685 (1970)

26.

Zacharius, R.M., Zell, T.E., Morrison, J.H., Woodlock, J.J.: Glycoprotein staining following electrophoresis on acrylamide gels. Anal. Biochem. 30(1), 148–152 (1969)

27.

Gassenschmidt, U., Jany, K.D., Tauscher, B., Niebergall, H.: Isolation and characterization of a flocculating protein from Moringa oleifera Lam. Biochim. Biophys. Acta 1243(3), 477–481 (1995)

28.

Woo, K.K., Miyazaki, M., Hara, S., Kimura, M., Kimura, Y.: Purification and characterization of a co(II)-sensitive alpha-mannosidase from Ginkgo biloba seeds. Biosci. Biotechnol. Biochem. 68(12), 2547–2556 (2004)

29.

Waln, K.T., Poulton, J.E.: Partial purification and characterization of an α-d-mannosidase from mature seeds of Prunus serotina Ehrh. Plant Sci. 53(1), 1–10 (1987)

30.

Howard, S., He, S., Withers, S.G.: Identification of the active site nucleophile in jack bean alpha-mannosidase using 5-fluoro-beta-L-gulosyl fluoride. J. Biol. Chem. 273(4), 2067–2072 (1998)

31.

Priya Sethu, K.M., Prabha, T.N.: Alpha-D-Mannosidase from Capsicum Annuum. Phytochemistry 44(5), 383–387 (1997)

32.

Nakajima, M., Imamura, H., Shoun, H., Wakagi, T.: Unique metal dependency of cytosolic alpha-mannosidase from Thermotoga maritima, a hyperthermophilic bacterium. Arch. Biochem. Biophys. 415(1), 87–93 (2003)

33.

Kawar, Z., Karaveg, K., Moremen, K.W., Jarvis, D.L.: Insect cells encode a class II alpha-mannosidase with unique properties. J. Biol. Chem. 276(19), 16335–16340 (2001)

34.

Howard, S., Braun, C., McCarter, J., Moremen, K.W., Liao, Y.F., Withers, S.G.: Human lysosomal and jack bean alpha-mannosidases are retaining glycosidases. Biochem. Biophys. Res. Commun. 238(3), 896–898 (1997)
Acknowledgments
KKT thanks CSIR, India for Senior Research Fellowship. The authors are grateful to Prof. C.P.Rao and his lab members at IIT Mumbai for providing the synthetic glycoconjugates used in this study.
About this article
Cite this article
Tejavath, K.K., Nadimpalli, S.K. Purification and characterization of a class II α-Mannosidase from Moringa oleifera seed kernels. Glycoconj J 31, 485–496 (2014). https://doi.org/10.1007/s10719-014-9540-z
Keywords
Moringa oleifera
α-Mannosidase

Con A Sepharose 4B gel

DE-52 (DiEthyl cellulose)

PAS Staining