Abstract
A joint analysis of down-hole (DH) and multichannel analysis of surface waves (MASW) measurements offers a complete evaluation of shear wave velocity profiles, especially for sites where a strong lateral variability is expected, such as archeological sites. In this complex stratigraphic setting, the high "subsoil anisotropy" (i.e., sharp lithological changes due to the presence of anthropogenic backfill deposits and/or buried man-made structures) implies a different role for DH and MASW tests. This paper discusses some results of a broad experimental program conducted on the Palatine Hill, one of the most ancient areas of the city of Rome (Italy). The experiments were part of a project on seismic microzoning and consisted of 20 MASW and 11 DH tests. The main objective of this study was to examine the difficulties related to the interpretation of the DH and MASW tests and the reliability limits inherent in the application of the noninvasive method in complex stratigraphic settings. As is well known, DH tests provide good determinations of shear wave velocities (Vs) for different lithologies and man-made materials, whereas MASW tests provide average values for the subsoil volume investigated. The data obtained from each method with blind tests were compared and were correlated to site-specific subsurface conditions, including lateral variability. Differences between punctual (DH) and global (MASW) Vs measurements are discussed, quantifying the errors by synthetic comparison and by site response analyses. This study demonstrates that, for archeological sites, VS profiles obtained from the DH and MASW methods differ by more than 15 %. However, the local site effect showed comparable results in terms of natural frequencies, whereas the resolution of the inverted shear wave velocity was influenced by the fundamental mode of propagation.
Access options
Buy single article
Instant access to the full article PDF.
USD 39.95
Price excludes VAT (USA)
Tax calculation will be finalised during checkout.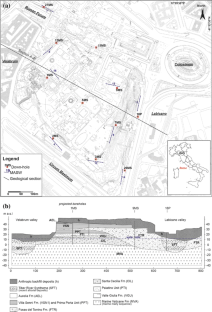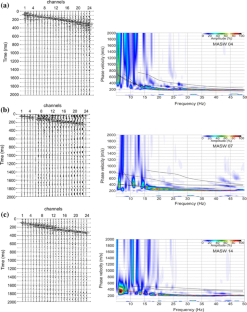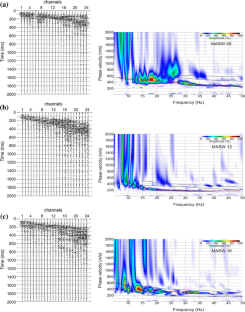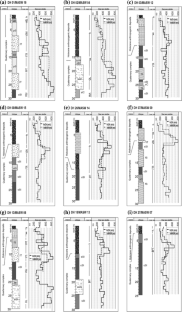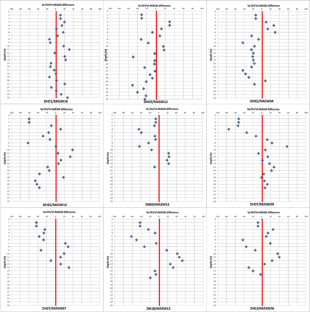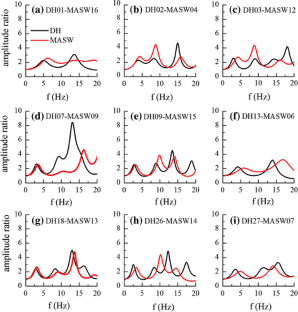 References
ASTM—D7400-08 (2008) Standard test methods for downhole seismic testing. ASTM International, West Conshohocken. www.astm.org

Banab KK, Motazedian D (2010) On the efficiency of the multi-channel analysis of surface wave method for shallow and semi-deep loose soil layers. Int J Geophys. doi:10.1155/2010/403016

Bardet JP, Ichii K, Lin CH (2000) EERA a computer program for equivalent-linear earthquake site response analyses of layered soil deposits. User's manual, University of Southern California, Department of Civil Engineering

Building Seismic Safety Council (2003) NEHRP Recommended Provisions for seismic Regulations for New buildings and other Structures, Part1. Provisions, FEMA 368, Federal Emergency Management Agency, Washington, D.C

Capelli G, Mazza R (2005) Inquadramento geologico del dominio vulcanico laziale. In: Capelli G, Mazza R, Gazzetti C (eds) Strumenti e strategie per la tutela e l'uso compatibile della risorsa idrica nel Lazio. Quaderni di Tecniche di Protezione Ambientale n.78, Pitagora Editrice Bologna, pp 16–39

Cavinato GP, Moscatelli M, Stigliano F, Mancini M, Bianchi L, Cavuoto G, Cecili A, Cicogna A, Cinnirella A, Corazza A, Di Luzio E, Di Salvo C, Lacchini A, Marconi F, Moretti MI, Pagliaroli A, Piro S, Pennica F, Vallone R, Varrecchia D, Zamuner D (2010) Assetto geologico e idrogeologico del Colle Palatino—Valutazione delle pericolosità geologiche. In: Cecchi R (ed) Roma Archæologia, Interventi per la tutela e la fruizione del patrimonio Archeologico, secondo rapporto settembre 2009 febbraio 2010. Electa, Mondadori, pp 84–137

Civil Protection Department and Conference of Regions and Autonomous Provinces (2008) Seismic microzonation addresses and criteria. Civil Protection Department, Rome, vol. 3 and Dvd, p 515

Coruh C (1985) Stretched automatic amplitude adjustment of seismic data. Geophysics 50:252–256. doi:10.1190/1.1441915

Cosentino D, Cipollari P, Di Bella L, Esposito A, Faranda C, Funiciello R, Giordano G, Gliozzi E, Mattei M, Mazzini I, Porreca M (2008) Geologia dei Monti della Farnesina: nuovi dati di sottosuolo dalla Galleria Giovanni XXIII. In: Funiciello R, Praturlon A, Giordano G (eds) La Geologia di Roma. Memorie Descrittive della Carta Geologica d'Italia, LXXX, 2, pp 285–313

Di Salvo C, Di Luzio E, Mancini M, Moscatelli M, Capelli G, Cavinato GP, Mazza R (2012) GIS-based hydrogeological modeling in the city of Rome: analysis of the geometric relationships between a buried aquifer in the Tiber valley and the confining hydrogeological complexes. Hydrogeol J 20:1549–1567. doi:10.1007/s10040-012-0899-2

Funiciello R, Giordano G (2008) Geological Map of Italy 1:50.000, sheet n. 374 "Roma" and explanatory notes. Servizio Geologico d'Italia. Se.l.c.a. Firenze, Italy

Giordano G, Mazza R (2010) The geology of Rome and Urban Areas: the legacy of Prof. Renato Funiciello. In: Beltrando M, Peccerillo A, Mattei M, Conticelli S, Doglioni C (eds) The geology of Italy: tectonics and life along plate margins, Journal of the Virtual Explorer, Electronic Edition, ISSN 1441-8142, vol 36, Paper 28. doi:10.3809/jvirtex.2010.00277

Hunter JA, Benjumea B, Harris JB, Miller RD, Pullan SE, Burns RA, Good RL (2002) Surface and downhole shear wave seismic methods for thick soil site investigations. Soil Dyn Earthq Eng 22:931–941

Marra F, Rosa C, De Rita D, Funiciello R (1998) Stratigraphic and tectonic features of the middle Pleistocene sedimentary and volcanic deposits in the area of Rome (Italy). Quat Int 47(48):51–63

Moscatelli M, Pagliaroli A, Mancini M, Stigliano F, Cavuoto G, Simionato M, Peronace E, Quadrio B, Tommasi P, Cavinato GP, Di Fiore V, Angelino A, Lanzo G, Piro S, Zamuner D, Di Luzio E, Piscitelli S, Giocoli A, Perrone A, Rizzo E, Romano G, Naso G, Castenetto S, Corazza A, Marcucci S, Cecchi R, Petrangeli P (2012) Integrated subsoil model for seismic microzonation in the central Archeological Area of Rome (Italy). Disaster Adv 5(3):109–122

Park CB, Xia J, Miller RD (1999) Multichannel analysis of surface waves. Geophysics 64:800–808

Peccerillo A (2005) Plio-quaternary volcanism in Italy. Petrology, geochemistry, geodynamics. Springer, Heidelberg, p 365

Signorini R (1939) Risultati geologici della perforazione eseguita dall'AGIP alla mostra autarchica del minerale del Circo Massimo di Roma. Bollettino della Società Geologica Italiana 58:60–63

Stokoe KH II, Wright GW, Bay JA, Roesset JM (1994) Characterization of geotechnical sites by SASW method: geophysical characterization of sites. In: Woods RD (ed) ISSMFE Technical Committee #10. Oxford Publishers, New Delhi

Thitimakorn T (2010) Comparison of shear-wave velocity profiles of Bangkok subsoils from multi-channel analysis of surface wave and downhole seismic methods. J Appl Sci Res 6:1953–1959

UNESCO-WHC (2007) Reducing disasters risks at world heritage properties. http://whc.unesco.org/en/disaster-risk-reduction/

UrbiSIT Project 2007–2012. http://www.urbisit.it

Williams RA, Stephenson WJ, Odum JK (2003) Comparison of P-and S-wave velocity profiles obtained from surface seismic refraction/reflection and downhole data. Tectonophysics 368:71–88. doi:10.1016/S0040-1951(03)00151-3

Xia J, Miller RD, Park CB (1999) Estimation of near-surface shear-wave velocity by inversion of Rayleigh wave. Geophysics 64:691–700. doi:10.1190/1.1444578

Xia J, Miller RD, Park CB, Hunter JA, Harris JB (2000) Comparing shear-wave velocity profiles from MASW with borehole measurements in unconsolidated sediments, Fraser River Delta, B.C. Canada. J Environ Eng Geophys 5:1–13

Xia J, Miller RD, Park CB, Hunter JA, Harris JB, Ivannov J (2002a) Comparing shear-wave velocity profiles from multichannel analysis of surface wave with borehole measurements. Soil Dyn Earthq Eng 22:181–190

Xia J, Miller RD, Park CB, Wightman E, Nigbor R (2002b) A pitfall in shallow shear wave refraction surveying. J Appl Geophys 51:1–9

Yilmaz O, Eser M, Sandikkaya A, Akkar S, Bakir S, Yilmaz T (2008) Comparison of shear-wave velocity-depth profiles from downhole and surface seismic experiments. In: Proceedings of the fourteenth world conference on earthquake engineering Beijing, China

Zhang SX, Lung S, Xia J (2004) The selection of field acquisition parameters for dispersion images from multichannel surface wave data. Pure appl Geophys 161:185–201
Acknowledgments
The research activities presented in this paper were carried out in the framework of the UrbiSIT project (CNR-IGAG project manager: G.P. Cavinato; Italian Civil Protection Department (DPC) referents: L. Cavarra, F. Leone, G. Naso, F. Bramerini). In particular we gratefully acknowledge the advices and active contribution of G. Naso. Thanks are also extended to the "InterUniversity Centre for the Prediction and Prevention of Major Hazards" (C.U.G.RI.) for their technical support and availability. The authors also wish to thank M. Iavarone, N. Pelosi, P. Scotto di Vettimo, A. Angelino, L. Toro, B. Bianchi and R. De Martino (CNR-IAMC) for their technical, administrative and secretarial support. Finally, thanks are due to the anonymous reviewers for their useful comments and suggestions, and to the Editor in Chief for his editorial improvements to the paper.
About this article
Cite this article
Di Fiore, V., Cavuoto, G., Tarallo, D. et al. Multichannel Analysis of Surface Waves and Down-Hole Tests in the Archeological "Palatine Hill" Area (Rome, Italy): Evaluation and Influence of 2D Effects on the Shear Wave Velocity. Surv Geophys 37, 625–642 (2016). https://doi.org/10.1007/s10712-015-9350-2
Received:

Accepted:

Published:

Issue Date:

DOI: https://doi.org/10.1007/s10712-015-9350-2
Keywords