Abstract
We compare different past sea level reconstructions over the 1950–2009 time span using the Empirical Orthogonal Function (EOF) approach. The reconstructions are based on 91 long (up to 60 years) but sparsely distributed tide-gauge records and gridded sea level data from two numerical ocean models over 1958–2007 (the DRAKKAR/NEMO model without data assimilation and the simple ocean data assimilation ocean reanalysis-SODA-) and satellite altimetry data over 1993–2009. We find that the reconstructed global mean sea level computed over the ~60-year-long time span little depends on the input spatial grids. This is unlike the regional variability maps that appear very sensitive to the considered input spatial grids. Using the DRAKKAR/NEMO model, we test the influence of the period covered by the input spatial grids and the number of EOFs modes used to reconstruct sea level. Comparing with tide-gauge records not used in the reconstruction, we determine optimal values for these two parameters. As suggested by previous studies, the longer the time span covered by the spatial grids, the better the fit with unused tide gauges. Comparison of the reconstructed regional trends over 1950–2009 based on the two ocean models and satellite altimetry grids shows good agreement in the tropics and substantial differences in the mid and high latitude regions, and in western boundary current areas as well. The reconstructed spatial variability seems very sensitive to the input spatial information. No clear best case emerges. Thus, using the longest available model-based spatial functions will not necessarily give the most realistic results as it will be much dependent on the quality of the model (and its associated forcing). Altimetry-based reconstructions (with 17-year long input grids) give results somewhat similar to cases with longer model grids. It is likely that better representation of the sea level regional variability by satellite altimetry compensates the shorter input grids length. While waiting for much longer altimetry records, improved past sea level reconstructions may be obtained by averaging an ensemble of different model-based reconstructions, as classically done in climate modelling. Here, we present such a 'mean' reconstruction (with associated uncertainty) based on averaging the three individual reconstructions discussed above.
This is a preview of subscription content, log in to check access.
Access options
Buy single article
Instant access to the full article PDF.
US$ 39.95
Price includes VAT for USA
Subscribe to journal
Immediate online access to all issues from 2019. Subscription will auto renew annually.
US$ 99
This is the net price. Taxes to be calculated in checkout.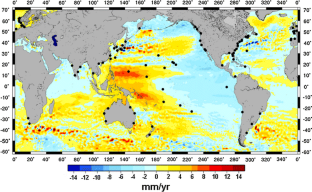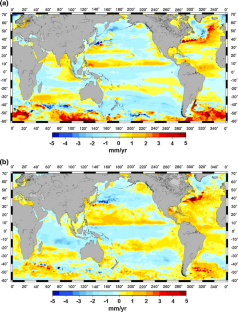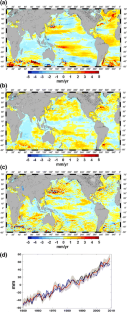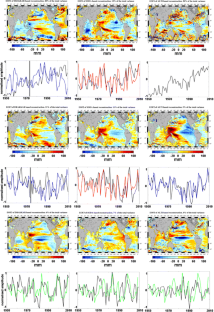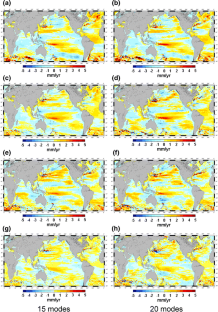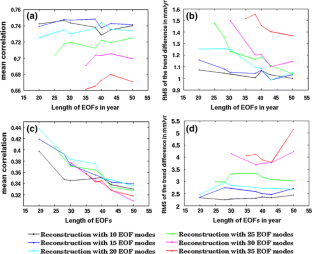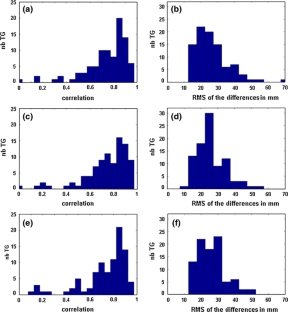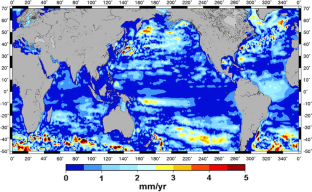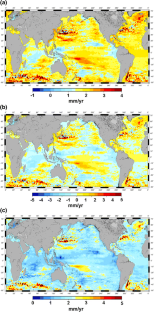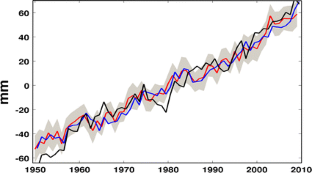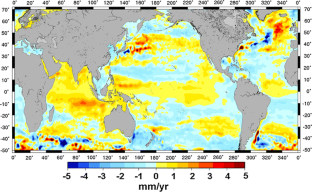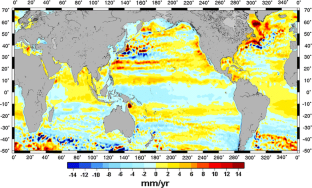 References
Ablain M, Cazenave A, Valladeau G, Guinehut S (2009) A new assessment of the error budget of global mean sea level rate estimated by satellite altimetry over 1993–2008. Ocean Sci 5:193–201

Altamimi Z, Collilieux X, Legrand J, Garayt B, Boucher C (2007) ITRF2005: a new release of the international terrestrial reference frame based on time series of station positions and earth orientation parameters. J Geophys Res 112:B09401. doi:10.1029/2007JB004949

Ashok K, Yamagata T (2009) Climate change: the El Niño with a difference. Nature 461:481–484. doi:10.1038/461481a

Barnier B, Madec G, Penduff T, Molines JM, Treguier AM, Le Sommer J, Beckmann A, Biastoch A, Böning C, Dengg J et al (2006) Impact of partial steps and momentum advection schemes in a global ocean circulation model at eddy-permitting resolution. Ocean Dyn 56:543–567

Berge-Nguyen M, Cazenave A, Lombard A, Llovel W, Viarre J, Cretaux JF (2008) Reconstruction of past decades sea level using thermosteric sea level, tide gauge, satellite altimetry and ocean reanalysis data. Glob Planet Change 62:1–13

Bonett DG, Wright TA (2000) Sample size requirements for estimating pearson, kendall, and spearman correlations. Psychometrica 65(1):23–28

Brodeau L, Barnier B, Treguier AM, Penduff T, Gulev S (2010) An ERA40-based atmospheric forcing for global ocean circulation models. Ocean Model 31:88–104

Calafat FM, Gomis D (2009) Reconstruction of Mediterranean sea level fields for the period 1945–2000. Glob Planet Change 66:225–234

Carrere L, Lyard F (2003) Modeling the barotropic response of the global ocean to atmospheric wind and pressure forcing—comparisons with observations. Geophys Res Lett 6:1275. doi:10.1029/2002GL016473

Carton JA, Giese BS (2008) A reanalysis of ocean climate using simple ocean data assimilation (SODA). Mon Weather Rev 136:2999–3017

Cazenave A, Llovel W (2010) Contemporary sea level rise. Annu Rev Mar Sci 2:145–173

Chambers DP, Mehlhaff CA, Urban TJ, Nerem RS (2002a) Analysis of interannual and low-frequency variability in global mean sea level from altimetry and tide gauges. Phys Chem Earth 27:1407–1411

Chambers DP, Mehlhaff CA, Urban TJ, Fuji D, Nerem RS (2002b) Low-frequency variations in global mean sea level: 1950–2000. J Geophys Res 107(C4):3026. doi:10.1029/2001JC001089

Christiansen B, Schmith T, Thejll P (2010) A surrogate ensemble study of sea level reconstructions. J Clim 23:4306–4326

Church JA, White NJ (2006) A 20th century acceleration in global sea-level rise. Geophys Res Lett 33:L01602. doi:10.1029/2005GL024826

Church JA, White NJ (2011) Changes in the rate of sea-level rise from the late 19th to the early 21st century. Surv Geophys 1–18. doi:10.1007/s10712-011-9119-1

Church JA, White NJ, Coleman R, Lambeck K, Mitrovica JX (2004) Estimates of the regional distribution of sea-level rise over the 1950 to 2000 period. J Clim 17(13):2609–2625

Church JA, White NJ, Konikow LF, Domingues CM, Cogley JG, Rignot E, Gregory JM, van den Broeke MR, Monaghan AJ, Velicogna I (2011) Revisiting the earth's sea level and energy budgets from 1961 to 2008. Geophys Res Lett. doi:10.1029/2011GL048794

DRAKKAR Group (2007) Eddy-permitting ocean circulation hindcasts of past decades. Clivar Exch 12(3):8–10

Dussin R, Treguier AM, Molines JM, Barnier B, Penduff T, Brodeau L, Madec G (2009) Definition of the interannual experiment ORCA025-B83, 1958–2007. LPO Report 902

Efron B, Tibshirani RJ (1993) An Introduction to the bootstrap. Chapman & Hall, New York

Greatbatch RJ (1994) A note on the representation of steric sea-level in models that conserve volume rather than mass. J Geophys Res 99:12767–12771

Hamlington BD, Leben R, Nerem S, Han W, Kim KY (2011) Reconstructing sea level using cyclostationary empirical orthogonal functions. J Geophys Res. doi:10.1029/2011JC007529

Holgate S (2007) On the decadal rates of sea level change during the twentieth century. Geophys Res Lett 34:L01602. doi:10.1029/2006GL028492

Jevrejeva S, Grinsted A, Moore JC, Holgate S (2006) Nonlinear trends and multiyear cycles in sea level records. J Geophys Res 111:C09012. doi:10.1029/2005JC003229

Jevrejeva S, Moore JC, Grinsted A, Woodworth PL (2008) Recent global sea level acceleration started over 200 years ago? Geophys Res Lett 35:L08715. doi:10.1029/2008GL033611

Jourdan D, Balopoulos E, Garcia-Fernandez MJ, Maillard C (1998) Objective analysis of temperature and salinity historical data set over the Mediterranean Basin, IEEE

Kalnay EC, Kanamitsu M, Kistler R, Collins W, Deaven D, Gandin L, Iredell M, Saha S, White G, Woollen J et al (1996) The NCEP/NCAR 40-year reanalysis project. Bull Am Meteorol Soc 77:437–472

Kaplan A, Cane MA, Kushnir Y, Clement AC, Blumenthal MB, Rajagopalan B (1998) Analyses of global sea surface temperature 1856–1991. J Geophys Res 103:18567–18589

Kaplan A, Kushnir Y, Cane MA (2000) Reduced space optimal interpolation of historical marine sea level pressure: 1854–1992. J Clim 13:2987–3002

Kohl A, Stammer D (2008) Decadal sea level changes in the 50-year GECCO ocean synthesis. J Clim 21:1876–1890

Large W, Yeager S (2004) Diurnal to decadal global forcing for ocean and sea ice models: the datasets and flux climatologies, NCAR Tech. Note NCAR/TN460 + STR, Natl Cent for Atmos Res, Boulder, Colorado

Levitus S, Antonov J, Boyer T (2005) Warming of the world ocean, 1955–2003. Geophys Res Lett 32:L02604. doi:10.1029/2004GL021592

Llovel W, Cazenave A, Rogel P, Lombard A, Bergé-Nguyen M (2009) Two-dimensional reconstruction of past sea level (1950–2003) from tide gauge data and an Ocean General Circulation Model. Clim Past 5:217–227

Lombard A, Cazenave A, Le Traon PY, Ishii M (2005) Contribution of thermal expansion to present-day sea level rise revisited. Glob Planet Change 47:1–16

Lombard A, Garric G, Penduff T (2009) Regional patterns of observed sea level change: insights from a 1/4A degrees global ocean/sea-ice hindcast. Ocean Dyn 59(3):433–449

Madec G (2008) NEMO reference manual, ocean dynamics component: NEMO-OPA. Preliminary version. Note du Pole de modélisation, Institut Pierre-Simon Laplace (IPSL), France, pp 1288–1619

Meyssignac B, Salas y Melia D, Becker M, Llovel W, Cazenave A (2011a) Tropical Pacific spatial trend patterns in observed sea level: internal variability and/or anthropogenic signature? Clim Past (in review)

Meyssignac B, Calafat SM, Somot S, Rupolo V, Stocchi P, Llovel W, Cazenave A (2011b) Two-dimensional reconstruction of the Mediterranean sea level over 1970–2006 from tide gauge data and regional ocean circulation model outputs. Glob Planet Change 77:49–61

Milne G, Gehrels WR, Hughes C, Tamisiea M (2009) Identifying the causes of sea level changes. Nat Geosci 2:471–478

Mitrovica JX, Gomez N, Clark PU (2009) The sea-level fingerprint of West Antarctic collapse. Science 323:753

Moore JC, Jevrejeva S, Grinsted A (2011) The historical sea level budget. Ann Glaciol 52959

Nerem RS, Chambers DP, Choe C, Mitchum GT (2010) Estimating mean sea level change from the TOPEX and Jason altimetermissions. Mar Geodesy 33(1):435–446

Nicholls RJ (2010) Impacts of and responses to sea level rise. In: Church J, Woodworth P, Aarup T, Wilson WS (eds) Understanding sea level rise and variability. Wiley-Blackwell, New York

Peltier WR (2004) Global glacial isostasy and the surface of the ice-age earth: the ICE-5G (VM2) model and GRACE. Annu Rev Earth Planet Sci 32:111–149

Penduff T, Juza M, Brodeau L, Smith G, Barnier B, Molines J, Treguier A, Madec G (2010) Impact of global ocean model resolution on sea-level variability with emphasis on interannual time scales. Ocean Sci 6:269–284

Preisendorfer RW (1988) Principal component analysis in meteorology and oceanography. Developments in atmospheric science, vol 17. Elsevier, Amsterdam

Ray R, Douglas B (2011) Experiments in reconstructing twentieth-century sea levels. Prog Oceanogr 91:496–515

Rosner B (1975) On the detection of many outliers. Technometrics 17:221–227

Stammer D (2008) Response of the global ocean to Greenland and Antarctica melting. J Geophys Res 113:C06022. doi:10.1029/2006JC001079

Stammer D, Agarwal N, Herrmann P, Kohl A, Mechoso CR (2011) Response of a coupled ocean-atmosphere model to Greenland melting. Surv Geophys 32:621–642. doi:10.1007/s10712-011-9142-2

Steele M, Morley R, Ermold W (2001) PHC: a global ocean hydrography with a high quality Arctic Ocean. J Clim 14:2079–2087

Toumazou V, Cretaux JF (2001) Using a Lanczos eigensolver in the computation of empirical orthogonal functions. Mon Weather Rev 129:1243–1250

Uppala SM, da CostaBechtold V, Fiorino M, Gibson JK, Haseler J, Hernandez A, Kelly GA, Li X, Onogi K, Saarinen S, Sokka N, Allan RP, Andersson E, Arpe K, Balmaseda MA, Beljaars ACM, van de Berg L, Bidlot J, Bormann N, Caires S, Chevallier F, Dethof A, Dragosavac M, Fisher L, Fuentes M, Hagemann S, Hólm E, Hoskins BJ, Isaksen L, Janssen PAEM, Jenne R, McNally AP, Mahfouf J-F, Morcrette JJ, Rayner NA, Saunders RW, Simon P, Sterl A, Trenberth KE, Untch A, Vasiljevic D, Viterbo P, Woollen J (2005) The ERA-40 re-analysis. Q J Roy Meteorol Soc 131:2961–30128

Wenzel M, Schroeter J (2010) Reconstruction of regional mean sea level anomalies from tide gauges using neural networks. J Geophys Res 115:C08013. doi:10.1029/2009JC005630

Woodworth PL, Player R (2003) The permanent service for mean sea level: an update to the 21st century. J Coastal Res 19:287–295

Woppelmann G, Letetrel C, Santamaria A, Bouin MN, Collilieux X, Altamimi Z, Williams SDP, Martin Miguez B (2009) Rates of sea-level change over the past century in a geocentric reference frame. Geophys Res Lett 36:L12607. doi:10.1029/2009GL038720

Wunsch C, Ponte RM, Heimbach P (2007) Decadal trends in sea level patterns: 1993–2004. J Clim. doi:10.1175/2007JCLI1840.1

Zhang Y, Wallace JM, Battisti DS (1997) ENSO-like interdecadal variability: 1900–93. J Clim 10:1004–1020
Acknowledgments
We thank two anonymous reviewers for their useful comments. M. Becker is supported by an ANR CNRS grant number ANR-09-CEP-001-01 (CECILE project). W. Llovel is supported by a NASA Postdoctorate fellowship. The 'mean' reconstructed sea level grids from the present study are available on request.
About this article
Cite this article
Meyssignac, B., Becker, M., Llovel, W. et al. An Assessment of Two-Dimensional Past Sea Level Reconstructions Over 1950–2009 Based on Tide-Gauge Data and Different Input Sea Level Grids. Surv Geophys 33, 945–972 (2012). https://doi.org/10.1007/s10712-011-9171-x
Received:

Accepted:

Published:

Issue Date:
Keywords
Reconstructed sea level

Tide gauges

Satellite altimetry

Ocean general circulation models

Spatial variability