Abstract
Repetitive sequences are important components of eukaryotic genomes that drive their evolution. Among them are different types of mobile elements that share the ability to spread throughout the genome and form interspersed repeats. To broaden the generally scarce knowledge on bivalves at the genome level, in the clam Donax trunculus we described two new non-autonomous DNA transposons, miniature inverted-repeat transposable elements (MITEs), named DTC M1 and DTC M2. Like other MITEs, they are characterized by their small size, their A + T richness, and the presence of terminal inverted repeats (TIRs). DTC M1 and DTC M2 are 261 and 286 bp long, respectively, and in addition to TIRs, both of them contain a long imperfect palindrome sequence in their central parts. These elements are present in complete and truncated versions within the genome of the clam D. trunculus. The two new MITEs share only structural similarity, but lack any nucleotide sequence similarity to each other. In a search for related elements in databases, blast search revealed within the Crassostrea gigas genome a larger element sharing sequence similarity only to DTC M1 in its TIR sequences. The lack of sequence similarity with any previously published mobile elements indicates that DTC M1 and DTC M2 elements may be unique to D. trunculus.
Access options
Buy single article
Instant access to the full article PDF.
USD 39.95
Price excludes VAT (USA)
Tax calculation will be finalised during checkout.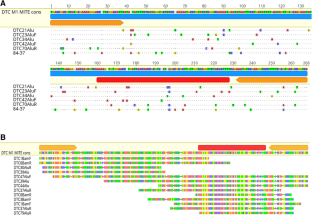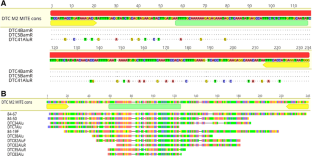 References
Biscotti MA, Canapa A, Olmo E et al (2007) Repetitive DNA, molecular cytogenetics and genome organization in the King scallop (Pecten maximus). Gene 406:91–98. doi:10.1016/j.gene.2007.06.027

Bureau TE, Wessler SR (1992) Tourist: a large family of small inverted repeat elements frequently associated with maize genes. Plant Cell 4:1283–1294. doi:10.1105/tpc.4.10.1283

Cavalier-Smith T (1976) Long palindromes in eukaryotic DNA. Nature 262:255–256

Coates BS, Kroemer JA, Sumerford DV, Hellmich RLL (2011) A novel class of miniature inverted repeat transposable elements (MITEs) that contain hitchhiking (GTCY)(n) microsatellites. Insect Mol Biol 20:15–27. doi:10.1111/j.1365-2583.2010.01046.x

Deininger PL, Schmid CW (1976) An electron microscope study of the DNA sequence organization of the human genome. J Mol Biol 106:773–790. doi:10.1016/0022-2836(76)90264-3

Feschotte C, Mouchès C (2000) Evidence that a family of miniature inverted-repeat transposable elements (MITEs) from the Arabidopsis thaliana genome has arisen from a pogo-like DNA transposon. Mol Biol Evol 17:730–737

Feschotte C, Jiang N, Wessler SR (2002a) Plant transposable elements: where genetics meets genomics. Nat Rev Genet 3:329–341. doi:10.1038/nrg793

Feschotte C, Zhang X, Wessler S (2002b) Miniature inverted-repeat transposable elements and their relationship with established DNA transposons. In: Craig N (ed) Mobile DNA II. ASM Press, Washington, pp 1147–1158

Finnegan DJ (1989) Eukaryotic transposable elements and genome evolution. Trends Genet 5:103–107. doi:10.1016/0168-9525(89)90039-5

Fleetwood DJ, Khan AK, Johnson RD et al (2011) Abundant degenerate miniature inverted-repeat transposable elements in genomes of epichloid fungal endophytes of grasses. Genome Biol Evol 3:1253–1264. doi:10.1093/gbe/evr098

Gaffney PM, Pierce JC, Mackinley AG et al (2003) Pearl, a novel family of putative transposable elements in bivalve mollusks. J Mol Evol 56:308–316. doi:10.1007/s00239-002-2402-5

Izsvák Z, Ivics Z, Shimoda N et al (1999) Short inverted-repeat transposable elements in teleost fish and implications for a mechanism of their amplification. J Mol Evol 48:13–21

Jurka J, Kapitonov V, Pavlicek A et al (2005) Repbase update, a database of eukaryotic repetitive elements. Cytogenet Genome Res 110:462–467. doi:10.1159/000084979

Jurka J, Kapitonov VV, Kohany O, Jurka MV (2007) Repetitive sequences in complex genomes: structure and evolution. Annu Rev Genom Hum Genet 8:241–259. doi:10.1146/annurev.genom.8.080706.092416

Kazazian HH (2004) Mobile elements: drivers of genome evolution. Science 303:1626–1632. doi:10.1126/science.1089670

Kourtidis A, Drosopoulou E, Pantzartzi CN et al (2006) Three new satellite sequences and a mobile element found inside HSP70 introns of the Mediterranean mussel (Mytilus galloprovincialis). Genome 49:1451–1458. doi:10.1139/g06-111

López-Flores I, Garrido-Ramos MA (2012) The repetitive DNA content of eukaryotic genomes. In: Garrido-Ramos MA (ed) Repetitive DNA. Karger Publishers, Basel, pp 1–28

Meštrović N, Mravinac B, Pavlek M, et al (2015) Structural and functional liaisons between transposable elements and satellite DNAs. Chromosom Res 23:583–596. doi:10.1007/s10577-015-9483-7

Morgan GT (1995) Identification in the human genome of mobile elements spread by DNA-mediated transposition. J Mol Biol 254:1–5

Murgarella M, Puiu D, Novoa B et al (2016) A first insight into the genome of the filter-feeder mussel Mytilus galloprovincialis. PLoS One 11:1–22. doi:10.1371/journal.pone.0151561

Oosumi T, Belknap WR, Garlick B (1995) Mariner transposons in humans. Nature 378:672

Palomeque T, Antonio Carrillo J, Muñoz-López M, Lorite P (2006) Detection of a mariner-like element and a miniature inverted-repeat transposable element (MITE) associated with the heterochromatin from ants of the genus Messor and their possible involvement for satellite DNA evolution. Gene 371:194–205. doi:10.1016/j.gene.2005.11.032

Šatović E, Plohl M (2013) Tandem repeat-containing MITE elements in the clam Donax trunculus. Genome Biol Evol 5:2549–2559. doi:10.1093/gbe/evt202

Šatović E, Vojvoda Zeljko T, Luchetti A et al (2016) Adjacent sequences disclose potential for intra-genomic dispersal of satellite DNA repeats and suggest a complex network with transposable elements. BMC Genom 17:997. doi:10.1186/s12864-016-3347-1

Shao H, Tu Z (2001) Expanding the diversity of the IS630-Tc1-mariner superfamily: discovery of a unique DD37E transposon and reclassification of the DD37D and DD39D transposons. Genetics 159:1103–1115

Smit AF, Riggs AD (1996) Tiggers and other DNA transposon fossils in the human genome. Proc Natl Acad Sci 93:1443–1448

Takeuchi T, Kawashima T, Koyanagi R et al (2012) Draft genome of the pearl oyster Pinctada fucata: a platform for understanding bivalve biology. DNA Res 19:117–130. doi:10.1093/dnares/dss005

Wang S, Zhang L, Meyer E, Matz MV (2010) Characterization of a group of MITEs with unusual features from two coral genomes. PLoS One 5:e10700. doi:10.1371/journal.pone.0010700

Zhang G, Fang X, Guo X et al (2012) The oyster genome reveals stress adaptation and complexity of shell formation. Nature 490:49–54. doi:10.1038/nature11413
Acknowledgements
This work was supported by Research Fund of Ministry of Science, Education and Sports of Republic of Croatia, Project No. 098-0982913-2756. We would like to thank two anonymous reviewers on helpful suggestions for improving the manuscript.
Ethics declarations
Conflict of interest
The authors declare that they have no conflict of interest.
Electronic supplementary material
Below is the link to the electronic supplementary material.
C. gigas genomic fragments showing similarity to parts of of DTC M1element (TIF 9967 KB)
Extractions from two C. gigas genomic fragments sharing TIR similarity with DTC M1 element. These sequences share longer TIRs (orange) which overlap with 37 bp-long TIRs from DTC M1 only in 28 bp (yellow). One fragment harbors an additional insertion of an 618 bp-long sequence, surrounded by its own TIRs (red) (TIF 10205 KB)
About this article
Cite this article
Šatović, E., Plohl, M. Two new miniature inverted-repeat transposable elements in the genome of the clam Donax trunculus . Genetica 145, 379–385 (2017). https://doi.org/10.1007/s10709-017-9973-y
Received:

Accepted:

Published:

Issue Date:

DOI: https://doi.org/10.1007/s10709-017-9973-y
Keywords
Genome evolution

Transposable elements

MITE

Bivalve

Donax trunculus