Abstract
The genotypes of black pepper are morphologically and genotypically highly diverse and carry all the cumulative variations inherited and maintained through generations. The present study describes the Simple Sequence Repeat (SSR) or microsatellite based assessment of genetic diversity among forty popular genotypes and four different species of black pepper in Southern region of India. For isolation of SSR primers, our earlier attempts with enrichment strategies like 'Triplex affinity capture' did not extract a single SSR primer due to close proximity of restriction sites to the SSR motif. Hence we developed a 'Sequential Reverse Genome Walking (SRGW)' strategy with better enrichment efficiency of 72% that generated seven new SSR primers. Genotyping precisely discriminated majority of genotypes which indicated that the SSR primers are very informative. A total of 62 alleles with an average of 15.5 alleles over 4 loci were identified. All the SSR primers showed an average Polymorphism Information Content (PIC) value of 0.85. The estimated average Shared Allele Frequency ranged between 1.57 and 20.12%. The PCA plot revealed four closely related individual groups and identified Karimunda, Wild pepper and a local landrace 'local b' as the most divergent genotypes. Cluster analysis exposed the genetic relatedness between hybrids and selections with other known cultivars. The introduction of black pepper from South India to Malaysia was emphasized from the observation of genetic similarity of Malaysian cultivar 'Kuching' with other indigenous popular cultivars. The study was first to portray the precise genetic relatedness among the major indigenous genotypes of black pepper.
Access options
Buy single article
Instant access to the full article PDF.
USD 39.95
Price excludes VAT (USA)
Tax calculation will be finalised during checkout.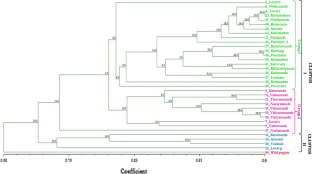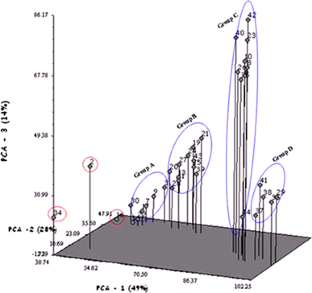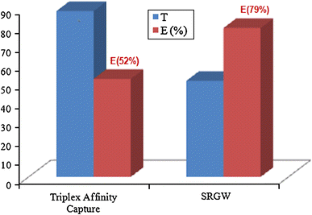 References
Akkaya MS, Bhagwat AA, Cregan PB (1992) Length polymorphisms of simple sequence repeat DNA in soybean. Genetics 132:1131–1139

Bell CJ, Ecker JR (1994) Assignment of 30 microsatellite loci to the linkage map of Arabidopsis. Genomics 19:137–144

Botstein D, White RL, Skolnick M, Davis RW (1980) Construction of a genetic linkage map in man using restriction fragment length polymorphisms. Am J Hum Genet 32:314–331

Bowcock AM, Ruiz-Linares A, Tomfohrde J, Minch E, Kidd JR, Cavalli-Sforza LL (1994) High resolution of human evolutionary trees with polymorphic microsatellites. Nature 368:455–457

Dos Santos KL, Welter LJ, de Mesquita Dantas AC, Guerra MP, Joseph Ducroquet JPH, Nodari RO (2007) Transference of microsatellite markers from Eucalyptus spp to Acca sellowiana and the successful use of this technique in genetic characterization. Genet Mol Biol 30:1

George KJ, Ganga G, Varam RS, Sasikumar B, Saji KV (2005) Identification of hybrids in black pepper (Piper nigrum L) using male parent—specific RAPD markers. Curr Sci 88(2):216–218

Hotelling H (1933) Analysis of a complex of statistical variables into principal components. J Educ Psychol 24:417–441

Jose J, Sharma AK (1984) Chromosome studies in the genus Piper L. J Indian Bot Soc 63:313–319

Joy N, Abraham Z, Soniya EV (2007) A preliminary assessment of genetic relationships among agronomically important cultivars of black pepper. BMC Genet 8:42

Lagercrantz U, Ellegren H, Anderson L (1993) The abundance of various polymorphic microsatellite motifs differs between plants and animals. Nucleic Acids Res 21:1111–1115

Maheswaran M (2004) Molecular markers: history, features and applications. Adv Biotech 17–24. Available at http://d.yimg.com/kq/groups/18463231/1914912574/name/Molecular

Morgante M, Olivieri AM (1993) PCR amplified microsatellite as markers in plant genetics. Plant J 3:175–182

Nei M, Li WH (1979) Mathematical model for studying genetic variation in term of restriction endonuclease. Proc Natl Acad Sci USA 76:5269–5273

Parthasarathy U, Saji KV, Jayarajan K, Parthasarathy VA (2006) Biodiversity of Piper in South India-application f GIS and cluster analysis. Curr Sci 91(5):652–658

Pearson K (1901) On lines and planes of closest fit to systems of points in space. Philos Mag 2(6):559–572

Perrier X, Flori A, Bonnot F (2003) Data analysis methods. In: Hamon P, Seguin M, Perrier X, Glaszmann JC (eds) Genetic diversity of cultivated tropical plants. Enfield, Science Publishers, Montpellier

Pradeepkumar Y, Karihaloo JL, Archak S, Baldev A (2003) Analysis of genetic diversity in Piper nigrum L. using RAPD markers. Genet Resour Crop Evol 50(5):469–475

Prasanth VP, Chandra S (2006a) ALS-binary: A C program for converting allele size data into binary data. International Crops Research Institute for the Semi-Arid Tropics

Prasanth VP, Chandra S (2006b) Shared allele frequency—SAF. A C program to compute shared allele frequency for microsatellite marker data based on Bowcock et al. 1994. Biometrics. International Crops Research Institute for the Semi-Arid Tropics (ICRISAT). ICRISAT, Patancheru 502324, Andhra Pradesh, India

Prasanth VP, Chandra S, Jayashree B, Hoisington D (2006) AlleloBin—a program for allele binning of microsatellite markers based on the algorithm of Idury and Cardon—1997 (Genome Research 7:1104–1109). International Crops Research Institute for the Semi-Arid Tropics

Ravindran PN (1991) Studies on black pepper and some of its wild relatives. Ph.D thesis, University of Calicut

Ravindran PN (2000) Black pepper. Harwood Academic Publishers, Amsterdam

Ravindran PN, Balakrishnan R, Nirmal Babu K (1997a) Morphogenetic studies on black pepper I. Cluster analysis of black pepper cultivars. J Spices Aromat Crops 6:9–20

Ravindran PN, Balakrishnan R, Nirmal Babu K (1997b) Morphometric studies on black pepper II. Principal component analysis of black pepper cultivars. J Spices Aromat Crops 6:21–29

Reddy OUK, Pepper AE, Abdurakhmonov I, Saha S, Jenkins JN, Brooks T, Bolek Y, El-Zik KM (2001) New dinucleotide and trinucleotide microsatellite marker resources for cotton genome research. J Cotton Sci 5:103–113

Sasikumar B, Chempakam B (1999) Characterization of two interspecific hybrids of Piper. J Hortic Sci Biotechnol 74(1):125–131 Indian Institute of Spices Research, Calicut

Senior M, Heun M (1993) Mapping maize microsatellites and polymerase chain reaction confirmation of targeted repeats using a CT primer. Genome 36:884–889

Shokeen B, Sethy NK, Kumar S, Bhatia S (2007) Isolation and characterization of microsatellite markers for analysis of molecular variation in the medicinal plant Madagascar periwinkle (Catharanthus roseus (L.) G. Don). Plant Sci 172:441–451

Stajner N, Jakse J, Kozjak P, Javornik B (2005) The isolation and characterization of microsatellites in hop (Humulus lupulus L.). Plant Sci 168:213–221

Thomas MR, Scott NS (1993) Microsatellite repeats in grapevine reveal DNA polymorphisms when analyzed as sequence-targeted sites (STSs). Theor Appl Genet 86:986–990

Weising K, Nybom H, Wolff K, Meyer W (1995) DNA fingerprinting in plants and fungi. CRC Press, Boca Raton, FL

White G, Powell W (1997) Isolation and characterization of microsatellite loci in Swietenia humilis (Meliaceae): an endangered tropical hardwood species. Mol Ecol 6:851–860

Wu KS, Tanksley SD (1993) Abundance, polymorphism and genetic mapping of microsatellites in rice. Mol Gen Genet 241:225–235

Yunbi X, Beachell H, McCouch SR (2004) A marker-based approach to broadening the genetic base of rice in the USA. Crop Sci 44:1947–1959

Zhao XP, Kochert GA (1993) Phylogenetic distribution and genetic mapping of a (GGC) n microsatellite from rice (Oryza sativa L.). Plant Mol Biol 21:607–614
Acknowledgments
The study was partially funded by Department of Biotechnology, New Delhi, INDIA.
Electronic supplementary material
Below is the link to the electronic supplementary material.
About this article
Cite this article
Joy, N., Prasanth, V.P. & Soniya, E.V. Microsatellite based analysis of genetic diversity of popular black pepper genotypes in South India. Genetica 139, 1033–1043 (2011). https://doi.org/10.1007/s10709-011-9605-x
Received:

Accepted:

Published:

Issue Date:

DOI: https://doi.org/10.1007/s10709-011-9605-x
Keywords
Genome walking

Microsatellite markers

Polymorphism

Black pepper

Genetic diversity