Abstract
The Australian sheep blowfly Lucilia cuprina is a major pest for the Australian and New Zealand sheep industries. With the long-term aim of making a strain of L. cuprina suitable for a genetic control program, we previously developed a tetracycline-repressible female lethal genetic system in Drosophila. A key part of this system is a female-specific promoter from a yolk protein (yp) gene controlling expression of the tetracycline-dependent transactivator (tTA). Here we report the sequence of a 14.2 kb genomic clone from L. cuprina that contains a cluster of three complete yp genes and one partial yp gene. The Lcyp genes are specifically expressed in females that have received a protein meal. A bioinformatic analysis of the promoter of one of the yp genes (LcypA) identified several putative binding sites for DSX, a known regulator of yp gene expression in other Diptera. A transgenic strain of L. cuprina was made that contained the LcypA promoter driving the expression of the Escherichia coli lacZ reporter gene. Transgenic females express high levels of β-galactosidase after a protein meal. Thus the LcypA promoter could be used to obtain female-specific expression of tTA in transgenic L. cuprina.
Access options
Buy single article
Instant access to the full article PDF.
US$ 39.95
Tax calculation will be finalised during checkout.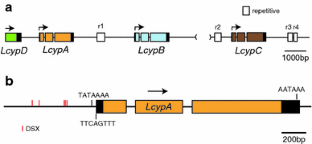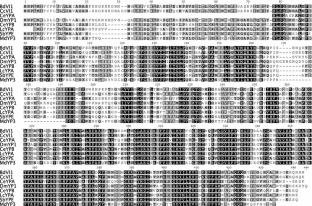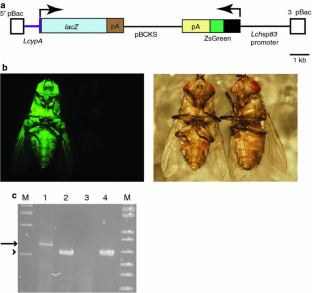 References
Bownes M (1994) The regulation of the yolk protein genes, a family of sex differentiation genes in Drosophila melanogaster. Bioessays 16(10):745–752

Burtis KC, Baker BS (1989) Drosophila doublesex gene controls somatic sexual differentiation by producing alternatively spliced mRNAs encoding related sex-specific polypeptides. Cell 56(6):997–1010

Cho S, Wensink PC (1998) Linkage between oligomerization and DNA binding in Drosophila doublesex proteins. Biochemistry 37(32):11301–11308

Concha C, Scott MJ (2009) Sexual development in Lucilia cuprina (Diptera, Calliphoridae) is controlled by the transformer gene. Genetics 182(3):785–798

Concha C, Li F, Scott MJ (2010) Conservation and sex-specific splicing of the doublesex gene in the economically important pest species Lucilia cuprina (Diptera, Calliphoridae). J Genet (in press)

Coschigano KT, Wensink PC (1993) Sex-specific transcriptional regulation by the male and female doublesex proteins of Drosophila. Genes Dev 7(1):42–54

Davidson S (1989) Sheep blowfly control by genetic sabotage. Rural Res 145:19–24

Erdman SE, Chen HJ, Burtis KC (1996) Functional and genetic characterization of the oligomerization and DNA binding properties of the Drosophila doublesex proteins. Genetics 144(4):1639–1652

Fitzsimons HL, Henry RA, Scott MJ (1999) Development of an insulated reporter system to search for cis-acting DNA sequences required for dosage compensation in Drosophila. Genetica 105(3):215–226

Foster GG (1991) Simulation of genetic control. Homozygous-viable pericentric inversions in field-female killing systems. Theor Appl Genet 82:368–378

Foster GG, Vogt WG, Woodburn TL (1985) Genetic analysis of field trials of sex-linked translocation strains for genetic control of the Australian sheep blowfly Lucilia cuprina (Wiedemann). Aust J Biol Sci 38:275–293

Foster GG, Vogt WG, Woodburn TL, Smith PH (1988) Computer simulation of genetic control. Comparison of sterile males and field-female killing systems. Theor Appl Genet 76:870–879

Heath AC, Bishop DM (2006) Flystrike in New Zealand: an overview based on a 16-year study, following the introduction and dispersal of the Australian sheep blowfly, Lucilia cuprina Wiedemann (Diptera: Calliphoridae). Vet Parasitol 137(3–4):333–344

Hediger M, Burghardt G, Siegenthaler C, Buser N, Hilfiker-Kleiner D, Dubendorfer A, Bopp D (2004) Sex determination in Drosophila melanogaster and Musca domestica converges at the level of the terminal regulator doublesex. Dev Genes Evol 214(1):29–42

Heinrich JC, Scott MJ (2000) A repressible female-specific lethal genetic system for making transgenic insect strains suitable for a sterile-release program. Proc Natl Acad Sci USA 97(15):8229–8232

Heinrich JC, Li X, Henry RA, Haack N, Stringfellow L, Heath AC, Scott MJ (2002) Germ-line transformation of the Australian sheep blowfly Lucilia cuprina. Insect Mol Biol 11(1):1–10

Hens K, Lemey P, Macours N, Francis C, Huybrechts R (2004) Cyclorraphan yolk proteins and lepidopteran minor yolk proteins originate from two unrelated lipase families. Insect Mol Biol 13(6):615–623

Hoshijima K, Inoue K, Higuchi I, Sakamoto H, Shimura Y (1991) Control of doublesex alternative splicing by transformer and transformer-2 in Drosophila. Science 252(5007):833–836

Hultmark D, Klemenz R, Gehring WJ (1986) Translational and transcriptional control elements in the untranslated leader of the heat-shock gene hsp22. Cell 44(3):429–438

Krafsur ES (1998) Sterile insect technique for suppressing and eradicating insect population: 55 years and counting. J Agric Entomol 15(4):303–317

Martinez A, Bownes M (1994) The sequence and expression pattern of the Calliphora erythrocephala yolk protein a and b genes. J Mol Evol 38(4):336–351

McInnis DO, Tam S, Grace C, Miyashita D (1994) Population suppression and sterility induced by variable sex ratio, sterile insect releases of Ceratitis capitata (diptera: Tephritidae) in Hawaii. Ann Entomol Soc Am 87:231–240

Pane A, Salvemini M, Delli Bovi P, Polito C, Saccone G (2002) The transformer gene in Ceratitis capitata provides a genetic basis for selecting and remembering the sexual fate. Development 129(15):3715–3725

Perkins HD, Howells AJ (1992) Genomic sequences with homology to the P element of Drosophila melanogaster occur in the blowfly Lucilia cuprina. Proc Natl Acad Sci USA 89(22):10753–10757

Rina M, Savakis C (1991) A cluster of vitellogenin genes in the mediterranean fruit fly Ceratitis capitata: Sequence and structural conservation in dipteran yolk proteins and their genes. Genetics 127(4):769–780

Robinson AS (2002) Genetic sexing strains in medfly, Ceratitis capitata, sterile insect technique programmes. Genetica 116(1):5–13

Thomas DD, Donnelly CA, Wood RJ, Alphey LS (2000) Insect population control using a dominant, repressible, lethal genetic system. Science 287(5462):2474–2476

Tortiglione C, Bownes M (1997) Conservation and divergence in the control of yolk protein genes in dipteran insects. Dev Genes Evol 207:264–281

Wardhaugh KG, Morton R, Bedo D, Horton BJ, Mahon RJ (2007) Estimating the incidence of fly myiases in Australian sheep flocks: Development of a weather-driven regression model. Med Vet Entomol 21(2):153–167

Webber LG (1958) Nutrition and reproduction in the Australian sheep blowfly Lucilia cuprina. Aust J Zool 6(2):139–144

White NM, Bownes M (1997) Cloning and characterization of three Musca domestica yolk protein genes. Insect Mol Biol 6(4):329–341
Acknowledgments
We thank Phil Batterham for the gift of a L. cuprina genomic DNA phage library and Fred Gould for comments on the manuscript. This research benefited significantly from discussion at regular research co-ordination meetings of the FAO/IAEA co-ordinated research project on "Molecular technologies to improve the effectiveness of the sterile insect technique". Our research was supported by funding from Massey University and Meat and Wool New Zealand.
About this article
Cite this article
Scott, M.J., Atapattu, A., Schiemann, A.H. et al. Organisation and expression of a cluster of yolk protein genes in the Australian sheep blowfly, Lucilia cuprina . Genetica 139, 63–70 (2011). https://doi.org/10.1007/s10709-010-9492-6
Received:

Accepted:

Published:

Issue Date:
Keywords
Yolk protein

Sterile insect technique

Lucilia cuprina