Abstract
Land is a key player in wealth creation, power, social status and a primary source of agriculture globally. Due to the importance of land to 'man', access and ownership has become contentious in many societies. Gender concerns have become an issue with respect to land accessibility and ownership. Limited studies exist as to whether or not women who are married can own land in their matrimonial homes. Using a single case approach, 78 respondents involving chiefs, tendanas (earth priest), household heads, clan heads, married men and women were recruited for the study. The results revealed that women do not own land because they do not sacrifice to the spirits of the land/gods; hence, do not satisfy the ultimate qualification to own land. For access and use of agricultural land, the study found that traditionally women have access to land for farming through their husbands and the tendana. Again, the study revealed that divorcees rely on their families for land while widows may have access to their late husbands' farm land provided they accept a levirate or through their male children. The study recommends that the local authorities such as the chiefs, tendanas, and women leaders should collaborate, legislate by-laws, and embark on education and re-education on socio-cultural practices that debars women access to productive resources. Moreover, the Ministry of Gender, Children and Social Protection should consult relevant stakeholders on the formulation of policies and laws on women's economic empowerment.
Access options
Buy single article
Instant access to the full article PDF.
US$ 39.95
Tax calculation will be finalised during checkout.
Subscribe to journal
Immediate online access to all issues from 2019. Subscription will auto renew annually.
US$ 119
Tax calculation will be finalised during checkout.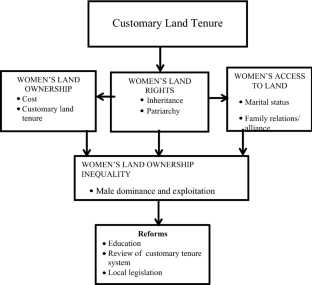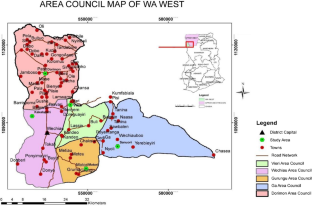 References
Abdul-Korah, G. B. (2014). "If it's your money, I will pay and go": Shifting and contested significance of bride price payment among the Dagaaba of Northwest Ghana. J Asian African Stud, 49(3), 332–346. https://doi.org/10.1177/0021909613486088

Alidu, H. A. (2015). Land allocation to women: a case study of two communities in the Northern Region of Ghana. United Nations University land restoration training programme [final project].

Anderson, S. (2007). The economics of dowry and bride price. J Econ Perspect, 21(4), 151–174.

Arko-Adjei, A. (2011). Adapting Land Administration to the Institutional Framework of Customary Tenure: The Case of Peri-Urban Ghana. PhD Thesis, Delft University of Technology.

Asiimwe, H. (2013). The changing dynamics, trends and perceptions in the bride price custom in Uganda and the implications- A feminist perspective a case of Banyakitra ethnic group in Western Uganda. Unpublished document

Ayamga, M., Yeboah, R. W. N., & Dzanku, F. M. (2015). Determinants of farmland tenure security in Ghana. Albany Law J Sci Technol, 2(1), 1–21.

Barrett, D., & Twycross, A. (2018). Data collection in qualitative research. Evid based nurs, 21(3), 63–64.

Boserup, E. (1970). Accumulation, reproduction, and women's role in economic development: Boserup Revisited. Univ Chicago press J, 7(2), 279–298.

Boyatzis, R. E. (1998). Transforming Qualitative Information: Thematic Analysis and Code Development. SAGE Publications, Inc; 1st edition.

Braun, V., & Clarke, V. (2006). Using thematic analysis in psychology. Qualitative Res Psychol, 3(2), 77–101.

Cotula, L. (2007). Changes in "customary" land tenure systems in Africa. [E-book]. Retrieved from https://pubs.iied.org/pdfs/12537IIED.pdf

Cotula, L., Toulmin, C., Quan, J. (2006). Better land access for the rural poor: Lessons from experience and challenges ahead. [E-book]. Retrieved from http://www.cpahq.org/cpahq/cpadocs/Better%20Land%20Access%20for%20the%20Rural%20Poor%20FAO.pdf

Coetzee, D. (2001). South African education and the ideology of patriarchy. South African J Education, 21(4), 300–304.

Creaw, Mufumi. (2010). Bride price: Is it modern day slavery? [E-book]

Crossman, A. (2019). The sociology of social inequality. Retrieved from https://www.thoughtco.com/sociology-of-social-inequality-3026287

Daniel, E. (2016). The usefulness of qualitative and quantitative approaches and methods in researching problem-solving ability in science education curriculum. J Education Pract, 7(15), 91–100.

Dery, I. (2015). Bride-price and domestic violence: Empirical perspectives from Nandom District in the north western region of Ghana. Int J Dev Sustain, 4(3), 258–271.

Dery, I. (2016). Access to and control over land as gendered: contextualising women's access and ownership rights of land in rural Ghana. J dev stud, 45(2), 28–48.

Doss, C., Meinzen-Dick, R., & Bomuhangi, A. (2014). Who owns the land? Perspectives from rural Ugandans and implications for large-scale land acquisitions. Fem Economics, 20(1), 76–100.

Duncan, B. A., Brants, C. (2004). Access to and control over land from a gender perspective; a study conducted in the Volta Region of Ghana. Incomplete

Engels, F. (1940). Origin of the Family, Private Property, and the State. Retrieved from https://www.marxists.org/archive/marx/works/download/pdf/origin_family.pdf

IFAD. (2011). Land Tenure Security and Poverty Reduction. Retrieved on May 12, 2012, from https://www.ifad.org/documents/10180/0f715abf-3f59-41f6-ac08-28403ebd271f.

Fobih, D. (2004). Land in Africa: Market asset, or secure livelihood? The significance of secure access to land for the livelihoods and food security of Africa's farmers and the urban poor. 1–11. Retrieved from https://pubs.iied.org/pdfs/G00131.pdf

Food and Agriculture Organization. (2011). The state of the world's land and water resources for food and agriculture: Managing systems at risk. [E-book]. Retrieved from http://www.fao.org/3/a-i1688e.pdf

Garvelink, W. (2012) land tenure, property rights, and rural economic development in africa [online] http://csis.org/publication/land-tenure-property-rights-and-rural-economicdevelopment-africa (accessed 2 October 2015).

Ghana Statistical Service. (2014). 2010 Population and housing census: District analytical report Wa West. Wechiau.

Gill, P., Stewart, K., Treasure, E., & Chadwick, B. (2008). Methods of data collection in qualitative research: Interviews and focus groups. British Dent J, 204, 291–295.

Goody, J. (1969). Normative', 'Recollected' and 'Actual' Marriage Payments among the Lowiili of Northern Ghana, 1951–1966. [E-book]. Retrieved from https://www.cambridge.org/core/journals/africa/issue/73AB1C152AE7DCB D13F28686A0DA7150

Hammarberg, K., Kirkman, M., & Lacey, D. S. (2016). Qualitative research methods: When to use them and how to judge them. Hum Reprod, 31(3), 498–501.

Kasanga, K., & Kotey, N. A. (2001). Land management in Ghana: Building on tradition and modernity. International Institute for Environment and Development.

Kaye, D. K., Mirembe, F., Ekstrom, A. M., Institutet, K., Kyomuhendo, G (2006). Implications of bride price on domestic violence and reproductive health in Wakiso District, Uganda. African health sciences, 5(4): 301–303. Retrieved from https://www.researchgate.net/publication/7164098

Kpieta, B. A., & Bonye, S. Z. (2012). Land as a "god": the gender dimensions of its wealth creation among the Dagaabas in north-western Ghana. International Journal of Humanities and Social Science, 2(9), 66–74.

Kuusaana, E. D., Kidido, J. K., & Halidu-Adam, E. (2013). Customary land ownership and gender disparity. Evidence from the wa municipality of ghana. Ghana J Dev Stud, 10(1), 63–80.

Liaw, H. R. (2008). Women's land rights in rural China: Transforming existing laws into a source of property rights. Pac Rim Law Policy J Assoc, 17(1), 239–264.

Mangena, T., & Ndlovu, S. (2013). Implications and complications of bride price payment among the Shona and Ndebele of Zimbabwe Tendai. Int J Asian Soc Sci, 3(2), 472–481.

MDG-F. (2013). UNESCO Report on Gender Equality and Culture. Geneva, Swizerland.

Meekers, D. (1992). The process of marriage in African societies: A multiple indicator approach. Popul Dev Rev, 18(1), 61–78.

Ngomane, S. T. (2016). Land as an economic empowerment tool: access, control and ownership of land by rural women in the Mpumalanga Province. Unpublished document.

Nkwae, B. (2006). Conceptual framework for modelling and analysing peri-urban land problems in Southern Africa. Ph.D. dissertation, Department of Geodesy and Geomatics Engineering, Technical Report No. 235, University of New Brunswick, Fredericton, New Brunswick, Canada, 363 pp.

Patil, B., & Babus, V. S. (2018). Role of women in agriculture- South Africa. Int J Appl Res, 4(12), 109–114.

Pemunta, N. V. (2017). When "property cannot own property": Women's lack of property rights in Cameroon. African J Economic Sustain Dev, 6(1), 67–82.

Quansah, E. S. T. (2012). Land tenure system: women's access to land in a cosmopolitan context. New J African Stud, 9(1), 141–159.

Rao, N. (2018). Good women do not inherit land: Politics of land and gender in India (1st Ed.). [E-book]. DOI: https://doi.org/10.4324/9781315144610

Reinharz, S. (1992). Feminist methods in social research. Oxford: New York Oxford University Press.

Rowbotham, S., Segal, L., & Wainwright, H. (1981). Beyond the fragments: feminism and the making of socialism (third ed.). [e-book]. Retrieved from https://www.amazon.com/Beyond-Fragments-Feminism-Making-Socialism/dp/0850366399

Samkange, W. (2015). The Liberal Feminist Theory: Assessing its applicability to education in general and early childhood development (E.C.D) in Particular within the Zimbabwean Context. Global Journal of Advanced Research, 2(7), 1172–1178. Retrieved from http://gjar.org/publishpaper/vol2issue7/d238r10.pdf

Schlarger, E., & Ostron, E. (1992). Property-Rights regimes and natural resources: A conceptual analysis. Land Economics, 68(3), 249–262. https://doi.org/10.2307/3146375.

SEND-Ghana (2014). Women and small holder agriculture in Ghana. Policy brief No.4/ October2014

Walby, S. (1990). Theorising Patriarchy. Basil Blackwell.

Walby, S. (2013). Patriarchy at work: Patriarchal and capitalist relations in employment, 1800–1984. John Wiley & Sons.

Yiriomoh, Y. G., Appiah, D. O., & Owusu, V. (2018). Women smallholder farmers' adaptation to climate variability derivatives in savanna ecological zone, Ghana. In J. Nagao, J. Masinja, & A. Alhassan (Eds.), Sustainable Development in Africa (pp. 93–120). Spears Media Press LLC.
Acknowledgement
The author wishes to thank the respondents for their information. The author is also grateful to David Wullo-Dire and Gordon Yenglier Yiridomoh for assisting in the field data collection discussed.
Funding
The manuscript was solely funded by the author.
Ethics declarations
Conflict of interest
The authors declares that they have no conflict of interest.
Informed consent
The respondents consent were sought and they agreed before participating in the interview. Before starting the interview, they were explained to about the rationale of the study to solicit their views as important stakeholders on Gender Perception of Access to, and Ownership of Agricultural Land in Northern Ghana.
Additional information
Publisher's Note
Springer Nature remains neutral with regard to jurisdictional claims in published maps and institutional affiliations.
About this article
Cite this article
Bonye, S.Z. Can i own land in my matrimonial home? A gender analysis of access to and ownership of agricultural land in Northern Ghana, Ghana. GeoJournal (2021). https://doi.org/10.1007/s10708-021-10396-4
Keywords
Gender

Access and Ownership

Matrimonial

Agricultural Land

Northern Ghana