Abstract
The present study has been carried out to analyse and interpret the morphological changes and channel shifting along the Fulahar river in the Malda district. Fulahar river is one of the most hazardous river zones in the Malda district. The river meets the Ganga river near Manikchak Block and shifts towards the western part of the Malda district. The total length of the river is about 60 km. The study has considered the different parameters like Braiding Index, Sinuosity Index, Channel Index, Valley Index, Hydraulic Sinuosity Index, Topographic Sinuosity Index, Island areas, and river width of the Fulahar river. To detect the river course were used 45 years satellite images for the year of 1973, 1980, 1990, 2001, 2010 and 2018 from Landsat data of USGS. The study is generally based on remote sensing and Geographic Information System methods to elucidate the changes of the river channel and resulting hazard zones of the Malda district. Channel shifting and flooding are the main source of the river bank failure of the Malda district. For the completion of this study, 17 cross-sections were made for calculating the shifting of the total reach of the river from Mihaghat in Harischandrapur II to Paschim Narayanpur in Manikchak C.D. Block of Malda district. Due to the shift of the Fulahar river course, the people of Harischandrapur II, Ratua I, and Manikchak C.D. Block are faced with problems and displaced year by year. The study may help for future management of the area to reduce bank erosion and land loss.
Access options
Buy single article
Instant access to the full article PDF.
USD 39.95
Price excludes VAT (USA)
Tax calculation will be finalised during checkout.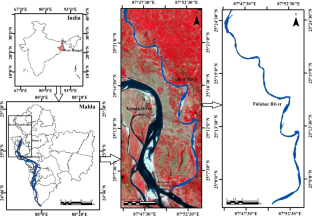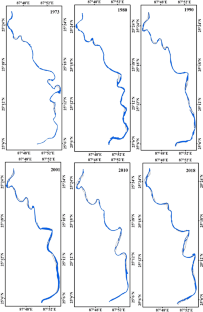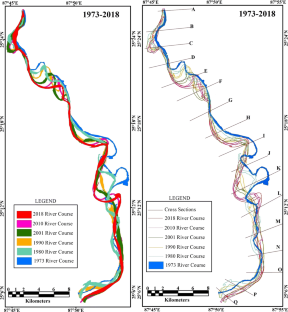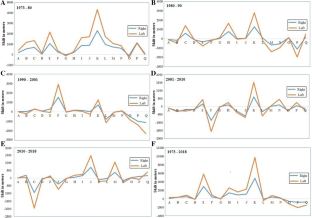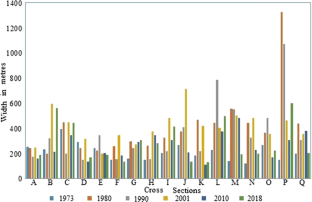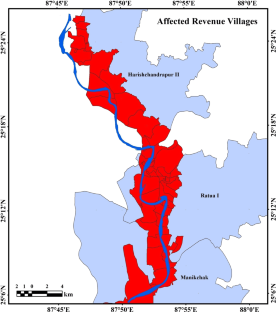 References
Banerjee, M. (1999). A Report on the Impact of Farakka Barrage on the Human Fabric, On behalf of South Asian Network on dams, rivers and people (SANDRP). https://www.sandrp.in/dams/impact_farakka_wed

Banerjee, S. N., & Chakravarty, P. (1983). Some observations on recent trends of shifting pattern of the Ganga between Rajmahal and Ahiron. Journal of Geological Society India, 24.

Biswas, R., & Anwaruzzaman, A. K. M. (2019). Measuring hazard vulnerability by bank erosion of the Ganga river in Malda district using PAR model. Journal of Geography, Environment and Earth Science International,. https://doi.org/10.9734/jgeesi/2019/v22i130136.

Brice, J. C. (1960). Index for description of channel braiding. Geological Society of America Bulletin, 85, 581–586.

Chakraborty, S., & Mukhopadhyay, S. (2015). An assessment on the nature of channel migration of River Diana of the sub-Himalayan West Bengal using field and GIS techniques. Arabian Journal of Geosciences, 8(8), 5649–5661. https://doi.org/10.1007/s12517-014-1594-5.

Chang, H. H. (2008). River morphology and river channel changes. Transactions of Tianjin University, 14(4), 254–262. https://doi.org/10.1007/s12209-008-0045-3.

Church, M., & Ferguson, R. I. (2015). Morphodynamics: Rivers beyond steady state. Water Resources Research, 51(4), 1883–1897. https://doi.org/10.1002/2014WR016862.

Das, S., & Pal, S. (2016). Character and cardinality of channel migration of Kalindri River, West Bengal, India. International Research Journal of Earth Sciences, 4(1), 13–26.

District Human Development Report: Malda, (HDRCC: Development and Planning Department, Government of West Bengal), April 2007.

Eardley, A. J. (1938). Unconsolidated sediments and topographic features of the Lower Yukon Valley. Geological Society of America Bulletin, 49(2), 303–342. https://doi.org/10.1130/GSAB-49-303.

Friend, P. F., & Sinha, R. (1993). Braiding and meandering parameters. Geological Society of London Special Publication, 75, 105–111.

Geria, P. F., Foti, G., & Puntorieri, P. (2018). Morphodynamic Analysis of the Tuccio River, South Calabria, Italy. WIT Transactions on the Built Environment, 184, 133–142. https://doi.org/10.2495/FRIAR180131.

Ghosh, A., & Kar, S. K. (2018). Application of analysis hierarchy process (AHP) for flood risk assessment: A case study in Malda district of West Bengal. Natural Hazards, 94, 349–368. https://doi.org/10.1007/s11069-018-3392-y.

Guerrero, M., Nones, M., Saurral, R., Montroull, N., & Szupiany, R. N. (2013). Parana river morphodynamics in the context of climate change. International Journal of River Basin Management, 11(4), 423–437. https://doi.org/10.1080/15715124.2013.826234.

Heyvaert, V. M. A., Walstra, J., Verkinderen, P., Weerts, H. J. T., & Ooghe, B. (2012). The role of human interference on the channel shifting of the Karkheh river in the lower Khuzestan plain (Mesopotamia, SW Iran). Quaternary International, 251, 52–63. https://doi.org/10.1016/j.quaint.2011.07.018.

Iqbal, S. (2010). Flood and erosion induced population displacements: A socio-economic case study in the gangetic riverine tract at Malda district, West Bengal, India. Journal of Human Ecology, 30(3), 201–211. https://doi.org/10.1080/09709274.2010.11906290.

Laha, C., & Bandyapadhyay, D. S. (2013). Analysis of the changing morphometry of river ganga, shift monitoring and vulnerability analysis using space-borne techniques: A statistical approach. International Journal of Scientific and Research Publications, 3(7), 1–10.

Lane, S. N. (2000). The Measurement of River Channel Morphology Using Digital Photogrammetry. The Photogrammetric Record, 16(96), 937–961. https://doi.org/10.1111/0031-868X.00159.

Langat, P. K., Kumar, L., & Koech, R. (2018). Monitoring River Channel Dynamics Using Remote Sensing and GIS. Geomorphology, 325, 92–102. https://doi.org/10.1016/j.geomorph.2018.10.007.

Leopold, L. B., Wolman, M. G., & Miller, J. P. (1964). Fluvial processes in geomorphology (Dover ed). New York: Dover Publications.

Lotsari, E., Thorndycraft, V., & Alho, P. (2015). Prospects and challenges of simulating river channel response to future climate change. Progress in Physical Geography: Earth and Environment, 39(4), 483–513. https://doi.org/10.1177/0309133315578944.

Matsuda, I. (2004). River morphology and channel processes. In fresh surface water, [Ed. James C.I. Dooge], in encyclopedia of life support systems (EOLSS), (p. 12), Oxford: Eolss Publishers.

Mueller, J. E. (1968). An introduction to the hydraulic and topographic sinuosity indexes. Annals of the Association of American Geographers, 58(2), 371–385.

Mukherjee, J. (2011). No Voice, No Choice: Riverine Changes and Human Vulnerability in the 'Chars' Of Malda and Murshidabad. Occasional Paper 28, IDSK.

Mukherjee, K., & Pal, S. (2018). Channel migration zone mapping of the River Ganga in the Diara surrounding region of Eastern India. Environment, Development and Sustainability, 20(5), 2181–2203. https://doi.org/10.1007/s10668-017-9984-y.

Nagata, N., Hosoda, T., & Muramoto, Y. (2000). Numerical analysis of river channel processes with bank erosion. Journal of Hydraulic Engineering, 126(4), 243–252. https://doi.org/10.1061/(ASCE)0733-9429(2000)126:4(243).

Panda, S., & Bandyopadhyay, J. (2011). Morphodynamic changes of Bhagirathi river at Murshidabad district using geoinformatics. Journal of Geographic Information System, 3(1), 85–97. https://doi.org/10.4236/jgis.2011.31006.

Parua, P. K. (1999). Erosional problem of river Ganga in the districts of Malda and Murshidabad in West Bengal. Civil Engineering Today, ASCE, Calcutta, 13(2), 3–20.

Ramonell, C. G., Toniolo, H., & Amsler, M. L. (2011). Shifting Modes of the Paraná River Thalweg in its "Braided" Middle-lower Reaches. Boletim Goiano de Geografia. https://doi.org/10.5216/bgg.v19i1.15356.

Ribeiro, M., Wampfler, S., & Schleiss, A. (2014). Morphodynamic changes in a natural river confluence due to a hydropower modified flow regime. In A. Schleiss, J. Speerli, & R. Pfammatter (Eds.), Swiss Competences in River Engineering and Restoration (pp. 191–199). https://doi.org/10.1201/b17134-24

Rinaldi, M., Gurnell, A. M., del Tánago, M. G., Bussettini, M., & Hendriks, D. (2016). Classification of river morphology and hydrology to support management and restoration. Aquatic Sciences, 78(1), 17–33. https://doi.org/10.1007/s00027-015-0438-z.

Rudra, K. (2000). Living On The Edge: The Experience Along the Bank of The Ganga in Malda District, West Bengal. Indian Journal of Geography and Environment, 5, 57–67.

Rudra, K. (2004). "The Encroaching Ganga and Social Conflicts: The Case of West Bengal, India" Ganga Action Parivar Clean Ganga. Green Ganga. Retrieved January 5, 2019, from https://www.gangaaction.org/book-review/the-encroaching-ganga-and-social-conflicts-the-case-of-west-bengal-india/

Rudra, K. (2010). Dynamics of the Ganga in West Bengal, India (1764–2007): Implications for science–policy interaction. Quaternary International, 227(2), 161–169. https://doi.org/10.1016/j.quaint.2009.10.043.

Saha, S. (2012). Bank Erosion of the River Ganga in between Rajmahal and Farakka. Darjeeling: Department of Geography and Applied Geography, University of North Bengal.

Sahana, M., Ahmed, R., Hossain, N., & Sajjad, H. (2015). Assesing flood inudation extent and landscape vulnerabilityto flood uding geodpatial technology: A study of Malda district of West Bengal India. Forum Geografic, 14(2), 156–163. https://doi.org/10.5775/fg.2067-4635.2015.144.d.

Schumm, SA and Lichty RW (1963). Channel widening and floodplain construction along Cimarron River in south-western Kansas. US Geol Surv. Prof Paper (No. 352-D) pp. 71–88.

Sharma, B., Amarasinghe, U., Xueliang, C., de Condappa, D., Shah, T., Mukherji, A., et al. (2010). The Indus and the Ganges: River basins under extreme pressure. Water International, 35(5), 493–521. https://doi.org/10.1080/02508060.2010.512996.

Thakur, P. K., Laha, C., & Aggarwal, S. P. (2012). River bank erosion hazard study of river Ganga, upstream of Farakka barrage using remote sensing and GIS. Natural Hazards, 61(3), 967–987. https://doi.org/10.1007/s11069-011-9944-z.

Yang, C., Cai, X., Wang, X., Yan, R., Zhang, T., Zhang, Q., et al. (2015). Remotely sensed trajectory analysis of channel migration in Lower jingjiang reach during the period of 1983–2013. Remote Sensing, 7(12), 16241–16256. https://doi.org/10.3390/rs71215828.

Yang, X., Damen, M. C. J., & Van zuidam, R. A., (1999). Use of Thematic Mapper imagery with a geographic information system for geomorphologic mapping in a large deltaic lowland environment. International Journal of Remote Sensing, 20(4), 659–681. https://doi.org/10.1080/014311699213127.

Yousefi, S., Mirzaee, S., Keesstra, S., Surian, N., Pourghasemi, H. R., Zakizadeh, H. R., et al. (2018). Effects of an extreme flood on river morphology (case study: Karoon River, Iran). Geomorphology, 304, 30–39. https://doi.org/10.1016/j.geomorph.2017.12.034.
Additional information
Publisher's Note
Springer Nature remains neutral with regard to jurisdictional claims in published maps and institutional affiliations.
About this article
Cite this article
Momin, H., Biswas, R. & Tamang, C. Morphological analysis and channel shifting of the Fulahar river in Malda district, West Bengal, India using remote sensing and GIS techniques. GeoJournal 87, 197–213 (2022). https://doi.org/10.1007/s10708-020-10248-7
Published:

Issue Date:

DOI: https://doi.org/10.1007/s10708-020-10248-7
Keywords