Abstract
Planning of land use and infrastructure in advance for a population that is projected to grow rapidly is highly important for its sustainable development. A correlative approach of land use shifts and infrastructure design is perhaps the best sustainable urban development option that can be made at present. This paper is aimed at suggesting policy foresight, in terms of infrastructure and land use management of Mega Manila. Using Land Change Modeller, this study assessed landscape pattern, change process and future scenario of land changes in the study area. The land use/landscape change pattern, with vulnerability analysis and predicting 2030 land use maps, enabled us to understand impacts of urban expansion on different land use sectors. Overall analysis of gains and losses in different land use categories across different sectors between 1989 and 2010 indicated that built-up area experienced the highest net gain of 90.96%. Two future scenario maps were projected to indicate the potential effects of urban expansion on forested areas near study area. Urban expansion was predicted to expand by 897.16 sq. km (36% gain) with protected area scenario. Contributions to this gain were projected to come from agricultural land of 274.94 sq. km, identified as one of the major contributors to urban expansion. Following the analysis, the paper argues that land use management plan should be revised in the Mega Manila city to reduce the loss of protected areas and anthropogenic impacts.
Access options
Buy single article
Instant access to the full article PDF.
US$ 39.95
Tax calculation will be finalised during checkout.
Subscribe to journal
Immediate online access to all issues from 2019. Subscription will auto renew annually.
US$ 119
Tax calculation will be finalised during checkout.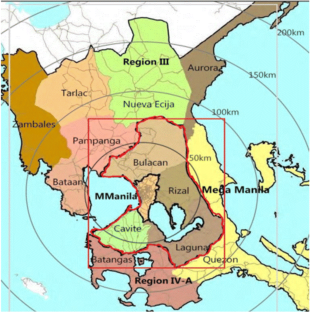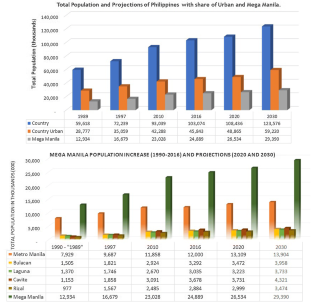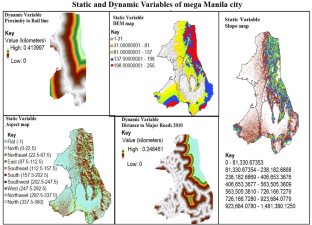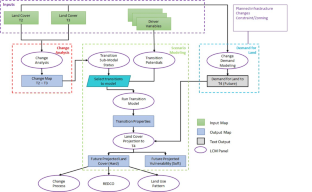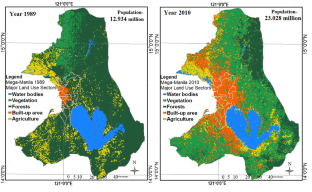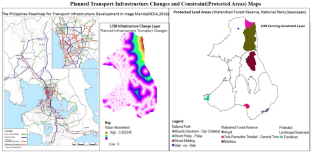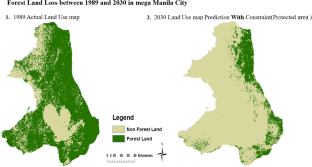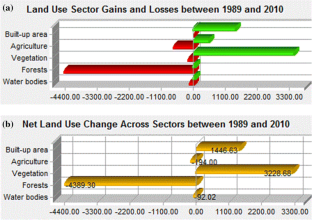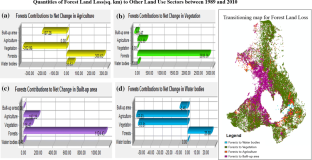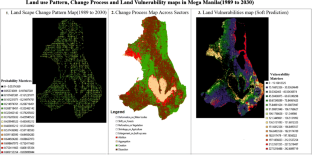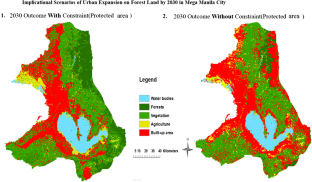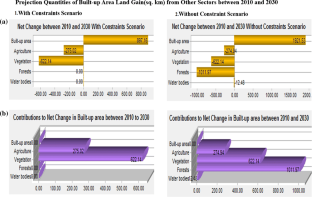 References
Afroz, R., Masud, M. M., Akhtar, R., & Duasa, J. B. (2014). Water pollution challenges and future direction for water resource management policies in Malaysia. Environment and Urbanization Asia, 5(1), 63–81.

Bogaert, J., Ceulemans, R., & Salvador-Van Eysenrode, D. (2004). Decision tree algorithm for detection of spatial processes in landscape transformation. Environmental Management, 33(1), 62–73.

Bren d'Amour, C. B., Reitsma, F., Baiocchi, G., Barthel, S., Güneralp, B., Erb, K.-H., Haberl, H., Creutzig, F., & Seto, K. C. (2017). Future urban land expansion and implications for global croplands. In Proceedings of the National Academy of Sciences of the United States of America.

Brooks, T. M., Mittermeier, R. A., daFonseca, G. A., Gerlach, J., Hoffmann, M., Lamoreux, J. F., et al. (2006). Global biodiversity conservation priorities. Science, 313, 58–61.

Cheng, J., & Masser, I. (2003). Urban growth pattern modeling: a case study of Wuhan City, PR China. Landscape and Urban Planning, 62(4), 199–217. https://doi.org/10.1016/S0169-2046(02)00150-0.

Cover, T. M., & Thomas, J. A. (2006). Chapter 12, maximum entropy. Elements of information theory, 2edn. Wiley. ISBN 0471241954.

DeFries, R. S., Rudel, T., Uriarte, M., & Hansen, M. (2010). Deforestation driven by urban population growth and agricultural trade in the twenty-first century. Nature Geoscience, 3(3), 178–181.

Fox, J., Castella, J. C., Ziegler, A. D., & Westley, S. B. (2014). Rubber plantations expand in mountainous Southeast Asia: What are the consequences for the environment? AsiaPacific Issues, 114(4), 1–8.

Gao, J., & Li, S. (2011). Detecting spatially non-stationary and scale-dependent relationships between urban landscape fragmentation and related factors using Geographically Weighted Regression. Applied Geography, 31(1), 292–302. https://doi.org/10.1016/j.apgeog.2010.06.003.

Gibbs, H. K., Ruesch, A. S., Achard, F., Clayton, M. K., Holmgren, P., Ramankutty, N., et al. (2010). Tropical forests were the primary sources of new agricultural land in the 1980s and 1990s. Proceedings of the National Academy of Sciences USA, 107(38), 16732–16737.

Hansen, M. C., Potapov, P. V., Moore, R., Hancher, M., Turubanova, S. A., Tyukavina, A., et al. (2013). High resolution global maps of 21st Century forest cover change. American Association for the Advancement of Science, 342, 6160.

Heino, M., Kummu, M., Makkonen, M., Mulligan, M., Verburg, P. H., Jalava, M., et al. (2015). Forest loss in protected areas and intact forest landscapes: A global analysis. PLoS ONE, 10, e0138918.

Helming, K., Marta, P.-S., & Paul, T. (2008). Sustainability impact assessment of land use changes, ISBN 978-3-540-78647-4. Springer, Berlin, Heidelberg, New York.

Hughes, A. C. (2017). Understanding the drivers of Southeast Asian biodiversity loss. Ecosphere, 8(1), 01624. https://doi.org/10.1002/ecs2.1624.

Human Development Report. (2016). Human development for everyone, United Nations Development Programme, USA, pp. 286. ISBN: 978-92-1-126413-5.

Iizuka, K., Johnson, B. A., Onishi, A., Magcale-Macandog, D. B., Endo, I., & Bragais, M. (2017). Modeling future urban sprawl and landscape change in the Laguna de Bay Area, Philippines. Land, 6(2), 26. https://doi.org/10.3390/land6020026.

IPCC. (2014). Climate change 2014: Synthesis report. The contribution of working groups I, II and III to the Fifth assessment report of the intergovernmental panel on climate change. (80 pp, 4.2 M, About PDF) EXIT [Core Writing Team, R.K. Pachauri and L.A. Meyer (Eds.)]. IPCC, Geneva, Switzerland, 151 pp.

IPCC. (2014). Climate Change 2014: Mitigation of climate change. EXIT contribution of working group III to the fifth assessment report of the intergovernmental panel on climate change [Edenhofer, O., R. Pichs-Madruga, Y. Sokona, E. Farahani, S. Kadner, K. Seyboth, A. Adler, I. Baum, S. Brunner, P. Eickemeier, B. Kriemann, J. Savolainen, S. Schlömer, C. von Stechow, T. Zwickel and J.C. Minx (eds.)]. Cambridge University Press, Cambridge, United Kingdom and New York, NY, USA.

IPCC (Intergovernmental Panel on Climate Change). (2008). Climate change 2007. Synthesis report. Contribution of working groups I, II and III to the fourth assessment report. In: R. K. Pachauri, A. Reisinger (Eds.) Intergovernmental Panel on Climate Change (IPCC), Geneva-Switzerland, p.104.

Ismail, R. (2014). South-east Asian urbanisation and the challenge to sustainability: implications for the environment and health. Environmental Policy and Law, 44(1), 55.

Japan International Cooperation Agency (JICA) And National Economic Development Authority (NEDA). (2014). Roadmap for transport infrastructure development for metro manila and its surrounding areas (Region III & Region IV-A), Final Report Summary, Almec Corporation.

Kenworthy, J. R. (2019). Urban transport and eco-tourism: A global comparative study of cities with a special focus on five larger Swedish urban regions. Urban Science, 3, 25. https://doi.org/10.3390/urbansci3010025.

McDonald, R. I., Kareiva, P., & Forman, R. T. (2008). The implications of current and future urbanisation for global protected areas and biodiversity conservation. Biological Conservation, 141(6), 1695–1703.

Miettinen, J., Shi, C., & Liew, S. C. (2011). Deforestation rates in insular Southeast Asia between 2000 and 2010. Global Change Biology, 17(7), 2261–2270.

Mundhe, N. N., & Jaybhaye, R. G. (2014). Impact of urbanization on land use/land covers change using Geo-spatial techniques. International journal of Geomatics and Geosciences, 5(1), 50–60.

Myers, N., Mittermeier, R. A., Mittermeier, C. G., DaFonseca, G. A., & Kent, J. (2000). Biodiversity hotspots for conservation priorities. Nature, 403(67722), 853–858.

Patra, S., Sahoo, S., Mishra, P., & Mahapatra, S. C. (2018). Impacts of urbanization on land use/cover changes and its probable implications on local climate and groundwater level. Journal of urban management, 7(2), 70–84.

Pearce, F. (2007). Bog barons: Indonesia's carbon catastrophe. New Scientist, 196(4), 50–53.

Saatchi, S., et al. (2011). Benchmark map of forest carbon stocks in tropical regions across three continents. PNAS June 3, 2011.

Seto, K. C., Sánchez-Rodríguez, R., & Fragkias, M. (2010). The new geography of contemporary urbanisation and the environment. Annual Review of Environment and Resources, 35(1), 167–194.

Shlomo, A., Parent, J., Civco, D. L., Blei, A., & Potere, D. (2011). The dimensions of global urban expansion: Estimates and projections for all countries, 2000–2050. Progress in Planning, 75(2), 53–107.

The 2004 IUCN Red List of Threatened Species

The Food And Agriculture Organization Of The United Nations's Global Forest Resources Assessment. (2015). Country Report, the Philippines, Prepared as a contribution to the FAO publication, The Philippines report, FAO as official government documents. http://www.fao.org/3/a-au190e.pdf.

United Nations, Department of Economic and Social Affairs, Population Division (UN DESA), World Urbanization Prospects: the 2014 Revision, ST/ESA/SER.A/366, 2015, p. 517.

United Nations Environment Programme—World Conservation Monitoring Centre (UNEP-WCMC). (2004). Protected Areas, Plant and animal biodiversity—World Database on Protected Areas.

United Nations, World Economic and Social Survey 2013. Sustainable Development Challenges. E/2013/50/Rev. 1. ST/ESA/344. Department of Economic and Social Affairs. ISBN-13: 978-9211091670

Wang, Z., Chai, J., & Li, B. (2016). The impacts of land use change on resident's living based on urban metabolism: a case study in Yangzhou city of Jiangsu province China. Sustainability, 8, 1004. https://doi.org/10.3390/su8101004.

Wells, K., Lakim, M. B., & O'Hara, R. B. (2014). Shifts from native to invasive small mammals across gradients from tropical forest to urban habitat in Borneo. Biodiversity and Conservation, 23(2), 2289–2303.

WWF-Greater Mekong. 2013. Ecosystems in the Greater Mekong: past trends, current status, possible futures. wwf.panda.org/greatermekong.
Acknowledgements
Several sources including Water and Urban Initiative (WUI) project of the United Nations University Institute for the Advanced Study of Sustainability (UNU-IAS) were consulted for accessing necessary data and information. The WUI was focused on enhancing the urban water environment in developing countries in Asia. The authors would like to thank WUI and others for enabling this research successful.
Funding
No source of funding was provided.
Ethics declarations
Conflict of interest
All authors of this paper shows no conflict of interest and have consent for submitting this paper.
Additional information
Publisher's Note
Springer Nature remains neutral with regard to jurisdictional claims in published maps and institutional affiliations.
About this article
Cite this article
Mishra, B.K., Mebeelo, K., Chakraborty, S. et al. Implications of urban expansion on land use and land cover: towards sustainable development of Mega Manila, Philippines. GeoJournal 86, 927–942 (2021). https://doi.org/10.1007/s10708-019-10105-2
Keywords
Land use change

Vulnerability

Urban planning

Manila