Abstract
A key to understand a place is to explore the geographies of population, physical environments, socioeconomic entities and their interaction over time and space. By examining the archived company directories of Hong Kong during the period of 1900–1930, this study reconstructed its historical geography of legal functional units and explored their spatiotemporal relationships with social, economic and political functional units. The study found that in the early 1900s, legal practitioners scattered around nowadays Central and began more clustered over time. Among the lawyers, barristers were more clustered than solicitors. Moreover, the cluster of legal units moved from western Central to eastern Central with a transition splitting into two smaller clusters between 1910 and 1920. The results from regression analysis and local entropy mapping suggest that the spatial associations between legal and social, economic and political functional units changed over time, reflecting the evolving emphases of the legal professionals in serving the economic sectors in this commercial-based city. This work also demonstrates, methodologically, a space–time framework of parametric and non-parametric analyses appropriate to study historical geography.
Access options
Buy single article
Instant access to the full article PDF.
US$ 39.95
Tax calculation will be finalised during checkout.
Subscribe to journal
Immediate online access to all issues from 2019. Subscription will auto renew annually.
US$ 119
Tax calculation will be finalised during checkout.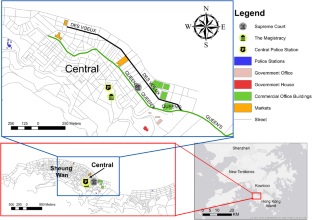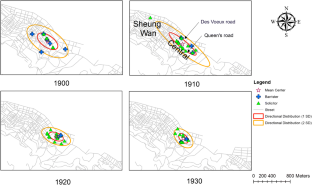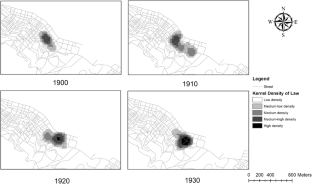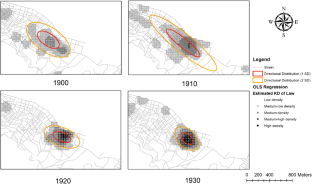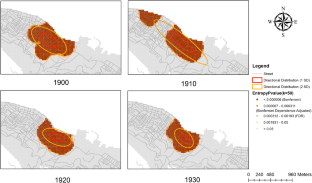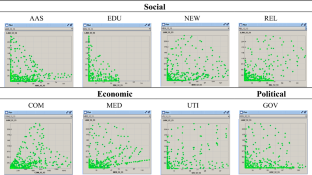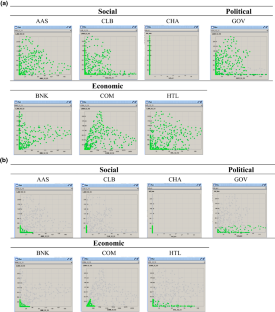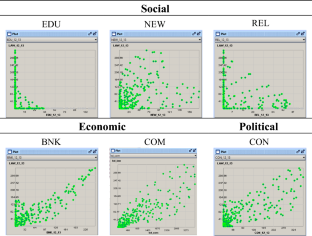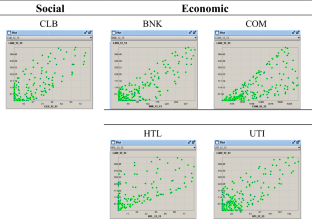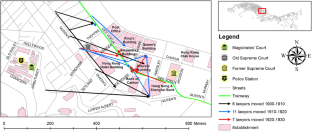 References
Agozino, B. (2003). Counter-colonial criminology: A critique of imperialism reason. Chicago, IL: University of Chicago Press.

Ayhan, I., & Cubukcu, K. M. (2010). Explaining historical urban development using the locations of mosques: A GIS/spatial statistics-based approach. Applied Geography, 30(2), 229–238.

Bennett, L., & Layard, A. (2015). Legal geography: Becoming spatial detectives. Geography Compass, 9(7), 406–422. https://doi.org/10.1111/gec3.12209.

Brunsdon, C., Fotheringham, A. S., Charlton, M. E., et al. (1996). Geographically weighted regression: A method for exploring spatial nonstationarity. Geographical Analysis, 28(4), 281–298.

Bush, R. C. (2016). Hong Kong in the shadow of China: Living with the Leviathan. Washington, DC: Brookings Institution Press.

Carlos, H. A., Shi, X., Sargent, J., Tanski, S., Berke, E. M., et al. (2010). Density estimation and adaptive bandwidths: A primer for public health practitioners. International Journal of Health Geographics, 9(1), 39. https://doi.org/10.1186/1476-072X-9-39.

Carroll, J. (2007). Edge of empires: Chinese elites and British colonials in Hong Kong. Hong Kong: Hong Kong University Press.

Chan, A., Munn, C., & Ng, M. (2016). Legal system and administration of justice in Colonial Hong Kong. In Wang Gungwu (Ed.), Hong Kong History: New perspectives. Hong Kong: Joint Publishing.

Deacons. (2007). A 1846–2007 archive stored at the Special Collection of the University of Hong Kong Library.

Dhanani, A. (2016). Suburban built form and street network development in London, 1880–2013: An application of quantitative historical methods. Historical Methods, 49(4), 230–243. https://doi.org/10.1080/01615440.2016.1220268.

Dixon, A. (2011). The geography of finance: Form and functions. Geography Compass, 5(11), 851–862. https://doi.org/10.1111/j.1749-8198.2011.00458.x.

Dueñas, A. (2010). Indians and Mestizos in the "Lettered City": Reshaping justice, social hierarchy, and political culture in colonial Peru. Boulder, CO: University Press of Colorado.

Endacott, G. B. (1958). A history of Hong Kong. London: Oxford University Press.

Fotheringham, A. S., & Oshan, T. M. (2016). Geographically weighted regression and multicollinearity: Dispelling the myth. Journal of Geographical Systems, 18(4), 303–329. https://doi.org/10.1007/s10109-016-0239-5.

Gregory, I., & Healey, R. (2007). Historical GIS: Structuring, mapping and analyzing geographies of the past. Progress in Human Geography, 31(5), 638–653. https://doi.org/10.1177/0309132507081495.

Guo, D. (2010). Local entropy map: A nonparametric approach to detecting spatially varying multivariate relationships. International Journal of Geographic Information Science, 24(9), 1367–1389. https://doi.org/10.1080/13658811003619143.

Hoelscher, S. (2003). Making place, making race: Performances of whiteness in the Jim Crow South. Annals of the Association of American Geographers, 93(3), 657–686.

Hong Kong Memory. (2012). Please Excuse Us!—170 years of Reclamation. Retrieved May 2, 2019, http://www.hkmemory.org/landscape/en/001d.html. Accessed May 2, 2019.

King, S. (2017). Colonial criminology: A survey of what it means and why it is important. Sociology Compass, 11(3), e12447. https://doi.org/10.1111/soc4.12447.

King, L. J., & Golledge, R. G. (1978). Cities, space, and behavior: The elements of urban geography. Englewood Cliffs, N.J.: Prentice-Hall.

Locatelli, F. (2003). Colonial justice, crime, and social stratification in the "Native quarters" of colonial Asmara, 1890–1941: Preliminary insights from the court records of the indigenous tribunal of Hamasien. Northeast African Studies, 10(3), 101–115.

Munn, C. (2009). Anglo-China: Chinese people and British rule in Hong Kong, 1841–1880. Hong Kong: Hong Kong University Press.

Munn, C. (2017). 'Our best trump card': A brief history of deportation in Hong Kong 1857–1955. In D. W. S. Wong & M. Ng (Eds.), Civil unrest and governance in Hong Kong: Law and order from historical and cultural perspectives. New York, NY: Routledge.

Myint, S. W. (2008). An exploration of spatial dispersion, pattern, and association of socio-economic functional units in an urban system. Applied Geography, 28(3), 168–188. https://doi.org/10.1016/j.apgeog.2008.02.005.

Ng, M. (2014). Legal transplantation in early twentieth-century China: Practicing law in republican Beijing (1910s–1930s). New York: Routledge.

Ng, M. (2016). Rule of law in Hong Kong history demythologised: Student umbrella movement of 1919. Hong Kong Law Journal, 46(3), 829–847.

Ng, M. (2017). When silence speaks: Press censorship and rule of law in British Hong Kong (1850s–1940s). Law and Literature, 29(3), 425–456.

Ng, M., Chow, T. E., Wong, D. W. S., et al. (2016). Geographic dimension of colonial justice: Using GIS in research on law and history. Law and History Review, 34(4), 1027–1045. https://doi.org/10.1017/S073824801600033X.

Norton-Kyshe, J. W. (1971). The history of the laws and courts of Hong Kong from the earliest period to 1898. Hong Kong: Vetch and Lee.

O'Sullivan, D., & Wong, D. W. S. (2007). A surface-based approach to measure spatial segregation. Geographical Analysis, 39(2), 147–168. https://doi.org/10.1111/j.1538-4632.2007.00699.x.

Pue, W. W. (1990). Wrestling with law: (Geographical) Specificity vs (legal) abstraction. Urban Geography, 11(6), 566–585.

So, B. K. L., Ng, M., Zhang, P., Lin, H., et al. (2012). GIS in urban cultural studies: Reflections from the project on Republican Beijing. Annals of GIS, 18(1), 81–92.

The Law Society of Hong Kong. (2007). Celebrating a centenary: The law society of Hong Kong. Hong Kong: Standard Newspapers Publishing.

Tsai, J.-F. (1993). Hong Kong in Chinese history: Community and social unrest in the British Colony, 1842–1913. New York, NY: Columbia University Press.

Tsang, S. (2004). A modern history of Hong Kong. Hong Kong: Hong Kong University Press.

Wong, D. W. S., & Lee, J. (2005). Statistical analysis of geographic information with arcView GIS and ArcGIS. Hoboken, NJ: Wiley Press.

Wong, D. W. S., So, B. K. L., Zhang, P., et al. (2012). Addressing quality issues of historical GIS data: An example of Republican Beijing. Annals of GIS, 18(1), 17–29. https://doi.org/10.1080/19475683.2011.647074.

Yu, C. Y. J. (2014). Coastline of Hong Kong. Hong Kong: Chung Hwa Book Company.
Ethics declarations
Conflicts of interest
The authors declare that they have no conflicts of interest.
Human and animals participants
This research does not involve human participants and/or animals.
Informed consent
We have obtained the informed consent.
Additional information
Publisher's Note
Springer Nature remains neutral with regard to jurisdictional claims in published maps and institutional affiliations.
About this article
Cite this article
Chow, T.E., Ng, M., Wong, D.W.S. et al. Exploratory multivariate space–time analysis of colonial justice in Hong Kong during 1900–1930. GeoJournal 86, 255–279 (2021). https://doi.org/10.1007/s10708-019-10066-6
Keywords
Historical GIS

Colonial justice

Functional units

Space–time geography

Exploratory data analysis