Abstract
This paper discusses how competing value systems of different interest groups, help the obscure and lesser known species to become a part of a global conservation project. We analyse two community-based conservation initiatives where two littleknown bird species Bugun liocichla (Liocichla bugunorum) and Amur falcon (Falco amurensis) have transformed the state of the landscape with a series of initiatives by Governments, NGOs and scientists. Bugun liocichla is found in only one location of Arunachal Pradesh and its population is currently as low as 14 individuals. Amur falcon is a migratory bird of prey that visits Nagaland in millions to roost for 2 months. This paper particularly, focuses on how the idea of conservation NGOs is introduced at the community level and how particular bird species gain popularity, locally and internationally. Using the notion of value, we examine how and why species gain specific value/s when the conservation projects are designed and implemented in community-based conservation projects in Northeast India. Based on ethnographic research, we have used semi-structured interviews and participant observation to gather information from key informants. We found that these bird species attain specific cultural, commercial and conservation values depending on various ecological, economic and social factors. In the process of conservation, the birds also become 'development' icons for the landscape. We argue that the two species have attained a 'universal value' attuned to the philosophies of global capitalist market and global conservation.
Access options
Buy single article
Instant access to the full article PDF.
USD 39.95
Price excludes VAT (USA)
Tax calculation will be finalised during checkout.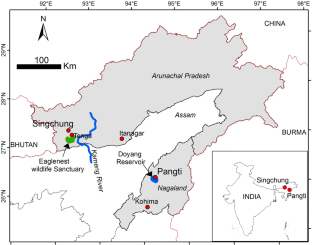 Similar content being viewed by others
Notes
International Union for Conservation of Nature and Natural Resources is the world's oldest and largest global environmental organization, with around 1300 government and NGO members in 185 countries.

An avid bird-specialist and faculty in an academic institution in India.

Majority of the population live in just two villages, Singchung and Wanghoo (Census 2011). In Singchung village, people follow Mahayana Buddhism, but Christianity is also on a rise. In addition to farming, Buguns also work in the construction of local infrastructure, rear Mithun, run small shops and trade in the nearby Tenga town.

Categorized by IUCN as facing an extremely high risk of extinction in the wild.

The Indian Wildlife Protection Act (1972) has a list of schedule of protected species. Schedule I & II have absolute protection with severe penalties if found convicted. Schedule III & IV species are also protected, but penalties are much lower. Schedule V species may be hunted if declared as pest and dangerous by the officials.

In Northeast India, large tracts of forest are de facto controlled by local communities as per their customary laws. The state does not have any ownership or control over them.

Nagas use hornbill feathers, wild boar incisors and bear skins in their headgear and Nyishis use macaque fur as machete cover.

The nearest airport to Singchung is 300 km away in Guwahati, the capital of Assam. Indian citizens from states other than Arunachal Pradesh and international tourists require an 'Inner Line Permit' to visit Arunachal Pradesh.

The price will be lesser if tourists visit in groups rather than alone and if they chose to stay outside the sanctuary.

The Rufford Foundation, a UK registered charity, funds nature conservation projects in the developing world.

Whitley awards are given annually by the Whitley Fund for Nature to recognize effective conservation leaders across the globe. Also called the 'Green Oscars', the award is the most high profile of conservation awards.

Pangti is the largest village for the Lotha tribe in the Wokha district of Nagaland.

Documentary titled 'The Amur Falcon Massacre' was broadcasted in 2012. Bano Haralu, a journalist and a film maker from Nagaland, along with a conservation advocacy group took up the cause of protecting the falcons.

Doyang river is a tributary of the Brahmaputra, 26 km from Wokha town.

Amur Falcon weighing 160–200 g and are one of the 15 species of raptors found in India. The birds are known for their trans-equatorial migration from Mongolia and Eastern China to Southern Africa and back every year (Bildstein 2006). The Indian Wildlife Protection Law does not specifically mention this bird in any schedule and IUCN lists this as Least Concern species.

The global population of the species is estimated to be 1,000,000 birds (BirdLife International 2018). Around 12,000–14,000 falcons were reported to be hunted in the area for consumption and commercial sale every day during the peak season.

A premier research institute tagged falcons with rings to study their movements and to map their migratory routes.

A non-profit, non-commercial portal aims to facilitate nature conservation by providing information and the tools for awareness campaign.

Recorded from the documentary.

Constitutionally, Nagaland has been given special provision through Article 371A and the Pangti village council is the elected administrative unit. Apart from the council, there are other institutions, which dictate the way of life, such as the church, women's association and various youth groups.

Protection of these species indirectly protects other species that are part of the habitat and give refuge to many other smaller species, which otherwise go unnoticed.

Species those who have a disproportionately large effect on its environment and plays a critical role in maintaining the structure of an ecological community.

'Conservation is our Government Now: Political Ecology of Papua New Guinea'. In this book West shows that when NGOs interacted with the local people about conservation, people thought of 'earning cash' and participating in the market, so that they can have access to material goods. Local people were trained to do small businesses, to work with biologists (as wage labourers, guides, porters) and for monitoring the wildlife population. The first two are related to development and later two are for conservation.
References
Afiff, S., & Lowe, C. (2008). Collaboration, conservation and community: Conversation between Suraya Afiff and Celia Lowe. In N. S. Sodhi, G. Acciaioli, M. Erb, & A. K. Tan (Eds.), Biodiversity and human livelihoods in protected areas: Case studies from the Malay Archipelago (pp. 153–164). Cambridge: Cambridge University Press.

Ainsworth, G. B., Fitzsimons, J. A., Weston, M. A., & Garnett, S. D. (2018). The culture of bird conservation: Australian stakeholder values regarding iconic, flagship and rare birds. Biodiversity Conservation, 27(2), 345–363.

Aiyadurai, A. (2012). Bird hunting in Mishmi Hills of Arunachal Pradesh, Northeast India. Indian Birds, 7(5), 134–137.

Aiyadurai, A. (2016). Tigers are our brothers: Understanding human-nature relations in the Mishmi hills. Conservation and Society, 14(4), 305–316.

Athreya, R. (2006). A new species of Liocichla (Aves: Timaliidae) from Eaglenest Wildlife Sanctuary, Arunachal Pradesh, India. Indian Birds, 2(4), 82–94.

Banerjee, A. (2012). The Bugun Liocichla. https://www.livemint.com/Politics/1XBvs4YAYqWBgVigJMmRTO/The-Bugun-Liocichla.html. Accessed 5 June 2018.

Bennett, J. R., Maloney, R., & Possingham, H. P. (2015). Biodiversity gains from efficient use of private sponsorship for flagship species conservation. Proceedings of the Royal Society B, 282(1805), 20142693.

Bildstein, K. L. (2006). Migrating raptors of the world: Their ecology and conservation. Ithaca: Cornell University Press.

Bird-David, N. (1990). The giving environment: Another perspective on the economic system of gatherer–hunters. Current Anthropology, 31(2), 189–196.

Birdlife International. (2006). Bugun Liocichla: a sensational discovery in north-east India. surfbirds.com. http://www.surfbirds.com/community-blogs/blog/2006/09/15/bugun-liocichla-a-sensational-discovery-in-north-east-india/. Accessed 5 June 2018.

Boyes, S. (2013). Safe passage for amur falcons through India. blog.nationalgeographic.org. https://blog.nationalgeographic.org/2013/11/20/safe-passage-for-amur-falcons-through-india/. Accessed 5 June 2018.

Buscher, B., Dressier, W., & Fletcher, R. (2014). Nature Inc: Environmental conservation in the neoliberal age. Tucson: University of Arizona Press.

Change.Org. (2012). Please stop Amur Falcon Massacre in Nagaland, India. https://www.change.org/p/please-stop-amur-falcon-massacre-in-nagaland-india. Accessed 1 June 2018).

Collar, N. J., & Pilgrim, J. D. (2007). Species-level changes proposed for Asian birds, 2005–2006. Birding ASIA, 8(1), 14–30.

Cormier, L. A. (2003). Kinship with monkeys: The Guaja foragers of Eastern Amazonia. New York: Columbia University Press.

Dale, A. (2018). From slaughter to spectacle- education inspires locals to love Amur Falcon. Birdlife.org. https://www.birdlife.org/worldwide/news/slaughter-spectacle-education-inspires-locals-love-amur-falcon. Accessed 3 June 2018.

Dalvi, S., & Sreenivasan, R. (2012). Shocking Amur Falcon Massacre in Nagaland. Conservationindia.org. http://www.conservationindia.org/campaigns/amur-massacre. Accessed 5 June 2018.

Dietz, T., Fitzgerald, A., & Shwom, R. (2005). Environmental values. Annual Review of Environmental Resources, 30(1), 335–372.

Dooren, T. V. (2014). A day with crows: Rarity, nativity and the violent-care of conservation. Animal Studies Journal, 4(2), 1–28.

Fletcher, R. (2010). Neoliberal environmentality: Towards a poststructuralist political Ecology of the conservation debate. Conservation and Society, 8(3), 171–181.

Fletcher, R., & Katja, N. (2012). Contradictions in tourism: The promise and pitfalls of ecotourism as a manifold capitalist fix. Environment and Society: Advances in Research, 3(1), 60–77.

Goswami, R. (2018). Biodiversity award for Arunachal reserve. Telegraphindia.com. https://www.telegraphindia.com/states/north-east/biodiversity-award-for-arunachal-reserve-232663. Accessed 5 June 2018.

Grewal, B. (2009). In search of the Bugun Liocichla and other parables from Eaglenest. Indian Birds, 5(3), 65–69.

Haralu, B., & Sreenivasan, R. (2016). Amur Falcon Conservation in Nagaland, India. Medium.com. https://medium.com/@NWBCT/amur-falcon-conservation-in-nagaland-india-29259f793ef. Accessed 10 June 2018.

IISERPUNENEWS (2013). Postage stamp released of Bugun Liocichla: The bird will now go places! https://iiserpunenews.wordpress.com/2013/02/18/postage-stamp-released-of-bugun-liocichla-the-bird-will-now-go-places Accessed 18 Feb 2018.

Jepson, P., & Canney, S. (2003). Values-led conservation. Global Ecology and Biogeography, 12(4), 271–274.

Kasambe, R. (2014). Doyang reservoir: A potential IBA in Nagaland. Mistnet, 15(2), 24–28.

Knight, J. (2004). Wildlife in Asia: Cultural perspectives. New York: Routledge.

Lawrence, J. (2013). Action for Amur Falcons brings hope for an end to hunting in Nagaland. Birdlife.org. http://www.birdlife.org/asia/news/action-amur-falcons-brings-hope-end-hunting-nagaland. Accessed 4 June 2018.

Lorimer, J. (2006). Nonhuman charisma: Which species trigger our emotions and why? ECOS, 27(1), 20–27.

Manning, A., & Serpell, J. (1994). Animals and human society: Changing perspectives. New York: Routledge.

McAfee, K. (1999). Selling nature to save it? Biodiversity and green developmentalism. Environment and Planning D: Society and Space, 17(2), 133–154.

Mills, L. S., Soule, M. E., & Doak, D. F. (1993). The keystone-species concept in ecology and conservation: Management and policy must explicitly consider the complexity of interactions in natural systems. BioScience, 43(4), 219–224.

Milton, K. (2002). Loving nature: Towards an ecology of emotion. New York: Routledge.

NationalGeographic. (2012). Pictures: Falcon massacre uncovered in India. https://news.nationalgeographic.com/news/2012/11/pictures/121123-falcons-hunt-india-animals-science/ Accessed 06 April 2018.

Robinson, J. G., & Redford, K. H. (1991). Neotropical wildlife use and conservation. Chicago: University of Chicago Press.

Simberloff, D. (1998). Flagships, umbrellas, and keystones: is single-species management passé in the landscape era? Biological Conservation, 83(3), 247–257.

Sinha, N. (2014). A hunting community in Nagaland takes steps toward conservation. India.blogs.nytimes.com. https://india.blogs.nytimes.com/2014/01/03/a-hunting-community-in-nagaland-takes-steps-toward-conservation/. Accessed 5 June 2018.

Soule, Michael E. (1985). What is conservation biology? BioScience, 35(11), 727–734.

The Siberian Times. 2012. Indian 'massacre' of protected Amur Falcons is killing at least 120,000 every year. Siberiantimes.com. http://siberiantimes.com/ecology/casestudy/news/indian-massacre-of-protected-amur-falcons-is-killing-at-least-120000-every-year/?comm_order=best. Accessed 1 June 2018.

Tidemann, S., & Gosler, A. (2010). Ethno-ornithology: Birds, indigenous peoples, culture and society. London: Routledge and Earthscan.

TNN (2011). IISER scientist receives international honour. Times of India https://timesofindia.indiatimes.com/city/pune/IISER-scientist-receives-international-honour/articleshow/8404247.cms. Accessed 18 Jan 2018.

Tsing, A. L., Brosius, J. P., & Zerner, C. (2005). Introduction: Raising questions about communities and conservation. In J. P. Brosius, A. L. Tsing, & C. Zerner (Eds.), Communities and conservation: Histories and politics of community-based natural resource management (pp. 1–34). Walnut Creek: Altamira Press.

West, P. (2006). Conservation is our government now: The politics of ecology in Papua New Guinea. Durham: Duke University Press.
Acknowledgements
This research was supported by a Social Science Research Council Transregional Research Junior Scholar Fellowship with funds provided by the Andrew W. Mellon Foundation. We are grateful to the contributions made by local community members of Singchung and Pangti; Divisional Forest Officer, Sheragaon Forest Division, Mr Milo Tasser; Dr Ramana Athreya; Dr Nandini Velho and Chief Wildlife Warden, Nagaland, Mr Satya Prakash Tripathi in our research. We thank Ms Sonam and Dr Vikrant Jain of Earth Sciences, IITGN for their help with preparing the map of our study area.
Funding
The research was funded by the Social Science Research Council (SSRC) and was carried out with the support of IITGN (RES/SSRC/HSS/_0223/1718/0001).
Ethics declarations
Conflict of interest
The authors declare they have no conflict of interest.
Ethical Approval
All ethical protocols related to interviews and observation was approved by IITGN ethics board.
Additional information
Publisher's Note
Springer Nature remains neutral with regard to jurisdictional claims in published maps and institutional affiliations.
About this article
Cite this article
Aiyadurai, A., Banerjee, S. Bird conservation from obscurity to popularity: a case study of two bird species from Northeast India. GeoJournal 85, 901–912 (2020). https://doi.org/10.1007/s10708-019-09999-9
Published:

Issue Date:

DOI: https://doi.org/10.1007/s10708-019-09999-9
Keywords