Abstract
Urban densification trends combined with redevelopment increasingly moving away from large former industrial and transport sites toward existing town centres and corridors indicate redevelopment is becoming increasingly complex, difficult to plan for and undertake. The interplay between land and property markets and planning frameworks suggest city planners and urban researchers need new tools and methodologies to gain insights into ways to deliver effective responses. Despite the need, there is a limited availability of comprehensive models to fulfil the task. This paper describes a GIS-based tool to assess parcel-level financial feasibility and housing supply associated with urban redevelopment within a precinct. The tool incorporates existing and potential built form and parameters associated with the planning framework and land and property markets. Using a real case study in a workshop, tool performance was evaluated by professional urban planners in terms of its capacity to produce metrics and visualisations of potential scenarios of redevelopment. Results indicate the usefulness of the tool for emulating land market conditions and testing scenarios of planning regulation and market changes for strategic planning purposes.
We're sorry, something doesn't seem to be working properly.
Please try refreshing the page. If that doesn't work, please contact support so we can address the problem.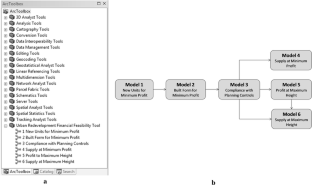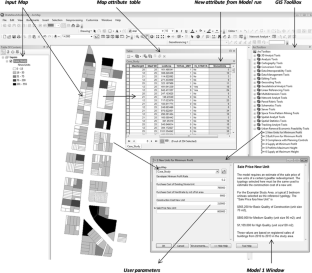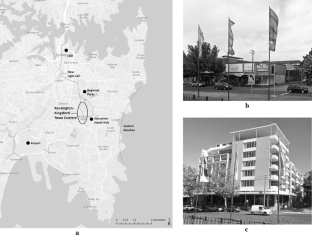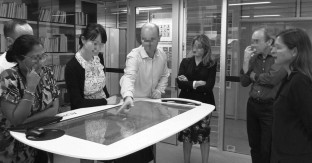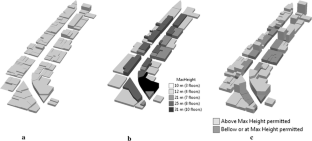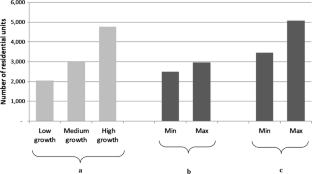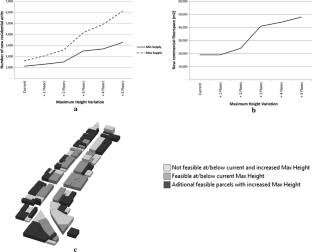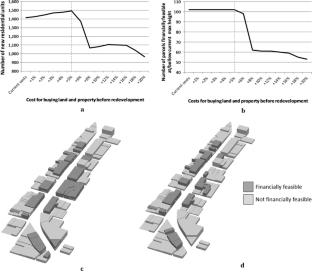 References
Arciniegas, G., & Janssen, R. (2012). Spatial decision support for collaborative land use planning workshops. Landscape and Urban Planning, 107, 332–342.

ASBEC, Australian Sustainable Built Environment Council (2010) Cities for the Future: Baseline Report and Key Issues.

Boulange, C., Pettit, C., & Giles-Corti, B. (2017). The walkability planning support system: An evidence-based tool to design healthy communities. In Geertman, S., Allan, A., Pettit, C. & Stillwell, J. (Eds), Planning support science for smarter urban futures (pp. 153–165). Berlin: Springer.

Brueckner, J. K., & Sridhar, K. S. (2012). Measuring welfare gains from relaxation of land-use restrictions: The case of India's building-height limits. Regional Science and Urban Economics, 42, 1061–1067.

Butler-Bowden, C., & Pickett, C. (2007). Homes in the sky: Apartment living in Australia. Melbourne: The Miegunyah Press.

Cardew, R. (1980). Flats in Sydney: The thirty percent solution? In J. Roe (Ed.), Twentieth century Sydney: Studies in urban and social history (pp. 69–88). Sydney: Hale & Iremonger.

Cheshire, P., & Sheppard, S. (2002). The welfare economics of land use planning. Journal of Urban Economics, 52, 242–269.

DPE, Department of Planning and Environment of New South Wales (2015) SEPP 65: State environmental planning policy no 65-design quality of residential apartment development. Sydney, NSW, Australia.

DPE, Department of Planning and Environment of New South Wales, Australia (2016) 2016 NSW population and households' projection, http://www.planning.org.au/Research-and-Demography/Demography/Population-projections. Accessed 20 November 2016.

ESRI 2017. What is modelbuilder? http://desktop.arcgis.com/en/arcmap/latest/analyze/modelbuilder/what-is-modelbuilder.htm Accessed 12 December 2017.

Forster, C. (2006). The challenge of change: Australian cities and urban planning in the new millennium. Geographical Research, 44(2), 173–182.

Geertman, S., Allan, A., Pettit, C., & Stillwell, J. (2017). Introduction to 'planning support science for smarter urban futures'. In Geertman, S., Allan, A., Pettit, C. & Stillwell, J. (Eds), Planning support science for smarter urban futures (pp. 1–19). Berlin: Springer.

Geshkov, M. V., & DeSalvo, J. S. (2012). The effect of land-use controls on the spatial size of U.S. urbanized areas. Journal of Regional Science, 52(4), 648–675.

Habitat, U. N. (2013). Planning and design for sustainable urban mobility: Global report on human settlements. New York: United Nations.

Harvard, T. (2014). financial feasibility studies for property development: theory and practice. London: Routledge.

Housing Industry Association (2017). Building approval. HIA research note February 2017.

Ihlanfeldt, K. R. (2007). The effect of land use regulation on housing and land prices. Journal of Urban Economics, 61, 420–435.

Leao, S. Z., Huynh, N., Taylor, A., Pettit, C., & Perez, P. (In press, Accepted in Feb 2017). Evolution of a synthetic population and its daily mobility patterns under spatial strategies for urban growth. In Geertman, S., Allan, A., Stillwell, J., & Pettit, C. (Eds.), Planning support science for smarter urban futures (pp. 399–417) Berlin: Springer.

Lieske, S. N., McLeod, D. M., & Coupal, R. H. (2015). Infrastructure development, residential growth and impacts on public service expenditure. Applied Spatial Analysis and Policy, 8(2), 113–130.

Major Cities Unit. (2012). State of Australian cities 2011. Canberra: Department of Infrastructure and Transport, Australian Government.

OECD. (2012). Compact city policies: A comparative assessment. Paris: OECD.

Pinnegar, S., Randolph, B., & Freestone, R. (2015). Incremental urbanism: characteristics and implications of residential redevelopment through owner-driven demolition and rebuilding. Town Planning Review, 86(3), 279–301.

Randolph, B. (2006). Delivering the compact city in Australia: Current trends and future implications. Urban Policy and Research, 24(4), 473–490.

Rawlinsons (2016) Australian construction handbook Rivervale: Rawlinsons Publishing.

Ruming, K. (2014). Urban consolidation, strategic planning and community position in Sydney, Australia: unpacking policy knowledge and public perceptions. Land Use Policy, 39, 254–265.

Tajani, F., & Morano, P. (2015). An evaluation model of the financial feasibility of social housing in urban redevelopment. Property Management, 33(2), 133–151.

Troy, L., Easthope, H., Randolph, B., & Pinnegar, S. (2015a). Renewing the compact city: Interim report. Sydney, Australia: City Futures Research Centre, UNSW.

Troy, L., Randolph, B., Pinnegar, S., & Easthope, H. (2015b). Planning the end of the compact city?, In Proceedings of the state of Australian cities Conference 2015 (pp. 9–11). Gold Coast: QLD, Australia.

Troy, L., Easthope, H., Randolph, B., & Pinnegar, S. (2017). 'It depends what you mean by the term rights': strata termination and housing rights. Housing Studies, 32(1), 1–16.

van den Nouwelant, R., Davison, G., Gurran, N., Pinnegar, S., & Randolph, B. (2015). Delivering affordable housing through the planning system in urban redevelopment contexts: converging government roles in Queensland, South Australia and New South Wales. Australian Planner, 52(2), 77–89.
Acknowledgements
This project was funded by the City of Randwick, Australia, in 2016. The workshop and questionnaires used in the project were approved by the UNSW Human Research Ethics Committee on 16 May 2016 (HC16333). The authors would like to thank the urban planners who participated in the workshop testing the URFF PSS tool presented in this paper in a real-world case study, and the anonymous reviewers for their valuable revision of the text, comments and contributions to the improvement of this paper.
Additional information
If the manuscript is published, the "Financial Feasibility of Urban Redevelopment GIS Toolbox" and a "sample data" will be available to any interested user for download at the "CityData" https://citydata.be.unsw.edu.au/) link at the website of the City Futures Research Centre/University of New South Wales, Sydney, Australia, under a Creative Commons Attribution-Non-Commercial 4.0 International License (CC BY-NC 4.0).
About this article
Cite this article
Leao, S.Z., Troy, L., Lieske, S.N. et al. A GIS based planning support system for assessing financial feasibility of urban redevelopment. GeoJournal 83, 1373–1392 (2018). https://doi.org/10.1007/s10708-017-9843-2
Keywords
Modelling

Visualisation

Scenario

Urban consolidation