Abstract
While still a nascent field, disaster science is surprisingly methodologically stagnant, often relying solely on traditional surveys, interviews, and focus groups to gather qualitative data. Social science disciplines that have long contributed to disaster research and the practice of emergency management, however, have begun to explore the value of alternative, participatory methodologies and their potential contributions to knowledge generation. In this paper, we discuss one such participatory method, photovoice, and its potential contribution to disaster research. We explore the epistemological roots of the method, lay out the steps involved in conducting a photovoice study, and briefly review previous applications of the method. We then enumerate what we see as topics ripe for exploration using photovoice in hazard and disaster contexts. We suggest that photovoice is an innovative method for capturing understandings of hazards and disasters and for providing rich theoretical insights related to extreme events, which are intrinsically geographical and place-based. Photovoice not only offers policymakers a valuable window into the public's understanding of issues related to extreme events, it also empowers individuals to consider their own capabilities to reduce risk in their communities and contribute to broader resilience building efforts.
Access options
Buy single article
Instant access to the full article PDF.
USD 39.95
Price excludes VAT (USA)
Tax calculation will be finalised during checkout.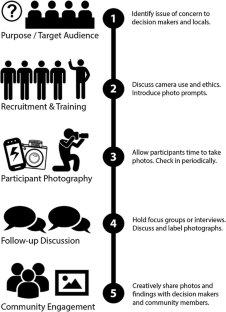 References
Abara, W., Wilson, S., Vena, J., Sanders, L., Bevington, T., Culley, J. M., et al. (2014). Engaging a chemical disaster community: Lessons from Graniteville. International Journal of Environmental Research and Public Health, 11(6), 5684–5697.

Adger, W. N. (2006). Vulnerability. Global Environmental Change, 16, 268–281.

Aldrich, D. P. (2012). Building resilience: Social capital in post-disaster recovery. Chicago: University of Chicago Press.

Annang, L., Wilson, S., Tinago, C., Sanders, L. W., Bevington, T., Carlos, B., et al. (2016). Photovoice: Assessing the long-term impact of a disaster on a community's quality of life. Qualitative Health Research, 26(2), 241–251.

Barrows, H. H. (1923). Geography as human ecology. Annals of the Association of American Geographers, 13(1), 1–14.

Bateson, G., & Mead, M. (1942). Balinese character: A photographic analysis. In W. G. Valentine (Ed.), Special Publications of the New York Academy of Sciences (Vol. 2, pp. 17–92). New York.

Beilin, R. (2005). Photo-elicitation and the agricultural landscape: 'seeing' and 'telling' about farming, community and place. Visual Studies, 20(1), 56–68.

Berke, P. R., & Campanella, T. J. (2006). Planning for postdisaster resiliency. Annals of the American Academy of Political and Social Science, 604(1), 192–207.

Binder, S. B., Baker, C. K., & Barile, J. P. (2015). Rebuild or relocate? Resilience and postdisaster decision-making after hurricane sandy. American Journal of Community Psychology, 56(1–2), 180–196.

Binder, S. B., & Greer, A. (2016). The devil is in the details: linking home buyout policy, practice, and experience after hurricane sandy. Politics and Governance, 4(4), 97–106.

Boas, F. (1921). Ethnology of the Kwakiutl. In Bureau of American Ethnology (Ed.), Annual Report to the Secretary of the Smithsonian Institution (Vol. 35). Washington: Smithsonian Institution.

Brown, B. B., & Perkins, D. D. (1992). Disruptions in place attachment. In I. Altman, & S. M. Low (Eds.), Place Attachment. New York: Springer.

Burnside, R., Miller, D. S., & Rivera, J. D. (2007). The impact of information and risk perception on the hurricane evacuation decision-making of greater New Orleans residents. Sociological Spectrum, 27(6), 727–740.

Burton, C., Mitchell, J. T., & Cutter, S. L. (2011). Evaluating post-Katrina recovery in Mississippi using repeat photography. Disasters, 35(3), 488–509.

Buttimer, A. (1971). Society and milieu in the Franch geographic tradition (Monograph series of the Association of American Geographers). Chicago: Rand McNally.

Cadag, J. R. D., & Gaillard, J. C. (2012). Integrating knowledge and actions in disaster risk reduction: The contribution of participatory mapping. Area, 44(1), 100–109.

Cai, Y. (2015). Picturing climate givernance: Photovoice and public participation. In K. Lofts, S. Duyck, & S. Jodoin (Eds.), Public Participation and Climate Governance Working Paper Series. Montreal: Center for International Sustainable Development Law. http://cisdl.org/public/docs/CAI.pdf.

Carlson, L. (2005). Session 45: Emergency Management for Native Americans. In E. Enarson, C. Childers, B. H. Morrow, B. W. Thomas, & B. Wisner (Eds.), A social vulnerability approach to disasters. Emmitsburg: FEMA Emergency Management Institute, Higher Education Program.

Charron, J. M. (2000). Symbolic interactionism: An introduction, an interpretation, an integration. New York: US Imports.

Chingombe, W., Pedzisai, E., Manatsa, D., Mukwada, G., & Taru, P. (2015). A participatory approach in GIS data collection for flood risk management, Muzarabani district, Zimbabwe. Arabian Journal of Geosciences, 8(2), 1029–1040.

Collier, J., Jr., & Collier, M. (1986). Visual anthropology: Photography as a research method. Albuquerque: University of New Mexico Press.

Cosgrove, D. (2008). Geography and vision: Seeing, imagining, and representing the world. London: I.B. Tauris.

Crabtree, C., & Braun, K. (2015). Photovoice: A community-based participatory approach in developing disaster reduction strategies. Progress in Community Health Partnerships: Research, Education, and Action, 9(1), 31–40.

Crawford, M., & Marecek, J. (1989). Feminist theory, feminist psychology: a bibliography of epistemology, critical analysis, and applications. Psychology of Women Quarterly, 13(4), 477–491.

Curtis, A., Duval-Diop, D., & Novak, J. (2010). Identifying spatial patterns of recovery and abandonment in the Post-Katrina Holy Cross neighborhood of New Orleans. Cartography and Geographic Information Science, 37(1), 45–56.

Cutter, S. L. (1996). Vulnerability to environmental hazards. Progress in Human Geography, 20(4), 529–539.

Delgado, M. (2015). Urban youth and photovoice: Visual ethnography in action. Oxford: Oxford University Press.

Dempsey, J. V., & Tucker, S. A. (1991) Using photo-interviewing as tool for research and evaluation. In Annual Convention of the Association for Educational Communications and Technology, (pp. 24).

Dewitt, B., Fischhoff, B., Davis, A., & Broomell, S. B. (2015). Environmental risk perception from visual cues: The psychophysics of tornado risk perception. Environmental Research Letters, 10(12), 124009.

Douglas, K. B. (1998). Impressions: African American first-year students' perceptions of a predominantly White University. The Journal of Negro Education, 67(4), 416–431.

Evans, W. (2004). Many are called. New Haven: Yale University Press.

Evans, W., & Agee, J. (1941). Let us now praise famous men. Boston: Houghton Mifflin.

Ewald, W., & Lightfoot, A. (2001). I wanna take me a picture: Teaching photography and writing to children. Boston: Beacon.

Federal Emergency Management Agency (2007). Principles of emergency management supplement.

Federal Emergency Management Agency (2016). National disaster recovery framework. In D. O. H. Security (Ed.), (2nd ed.). Washington: Federal Emergency Management Agency.

Fraser, J. C., Doyle, M. W., & Young, H. (2006). Creating effective flood mitigation policies. Eos: Transactions American Geophysical Union, 87(27), 265–270.

Freedman, D. A., Pitner, R. O., Powers, M. C. F., & Anderson, T. P. (2014). Using photovoice to develop a grounded theory of socio-environmental attributes influencing the health of community environments. The British Journal of Social Work, 44(5), 1301–1321.

Friere, P. (2000). Pedagogy of the oppressed (M. B. Ramos, Trans.) (30th anniversary ed.). New York: Continuum.

Gorman-Murray, A., Morris, S., Keppel, J., McKinnon, S., & Dominey-Howes, D. (2017). Problems and possibilities on the margins: LGBT experiences in the 2011 Queensland floods. Gender, Place and Culture, 24(1), 37–51.

Harper, D. (2002). Talking about pictures: A case for photo elicitation. Visual Studies, 17(1), 13–26. https://doi.org/10.1080/14725860220137345.

Heisley, D. D., & Levy, S. J. (1991). Autodriving: A photoelicitation technique. Journal of Consumer Research, 18(3), 257–272.

Hissa, K. (2016). Using photovoice to understand climate change adaptation in rural Ontario. Waterloo: Wilfrid Laurier University.

Hom, J. (2010). Making the Invisible Visible: Interrogating social spaces through photovoice. Ph.D. Dissertation, The Ohio State University, Columbus, OH.

Kienberger, S. (2014). Participatory mapping of flood hazard risk in Munamicua, District of Búzi, Mozambique. Journal of Maps, 10(2), 269–275.

Klockow, K. E., Peppler, R. A., & McPherson, R. A. (2014). Tornado folk science in Alabama and Mississippi in the 27 April 2011 tornado outbreak. GeoJournal, 79(6), 791–804.

Kniffen, F. B. (1936). Louisiana house types. Annals of the Association of American Geographers, 26(4), 179–193.

Knobloch, D. M. (2005). Moving a community in the aftermath of the great 1993 Midwest flood. Journal of Contemporary Water Research & Education, 130(1), 41–45.

Kuehne, G. (2013). "I don't know what's right anymore": Engaging distressed interviewees using graphic-elicitation. Forum Qualitative Sozialforschung/Forum: Qualitative Social Research, 14(3), 20. https://doi.org/10.17169/fqs-14.3.1909.

Kyle, G., & Chick, G. (2007). The social construction of a sense of place. Leisure Sciences, 29(3), 209–225.

Lange, D. (1960). The assignment I'll never forget: Migrant mother. Popular Photography, 46(2), 42–43.

Latham, A. (2003). Research, performance and doing human geography: some reflections on the diary-photography, diary-interview method. Environment and Planning A, 35(11), 1993–2017.

Lewis, P. (1983). Learning from looking: Geographic and other writing about the americal cultural landscape. American Quarterly, 35(3), 242–261.

Livingstone, D. N. (1992). The geographical tradition. Oxford: Blackwell.

Loebach, J., & Gilliland, J. (2010). Child-led tours to uncover children's perceptions and use of neighborhood environments. Children, Youth and Environments, 20(1), 52–90.

Lopez, E. D. S., Eng, E., Randall-David, E., & Robinson, N. (2005). Quality-of-life concerns of african american breast cancer survivors within rural north Carolina: Blending the techniques of photovoice and grounded theory. Qualitative Health Research, 15(1), 99–115.

Lowenthal, D. (1985). The past is a foreign country. Cambridge: Cambridge University Press.

Madsen, W., & O'Mullan, C. (2016). Perceptions of community resilience after natural disaster in a rural Australian town. Journal of Community Psychology, 44(3), 277–292.

McIntyre, A. (2003). Through the eyes of women: Photovoice and participatory research as tools for reimagining place. Gender, Place and Culture, 10(1), 47–66.

Milligan, M. J. (1998). Interactional past and potential: The social construction of place attachment. Symbolic Interaction, 21(1), 1–33.

Mohr, E. (2014). Posttraumatic growth in youth survivors of a disaster: An arts-based research project. Art Therapy, 31(4), 155–162.

Moletsane, R., de Langer, N., Mitchell, C., Stuart, J., Buthelezi, T., & Taylor, M. (2007). Photo-voice as a tool for analysis and activism in response to HIV and AIDS stigmatisation in a rural KwaZulu-Natal school. Journal of Child and Adolescent Mental Health, 19(1), 19–28. https://doi.org/10.2989/17280580709486632.

Moustakas, C. (1994). Phenomenological research methods. Thousand Oaks: Sage.

Nowell, B. L., Berkowitz, S. L., Deacon, Z., & Foster-Fishman, P. (2006). Revealing the cues within community places: Stories of identity, history, and possibility. American Journal of Community Psychology, 37(1/2), 29–46.

Nykiforuk, C. I. J., Vallianatos, H., & Nieuwendyk, L. M. (2011). Photovoice as a method for revealing community perceptions of the built and social environment. International Journal of Qualitative Methods, 10(2), 103–124.

O'Brien, K. L., & Leichenko, R. M. (2000). Double exposure: Assessing the impacts of climate change within the context of economic globalisation. Global Environmental Change, 10(3), 221–232.

Oliver-Smith, A. (1991). Successes and failures in post-disaster resettlement. Disasters, 15(1), 12–23.

Peek, L., Tobin-Gurley, J., Cox, R. S., Scannell, L., Fletcher, S., & Heykoop, C. (2016). Engaging youth in post-disaster research: Lessons learned from a creative methods approach. Gateways International Journal of Community Research and Engagement, 9(1), 89–112.

Peters-Guarin, G., McCall, M. K., & van Westen, C. (2012). Coping strategies and risk manageability: Using participatory geographical information systems to represent local knowledge. Disasters, 36(1), 1–27.

Raber, M. P., Lopez, K. K., Pomeroy, M., Mody, A., Markham, C., & Sharma, S. V. (2011). Brighter sights: Using photovoice for a process evaluation of a food co-op cycle nutrition intervention. Journal of Health Disparities Research and Practice, 9(3), 20–34.

Ratzel, F. (1896). Die deutsche Landschaft. Deutsche Rundschau, 88, 346–367. https://archive.org/details/deutscherundscha88stutuoft.

Relph, E. (1976). Place and placelessness. London: Pion.

Ritchie, L. A., & Gill, D. A. (2007). Social capital theory as an intergrating framework in technological disaster research. Sociological Spectrum, 27(1), 103–129.

Rose, G. (1993). Feminism & geography: The limits of geographical knowledge. Minneapolis: University of Minnesota Press.

Royce, S. W. (2004). Breaking the Culture of Silence: An Examination of Youth Empowerment Experiences Through Photovoice. Ph.D. Dissertation, University of South Carolina, Columbia, SC.

Sauer, C. O. (1925). The morphology of landscape. Berkeley: University of California Press.

Sauer, C. O. (1944). A geographic sketch of early man in America. Geographical Review, 34(4), 529–573.

Scheib, H. A., & Lykes, M. B. (2013). African American and Latina community health workers engage PhotoPAR as a resource in a post-disaster context: Katrina at 5 years. Journal of Health Psychology, 18(8), 1069–1084.

Schlüter, O. (1899). Bemerkungen zur Siedlungsgeographie. Geographische Zeitschrift, 5(2), 65–85.

Schlüter, O. (1906). Die Ziele der Geographie des Menschens. Berlin: Oldenbourg.

Schumann, R. L., III. (2015a). Historic landscapes as cooperative animation: Exploring networks of memory with photographic methods. In S. P. Hanna, A. E. Potter, E. A. Modlin, P. Carter, & D. Butler (Eds.), Social memory and heritage tourism methodologies. London: Routledge.

Schumann, R. L., III. (2015b). The meaning of place recovery on the Mississippi Gulf Coast. Columbia: University of South Carolina.

Schumann, R. L., III, Ash, K. D., & Bowser, G. C. (2017). Tornado warning perception and response: Integrating the roles of visual design, demographics, and hazard experience. Risk Analysis. https://doi.org/10.1111/risa.12837.

Seamon, D. (2000). A way of seeing people and place: Phenomenology in environment-behavior research. In S. Wapner, J. Demick, T. Yamamoto, & H. Minami (Eds.), Theoretical perspectives in environment-behavior research. New York: Plenum.

Sherif, C. W. (1998). Bias in psychology. Feminism & Psychology, 8(1), 58–75.

Sims, S. B. (2014). Minority Health Perceptions in the Lower Mississippi Delta: A Grounded Theory Study Using PhotoVoice Methodology. Master's Thesis, University of Southern Mississippi, Hattiesburg, MS.

Siskind, A. (1981). Harlem document: Photographs 1932–1940. Providence: Matrix.

Smith, G. (2011). Planning for post-disaster recovery: A review of the United States disaster assistance framework. Fairfax: Public Entity Risk Institute.

Smith, K., Barrett, C. B., & Box, P. W. (2000). Participatory risk mapping for targeting research and assistance: With an example from East African Pastoralists. World Development, 28(11), 1945–1959.

Suchar, C. S. (1988). Photographing the changing material culture of a gentrified community. Visual Sociology, 3(2), 17–21.

Tierney, K. (2014). The social roots of risk: Producing disasters, promoing resilience. Stanford: Stanford University Press.

Tran, P., Shaw, R., Chantry, G., & Norton, J. (2009). GIS and local knowledge in disaster management: A case study of flood risk mapping in Viet Nam. Disasters, 33(1), 152–169.

Tuan, Y. (1977). Space and place: The perspective of experience. Minneapolis: University of Minnesota Press.

Turner, B. L., II, Kasperson, R. E., Matson, P. A., McCarthy, J. J., Corell, R. W., Christensen, L., et al. (2003). A framework for vulnerability analysis in sustainability science. Proceedings of the National Academy of Sciences, 100(14), 8074–8079.

United Nations. (2015). Sendai framework for disaster risk reduction 2015–2030. Sendai, Japan: United Nations Office for Disaster Risk Reduction (UNISDR).

Wang, C. (1999). Photovoice: A participatory action research strategy applied to women's health. Journal of Women's Health, 8(2), 185–192.

Wang, C., & Burris, M. A. (1994). Empowerment through Photo Novella: Portraits of participation. Health Education & Behavior, 21(2), 171–186.

Wang, C., & Burris, M. A. (1997). Photovoice: Concept, methodology, and use for participatory needs assessment. Health Education & Behavior, 24(3), 369–387.

Wang, C., Yuan, Y. L., & Feng, M. L. (1996). Photovoice as a tool for participatory evaluation: The community's view of process and impact. Journal of Contemporary Health, 4, 47–49.

Watson, H. (2013). Citizen journalism as data for disaster research. International Journal of Mass Emergencies and Disasters, 31(2), 219–246.

White, G. F. (1942). Human adjustment to floods: A geographical approach to the flood problem in the United States. Chicago: University of Chicago.

Wilson, N., Dasho, S., Martin, A. C., Wallerstein, N., Wang, C. C., & Minkler, M. (2016). Engaging Youth adolescents in social action through photovoice. The Journal of Early Adolescence, 27(2), 241–261. https://doi.org/10.1177/0272431606294834.

Worth, S., & Adair, J. (1972). Through Navajo eyes: An exploration in film communication and anthropology. Bloomington: Indiana University Press.

Ziller, R. C., & Lewis, D. (1981). Orientations: Self, social, and environmental percepts through auto-photography. Personality and Social Psychology Bulletin, 7(2), 338–343.
Ethics declarations
Conflict of interest
The authors declare that they have no conflicts of interest.
Informed consent/human subjects
Since this is a methodological and prescriptive piece, no human subjects data were collected as part of this research.
About this article
Cite this article
Schumann, R.L., Binder, S.B. & Greer, A. Unseen potential: photovoice methods in hazard and disaster science. GeoJournal 84, 273–289 (2019). https://doi.org/10.1007/s10708-017-9825-4
Published:

Issue Date:

DOI: https://doi.org/10.1007/s10708-017-9825-4
Keywords