Abstract
More than half of the US rural population lives inside metro or micropolitan areas and even at more disaggregated scales, such as the census tracts, most spatial units mix rural and urban population. At a national scale, only 30% of the country are inhabited by 100% urban or 100% rural population, implying that more than two third of the US territory are somewhere in between both situations. As the rural/urban dichotomy appears today to be blurred by the emergence of new phenomena like rurbanization or exurbanization, our perception of rural America may be somewhat twisted and the reality of rural areas underplayed. This paper focuses on using finer-grade spatial units such as the census blocks and block groups, in order to provide new elements about the extension, localization and characteristics of rural America as well as about its inner dynamics. To that end, we analyze and process geographical and social data at these two levels of information, and use population density as a main factor of analysis. This allows us not only to propose new measurement of the extent of rural space in the USA but also to propose a new vision of its spatial dynamics by studying how several social indicators such as income, median age or sex ratio reveal regional and micro-regional variations and situations in the rural part of the US.
This is a preview of subscription content, log in to check access.
Access options
Buy single article
Instant access to the full article PDF.
US$ 39.95
Price includes VAT for USA
Subscribe to journal
Immediate online access to all issues from 2019. Subscription will auto renew annually.
US$ 199
This is the net price. Taxes to be calculated in checkout.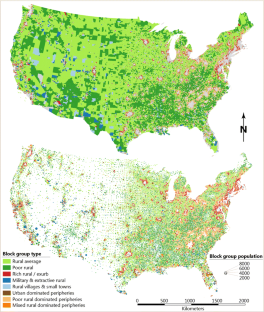 Notes
1.

2.

3.

Changes of the land cover where the original soils are covered by hard impervious surfaces.

4.

5.

6.

The threshold, however, may vary a lot in function of where in the world it is applied, since there are high density rural areas, especially in Asia.

7.

Using our definition, i.e. block groups with a population density <70 persons/km².
References
Antrop, M. (2000a). Changing patterns in the urbanized countryside of Western Europe. Landscape Ecology, 15(3), 257–270.

Antrop, M. (2000b). Background concepts for integrated landscape analysis. Agricultural Ecosystems Environment, 77(1), 17–28.

Barcus, H. R., & Simmons, L. (2012). Ethnic restructuring in rural America: Migration and the changing faces of rural communities in the Great Plains. The Professional Geographer, 65(1), 130–152. doi:10.1080/00330124.2012.658713.

Berque, A. (2011). Le rural, le sauvage, l'urbain. Etudes Rurales, 187, 51–61. https://etudesrurales.revues.org/9367#quotation.

Brondizio, E., & Le Tourneau, F.-M. (2016). Environmental governance for all. Science, 352(6291), 1272–1273.

Brown, D. L. (2014). Rural population change in social context. In L. Jensen, C. Bailey, & E. Ransom (Eds.), Rural America in a globalizing world (pp. 299–310). Morgantown, WV: West Virginia University Press.

Brown, D. G., Johnson, K. M., Loveland, T. R., & Theobald, D. M. (2005). Rural land-use trends in the conterminous United states, 1950–2000. Ecological Applications, 15(6), 1851–1863.

Calkin, D., Cohen, J., Finney, M., & Thompson, M. (2014). How risk management can prevent future wildfire disasters in the wildland–urban interface. PNAS, 111(2), 746–751.

Fitchen, J. (1991). Endangered spaces, enduring places: Change, identity, and survival in rural America. Boulder, CO: Westview.

Glasgow, N., & Brown, D. L. (2012). Rural ageing in the United States: Trends and contexts. Journal of Rural Studies, 28(4), 422–431.

Hamilton, L. C., Hamilton, L. R., Duncan, C. M. and Colocousis, C. R. (2008). Place matters: Challenges and opportunities in four rural Americas. Reports on rural America (Vol. 1, No. 4), Durham, NH: Carsey Institute.

Isserman, A. (2005). In the national interest: Defining rural and urban correctly in research and public policy. International Regional Science Review, 28(4), 465–499.

Johnson, K. M. (2013). Deaths Exceed Births in Record Number of U.S. Counties. Fact Sheet No. 25. Carsey Institute. http://www.carseyinstitute.unh.edu/sites/carseyinstitute.unh.edu/files/publications/fs-johnson-natural-decrease-uscounties-web.pdf. Accessed 14 March 2013.

Johnson, K. M., & Cromartie, J. B. (2006). The rural rebound and its aftermath: Changing demographic dynamics and regional contrasts. In W. A. Kandel & D. L. Brown (Eds.), Population change and rural society (pp. 25–49). Dordrecht: Springer.

Johnson, K. M., & Lichter, D. T. (2012). Rural natural increase in the new century: America's third demographic transition. In L. J. Kulcsár & K. J. Curtis (Eds.), International handbook of rural demography (pp. 17–34). New York: Springer.

Jones, R., Fly, M., Talley, J., & Cordell, H. (2003). Green migration into rural America: The new frontier of environmentalism? Society & Natural Resources, 16(3), 221–238. doi:10.1080/08941920309159.

Laidley, T. (2016). Measuring Sprawl: A new index, recent trends, and future research. Urban Affairs Review, 52(1), 66–97.

Landis, J. (2009). The changing shape of metropolitan America. The Annals of the American Academy of Political and Social Science, 626(1), 154–191.

Lichter, D. T., & Brown, D. L. (2011). Rural America in an urban society: Changing spatial and social boundaries. Annual Review of Sociology, 37, 565–592. doi:10.1146/annurev-soc-081309-150208.

Lopez, R. (2014). Urban sprawl in the United States: 1970–2010. Cities and the Environment (CATE), 7(1), 7. http://digitalcommons.lmu.edu/cate/vol7/iss1/7.

Mc Granahan, D. A., Cromartie, J., & Wojan, T. (2010). Nonmetropolitan outmigration counties: some are poor, many are prosperous. Economic research report. No. 107. U.S. Department of Agriculture. Washington, DC: U.S. Government Printing Office.

Meentemeyer, R., Tang, W., Dorning, M. A., Vogler, J. B., Cunniffe, N. J., & Shoemaker, D. A. (2013). FUTURES: Multilevel simulations of emerging urban–rural landscape structure using a stochastic patch-growing algorithm. Annals of the Association of American Geographers, 103(4), 785–807. doi:10.1080/00045608.2012.707591.

Murdock, S., Cline, M., & Zey, M. (2011). Challenges in the analysis of rural populations in the United States. In L. J. Kulcsár & K. J. Curtis (Eds.), International handbook of rural demography (Vol. 3)., International handbooks of population Berlin: Springer. doi:10.1007/978-94-007-1842-5_2.

Owens, P. M., Titus-Ernstoff, L., Gibson, L., Beach, M., Beauregard, S., & Dalton, M. (2010). Smart density: A more accurate method of measuring density for health related research. International Journal of Health Geographics, 9(1), 8.

Prieger, J. (2013). The broadband digital divide and the economic benefits of mobile broadband for rural areas. Telecommunications Policy, 37(6–7), 483–502.

Ratcliffe, M., Burd, C., Holder, K., & Fields, A. (2016). Defining rural at the U.S. Census Bureau. American community survey and geography brief, Washington: U.S. Bureau of Census.

Schaeffer, P. V., Kahsai, M. S., & Jackson, R. W. (2013). Beyond the rural-urban dichotomy: Essay in Honor of Professor A. M. Isserman. International Regional Science Review, 36(1), 81–96. doi:10.1177/0160017612449981.

Snyder, A. R., & McLaughlin, D. K. (2004). Female-headed families and poverty in rural America. Rural Sociology, 69(1), 127–149. doi:10.1526/003601104322919937.

Terando, A. J., Costanza, J., Belyea, C., Dunn, R. R., McKerrow, A., & Collazo, J. A. (2014). The southern megalopolis: Using the past to predict the future of urban sprawl in the Southeast U.S. PLoS ONE, 9(7), e102261. doi:10.1371/journal.pone.0102261.

Theobald, D. M. (2001). Land-use dynamics beyond the American urban fringe. The Geographical Review, 91(3), 544–564.

Theobald, D. (2005). Landscape patterns of exurban growth in the USA from 1980 to 2020. Ecology and Society, 10(1), 32. http://www.ecologyandsociety.org/vol10/iss1/art32/.

Thomas, D. S., & Butry, D. T. (2014). Areas of the U.S. wildland–urban interface threatened by wildfire during the 2001–2010 decade. Natural Hazards, 71(3), 1561. doi:10.1007/s11069-013-0965-7.

Travis, W. R. (2007). New geographies of the American West: Land use and the changing patterns of place. Washington: Island Press.

Trusty, R. R. (2004). Mapping population density using a dasymetric mapping technique (p. 1425487). San Jose State University, ProQuest Dissertations Publishing.

Ulrich-Schad, J. (2015). Recreational amenities, rural migration patterns, and the great recession. Population and Environment, 37, 157–180. doi:10.1007/s11111-015-0238-3.

US Bureau of Census (2012). 2010 census of population and housing, summary population and housing characteristics, CPH-1-A, selected appendixes. Washington: U.S. Government Printing Office.

Von Reichert, S., Commartie, J., & Arthun, R. (2014). Reasons for returning and not returning to rural U.S. communities. The Professional Geographer, 66(1), 58–72.

Winkler, R. L., Cheng, C., & Golding, S. (2011). Boom or bust? Population dynamics in natural-resource dependent counties. In L. J. Kulcsar & K. J. Curtis (Eds.), International handbook of rural demography (pp. 349–367). Dordrecht: Springer.

Woods, M. (2009). Rural geography: Blurring boundaries and making connections. Progress in Human Geography, 33(6), 849–858. doi:10.1177/0309132508105001.
Acknowledgements
This research was funded by the French National Center for Scientific Research.
Ethics declarations
Conflict of interest
Author declares that there is no conflict of interest.
About this article
Cite this article
Le Tourneau, F. Using small spatial units to refine our perception of rural America. GeoJournal 83, 803–817 (2018). https://doi.org/10.1007/s10708-017-9802-y
Keywords
Rural America

Population density

Social indicators

Rural geography

Spatial dynamics