Abstract
Access to safe and adequate water and to sanitation has been a global developmental priority due to their intrinsic impacts on the achievement of the sustainable development goals. Despite the implementation of several measures to improve access to safe water and sanitation, urban dwellers in Ghana struggle to acquire water and access sanitation facilities. This paper identified and examined the vulnerable conditions of households to environmental inadequacies of potable water and sanitation and measures aimed at reducing the risks associated with them in the Ashaiman Municipality. The study revealed that, access to adequate water supply was not necessarily dependent on the physical location of house units, but on factors such as lack of building permit, financial constraints, rental conditions, administrative procedures and ill-suited housing arrangement. Inadequate solid and liquid waste management practices and poor drainage systems were major problems identified in the Municipality. The paper argues that water, drainage systems and logistics for waste management in deprived communities must be provided by the local government and service providers through public–private partnership agreements. We conclude that, planning rules, regulations and procedures should be strictly adhered to and vigorously enforced by the Municipality in order to have a well-organized and planned urban environment.
Access options
Buy single article
Instant access to the full article PDF.
US$ 39.95
Tax calculation will be finalised during checkout.
Subscribe to journal
Immediate online access to all issues from 2019. Subscription will auto renew annually.
US$ 119
Tax calculation will be finalised during checkout.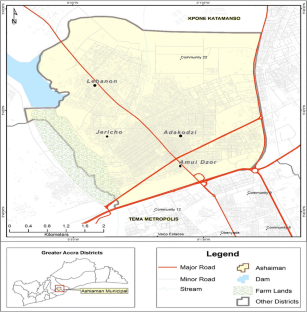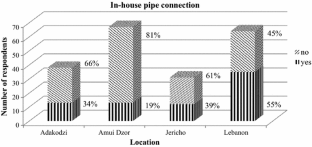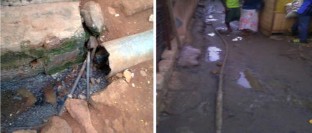 References
Ainuson, G. K. (2010). Urban water politics and water security in disadvantaged urban communities in Ghana. African Studies Quarterly, 11(4), 59–82.

Ashaiman Municipal Assembly. (2010a). Ashaiman medium term development, plan 2010–2013. Ashaiman.

Ashaiman Municipal Assembly. (2010b). Municipal environmental sanitation action plan. Ashaiman.

Brandful, C. P., Erdiaw-Kwasie, M. O., & Amoateng, P. (2015). Africa's urbanisation: Implications for sustainable development. Cities, 47, 62–72.

Dapaah, E. K., & Harris, L. M. (2017). Framing community entitlements to water in Accra, Ghana: A complex reality. Geoforum, 82, 26–39.

Garrett, J. (2014). Bridging the divide. WaterAid briefing paper, http://www.wateraid.org/what-we-do/our-approach/research-and-publications/view-publication?id=8ccdc986-f992-4616-bf4a-48b156b1b58e.

Ghana Federation of the Urban Poor. (2012). Ashaiman city wide slum profile report, 2012. Ashaiman Municipal Assembly.

Ghana Statistical Service. (2012). 2010 Population and housing census, summary report of final result. Accra, Ghana: GSS.

Gronwall, J. (2016). Self-supply and accountability: To govern or not to govern groundwater for the (peri-) urban poor in Accra, Ghana. Environmental Earth Sciences. doi:10.1007/s12665016-5978-6.

Hesselbarth, S. (2005). Socio-economic impact of water supply and sanitation project. https://www.kfw-entwicklungsbank.de/migration/EntwicklungsbankStartseite/Entwicklungsfinanzierung/Sektoren/Wasser/Engagement-der-KfWEntwicklungsbank/Wirkungen.pdf.

Jankowska, Marta M., Stoler, Justin, Ofiesh, Caetlin, Rain, David, & Weeks, John R. (2015). Agency, access, and Anopheles: neighborhood health perceptions and the implications for community health interventions in Accra, Ghana (p. 8). Stockholm: Global Health Actions.

Kyomuhendo, M. (2011). National strategy for household water treatment and safe storage in Ghana. Ghana: UNICEF and Republic of Ghana.

Mazeau, A., Scott, R., & Tuffuor, B. (2012). Sanitation a neglected essential service in the unregulated urban expansion of Ashaiman, Ghana. http://sfc2012.org/mazeau_scott_tuffuor.pdf.

Miller, R. L., & Brewer, J. D. (2003). A-Z of social research. London: Sage.

Oluyemo, C. A. (2012). Women's empowerment as determinant for maintenance and sustainability of portable water and sanitation facilities in Ekiti State, Nigeria. International Journal of Interdisciplinary Social Sciences, 6(4), 1833–1882.

Pelling, M., & Wisner, B. (2009). Disaster risk reduction: Cases from urban Africa. London: Earthscan.

Peloso, M., & Morinville, C. (2014). Chasing for water: Everyday practices of water access in peri-urban Ashaiman, Ghana. Water Alternatives, 7(1), 121–139.

Songsore, J. (2008). Environmental and structural inequalities in Greater Accra. The Journal of the International Institute, 16(1), 8–13.

Songsore, J., Nabila, J. S., Yangyuoru, Y., Amuah, E., Bosque-Hamilton, E. K., Etsibah, K. K., et al. (2005). State of environmental health: Report of the Greater Accra metropolitan area 2001. Accra: Ghana Universities Press.

Stoler, J., Fink, G., Weeks, J., Appiah, O., Ampofo, J., & Hills, A. (2012a). When urban taps run dry: Sachet water consumption and health effects in low income neighbourhoods of Accra, Ghana. Health Place, 18(2), 250–262.

Stoler, J., Weeks, J., & Fink, G. (2012b). Sachet drinking water in Ghana's Accra-Tema Metropolitan area: Past, present and future. Journal of Water Sanitation Hygiene Development. doi:10.2166/washdev.2012.104.

UN/ISDR. (2004). Living with risk: A global review of disaster reduction initiatives. United Nations: Geneva.

UNDP. (2006). Human development report 2006. Beyond scarcity: Power, poverty and the global water crisis, New York, USA.

UNDP. (2010). Urban risk management: Bureau for crisis prevention and recovery. http://www.undp.org/content/dam/undp/library/crisis%20prevention/disaster/6Disaster%20Ris20Reduction%20-%20Urban%20Risk%20Management.pdf. Accessed 6 May 2013.

UNDP. (2017). Human development report 2017. Human development for everyone, New York.

UNICEF & WHO. (2015). Progress on drinking water and sanitation 2015 update. New York and Geneva.

UNICEF & WHO. (2017). Safely managed drinking water. New York and Geneva.

Water and Sanitation Sector Monitoring Platform Ghana Summary Sheet. (2009). Status of Ghana's drinking water and sanitation sector. http://www.wsmp.org/downloads/countrysummary-sheet-09.pdf. Accessed 2 May 2013.

Zia, H., & Devadas, V. (2008). Urban solid waste management in Kanpur: Opportunities and perspectives. Habitat International, 32(1), 58–73.

Zimmerman, J., Mihelcic, J., & Smith, J. (2008). Global stressors on water quality and quantity. Environmental Science and Technology, 42(12), 4247–4254.
Acknowledgements
We confirm that, this project was not funded by any funding agency. The consent of all interviewees were sought for the studies.
About this article
Cite this article
Ablo, A.D., Yekple, E.E. Urban water stress and poor sanitation in Ghana: perception and experiences of residents in the Ashaiman Municipality. GeoJournal 83, 583–594 (2018). https://doi.org/10.1007/s10708-017-9787-6
Keywords
Urban water stress

Poor sanitation

Environmental risk

Ashaiman

Ghana