Abstract
This paper attempts to present and discuss the geomorphological and spatial analyses of Hygassos in the middle Mediterranean (a demos in ancient Bozburun Peninsula) through the application of GIS and photogrammetry, where necessary. The contextual data is composed of the settlement features and humanly constructed terrace relics. In search of the spatial and social territoria, the research questions greatly lean on the present geographical attributes and, the results of a recent survey concerning the ruins situated along a narrow valley in modern Selimiye-Kızılköy and the Acropolis rising beside. The physical scope encompasses the khora of the Acropolis whose spatial coverage applies to ca. 27.26 km2. As the results show, the socio-economic transformation of Hygassos, under the observance of a major stronghold (Kaletepe), must have been quite dependent on the interplay of the topographical and natural factors, as well as the likely shifts from or to the Acropolis over time. However, ambiguities remain for the resilient western half territory (near immediate Losta Bay) which perhaps encroaches on the frontiers of neighbouring Tymnos. Unfavourable but cultivable areas were preferably used for household construction and terracing whereas the land exposed to maximum erosion was refrained for settling purposes.
Access options
Buy single article
Instant access to the full article PDF.
USD 39.95
Price includes VAT (USA)
Tax calculation will be finalised during checkout.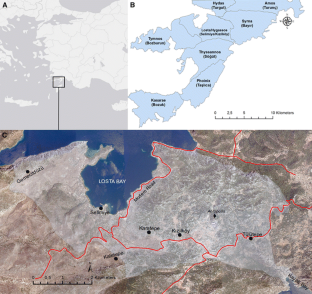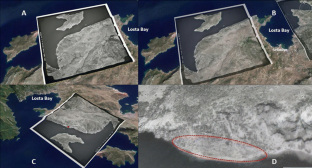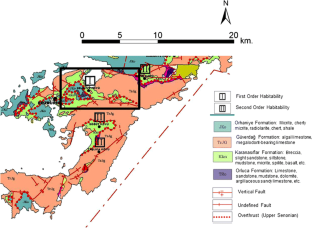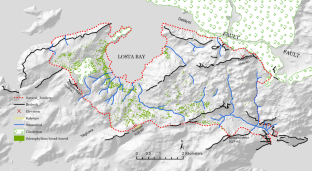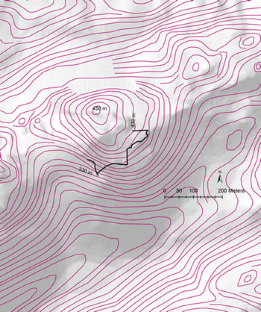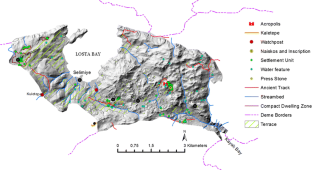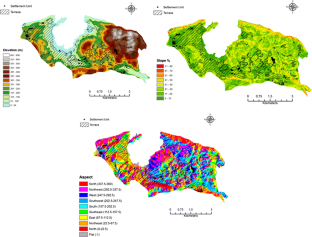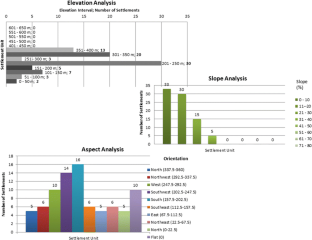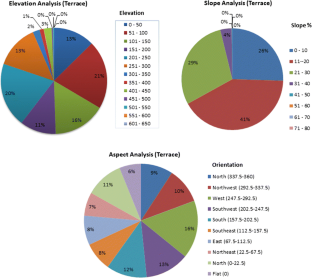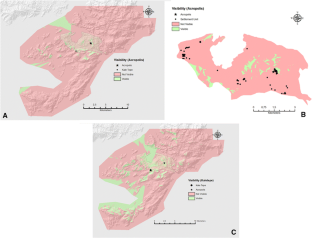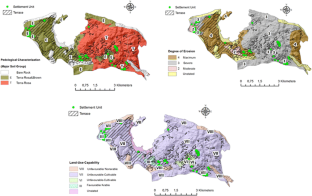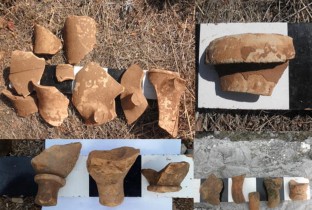 Notes
1.

For the Incorporated Peraea, see Fraser and Bean (1954: 94–98).

2.

3.

The expression of "Peraea" is used in order to avoid the potential anachronic debates hereunder.

4.

Unless otherwise stated, all the directions are referenced according to the Acropolis throughout the text.

5.

Güverdağ Formation is free of fossils.

6.

The borders of Hygassos fall into the area marked in black on Fig. 3.

7.

8.

Further research about the architectural style and texture and the chronology of Kaletepe is under way.

9.

Note that new settlement data from the south of Tülütepe is introduced in Fig. 6, in this research.

10.

On some pressing platforms of Phoinix, refer to Oğuz-Kırca (2014b: 289, 302).

11.

Also valid for Kaletepe, the cross-border coverage is confined to the whole raster surface at hand (see Fig. 10a, c below). The seaward line of sight extends e.g. over the Cnidian Peninsula.

12.

13.

In the meantime, no extra attention was paid to the terraced lands in terms of visibility nor were the terraces displayed on the maps. The reason for such lies in the priorities normally to be given to the topographical parameters as dealt in the previous part.

14.

Digital soil base maps obtained from the Turkish Ministry of Food, Agriculture and Livestock by the first author were utilised for the generation of the pedological maps that are pertinent to the territorium of Hygassos.

15.

On erosion that arises from miscellaneous factors, e.g. tectonism, rainfall regime, human activity like overgrazing, doing excessive agricultural, rugged topographies, also referrable to Bevan and Conolly (2011: 1310).

16.

Label "E" stands for the Terra-Rosa & Brown Soil, in the original data layer.

17.

Where the nuances for the identically defined categories with various codes (see I–II–III; V–VI–VII in Table 1) lie in the technical background.

18.

Orhaniye, neighbouring Turgut and Bayır, further to the north, is a perfect case for the depositional process under sand effect, in the Peninsula (Flemming et al. 1973: 49–50).

19.

Exposure to changes due to sea rise and ruins of buildings are visible in the environs of a group of sandy islands around Kızılada and Kiseli Ada, in Bozburun. Almost awash sandbank is clearly seen around Adaboğazı. In Thyssannos, the walls of the Medieval houses are in ca. 30 cm water level on the shoreline (ibid.).

20.

Also see Altunel et al. 2003: 138 (figure 1), 139.

21.

More on overpopulation in Ottoman Anatolia, see the results of an archival research (comprising ca. 700 rural areas) conducted by Cook (1972).

22.

More on efficiency of distance, labour and self-sufficiency, see Forbes (2007: 188–189).

23.

24.

The occurrence of upheavals of the interplay between the people and their surroundings, the indigenous developments particularly in architecture, etc., e.g. Lerna.

25.

The grant could not be used by the first author due to the private reasons which had arisen beyond her control during the first quarter of the research period.
References
Abulafia, D. (2003). The Mediterranean in history. London: Thames and Hudson.

Altunel, E., Stewart, I. S., Barka, A., & Piccardi, L. (2003). Earthquake faulting at Ancient Cnidus, SW Turkey. Turkish Journal of Earth Sciences, 12(1), 137–151.

Anzidei, M., Antonioli, F., Benini, A., Lambeck, K., Sivanf, D., Serpelloni, E., et al. (2011). Sea level change and vertical land movements since the last two millennia along the coasts of southwestern Turkey and Israel. Quaternary International, 232(1–2), 13–20.

Badoud, N. (2011). L'Intégration de la Pérée Au Territoire De Rhodes. In N. Badoud (Ed.), Philologos Dionysios: Mélanges offerts au professeur Denis Knoepfler (pp. 533–566). Genève: Droz.

Barton, C. M., Ullah, I. I. T., Bergin, S. M., Mitasova, H., & Sarjoughian, H. (2012). Looking for the future in the past: Long-term change in socioecological systems. Ecological Modelling, 241(1), 42–53.

Bevan, A., & Conolly, J. (2011). Terraced fields and Mediterranean landscape structure: An analytical case study from Antikythera, Greece. Ecological Modelling, 222(7), 1303–1314. doi:10.1016/j.ecolmodel.2010.12.016.

Bevan, A., & Conolly, J. (2012). Intensive survey data from Antikythera, Greece. Journal of Open Archaeology Data, 1, e3. doi:10.5334/4f3bcb3f7f21d.

Bilgin, R., Metin, Y., Çörekçioğlu, E., Bilgiç, T., & Şan Ö. (1997). BozburunMarmaris-Köyceğiz-Dalaman (Muğla) Dolayının Jeolojisi (The Geology of the Environs of BozburunMarmaris-Köyceğiz-Dalaman (Muğla)). Report no. 1008. Ankara: MTA.

Bradford, J. (1956). Fieldwork on aerial discoveries in Attica and Rhodes. The Antiquaries Journal, 36(57–69), 172–180.

Bresson, A. (1991). Recueil des inscriptions de la Pérée Rhodiene (Pérée Intégrée). Paris: Les Belles Lettres.

Carter, R. S. (1982). The site on Losta Bay. MDAI (I), 32(1), 174–175.

Chalikias, K., & Cantoro, G. (2015). Endangered Cretan landscapes: Using digital applications and geospatial information for the recording and monitoring of recent landscape transformation in Southeast Crete. In C. Papadopoulos, E. Paliou, A Chrysanthi, E. Kotoula, & A. Sarris (Eds.), Archaeological research in the digital age, proceedings of the 1st conference on computer applications and quantitative methods in archaeology (Greek Chapter (CAA-GR), Rethymno, Crete, 6–8 March 2014 (pp. 229–236). Rethymno: Institute for Mediterranean Studies-Foundation of Research and Technology (IMS-Forth).

Cohen, G. M. (1995). The Hellenistic settlements in Europe, the Islands, and Asia Minor. Berkely: University of California Press.

Cook, M. A. (1972). Population pressures in rural Anatolia, 1450–1600. London: Oxford University Press.

Çörtük, U., & Öncü, Ö. E. (2011). A study on the defence architecture of Northern Caria Akçay Valley: Kıztaşı And Beyerli Fortresses. Arkeoloji Dergisi, 16(1), 101–131.

ÇŞB (T.C. Çevre ve Şehircilik Bakanlığı, Tabiat Varlıklarını Koruma Genel Müdürlüğü (Republic of Turkey Ministry of Environment and Urbanisation, Directorate General for Preservation of Natural Heritage)). (2014). CDP (Datça-Bozburun Çevre Düzeni Planı Araştırma Raporu (Research Report on Datça-Bozburun Environmental/Landscaping Plan). http://www.csb.gov.tr/db/mugla/editordosya/DATCA_BOZBURUN_CDP_ARASTIRMA_RAPORU.pdf.

De Graauw, A. (2014). Ancient ports and harbours (4th edn., Vol. 1). The Catalogue. http://www.ancientportsantiques.com/wp-content/uploads/pdf/AncientPortsVol-I-List.pdf.

Devlet Su İşleri Genel Müdürlüğü (DSİ) (State Hydraulic Works). (1961, 1967, 1970). Devlet Su İşleri Faaliyetlerini Gösterir Harita Bülteni (The Mapping Bulletin of DSİ Activities). Ankara: DSİ Matbaası.

De Souza, P. (1999). Piracy in the Graeco-Roman world. Cambridge: Cambridge University Press.

Doğa Koruma Merkezi (The Nature Conservation Center). Datça and Bozburun Peninsula's Vegetation. Poster produced by the Project "Nature of Datça and Bozburun" supported by the GEF SGP-COMDEKS program. http://www.dkm.org.tr/Dosyalar/YayinDosya_0xLK5oe4.pdf.

Doğer, E., Tuna, N., & Gezgin, İ. (1994). Hisarönü-Çubucak Sondaj Kazıları (Ön Rapor). Arkeoloji Dergisi, 2(1), 185–193.

Ersoy, Ş. (1993). Transgresif platform Karbonat İstifine Bozburun (Marmaris, Muğla) Yarımadasından Bir Örnek (An Example From Bozburun (Marmaris, Muğla) Peninsula to Transgressive Carbonate Platform Sequence). Türkiye Jeoloji Bülteni (Geological Bulletin of Turkey), 36(2), 171–177.

Flemming, N. C. (1978). Holocene eustatic changes and coastal tectonics in the Northeast Mediterranean: Implications for models of crustal consumption. Philosophical Transactions of the Royal Society of London, Series A, 289(1362), 405–458.

Flemming, N. C., Czartoryska, N. M. G., & Hunter, P. M. (1973). Archaeological evidence for eustatic and tectonic components of relative sea level change in the Southern Aegean. In D. J. Blackman (Ed.), Marine archaeology (pp. 1–66). London: Butterworth.

Forbes, H. (2007). Meaning and identity in a Greek landscape: An archaeological ethnography. New York: Cambridge University Press.

Foss, C., & Reger, G. (2000). Map 61 Ephesus Introduction, 1994 (vol. 2, part 4: Graecia-Asia Minor). In R. J. A Talbert (Ed.), Barrington Atlas of the Greek and Roman world (pp. 937–957). Princeton: Princeton University Press.

Foxhall, L. (1992). The control of the Attic landscape. In B. Wells (Ed.), Agriculture in Ancient Greece: Proceedings of the seventh international symposium at the Swedish Institute at Athens (16–17 May 1990) (pp. 155–159). Stockholm: Åström.

French, C. A. I., & Whitelaw, T. M. (1999). Soil erosion, agricultural terracing and site formation processes at Markiani, Amorgos, Greece: The micromorphological perspective. Geoarchaeology, 14(2), 151–189.

Gümüşçü, O., Uğur, A., & Aygören, T. (2014). Deforestation in sixteenth century Anatolia: The case of Hüdavendigar (Bursa) Sancak. Belleten LXXVIII(281), 167–201.

Hauben, H. (1977). Rhodes, Alexander and Diadochi From 333/332 to 304 B.C. Historia, 26(3), 307–339.

Kızıldağ, N., Özdaş, A. H., & Uluğ, A. (2012). Late Pleistocene and Holocene sea level changes in the Hisarönü Gulf, Southeast Aegean Sea. Geoarchaeology, 27(3), 220–236.

Kozaman, S. (2014). Assessing vulnerability to social and environmental changes in west coastal side of Turkey. Paper presented at the 54th Congress of the European Regional Science Association: Regional Development & Globalisation: Best Practices, St. Petersburg, August 26–29. http://www.econstor.eu/handle/10419/124535.

Krahtopoulou, A., & Frederick, C. (2008). The stratigraphic implications of long-term terrace agriculture in dynamic landscapes: Polycyclic terracing from Kythera Island, Greece. Geoarchaeology, 23(4), 550–585.

Küçükeren, C. C. (2007). Ege'de Bir Anadolu Uygarlığı: Karya (Karuwa/Karka/Karkişa/Krk) (an Anatolian civilization in the Aegean (Karuwa/Karka/Karkişa/Krk)) (2nd ed.). İstanbul: Ekin Grubu.

Lambeck, K. (1996). Sea-level change and shore-line evolution in Aegean Greece Since Upper Palaeolithic Time. Antiquity, 70(269), 588–611.

Lekkas, A., Sakellarιou, D., Bertakis, G., & Lozios, S. (1998). Location of Geohards at Rhodes Island, SE Greece. In D. Moore, & O. Hungr (Eds.), Proceedings: Eighth international congress international association for engineering geology and environment (21–25 September, Vancouver) (pp. 953–958). Rotterdam: Balkema.

McCormick, M., Büntgen, U., Cane, M. A., Cook, E. R., Harper, K., Huybers, P., et al. (2012). Climate change during and after the Roman Empire: Reconstructing the past from scientific and historical evidence. Journal of Interdisciplinary History, 43(2), 169–220.

Myres, J. L. (1930). Who were the Greeks?. Berkeley: University of California Press.

Oğuz-Kırca, E. D. (2014a). Some thoughts on the problem of identification of Demes: The ancient Bozburun Peninsula. Cedrus, 2(1), 267–289.

Oğuz-Kırca, E. D. (2014b). Restructuring the settlement pattern of A Peraean Deme through photogrammetry and GIS: The case of Phoinix (Bozburun Peninsula, Turkey). Mediterranean Archaeology and Archaeometry, 14(2), 281–313.

Oğuz-Kırca, E. D. (2014c). On the location and Territorium of Hygassos. Höyük, 7(1), 33–43.

Oğuz-Kırca, E. D. (2015a). The Chora and the Core: A general look at the rural settlement pattern of (pre)Hellenistic Bozburun Peninsula, Turkey. Pamukkale Üniversitesi Sosyal Bilimler Enstitüsü Dergisi (PAUSBED), 20(1), 33–62.

Oğuz-Kırca, E. D. (2015b). Karya Khersonesosu'nda (Pera) İki Tip Kale/Kale Yerleşimi (two models of fortresses/fortress settlements in the Carian Chersonesos). TÜBA-AR, 18, 125–143.

Panagiotakis, N., Panagiotaki, M., & Sarris, A. (2013). The earliest communication system in the Aegean. Electryone, 1(2), 13–27. http://www.electryone.gr.

Pararas-Carayannis, G. (2011). The Earthquake and Tsunami of July 21, 365 AD in the Eastern Mediterranean Sea–Review of the impact of the ancient world—Assessment of recurrence and future impact. Science of Tsunami Hazards, 30(4), 253–293.

Pavlopoulos, K., Kapsimalis, V., & Theodorakopoulou, K. (2010). Relative sea-level changes in Aegean Coastal Areas during Holocene: A geoarchaeological view. Journal of Earth Science, 21(Special Issue), 244–246.

Price, S., & Nixon, L. (2005). Ancient Greek agricultural terraces: Evidence from texts and archaeological survey. AJA, 109(4), 665–694.

Rackham, O. (1990). Ancient landscapes. In O. Murray & S. Price (Eds.), The Greek City from Homer to Alexander (pp. 85–111). Oxford: Clarendon Press.

Reger, G. (1999). The relations between Rhodes and Caria from 246 to 167 BC. In V. Gabrielsen, P. Bilde, T. Engberg-Pedersen, L. Hannestad, & J. Zahle (Eds.), Hellenistic Rhodes: Politics, culture, and society (studies in Hellenistic Civilization) (vol. 9, pp. 76–97). Aarhus University Press.

Rendu, C., Passarrius, O., Calastrenc, C., Julia, R., Llubes, M., Illes, P., et al. (2015). Reconstructing past terrace fields in the Pyrenees: Insights into land management and settlement from the bronze age to the early modern era at Vilalta (1650 masl, Cerdagne, France). Journal of Field Archaeology, 40(4), 461–480. doi:10.1179/2042458215Y.0000000002.

Sphyroeras, V., Avramea, A., & Asdrahas, S. (1985). Maps and map-makers of the Aegean (eds.). Translated by G. Cox and J. Solman. Athens: Olkos Ltd./E. Louvrou & Co., Ltd.

Şenel, M., & Bilgin, Z. R. (1997). Marmaris-L6 Paftası Jeoloji Haritası (geological map of Marmaris-L6 Quadrangle). Ankara: MTA.

Tuna, N., & Empereur, J.-Y. (1989). Hièrotèlès, Potier Rhodien de la Peréé. BCH, 113(1), 227–299.

Torr, C. (1885). Rhodes in Ancient Times. London: Cambridge University Press.

Wallace, S. A. (2001) Case studies of settlement change in Early Iron Age Crete (c. 1200–700 BC): Economic models of cause and effect reassessed. Aegean Archaeology, 4 (1997–2000)(1), 61–99.

Weiberg, E., & Finné, M. (2013). Mind or matter? People-environment interactions and the demise of early Helladic II Society in the Northeastern Peloponnese. AJA, 117(1), 1–33.

World Wildlife Fund. Southwestern Asia: Along the Coast of the Mediterranean Sea in Turkey, Jordan, Israel, and Syria. Accessed March 25, 2016. http://www.worldwildlife.org/ecoregions/pa1207.
Ancient Sources
Flavius Arrianus. (2005). İskender'in Seferi (Alexandrou Anabasis) (Books 1–7). Translated by F. Akderin. İstanbul: Alfa Yayınları.

Polybius. (1926). The Histories (Vol. 5, Books 16–27). Translated by W.R. Paton. London: Harvard University Press.
Acknowledgements
The archaeological data (relevant to Selimiye and environs) cited in this study is incorporated from the regional-Bozburun Peninsula survey results obtained through the permissions granted by the Republic of Turkey, Ministry of Culture and Tourism, between 2009 and 2012 campaigns. The authors express their highest gratitude to the Republic of Turkey, General Directorate of Antiquities and Museums of the Ministry of Culture and Tourism and; Ministry of Food, Agriculture and Livestock for having granted and provided the relevant permits and soil maps. Many thanks are also owed to the General Command of Mapping for having supplied the former survey team with the topographical maps and aerial images that are utilised as the base materials in this study. Sincere thanks are offered by the first author to TÜBİTAK (The Scientific and Technological Research Council of Turkey) for having granted the post-doctoral research award during the preliminary stages of the joint work.Footnote 25
Ethics declarations
Conflict of interest
E.Deniz Oğuz-Kırca and Ioannis Liritzis declare that they have no conflict of interest.
Human and animal rights
This article does not contain any studies with human or animal subjects.
About this article
Cite this article
Oğuz-Kırca, E.D., Liritzis, I. Searching ancient territorium of Hygassos in Anatolia: settlement patterns and spatio-temporal investigations through aerial and GIS applications. GeoJournal 83, 441–464 (2018). https://doi.org/10.1007/s10708-017-9779-6
Keywords
Karia

Rhodian Peraea

Hellenistic Hygassos

Selimiye

Kızılköy

Ancient territorium

Spatial archaeology

Geomorphology

Pedology