Abstract
The natural environment plays an important role in adventure tourism. Specific environments are often necessary for certain types of adventure tourism and unique settings are seen to enhance the value of adventure tourism experiences. Given the importance of the environment in adventure tourism, the interplay between humans and the environment in this context should be given further attention. Although much research has examined the physical environmental impacts caused by specific activities considered adventure tourism, the impact of the environment on the behavior of adventure tourists has only briefly been touched upon. Environmental attitudes are said to be an indicator of environmentally conscious behavior. In the tourism context, however, conflicting results have been found as to whether or not environmental attitudes drive consumer behavior. Therefore, the manner in which environmental attitudes, using the New Environmental Paradigm scale, influence the motivations of participants in adventure tourism is investigated using the case of commercial adventure tourism in South Africa. The results show that the environmental attitudes of this group of tourists were relatively low and that the links between environmental attitudes and adventure tourism motivations are relatively weak. Therefore, the impact of general environmental attitudes on adventure tourist behavior is questionable.
Access options
Buy single article
Instant access to the full article PDF.
USD 39.95
Price includes VAT (USA)
Tax calculation will be finalised during checkout.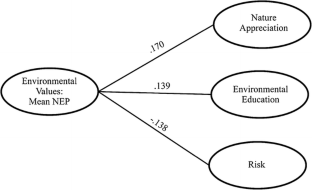 Notes
1.

Converted from a 4-point Liket scale.
References
Bell, C., & Lyall, J. (2002). The accelerated sublime: Thrill-seeking adventure heroes in the commodified landscape. Tourism: Between place and performance (pp. 21–37). New York: Berghahn Books.

Belles, M. E., & Winternberg, L. (2015). 2016 Virtuoso Luxe Report. New York: Vituoso Travel.

Benitez-Capistros, F., Hugé, J., & Koedam, N. (2014). Environmental impacts on the Galapagos Islands: Identification of interactions, perceptions and steps ahead. Ecological Indicators, 38, 113–123.

Binns, T., & Nel, E. (2002). Tourism as a local development strategy in South Africa. The Geographic Journal, 168(3), 235–247.

Buckley, R. (2010). Adventure tourism management. Amsterdam: Butterworth-Heinemann.

Buckley, R. (2012). Rush as a key motivation in skilled adventure tourism: Resolving the risk recreation paradox. Tourism Management, 33(4), 961–970.

Buckley, R. (2015). Adventure thrills are addictive. Frontiers in Psychology, 6, 1915.

Carnicelli-Filho, S., Schwartz, G. M., & Tahara, A. K. (2010). Fear and adventure tourism in Brazil. Tourism Management, 31(6), 953–956.

Cater, C. I. (2006). Playing with risk? Participant perceptions of risk and management implications in adventure tourism. Tourism Management, 27(2), 317–325.

Celsi, R. L., Rose, R. L., & Leigh, T. W. (1993). An exploration of high-risk leisure consumption through skydiving. Journal of Consumer Research, 20(1), 1–23.

Chizhova, V. (2004). Impacts and management of hikers in Kavkazsky State Biosphere Reserve, Russia. In R. Buckley (Ed.), Environmental impacts of ecotourism. Wallingford: CABI.

Cloke, P., & Perkins, H. C. (2002). Commodification and adventure in New Zealand tourism. Current Issues in Tourism, 5(6), 521–549.

DeVellis, R. F. (2012). Scale development: Theory and applications (pp. 109–110). Los Angeles: Sage.

Dodds, R. (2009). Environmental impacts of ecotourism. Annals of Tourism Research, 36(4), 747–748.

Doiron, S., & Weissenberger, S. (2014). Sustainable dive tourism: Social and environmental impacts—The case of Roatan, Honduras. Tourism Management Perspectives, 10, 19–26.

Dunlap, R. E., & Van Liere, K. D. (1978). The "New Environmental Paradigm". The Journal of Environmental Education, 40(1), 19–28.

Dunlap, R. E., Van Liere, K. D., Mertig, A. G., & Jones, R. E. (2000). Measuring endorsement of the new ecological paradigm: A revised NEP scale. Journal of Social Issues, 56(3), 425–442.

Ewert, A., & Hollenhorst, S. J. (1989). Testing the adventure model: Empirical support for a model of risk recreation participation. Journal of Leisure Research, 21(2), 124.

Fluker, M. R., & Turner, L. W. (2000). Needs, motivations, and expectations of a commercial whitewater rafting experience. Journal of Travel Research, 38(4), 380–389.

Giddy, J. K. (2015). The influence of human–environment interaction on adventure tourism. In M. Kozak & N. Kozak (Eds.), Tourism development (pp. 92–106). Cambridge: Cambridge Scholars Publishing.

Giddy, J. K., & Webb, N. L. (2016). The influence of the environment on motivations to participate in adventure tourism: The case of the Tsitsikamma. South African Geographical Journal, 98(2), 351–366.

Gooch, G. D. (1995). Environmental beliefs and attitudes in Sweden and the Baltic states. Environment and Behavior, 27(4), 513–539.

Grant, R. (2015). Africa: Geographies of change. Cape Town: Oxford University Press of Southern Africa.

Hall, C., & Moran, D. (2006). Investigating GM risk perceptions: A survey of anti-GM and environmental campaign group members. Journal of Rural Studies, 22(1), 29–37.

Hawcroft, L. J., & Milfont, T. L. (2010). The use (and abuse) of the new environmental paradigm scale over the last 30 years: A meta-analysis. Journal of Environmental Psychology, 30(2), 143–158.

Imran, S., Alam, K., & Beaumont, N. (2014). Environmental orientations and environmental behaviour: Perceptions of protected area tourism stakeholders. Tourism Management, 40, 290–299.

Jackson, S. (2007). Attitudes towards the environment and ecotourism of stakeholders in the UK tourism industry with particular reference to ornithological tour operators. Journal of Ecotourism, 6(1), 34–66.

Jager, W. (2006). Stimulating the diffusion of photovoltaic systems: A behavioural perspective. Energy Policy, 34(14), 1935–1943.

Johnson, C. Y., Bowker, J. M., & Cordell, H. K. (2004). Ethnic variation in environmental belief and behavior: An examination of the New Ecological Paradigm in a social psychological context. Environment and Behavior, 36(2), 157–186.

Kane, M. J., & Tucker, H. (2004). Adventure tourism: The freedom to play with reality. Tourist Studies, 4(3), 217–234.

Kim, H., Borges, M. C., & Chon, J. (2006). Impacts of environmental values on tourism motivation: The case of FICA, Brazil. Tourism Management, 27(5), 957–967.

Liu, J., Ouyang, Z., & Miao, H. (2010). Environmental attitudes of stakeholders and their perceptions regarding protected area-community conflicts: A case study in China. Journal of Environmental Management, 91(11), 2254–2262.

Lück, M. (2000). Visitor survey: Dolphin swimming and watching with Dolphin Experience, Akaroa; Dolphin Encounter, Kaikoura; Dolphin Discoveries, Paihia. Unpublished Summary Report, Dunedin: University of Otago.

Lück, M. (2003). The "New Environmental Paradigm": Is the scale of Dunlap and Van Liere applicable in a tourism context? Tourism Geographies, 5(2), 228–240.

Luo, Y., & Deng, J. (2007). The New Environmental Paradigm and nature-based tourism motivation. Journal of Travel Research, 46(4), 392–402.

Pirages, D. C., & Ehrlich, P. R. (1974). Ark II: Social response to environmental imperatives. San Francisco: W. H. Freeman.

Pomfret, G. (2006). Mountaineering adventure tourists: A conceptual framework for research. Tourism Management, 27(1), 113–123.

Pomfret, G., & Bramwell, B. (2016). The characteristics and motivational decisions of outdoor adventure tourists: A review and analysis. Current Issues in Tourism, 19(14), 1447–1478.

Priest, S. (1993). A new model for risk taking. Journal of Experiential Education, 15(1), 20–53.

Robinson, D. W. (1992). A descriptive model of enduring risk recreation involvement. Journal of Leisure Research, 24(1), 52–63.

Ryan, C., & Glendon, I. (1998). Application of leisure motivation scale to tourism. Annals of Tourism Research, 25(1), 169–184.

Schultz, P. W., Unipan, J. B., & Gamba, R. J. (2000a). Acculturation and ecological worldview among Latino Americans. Journal of Environmental Education, 31(2), 22–27.

Schultz, P. W., & Zelezny, L. (1999). Values as predictors of environmental attitudes: Evidence from consistency across 14 countries. Journal of Environmental Psychology, 19(3), 255–265.

Schultz, P. W., Zelezny, L., & Dalrymple, N. J. (2000b). A multinational perspective on the relation between Judeo-Christian religious beliefs and attitudes of environmental concern. Environment and Behavior, 32(4), 576–591.

Shoham, A., Rose, G. M., & Kahle, L. R. (2000). Practitioners of risky sports: A quantitative examination. Journal of Business Research, 47(3), 237–251.

Taylor, S., Varley, P., & Johnston, T. (2013). Adventure tourism: Meanings, experience and learning. Abingdon: Routledge.

Uysal, M., Jurowski, C., Noe, F., & McDonald, C. (1994). Environmental attitude by trip and visitor characteristics. Tourism Management, 15(4), 284–294.

Varley, P. (2006). Confecting adventure and playing with meaning: The adventure commodification continuum. Journal of Sport and Tourism, 11(2), 173–194.

Visser, G., & Rogerson, C. M. (2004). Researching the South African tourism and development nexus. GeoJournal, 60(3), 201–215.

Walle, A. H. (1997). Pursuing risk or insight: Marketing adventures. Annals of Tourism Research, 24(2), 265–282.

Wearing, S., Cynn, S., Ponting, J., & McDonald, M. (2002). Converting environmental concern into ecotourism purchases: A qualitative evaluation of international backpackers in Australia. Journal of Ecotourism, 1(2–3), 133–148.

Williams, P., & Soutar, G. N. (2005). Close to the "edge": Critical issues for adventure tourism operators. Asia Pacific Jounral of Tourism Research, 10(3), 37–41.

Zografos, C., & Allcroft, D. (2007). The environmental values of potential ecotourists: A segmentation study. Journal of Sustainable Tourism, 15(1), 44–66.
Ethics declarations
Conflict of interest
There is no conflict of interest with respect to the authors and content of this manuscript.
Ethical standard
Participation in the survey used in this study was completely voluntary and only includes data from participants in activities over the age of 18. Ethical clearance was given for the research project from Nelson Mandela Metropolitan University. Please liaise with the corresponding author (Dr. Julia Giddy—juliag@uj.ac.za) if you would like a copy of the ethical clearance certificate. A consent statement was given at the beginning of each survey.
About this article
Cite this article
Giddy, J.K., Webb, N.L. Environmental attitudes and adventure tourism motivations. GeoJournal 83, 275–287 (2018). https://doi.org/10.1007/s10708-017-9768-9
Keywords
Environmental attitudes

New Environmental Paradigm

Adventure tourism

Tourism motivations

Human–environment interaction

South Africa