Abstract
Rising inequality and the lingering effects of the most recent economic recession continue to engender negative perceptions of access to opportunity in the United States. While prior research has established the importance of geography in understanding opportunity in metropolitan areas, little attention has been given to the spatial distribution of opportunity outside urban areas or its temporal variation. This article builds on existing frameworks for measuring opportunity to calculate a multidimensional opportunity index for counties in the lower 48 states and the District of Columbia for the years 2000 and 2010. We use exploratory spatial data analysis techniques to map and critically examine the geography of opportunity at both time periods across regions and three distinct county typologies with an emphasis on identifying clusters of high and low opportunity. We find that opportunity decreased on average for all counties from 2000 to 2010 as did its standard deviation, consistent with arguments that opportunity in the U.S. has both declined and converged. While the opportunity index remains highest in metropolitan and urban counties, nonmetropolitan and rural areas fared well with respect to the spatial clustering of high opportunity counties. Clusters of high opportunity counties shifted from the Northeast to Midwest regions, while clusters of low opportunity counties in traditional strongholds of persistent poverty like Appalachia, the Mississippi Delta, and Lower Rio Grande Valley have become more fragmented.
This is a preview of subscription content, log in to check access.
Access options
Buy single article
Instant access to the full article PDF.
US$ 39.95
Price includes VAT for USA
Subscribe to journal
Immediate online access to all issues from 2019. Subscription will auto renew annually.
US$ 199
This is the net price. Taxes to be calculated in checkout.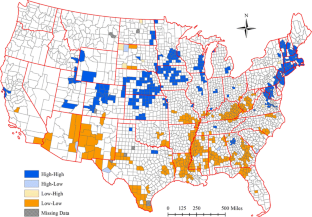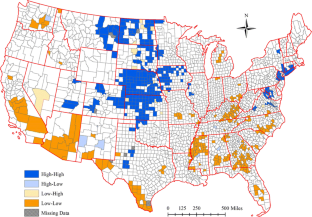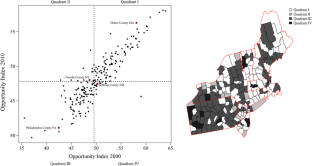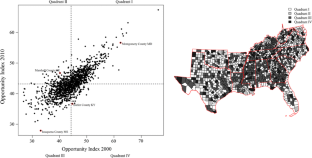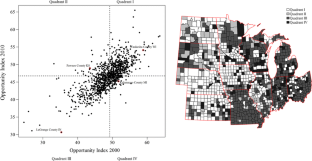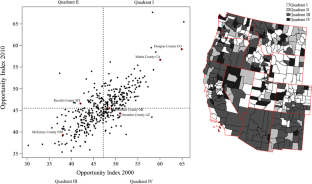 Notes
1.

Messner et al. (1999) use this approach to conduct an ESDA of homicide rates at the county level.

2.

3.

The current observation is held constant while neighboring values are permuted with the I Local statistic calculated for each realization.

4.

The ecological fallacy occurs when results based on aggregate zonal data (e.g., counties) are applied to the individuals or specific sites that fall within those areal units (Selvin 1958).
References
Alvaredo, F., Atkinson, A. B., Piketty, T., & Saez, E. (2013). The top 1 percent in international and historical perspective. Journal of Economic Perspectives, 27(3), 3–20.

Anselin, L. (1988). Spatial econometrics: Methods and models. Dordrecht: Kluwer Academic Publishers.

Anselin, L. (1995). Local indicators of spatial association—LISA. Geographical Analysis, 27(2), 93–115.

Anselin, L. (1996). The Moran scatterplot as an ESDA tool to assess local instability in spatial association. In M. M. Fischer, H. J. Scholten, & D. J. Unwin (Eds.), Spatial analytical perspectives on GIS (pp. 111–125). London: Taylor & Francis.

Anselin, L., & Getis, A. (2010). Spatial statistical analysis and geographic information systems. In L. Anselin & S. J. Rey (Eds.), Perspectives on spatial data analysis (pp. 35–47). Berlin: Springer.

Bailey, T. C., & Gatrell, A. C. (1995). Interactive spatial data analysis. Essex: Longman Scientific & Technical.

Bivand, R. S. (2010). Exploratory spatial data analysis. In M. M. Fischer & A. Getis (Eds.), Handbook of applied spatial analysis (pp. 219–254). Berlin: Springer.

Bivand, R., Altman, M., Anselin, L., Assunção, R., et al. (2014). spdep: Spatial dependence: Weighting schemes, statistics and models. R package version 0.5-74.

Blanden, J., Gregg, P., & Machin, S. (2005). Intergenerational mobility in Europe and North America. London: Sutton Trust, Centre for Economic Performance, London School of Economics.

Blau, J. R., & Blau, P. M. (1982). The cost of inequality: Metropolitan structure and violent crime. American Sociological Review, 47(1), 114–129.

Chetty, R., Hendren, N., Kline, P., & Saez, E. (2013). The equality of opportunity project. Retrieved February 10, 2014, from http://www.equality-of-opportunity.org

Cliff, A. D., & Ord, J. K. (1981). Spatial processes: Models & applications. London: Pion.

Corak, M. (2013). Income inequality, equality of opportunity, and intergenerational mobility. Journal of Economic Perspectives, 27(3), 79–102.

Curtis, K. J., Voss, P. R., & Long, D. D. (2012). Spatial variation in poverty-generating processes: Child poverty in the United States. Social Science Research, 41(1), 146–159.

Cutter, S. L., Boruff, B. J., & Shirley, W. L. (2003). Social vulnerability to environmental hazards. Social Science Quarterly, 84(2), 242–261.

Danziger, S., Chavez, K., & Cumberworth, E. (2012). Poverty and the great recession. Stanford, CA: Stanford Center on Poverty and Inequality.

de Souza Briggs, X. N. (2005). The geography of opportunity. Washington, DC: Brookings Institution.

Dunne, T. (2012). Household formation and the Great Recession. Cleveland, OH: Federal Reserve Bank of Cleveland.

ERS. (2004). Rural–urban continuum codes. Washington, DC: U.S. Department of Agriculture, Economic Research Service. Retrieved November 2013, from http://www.ers.usda.gov/Data/RuralUrbanContinuumCodes

Ewing, R., Pendall, R., & Chen, D. (2002). Measuring sprawl and its impact. Washington, DC: Smart Growth America.

Galster, G. C., & Killen, S. P. (1995). The geography of metropolitan opportunity: A reconnaissance and conceptual framework. Housing Policy Debate, 6(1), 7–43.

Gasteyer, S., & Carrera, J. (2013). The coal-corn divide: Colliding treadmills in rural community energy development. Rural Sociology, 78(3), 290–317.

Getis, A. (2008). A history of the concept of spatial autocorrelation: A geographer's perspective. Geographical Analysis, 40(3), 297–309.

Getis, A. (2009). Spatial weights matrices. Geographical Analysis, 41(4), 404–410.

Goodman, C. J., & Mance, S. M. (2011). Employment loss and the 2007–09 recession: An overview. Monthly Labor Review, 134(4), 3–12.

Greenwood, M. J., Hunt, G. L., Rickman, D. S., & Treyz, G. I. (1991). Migration, regional equilibrium, and the estimation of compensating differentials. American Economic Review, 81(5), 1382–1390.

Griffith, D. A. (1992). What is spatial autocorrelation? Reflections on the past 25 years of spatial statistics. Espace Géographique, 21(3), 265–280.

Griffith, D. A. (2003). Spatial autocorrelation and spatial filtering: Gaining understanding through theory and visualization. Berlin: Springer.

Haskins, R., & Sawhill, I. (2009). Creating an opportunity society. Washington, DC: Brookings Institution Press.

Hollander, J. B. (2011). Sunburnt cities: The great recession, depopulation and urban planning in the American Sunbelt. Abingdon: Routledge.

Holloway, S. R., & Mulherin, S. (2004). The effect of adolescent neighborhood poverty on adult employment. Journal of Urban Affairs, 26(4), 427–454.

Howell, A. J., & Timberlake, J. M. (2014). Racial and ethnic trends in the suburbanization of poverty in U.S. metropolitan areas, 1980–2010. Journal of Urban Affairs, 36(1), 79–98.

Isserman, A. (2005). In the national interest: Defining rural and urban correctly in research and public policy. International Regional Science Review, 28(4), 465–499.

Isserman, A. M., Feser, E., & Warren, D. E. (2009). Why some rural places prosper and others do not. International Regional Science Review, 32(3), 300–342.

Jeffrey, C. (2010). Geographies of children and youth I: Eroding maps of life. Progress in Human Geography, 34(4), 496–505.

Johnson, R. C. (2011). The place of race in health disparities: How family background and neighborhood conditions in childhood impact later-life health. In H. B. Newburger, E. L. Birch, & S. M. Wachter (Eds.), Neighborhood and life chances: How place matters in modern America (pp. 18–36). Philadelphia, PA: University of Pennsylvania Press.

Kelly, M. (2000). Inequality and crime. Review of Economics and Statistics, 82(4), 530–539.

Kneebone, E., & Garr, E. (2010). The suburbanization of poverty: Trends in metropolitan America, 2000 to 2008. Washington, DC: Brookings Institution.

Lyson, T. A., & Falk, W. W. (1993). Forgotten places: Uneven development in rural America. Lawrence, KS: University Press of Kansas.

Messner, S. F., Anselin, L., Baller, R. D., Hawkins, D. F., Deane, G., & Tolnay, S. E. (1999). The spatial patterning of county homicide rates: An application of exploratory spatial data analysis. Journal of Quantitative Criminology, 15(4), 423–450.

Moran, P. A. (1950). Notes on continuous stochastic phenomena. Biometrika, 37, 17–23.

National Bureau of Economic Research. (2014). US Business Cycle Expansions and Contractions. Accessed November 30, 2014. http://www.nber.org/cycles/cyclesmain.html

OMB (Office of Management and Budget). (2000). Standards for defining metropolitan and micropolitan areas. Federal Register, 65, 82227–82238.

Opportunity Nation. (2014a). Opportunity Nation: The shared plan to restore opportunity. Retrieved February 2014, from http://opportunitynation.org/our-solution/the-shared-plan

Opportunity Nation. (2014b). The opportunity index data and methodology. Retrieved February 2014, from http://opportunityindex.org/methods-sources

Partridge, M. D., Rickman, D. S., Olfert, M. R., & Ali, K. (2012). Dwindling U.S. internal migration: Evidence of spatial equilibrium or structural shifts in local labor markets? Regional Science and Urban Economics, 42(1–2), 375–388.

powell, j. a., Reece, J., Rogers, C., & Gambhir, S. (2007). Communities of opportunity: A framework for a more equitable and sustainable future for all. Columbus, OH: Kirwan Institute for the Study of Race and Ethnicity, The Ohio State University.

Rosenbaum, J. E., Reynolds, L., & DeLuca, S. (2002). How do places matter? The geography of opportunity, self-efficacy, and a look inside the black box of residential mobility. Housing Studies, 17, 71–82.

Rothstein, J. (2012). The labor market four years into the crisis: Assessing structural explanations. Industrial and Labor Relations Review, 65(3), 467–500.

Sawicki, D. S., & Flynn, P. (1996). Neighborhood indicators: A review of the literature and an assessment of conceptual and methodological issues. Journal of the American Planning Association, 62(2), 165–183.

Selvin, H. C. (1958). Durkheim's suicide and problems of empirical research. American Journal of Sociology, 63(6), 607–619.

Stiglitz, J. E. (2012). The price of inequality: How today's divided society endangers our future. New York, NY: W.W. Norton & Co.

Tankersley, J., & Guo, J. (2014). Congrats, America. You have less economic opportunity than you did in 1970. The Washington Post. Retrieved from http://www.washingtonpost.com

Tobler, W. R. (1970). A computer movie simulating urban growth in the Detroit region. Economic Geography, 46, 234–240.

Tönnies, F. (1957). Community and society (Gemeinschaft und gesellschaft). (C. P. Loomis, Trans.). East Lansing, MI: Michigan State University Press. (Original work published 1887).

Walker, R. E., Keane, C. R., & Burke, J. G. (2010). Disparities and access to healthy food in the United States: A review of food deserts literature. Health & Place, 16(5), 876–884.

Waller, L. A., & Gotway, C. A. (2004). Applied spatial statistics for public health data (Vol. 368). New York: Wiley.

Wang, M., Kleit, R. G., Cover, J., & Fowler, C. S. (2012). Spatial variations in U.S. poverty: Beyond metropolitan and non-metropolitan. Urban Studies, 49(3), 563–585.

Weber, J., Low, S., & Walsh, N. (2014). County-level oil and gas production in the US. Washington, DC: USDA, Economic Research Service.

Zickuhr, K., & Smith, A. (2013). Home Broadband 2013. Washington, DC: Pew Research Center. Retrieved May 2014, from http://www.pewinternet.org/2013/08/26/home-broadband-2013
Conflict of interest
The authors declare that they have no conflict of interest.
About this article
Cite this article
Wilson, B., Greenlee, A.J. The geography of opportunity: an exploratory spatial data analysis of U.S. counties. GeoJournal 81, 625–640 (2016). https://doi.org/10.1007/s10708-015-9642-6
Keywords
ESDA

Opportunity

Regional analysis

Spatial inequality