Abstract
Fulani herder and farmer relationships in West Africa have always been troublesome as a result of farmers' fundamental rejection of the herders' inroads into their areas and also because of increased competition for available resources. In countries such as Ghana, local and even national campaigns have been launched to expel the herders but they persist. This case-study which utilised interviews and group discussions involving farmers and herders, sought to understand the dynamics and subtleties of herders' resilience in an environment where natural resource access and use rights are tied to common property principles and where herders have no enshrined land and resource rights. Using territoriality as the analytical capsule, we found that the herders' persistence is related to mainly non-territoriality where the goal is to influence relationships and resource access but not control area. Categorising their non-territorial expression into persuasive and aggressive forms, we provide a new platform for deconstructing farmer-herder relationships in the West African sub-region.
Access options
Buy single article
Instant access to the full article PDF.
US$ 39.95
Tax calculation will be finalised during checkout.
Subscribe to journal
Immediate online access to all issues from 2019. Subscription will auto renew annually.
US$ 119
Tax calculation will be finalised during checkout.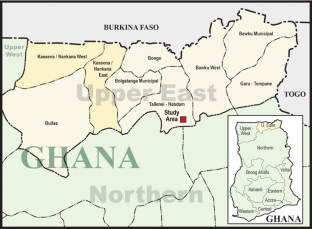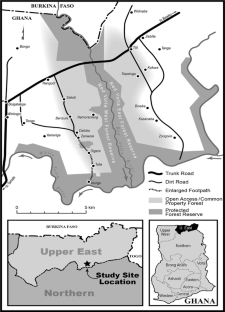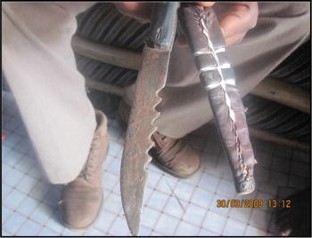 Notes
1.

The Chief is counted in the Digare sample; the assembly member, who represents all four villages in the district assembly, is in the Datoko sample because he lives there.

2.

In Northern Ghana, villages are ruled by enskinned chiefs. When chiefs die, regents, who do not command the authority of substantive chiefs rule until a new chief is enskinned.

3.

It says herders pay the compensation but actually cattle owners do.

4.

We confirmed with the district assembly that herders do not pay cattle rates.

5.

Gurunis are ethically linked to Tallensis and Nabdams.

6.

Coined to illustrate how the herders move into the area.

7.

The period of establishing roots (about one herding year) is used to observe, network and decide whether settling for longer is worthwhile. Herders inquire from compatriots about settlement security and herding contracts. They also bring their families, establish farms, and 'reveal' themselves to the farming population by patronizing market days to buy salt, kerosene or tobacco and make the acquaintance of liberal-leaning farmers.
References
Adebanwi, W. (2007). Territoriality and the discourse of ethnic groups' clashes. Nationalism and Ethnic Politics, 13(2), 213–243.

Ayantunde, A. A., Williams, T. O., Udo, H. M. J., Fernández-Rivera, S., Hiernaux, P., & van Keulen, H. (2000). Herders' perceptions, practice, and problems of night grazing in the Sahel: Case studies from Niger. Human Ecology, 28(1), 109–129.

Bassett, T. J. (1988). The political ecology of peasant-herder conflicts in the northern ivory coast. Annals of the Association of American Geographers, 78(3), 453–472.

Bassett, T. J. (1994). Hired herders and herd management in Fulani pastoralism (Northern Côte d'Ivoire). Cahiers d'Etudes africaines, 34, 147–173.

Bassett, T. J., & Turner, M. D. (2007). Sudden shift or migratory drift? FulBe herd movements to the Sudano-Guinean region of West Africa. Human Ecology, 35(1), 33–49.

Bernardet, P. (1999). Peuls en mouvement, Peuls en conflits en moyenne et haute Côte D'Ivoire, de 1950 à, 1990. In R. Botte, J. Boutrais, & J. Schmitz (Eds.), Figures Peules. Paris: Karthala.

Breusers, M., Nederlof, S., & Van Rheenen, T. (1998). Conflict or symbiosis? Disentangling farmer-herdsman relations: The Mossi and Fulbe of the Central Plateau, Burkina Faso. The Journal of Modern African Studies, 36(03), 357–380.

Brockhaus, M., & Nuppenau, E. A. (2004). The role of the state in the management of farmer-herder conflicts in southwest Burkina Faso. Paper presented at the Deutscher Tropentag, October 5–7. From http://www.tropentag.de/2003/abstracts/full/179.pdf.

Bromley, D. (1991). Testing for common versus private property: A comment. Journal of Environmental Economics and Management, 21, 92–96.

Diallo, Y. (2001a). Conflict, cooperation and integration: A West African example (Côte d'Ivoire). Max Plank Institute for Social Anthropology Working Papers, 22, 1–22.

Diallo, Y. (2001b). Processes and types of pastoral migration in northern Côte d'Ivoire. In M. de Bruijn, R. van Dijk, & D. Foeken (Eds.), Mobile Africa: Changing patterns of movement in Africa and beyond (pp. 153–168). Leiden: Brill.

Flick, U. (2006). An introduction to qualitative research. Thousand Oaks, Calif: Sage Publications.

GhanaNewsAgency. (2011). Fulani given 10-day ultimatum to quit Agogo lands. From http://edition.myjoyonline.com/pages/news/201110/74721.php.

Goodhue, R. E., McCarthy, N., & Di Gregorio, M. (2005). Fuzzy access: Modeling grazing rights in Sub-Saharan Africa. In E. Mwangi (Ed.), Collective action and property rights for sustainable rangeland management (pp. 8–10). Washington: Consultative Group on International Agriculture.

Hope, K. E. (2012). Headless body of Fulani found in agogo. The Ghanaian times, 2013, 30th August.

Kemmis, D. (1990). Community and the politics of place. Norman: University of Oklahoma Press.

Lefebvre, H. (1991). The production of space. Oxford/Cambridge: Blackwell.

Mason, J. (1996). Qualitative researching. London: Sage.

Mbord, A. A. (2002). Assemblywoman leads attack on herdsmen? Ghanaian times.

McCown, R. L., Haaland, G., & De Haan, C. (1979). The interaction between cultivation and livestock production in semi-arid Africa. Ecological Studies, 34, 297–332.

Moritz, M. (2006a). Changing contexts and dynamics of herder-farmer conflicts across West Africa. Canadian Journal of African Studies, 40(1), 1–28.

Moritz, M. (2006b). The politics of permanent conflict: Farmer-herder conflicts in northern Cameroon. Canadian Journal of African Studies, 40(1), 101–126.

Moritz, M. (2010). Understanding herder-farmer conflicts in West Africa: Outline of a processual approach. Human Organization, 69(2), 138–148.

Myjoyonline.com. (2011). Update: 13 die in Gushiegu unprovoked attacks. From http://edition.myjoyonline.com/pages/news/201112/77829.php.

Nabila, J. S. (1997). Population and land degradation in upper east region of Ghana. Bulletin of the Ghana Geographical Association, No. 2 July 1997.

Nukunya, G. K. (2003). Tradition and change in Ghana: An introduction to sociology. Accra: Ghana Universities Press.

Sack, R. D. (1983). Human territoriality: A theory. Annals of the Association of American Geographers, 73(1), 55–74.

Sack, R. D. (1986). Human territoriality: Its theory and history. Cambridge: Cambridge University Press.

Stenning, D. J. (1960). Transhumance, migratory drift, migration: Patterns of pastoral Fulani nomadism. In S. Ottenberg & P. Ottenberg (Eds.), Cultures and society's of Africa (pp. 139–159). New York: Random House.

Tonah, S. (2002a). Migrant Fulani Herdsmen, Indigenous Farmers and the Contest for Land in Northern Ghana. African Studies Association in Germany (VAD).

Tonah, S. (2002b). The politics of exclusion: The expusion of Fulbe pastoralists from Ghana in 1999/2000. Max Planck Institute for Social Anthropology Working Papers, 44.

Tonah, S. (2006). Migration and farmer-herder conflicts in Ghana's Volta basin. Canadian Journal of African Studies, 40(1), 152–178.

Toutain, B., De Visscher, M.-N., & Dulieu, D. (2004). Pastoralism and protected areas: Lessons learned from western Africa. Human Dimensions of Wildlife, 9, 287–295.

Turner, M. D. (1999). No space for participation: Pastoralist narratives and the etiology of park-herder conflict in southeastern Niger. Land Degradation and Development, 10(4), 345–363.

Turner, M. (2004). Political ecology and the moral dimensions of "resource conflicts": The case of farmer-herder conflicts in the Sahel. Political Geography, 23(7), 863–889.

UNEP. (2011). Livelihood security: Climate change, migration and conflict in the Sahel.

van Driel, A. (1999). The end of the herding contract: Decreasing complementary linkages between Fulbe pastoralists and Dendi agriculturalists in Northern Benin. In V. Azarya & M. De Bruijn (Eds.), Pastoralists under pressure? Fulbe societies confronting change in west Africa (pp. 191–209). Leiden: Brill.

Watts, M. (2000). Political ecology. In S. Eric & T. J. Barnes (Eds.), A companion to economic geography (pp. 257–274). Malden, MA: Blackwell.
Acknowledgments
Thanks to the International Development Research Centre, Ottawa for an IDRC Doctoral Award. And also the research team and respondents who made this research happen. This paper is dedicated to one respondent and two respondents' children who died after fieldwork was completed. Finally, to the two anonymous reviewers whose comments helped in the fine-tuning to this paper.
About this article
Cite this article
Yembilah, R., Grant, M. The political ecology of territoriality: territorialities in farmer–herder relationships in Northern Ghana. GeoJournal 79, 385–400 (2014). https://doi.org/10.1007/s10708-013-9509-7
Keywords
Fulani herders

Farmers

Conflict

Territoriality

Resource access

Ghana