Abstract
The paper seeks to contribute to the recent slum tourism-debate. On the basis of an empirical field study conducted in Mumbai in 2009, this article investigates how Indian slums are observed by different actors within the communication context of this (emerging) form of tourism. Taking into consideration that slums are defined in public discourse nearly exclusively by poverty and sordidness, it is interesting to examine how the tour agency's objective of correcting the negative connotations of poverty is achieved. Accordingly, the study aims, by means of a second order observation, to observe how the tourists and the tour agency simultaneously perceive and charge poverty. Following the epistemological premise that reality is an observer-dependent construction, it seeks to outline which different images or realities of the investigated slum, Dharavi, are created by the different observations. The findings will then facilitate a discussion of the extent to which poverty can be defined as the dominant mode of observation of the slum tourism context as a whole.
Access options
Buy single article
Instant access to the full article PDF.
USD 39.95
Price excludes VAT (USA)
Tax calculation will be finalised during checkout.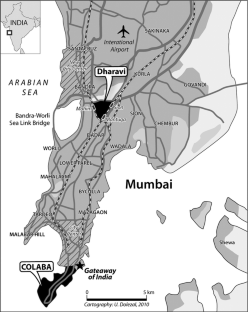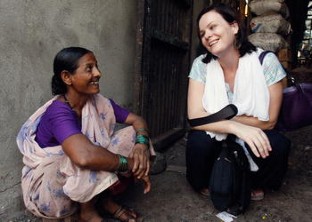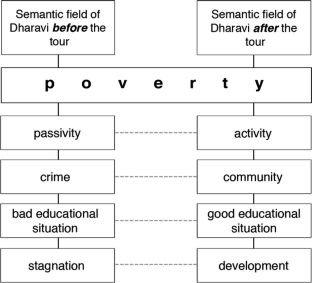 Notes
Marginal settlements can be viewed as results of socio-economical polarization and segregation, which especially take place in the metropolitan areas of the so-called developed or emerging nations (Davis 2006). In order to record the spread of marginal settlements internationally, the United Nations Human Settlements Programme (2003, p. 12) has developed five operational criteria. According to this approach, one talks about a marginal settlement when the settlement ful-fils at least one of the following criteria: restricted access to safe water sanitation, provisionally built and temporary housing, a high population density and insecure residence rights (UN-HABITAT 2003). Marginal settlements are re-ferred to by different terms in the countries at issue. For example, they are referred to as townships in South Africa, as favelas in Brazil and slums in India.

A case study of favela tourism in Rio de Janeiro, Brazil, yielded similar results (see Rolfes 2010; p. 12f).

As will be shown below, slum tourism is not only about experiencing reality, but also about experiencing authenticity. Taking into consideration that reality and authenticity have different meanings, it becomes clear that the term reality tour-ism lacks conceptual clarity. It is therefore questionable if reality tourism is the appropriate term for designating all these forms of tourism. Thus, a further clarification is needed, which cannot be provided in the scope of this article.

Subsequent to the theoretical premise, tourists always make authentic experiences as long as they are first-order ob-servers. The body and object related perception during the tours—which Pott (2007) defines as authenticity-anchors—is a first-order observation. In a first-order observation the paradox of visibility is invisible. The observer, here the tourist, only perceives what he perceives. He is not able to perceive the dependency of his perception from the (pre-determined) distinctions structuring the perception at the same time. These can only be observed by an outside ob-server or in a delayed process. By this second-order observation the distinctions of the first-order observation can be reflected (Pott 2007, p. 173ff).
References
AP. (2007). Township Tourism booming as visitors want to see "real" South Africa. USA Today January 9, 2007. http://www.usatoday.com/travel/destinations/2007-01-04-south-africa-township-tourismx.htm. Accessed 10 June, 2010.

Baumann, Z. (2000). Liquid modernity. Cambridge: Polity Press.

Beck, U., & Bonß, W. (Eds.). (2001). Die modernisierung der moderne. Frankfurt/Main: Suhrkamp.

Beck, U., Giddens, A., & Lash, S. (1994). Reflexive modernization. Cambridge: Polity Press.

Binder, J. (2005). Globality. Eine ethnographie über backpacker. Münster: Lit. Verlag.

Bruner, E.-M. (1994). Abraham Lincoln as authentic reproduction: A critique of postmodernism. American Anthropologist, 96(2), 397–415.

Cohen, E. (1988). Authenticity and commodization in tourism. Annals of Tourism Research, 15(3), 371–386.

Davis, M. (2006). Planet of slums. London: Verso.

Desforges, L. (2000). Traveling the world: Identity and travel biography. Annals of Tourism Research, 27(4), 926–945.

Egener, H. (2006). Autopoiesis, form und beobachtung. Mitteilungen der Österreichischen Geographischen Gesellschaft, 148, 92–108.

Elsrud, T. (2001). Risk creation in travelling: Backpacker adventure narration. Annals of Tourism Research, 28(3), 597–617.

Farías, I. (2008). Touring Berlin: virtual destination, tourist communication and the multiple City. Berlin: Humboldt University, PhD Dissertation.

Freire-Medeiros, B. (2007). A Favela que se vê e que se vende. Reflexões e polêmicas em torno de um destino turístico. Revista Brasileira de Ciências Sociais, 22(65), 62–72.

Freire-Medeiros, B. (2009). The favela and its touristic transits. Geoforum, 40(4), 580–588.

Gerbhardt, H., Reuber, P., & Wolkersdorfer, G. (2003). Kulturgeographie. Aktuelle Ansätze und Entwicklungen. Heidelberg/Berlin: Spektrum Akademischer Verlag.

Gergen, K. J., & Gergen, M. M. (1986). Narrative form and the construction of psychological science. In T. R. Sarbin (Ed.), Narrative psychology: The storied nature of human conduct (pp. 22–44). New York, Westport, London: Praeger.

Giddens, A. (1991). Modernity and self-identity: Self and society in late-modernity. Cambridge: Polity Press.

Koven, S. (2006). Slumming: Sexual and social politics in Victorian London. Princeton: University Press.

Lennon, J., & Foley, M. (2000). Dark tourism. The attraction of death and disaster. London: Continuum.

Luhmann, N. (1984). Soziale systeme. Grundriss einer allgemeinen theorie. Frankfurt/M: Suhrkamp.

Luhmann, N. (1998). Die Gesellschaft der Gesellschaft, 1 Bde. Frankfurt/M: Suhrkamp.

Lyotard, F. (1979/2006). Das postmoderne Wissen. Wien: Passagen Verlag.

MacCannell, D. (1976). The tourist: A new theory of the leisure class. Berkeley: University of California Press.

Matthews, A. (2008). Negotiated selves: Exploring the impact of local-global interactions on young volunteer travellers. In K. D. Lyons & S. Wearing (Eds.), Journeys of discovery in volunteer tourism: International case study perspectives (pp. 101–117). Oxfordshire: CABI.

Mayring, P. (2003). Qualitative inhaltsanalyse. Grundlagen und Techniken. Weinheim: Beltz.

Nassehi, A. (1999). Die Paradoxie der Sichtbarkeit. Für eine epistemologische Verunsicherung der (Kultur-) Soziologie. Soziale Welt, 50(4), 349–362.

Noy, C. (2004). The trip really changed me: Backpackers' narratives of self-change. Annals of Tourism Research, 31(1), 78–102.

Pott, A. (2007). Orte des tourismus. Eine raum- und gesellschaftstheoretische Untersuchung. Bielefeld: Transcript.

Redepenning, M. (2006). Wozu Raum? Systemtheorie, critical geopolitics und raumbezogene Semantiken. Leipzig: Beiträge zur Regionalen Geographie 62.

Ricoeur, P. (1988). Time and narrative vol. III. Chicago: University of Chicago Press.

Rolfes, M. (2010). Poverty tourism: Theoretical reflections and empirical findings on an extraordinary form of tourism. GeoJournal, 75(5), 421–442.

Spencer Brown, G. (1969/1997). Laws of form. Gesetze der form. Lübeck: Bohmeier.

Steinbrink, M., & Pott, A. (2010). Die Kultur des Slum(ming)s. Zur historischen Rekonstruktion eines globalen Phänomens. K.-H. Wöhler, A. Pott & V. Denzer (Eds.), Tourismusräume. Zur soziokulturellem Konstruktion eines globalen Phänomens (pp. 247–270). Bielefeld: Transcript.

Stichweh, R. (2000). Die weltgesellschaft. Soziologische analysen. Frankfurt/M: Suhrkamp.

United Nations Human Settlements Programme. (2003). The challenge of slums. Global report on human settlements, 2003. London and Sterling: Earthscan Publications Ltd.

Urbain, J.-D. (1993). El idiota que viaja. Relatos de turistas. Madrid: Endymion.

Wang, N. (1999). Rethinking authenticity in tourism experience. Annals of Tourism Research, 26(2), 349–370.

Wearing, S. (2001). Volunteer tourism: Experiences that make a difference. Wallingford, Oxon, New York: CABI.

Wearing, S., & Lyons, K. D. (2008). Journeys of discovery in volunteer tourism: International case study perspectives. Oxfordshire: CABI.

Welz, G. (1993): Slum als Sehenswürdigkeit. 'Negative Sightseeing' im Städtetourismus. In D. Kramer & R. Lutz (Ed.), Tourismus-Kultur, Kultur-Tourismus (pp. 39–55). Münster: Lit-Verlag.

Werlen, B. (2004). Sozialgeographie. Eine Einführung. Bern: UTB Hauptverlag.
Acknowledgments
This article is a summary of my unpublished master thesis submitted in July 2009 at the Department of Geography, University of Potsdam. I wish to thank the interviewees for sharing their experiences, Cory Goldberg for his photos, Rakesh, Krishna Poojari and Chris Way from Reality Tours and Travel as well as Sebastian Burgold for their helpful support, Manfred Rolfes for his thorough and insightful comments and suggestions, Gisela Spehr, Naomi and Paul for revising this article.
About this article
Cite this article
Meschkank, J. Investigations into slum tourism in Mumbai: poverty tourism and the tensions between different constructions of reality. GeoJournal 76, 47–62 (2011). https://doi.org/10.1007/s10708-010-9401-7
Published:

Issue Date:

DOI: https://doi.org/10.1007/s10708-010-9401-7
Keywords
Poverty tourism

Slum tourism

Township

Favela

Slum

Observational-theoretical approach