Abstract
Military activities have produced contaminated environments at many sites around the world. This contamination and the associated health risks play a large role in how these places can be redeveloped after military use. In this essay we focus on the island of Vieques, Puerto Rico which was used as a bombing range by the US military for six decades until 2003. We examine the ways different groups of people perceive this formerly militarized landscape and the ways that these perceptions legitimatize certain redevelopment options over others. Through participant observation, semi-structured interviews and an analysis of textual materials we found that many local residents view the island as suffering from severe contamination while the large number of visitors, tourism promoters and North Americans now flocking to the post-militarized Vieques view it quite differently. These perceptions of purity and contamination, affected by different knowledges of the island's history, have led to differing valuation of the landscape and contentious economic, political, and cultural battles over an island often labeled "natural" despite a history of military use and social exclusion.
Access options
Buy single article
Instant access to the full article PDF.
USD 39.95
Price includes VAT (USA)
Tax calculation will be finalised during checkout.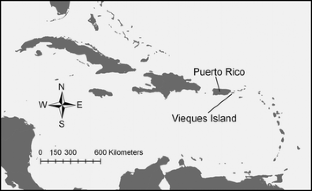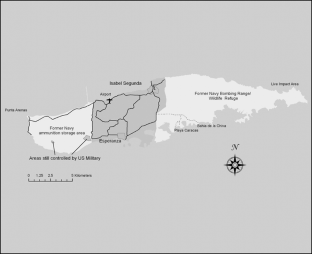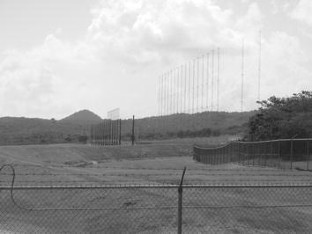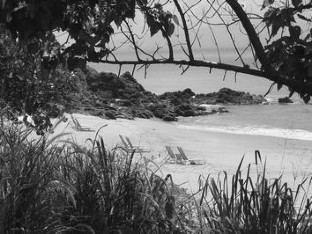 Notes
1.

Vieques is, of course, not the only site where military training and weapons testing has resulted in widespread contamination. There are hundreds of sites across the US and the world which have been affected. The Military Toxics Project is an excellent source of information on the various sites and the specifics of military contamination. http://www.militarytoxproj.org
References
Aldrich, R., & Connell, J. (1998). The last colonies. Cambridge: Cambridge University Press.

ATSDR (2003). A summary of ATSDR's environmental health evaluations for the Isla de Vieques bombing range. (Retrieved October 19, 2006. from http://www.atsdr.cdc.gov/sites/vieques/vieques_profile.pdf).

Barnes, G., Staples, B., Baxter, J., & Litva, A. (2002). The social and psychological impact of the chemical contamination incident in Weston Village, UK: A qualitative analysis. Social Science and Medicine, 55, 2227–2241.

Baver, S. L. (2006). Peace is more than the end of bombing: The second stage of the Vieques struggle. Latin American Perspectives, 33, 102–115.

Beck, U. (1999). World risk society. Malden: Polity Press.

Berman Santana, D. (2006). La lucha continúa: Challenges for a post-Navy Vieques. CENTRO, 18, 108–123.

Creswell, J. W. (1998). Qualitative inquiry and research design: Choosing among the five traditions. Thousand Oaks: Sage.

Davis, J. S. (2005a). Representing place: 'Deserted isles' and the reproduction of Bikini Atoll. Annals of the Association of American Geographers, 95, 607–625.

Davis, J. S. (2005b). 'Is it really safe? That's what we want to know': Science, stories and dangerous places. Professional Geographer, 57, 213–221.

Davis, J. S. (2007). Scales of Eden: Conservation and Pristine Devastation on Bikini Atoll. Environment and Planning D: Society and Space, 25(2), 213–235.

Douglas, M. (1966). Purity and danger: An analysis of concepts of pollution and taboo. London: Routledge.

Duncan, J., & Duncan N. (2001). The aestheticization of the politics of landscape preservation. Annals of the Association of American Geographers, 91, 387–409.

Enloe, C. (1990). Bananas, beaches, & bases: Making feminist sense of international politics. Berkeley: University of California Press.

Greenberg, M. (1997). Bombs and butterflies: A case study of the challenges of post-cold war environmental planning and management for the US nuclear weapons sites. Journal of Environmental Planning and Management, 40, 739–750.

Grupo de Apoyo Técnico y Profesional para el Desarrollo Sustentable de Vieques. (2002). Guías para el desarrollo sustentable de Vieques. (Publicaciones Gaviota).

Grusky, S. (1992). The Navy as social provider in Vieques, Puerto Rico. Armed Forces and Society, 18(2), 215–231.

Havlick, D. (2007). Logics of change for military-to-wildlife conversions in the United States. GeoJournal, doi: 10.1007/s10708-007-9086-8 (this issue).

Howe, K. (2000). The knowing of Oceania. Honolulu: University of Hawaii Press.

Jasanoff, S. (1999). The songlines of risk. Environmental Values, 8, 135–152.

Johnson, P. (2005). Vieques, far from the lounge-chair crowd. New York Times (March 11, 2005) Retrieved July 11, 2006 from http://www.travel2.nytimes.com/2005/03/11/travel/escapes/11vieques.html?ex=1155182400&en=018c5def40ab4d7a&ei=5070

Krupar, S. (2007). Where eagles dare: an ethno-fable with personal landfill. Environment and Planning D: Society and Space, 25, 194–212.

Laughinghouse, A. (2005). Unspoiled? In the Caribbean?: Thank the U.S. Navy for keeping Vieques Island largely off-limits to tourists and developers for 60 years. Philadelphia Inquirer (Dec. 04, 2005). Retrieved on July 10 from http://www.vieques-island.com/articles/philadelphiainquirer.html

Massol Deyá, A., & Díaz, E (2003). Trace element composition in forage samples from a military target range, three agricultural areas, and one natural area in Puerto Rico. Caribbean Journal of Science, 39, 215–220.

McCaffrey, K. (2002). Military power and popular protest: The U.S. Navy in Vieques, Puerto Rico. New Brunswick: Rutgers University Press.

McCaffrey, K. (2006). The battle for Vieques' future. Centro Journal, 18(1), 125–147.

NAVFAC (2006). Vieques Environmental Restoration and Munitions Response Program News. Naval Facilities Engineering Command-Atlantic. November, 2006.

Nazario, C. M., Lindsay-Poland, J., & Santana, D. (2002). Health in Vieques: A crisis and its causes: Task Force on Latin America and the Caribbean. Accessed on October 8, 2006. http://www.forusa.org/programs/puertorico/viequesupdate0602.html

Neumann, R. (2003). The production of nature: Colonial recasting of the African landscape in Serengeti National Park. In K. Zimmerer & T Bassett (Eds.), Political ecology: An integrative approach to geography and environment-development studies (pp. 240–255). New York: Guilford Press.

Ortiz-Roque, C., & Lopez-Rivera, Y. (2004). Mercury contamination in reproductive age women in a Caribbean island: Vieques. Journal of Epidemiology & Community Health, 58(9), 756–757.

Pidgeon, N., Kasperson, R., & Slovic, P. (2003). The social amplification of risk. Cambridge: Cambridge University Press.

Rosa, E. (2003). The logical structure of the social amplification of risk framework (SARF): Metatheoretical foundations and implications. In N. Pidgeon, R. Kasperson, & P. Slovic (Eds.), The social amplification of risk (pp. 47–79). Cambridge: Cambridge Press.

US Fish and Wildlife Service. (2006). Vieques National Wildlife Refuge retrieved on July 18, 2006 from http://www.southeast.fws.gov/vieques/op-ed.html

Wargo, J. (2006). Letter to Secretary General England, Department of Navy. Critiques of ATSDR Vieques Health Assessments.

Wilcox, J. (2001). Vieques, Puerto Rico: An island under siege. American Journal of Public Health, 91(5), 695–698.

Woodward, R. (2004). Military geographies. Malden: Blackwell.

Wooldridge, J. (2003). Vieques on its own: An homage to the best of the Caribbean's past, the home of the newly-extinct bombing range is a safe, welcoming, pretty place. Miami Herald (Jun. 22, 2003) retrieved on November 13 2003 from http://www.miami.com/mld/miamiherald/living/travel/6124525.htm
About this article
Cite this article
Davis, J.S., Hayes-Conroy, J.S. & Jones, V.M. Military pollution and natural purity: seeing nature and knowing contamination in Vieques, Puerto Rico. GeoJournal 69, 165–179 (2007). https://doi.org/10.1007/s10708-007-9095-7
Received:

Accepted:

Published:

Issue Date:
Keywords
Militarism

Contamination

US fish and wildlife

Landscape

Risk

Political ecology