Abstract
The paper analyses the interaction of the State and church in Czechia, a country that can be characterised by a high degree of secularisation. Nevertheless, a lot of religious activities still take place in a secular state like Czechia and this even extends to a 'sacralisation' of the landscape. However, the State does not interfere with the internal structures of the individual churches or religious communities. It only creates general conditions for relations between the State and these churches and communities. The co-existence of the State and the church and the influence of religions on the State reflect the pluralism of a post-modern society and also of a post-communist state like Czechia.
This study is also intended to contribute to the comparative research of church-state relations in Central Europe, which have been influenced by multi-confessional belts and especially Lutheran and Catholic alliances (Madeley 2003). The aims of this paper are threefold: (a) a description of the historic development of the state-church relations in Czechia; (b) an analysis of the challenge of that historic pattern as regards secularization and globalization and a significant rise in immigrant religions; (c) an analysis of the impact on state-church relations of re-territorialisation within the framework of the European Union and the dividing up of Czechoslovakia.
This is a preview of subscription content, log in to check access.
Access options
Buy single article
Instant access to the full article PDF.
US$ 39.95
Price includes VAT for USA
Subscribe to journal
Immediate online access to all issues from 2019. Subscription will auto renew annually.
US$ 199
This is the net price. Taxes to be calculated in checkout.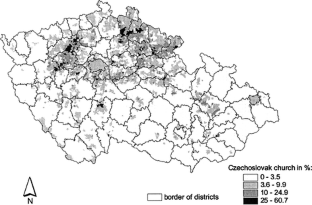 References
Berger, P. L. (1999). The desecularization of the world: A global overview. In P. L. Berger (Ed.), The desecularization of the world. Resurgent religion and world politics (pp. 1–18). Washington, DC: Eerdmans.

Brotánková, H. (2003). Vývoj religiozity v okresech ČR (1921–2001). (The Development of Religiosity in Czech Districts 1921 to 2001). Prague: Dissertation of Charles University.

ČSÚ (Český Statistický Úřad = Czech statistical office), 2004: www.czso.cz.

Flere, S. (2001). The impact of religiosity upon political stances. Survey Findings from Seven Central European Countries. In I. Borowik & M. Tomka (Eds.), Religion and social change in post-communist Europe (pp. 29–41). Krakow: Nomos.

Geyer, M. (2004). Religion und Nation – Eine unbewältigte Geschichte. In M. Geyer & H. Lehmann (Eds.), Religion und nation. nation und religion (pp. 11–32). Göttingen: Wallstein.

Hamplová, D. (2000). Náboženství a nadpřirozeno ve společnosti. (Religion and Supernatural in Society) In: Sociological Papers 00:3. Institute of Sociology, Academy of Science of Czechia, Prague.

Havlíček, T. (2004). Religiózně-geografické aspekty procesu transformace Česka. (Religious geographical aspects of the process of transformation in Czechia). In A. Wahla (Ed.), Geografie a proměny poznání geografické reality (pp. 93–101). Ostrava: Sborník příspěvků.

Havlíček, T. (2005). Czechia: Secularisation of the religious landscape. In Knippenberg (Ed.), The changing religious landscape of Europe (pp. 189–200). Amsterdam: Het Spinhuis.

Henkel, R. (2001). Atlas der Kirchen und der anderen Religionsgemeinschaften in Deutschland – eine Religionsgeographie. Stuttgart: W. Kohlhammer.

Henkel, R., & Knippenberg, H. (2005). Secularisation and the rise of pluralism. Main features of the changing religious landscape of Europe. In Knippenberg (Ed.), The changing religious landscape of Europe (pp. 1–13). Amsterdam: Het Spinhuis.

Huntington, S. (1996). The clash of civilisations and the remaking of world order. New York: Simon and Schuster.

Knippenberg, H. (1998). Secularization in the Netherlands in its historical and geographical dimensions. GeoJournal, 45, 209–220.

Knippenberg H. (Ed.) (2005). The changing religious landscape of Europe. Amsterdam: Het Spinhuis.

Lužný, D., & Navrátilová, J. (2001). Religion and secularization in Czechia. Czech Sociological Review, 9, 85–98.

Madeley, J. T. S. (2003). A Framework for the comparative analysis of church-state relations in Europe. West European Politics, 26(1), 23–50.

Maier, H. (1995). Politische Religionen. Freiburg im Breissgau: Herder.

O'Mahony, J. (2003). The Catholic church and civil society: Democratic option in the post-communist Czech Republic. West European Politics, 26(1), 177–194.

Proctor, J. (2006). Introduction: Theorizing and studying religion. Annals of the Association of American Geographers, 96(1), 165–168.

Zelinsky, W. (2001). The uniqueness of the American religious landscape. Geographical Review, 91(3), 565–585.
Acknowledgement
This paper is the result of research findings sponsored by a financial grant, project GA AV: No. IAA701110701 "Differentiation of changes of religious landscape in Czechia during the period of transformation". The author would like to thank the sponsors for their financial support.
About this article
Cite this article
Havlíček, T. Church-state relations in Czechia. GeoJournal 67, 331–340 (2006). https://doi.org/10.1007/s10708-007-9061-4
Keywords
Religion

State

Czechia

Religious landscape

Secularization