Abstract
Caving process is a complex dynamic phenomenon influences safety and productivity of coal longwall mining. It improves safety due to reduction of load on support, face convergence and abutment stresses. Proper caving with respect to the quality and time of occurrence ensures continuity of operation and subsequently, the productivity of coal extraction. Therefore, a reliable prediction of strata behaviour and its caving potential are imperative in design of longwall projects. This paper presents a hybrid probabilistically qualitative–quantitative model to evaluate cavability of immediate roof and to estimate main caving span in longwall mining by combining empirical model and numerical solution. For this purpose, numerical simulation was incorporated to Roof Strata Cavability index (RSCi) as summation of ratings for nine significant parameters. Distinct element code was used to simulate numerically main caving span corresponding to various RSCi classes probabilistically. The newly proposed model was verified against actual field data collected from different longwall panels around the world. The results of proposed model agreed well with those of collected data.
Access options
Buy single article
Instant access to the full article PDF.
USD 39.95
Price includes VAT (USA)
Tax calculation will be finalised during checkout.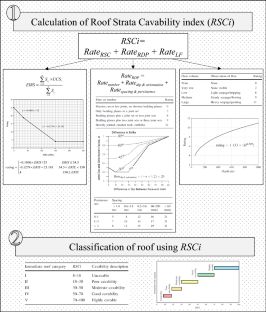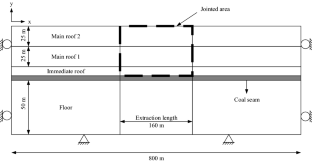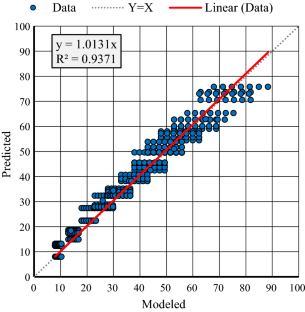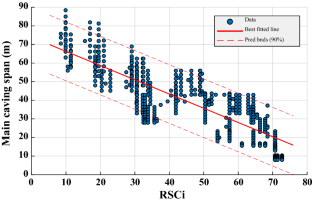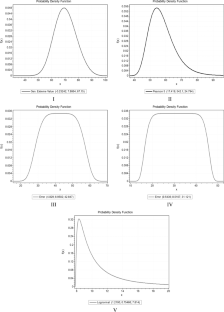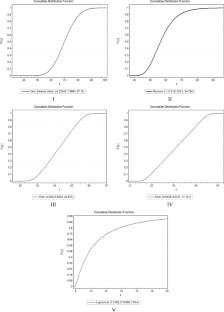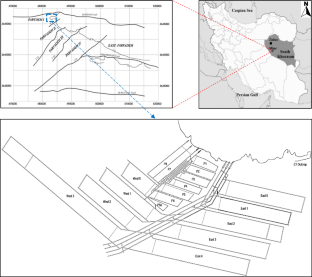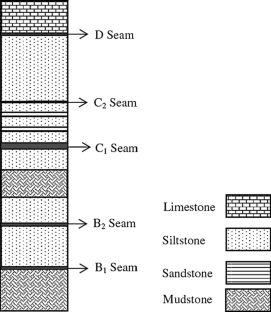 Abbreviations
C :

Cohesion

E :

Young's modulus

E(X) :

Mean value of data distribution

F(x) :

Cumulative distribution function (CDF)

f(x) :

Probability density function (PDF)

L :

Rock Quality Index (RQI)

K :

Number of subsets

K 1 :

In situ strength coefficient

K 2 :

Creep coefficient

K 3 :

In situ water content coefficient

σ ci :

Intact compressive strength

K n :

Normal stiffness

K s :

Shear stiffness

n :

A constant value depending upon RQD

S m :

Main caving span

t :

Thickness of roof layer

t b :

Bed thickness

t m :

Thickness of main roof

γ :

Average unit weight of the bed

γ e :

Effective unit weight of rock

ν :

Poisson's ratio

ρ :

Density

σ :

Standard deviation

σ c :

Intact compressive strength

σ h :

Average in situ horizontal stress

σ t :

Tensile strength

φ :

Angle of internal friction

ψ :

Angle of dilatancy

RSCi :

Roof Strata Cavability index

SVR :

Support vector machine

COA :

Cuckoo optimisation algorithm

I :

Number of roof layer

P :

Peak status

R :

Residual status
References
Akinkugbe Y, Su D, Hasenfus G, Morris TJ, Fisher B (2007) The Roof behavior of a longwall Tailgate under massive sandstone strata. In: International conference on ground control in mining, West Virginia University, 188

Alsmeyer G (2011) Chebyshev's inequality. In: Lovric M (ed) International encyclopedia of statistical science. Springer, Berlin

Ataei M, Mohammadi S, Mikaeil R (2019) Evaluating performance of cutting machines during sawing dimension stones. J Cent South Univ 26(7):1934–1945. https://doi.org/10.1007/s11771-019-4144-1

Banerjee G, Kumbhakar D, Ghosh N, Yadava KP (2016) Assessment of cavability and categorization of coal measure roof rocks by parting plane approach. In: Conference on recent advances in rock engineering, pp 301–308

Barton NR (1974) A review of the shear strength of filled discontinuities in rock. Norwegian Geotechnical Institute Publications No. 105. Oslo: Norwegian Geotechical Institute

Bilinski A, Konopko W (1973) Criteria for choice and use of powered supports. In: The symposium on protection against roof falls, Katowice, Paper No. IV-1

Das SK (2000) Observations and classification of roof strata behaviour over longwall coal mining panels in India. Int J Rock Mech Min Sci 37(4):585–597. https://doi.org/10.1016/S1365-1609(99)00123-9

Gao F (2013) Simulation of failure mechanisms around underground coal mine openings using discrete element modelling. Dissertation, Simon Fraser University, British Colombia, Canada

Gao F, Stead D, Coggan J (2014) Evaluation of coal longwall caving characteristics using an innovative UDEC Trigon approach. Comput Geotech 55:448–460. https://doi.org/10.1016/j.compgeo.2013.09.020

Ghose AK, Dutta D (1987) A rock mass classification model for caving roofs. Int J Min Geol Eng 5(3):257–271. https://doi.org/10.1007/BF01560777

Goodman RE (1980) Introduction to rock mechanics. Wiley, New York

Hoek E (2007) Practical rock engineering, Online. ed. Rocscience

Johnson RB, DeGraff JV (1988) Principles of engineering geology. Wiley, New York

Johnston IW (1985) The strength of intact geomechanical materials. J Geotech Eng Div. https://doi.org/10.1061/(ASCE)0733-9410(1985)111:6(730)

Kumar C (2014) Behaviour of shield support in longwall mining. Department of Mining Engineering, National Institute of Technology, Rourkela, India

Kuznetsov ST, Pekarskii DG, Korovin VT (1973) Determining the normal stresses in a uniform bent cantilever. Sov Min 9(5):478–482. https://doi.org/10.1007/BF02501373

Kwasniewski M (2008) Numerical analysis of strata behavior in the vicinity of a longwall panel in a coal seam mined with roof caving. In: Continuum and distinct element numerical modelling in geo-engineering, 07-8

Le TD (2018) Longwall top coal caving mechanism and cavability assessment, Dissertation, The University of New South Wales (UNSW), Sydney, Australia

Liu WR (2019) Experimental and numerical study of rock stratum movement characteristics in longwall mining. Shock Vib. https://doi.org/10.1155/2019/5041536

Maharana AK (2013) Study of strata and support behaviour of a longwall mine. Department of Mining Engineering, National Institute of Technology, Rourkela, India

Medhurst TP, Brown ET (1998) A study of the mechanical behaviour of coal for pillar design. Int J Rock Mech Min Sci 35:1087–1105

Mohammadi S, Ataei M, Kakaie R, Mirzaghorbanali A (2019) A New Roof Strata Cavability Index (RSCi) for longwall mining incorporating new rating system. Geotech Geol Eng. https://doi.org/10.1007/s10706-019-00857-6

Obert L, Duvall WI (1967) Rock mechanics and the design of structures in rock. Wiley, New York

Oraee K, Rostami M (2008) Qualitative and quantitative analysis of hangingwall caving in longwall mining method using a fuzzy system. In: 21st world mining congress & expo

Palmstrom A (1995) RMi-a rock mass characterization system for rock engineering purposes. Dissertation, Oslo University, Norway

Pandit B, Garg P, Singh GSP (2015) Development of a 3D elasto-plastic model for simulation of progressive roof caving in underground coal mines. J Resourc Energy Dev 4(2):13–21

Pawlowicz K (1967) Classification of rock cavability of coal measure strata in upper Silesia coalfield. Prace GIG, Komunikat, 429

Peng SS, Chiang HS (1984) Longwall mining. Wiley, New York

Sarkar SK (1998) Mechanized longwall mining e the Indian experiences. Oxford and IBH Publishing Company Private Limited, New Delhi

Shabanimashcool M (2012) Numerical modelling of the longwall mining and the stress state in Svea Nord Coal Mine. Dissertation, Norwegian University of Science and Technology (NTNU)

Shabanimashcool M, Jing L, Li CC (2014) Discontinuous modelling of stratum cave-in in a longwall coal mine in the arctic area. Geotech Geol Eng 32(5):1239–1252. https://doi.org/10.1007/s10706-014-9795-y

Singh GSP (2015) Conventional approaches for assessment of caving behaviour and support requirement with regard to strata control experiences in longwall workings. J Rock Mech Geotech Eng 7(3):291–297. https://doi.org/10.1016/j.jrmge.2014.08.002

Singh GS, Singh UK (2009) A numerical modeling approach for assessment of progressive caving of strata and performance of hydraulic powered support in longwall workings. Comput Geotech 36(7):1142–1156. https://doi.org/10.1016/j.compgeo.2009.05.001

Singh GS, Singh UK (2010) Numerical modeling study of the effect of some critical parameters on caving behavior of strata and support performance in a longwall working. Rock Mech Rock Eng 43(4):475–489. https://doi.org/10.1007/s00603-009-0061-1

Singh GS, Singh UK, Banerjee G (2004) Cavability assessment model for longwall working in India. In: Proceedings of 3rd Asian Rock Mechanics Symposium, Organised by ISRM, Kyoto, pp 295–300

Sweby G (1997) Review the caving mechanisms around high extraction systems and determine the effect of the mechanisms on the safety of the system. Report prepared by CSIR Miningtek for the Safety in Mines Research Advisory Committee (SIMRAC), Final project Report, Project No. COL327. Johannesburg, South Africa

Verma AK, Deb D (2013) Numerical analysis of an interaction between hydraulic-powered support and surrounding rock strata. Int J Geomech 13(2):181–192. https://doi.org/10.1061/(ASCE)GM.1943-5622.0000190

Wang ZQ, Yang H, Chang YB, Wang P (2011) Research on the height of caving zone and roof classification of mining whole height at one times in thick coal seam. Appl Mech Mater 99:207–212. https://doi.org/10.4028/www.scientific.net/AMM.99-100.207

Wu K, Cheng GL, Zhou DW (2015) Experimental research on dynamic movement in strata overlying coal mines using similar material modeling. Arab J Geosci 8(9):6521–6534. https://doi.org/10.1007/s12517-014-1685-3

Yongkui S, Pengrui L, Ying W, Jingyu Z, Meijie L (2014) The prediction of the caving degree of coal seam roof based on the naive bayes classifier. Electron J Geotech Eng 19(Z2):201

Zhang K, Yang T, Bai H, Pathegama Gamage R (2017) Longwall mining-induced damage and fractures: field measurements and simulation using FDM and DEM coupled method. Int J Geomech 18(1):04017127

Zhu TY (2012) Some useful numbers on the engineering properties of materials (geologic and otherwise). GEOL 615, Department of Geophysics
Ethics declarations
Conflict of interest
The authors declare that they have no conflict of interest.
Additional information
Publisher's Note
Springer Nature remains neutral with regard to jurisdictional claims in published maps and institutional affiliations.
About this article
Cite this article
Mohammadi, S., Ataei, M., Kakaie, R. et al. A Probabilistic Model to Determine Main Caving Span by Evaluating Cavability of Immediate Roof Strata in Longwall Mining. Geotech Geol Eng 39, 2221–2237 (2021). https://doi.org/10.1007/s10706-020-01620-y
Received:

Accepted:

Published:

Issue Date:
Keywords
Longwall mining

Immediate roof

Cavability

Main caving span

Empirical model

Numerical simulation